A barge is a flat-bottomed boat, built mainly for river and canal transport of heavy goods. Most barges are not self-propelled and need to be moved by tugboats towing or towboats pushing them. Barges on canals (towed by draft animals on an adjacent towpath) contended with the railway in the early industrial revolution but were outcompeted in the carriage of high value items due to the higher speed, falling costs, and route flexibility of rail transport.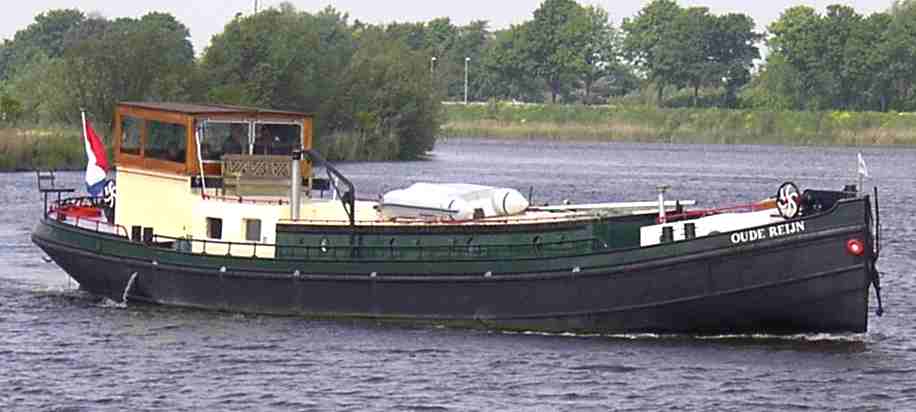 OUDE REIJN ESB 21.00m x 4.09m a Luxemotor barge ideal for cruising
with DAF 615 turbo 165 hp engine and 2.2 KVA diesel generator
Modern use
Barges are still used today for low value bulk items, as the cost of hauling goods by barge is very low. Barges are also used for very heavy or bulky items; a typical barge measures 195 feet by 35 feet (59.4 meters by 10.6 meters), and can carry up to 1500 tons of cargo. As an example, on June 26, 2006, a 565 ton catalytic cracking unit reactor was shipped from the Tulsa Port of Catoosa in Oklahoma to a refinery in Pascagoula, Mississippi. While such parts are normally shipped in sections and assembled onsite, shipping the assembled unit reduces costs and does not rely on availabilty of construction labor at the site (which in this case is still recovering from Hurricane Katrina). Such a large item is not practical to transport over land for any significant distance and will need to be transported only 40 miles overland to get from the port to the refinery.
Self propelled barges may be used as such when traveling downstream or upstream in placid waters and operated as an unpowered barge with the assistance of a tugboat when traveling upstream in faster waters. Canal barges are usually made for the particular canal in which they will operate.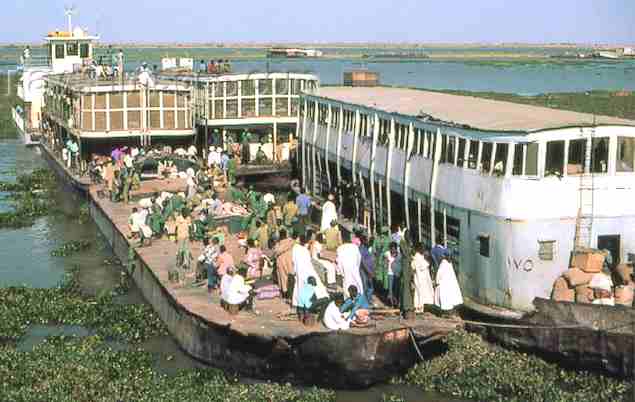 Barges carrying people and crops in the Sudan
Types of barges
Barracks barge (living quarters)

Car float

Company barge

Dutch barge

Dry bulk cargo barge (coal, rock, grain, etc.)

Hopper barge

Jackup barge

Lighter, Dumb steel lighter

Liquid cargo barge (fresh water, finished petroleum products)

Oil barge, Dumb steel oil barge

Pleasure barge- providing a floating bedroom, dance floor, or viewing platform

Railcar barge (with tracks and using special loading/offloading facilities such as a barge slip)

Royal barge (ceremonial) (e.g. Thailand's Royal Barges)

Row barge

Sand barge

Severn trow

Tom Pudding

Vehicular barge, often used to transport vehicles to natural shorelines such as beaches

Ware barge

West country barge
On the UK canal system, the term barge is used to describe a boat wider than a narrowboat.
The people who move barges are often known as lightermen.
In the U.S. deckhands perform the labor and are supervised by a leadman and or the mate. The Captain and Pilot steer the towboat. The towboat pushes one or more barges that are held together with rigging and is called collectively the tow. The crew live aboard the towboat as it travels along the inland river system and or the intracoastal waterways. These towboats travel between ports and are also called line haul boats.
Poles are used on barges to fend off the barge as it nears other vessels or a wharf, often called pike poles, and on shallow canals for example in the UK long punt poles are used to manoeuvre or propel the barge.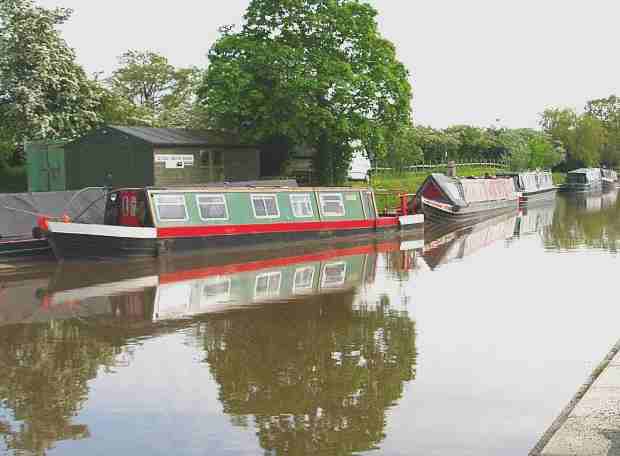 River barges or narrow boats moored along a canal
Thames Sailing Barge
A Thames sailing barge was a type of commercial sailing boat common on the River Thames in London in the 19th century. The flat-bottomed barges were perfectly adapted to the Thames Estuary, with its shallow waters and narrow rivers.
The barges also traded much further afield, to the north of England, the South Coast and even to continental European ports. Cargoes varied enormously: bricks, mud, hay, rubbish, sand, coal and grain, for example. Due to the efficiency of a Thames barge's gear, a crew of only two sufficed for most voyages, although by today's standards it would have been hard physical work at times.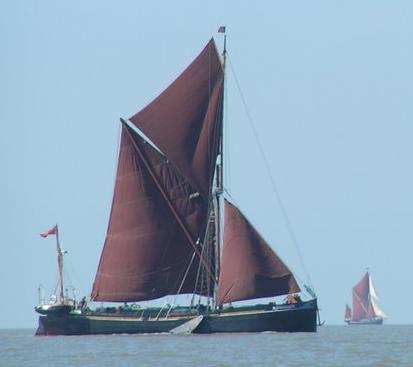 Thames sailing river barge
Build and rigging
The vast majority of barges were wooden hulled (although a significant number were also built in steel), between 80 and 90 feet (25 to 30 m) long with a beam of around 20 feet (6 m). The hull form was as distinctive as their rig, being flat-bottomed with a degree of flair to the sides and plumb ends. The stern was a transom, shaped like a section through a champagne glass, on which was hung a large rudder. The hull was mainly a hold with two small living areas in the bow and stern, and access was through two large hatchways, the smaller before the main mast and a much larger aperture behind.
They were usually spritsail rigged on two masts. Most had a topsail above the huge mainsail and a large foresail. The mizzen was a much smaller mast on which was set a single sail whose main purpose was to aid steering when tacking. Sail areas varied from 3000 to 5000 square feet (300 to 500 m²) depending on the size of the barge. The typical, attractive rusty-red colour of the flax sails was due to the dressing used to waterproof them. No auxiliary power was used originally but many barges were fitted with engines in the later years.
In good conditions, sailing barges could attain speeds over 12 knots, and their leeboards allowed them to be highly effective windward performers. The unusual sprits'l rig allowed any combination of sails to be set: even the topsail on its own could be effective in some conditions.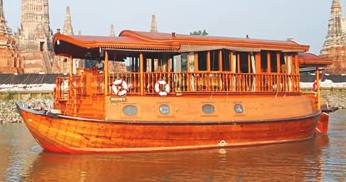 Replica antique rice-barge 'Montha' constructed of
golden teak and mahogany Thailand
History
The flat-bottomed hull made these craft extremely versatile and economical. They could float in as little as 3 feet (1 m) of water and could dry out in the tidal waters without heeling over. This allowed them to visit the narrow tributaries and creeks of the Thames to load farm cargoes, or to dry out on the sand banks and mudflats to load materials for building and brickmaking (it was no coincidence that their use peaked while London was expanding rapidly). The main mast could be lowered to clear bridges. Furthermore, unlike most sailing craft, these barges could sail completely unballasted — a major saving in labour and time.
Their heyday came at the turn of the 20th century when over 2000 were on the registry. That century saw a steady decline in their numbers. The last Thames barge to trade entirely under sail was the Everard-built Cambria in 1969, owned by Captain A. W. (Bob) Roberts. Roberts had sailed the Cambria for more than twenty years, and gained a reputation for hard sailing and fast passages in other Everard barges.
Lovely pair of barges moored at Zwolle, Holland
Cambria's last mate was Dick Durham from Leigh-on-Sea, Essex, with whom Bob carried the last freight under sail alone: a 100 tons of cattle cake from Tilbury Dock to Ipswich in October 1970. Dick wrote Bob Roberts' biography: The Last Sailorman and is planning a lecture on the barge to coincide with her restoration.
There was never a shortage of youths ready to sail in the barges, but few could put up with the workload, the weather conditions and the sparse income of the "mate's berth". Following the Second World War, the coastal barge trade diminished as the nation became more mechanised. Cargoes went by road instead of by sea, squeezing the purses of the barge owners, until most of the once-handsome barges were given motors and relegated to short, lightering passages within the Thames Estuary.
Today, a small number of sailing barges remain, converted to pleasure craft and commonly sailed in the annual races which take place in the Thames Estuary.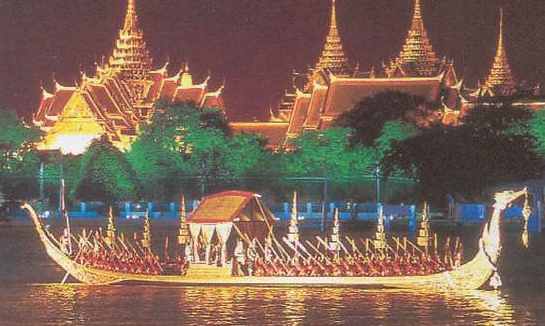 Royal ceremonial barge Thailand
Etymology
Barge is attested from 1300, from Old French barge, from Vulgar Latin barga. The word originally could refer to any small boat, the modern meaning arose around 1480. Bark "small ship" is attested from 1420, from Old French barque, from Vulgar Latin barca (400 AD). The more precise meaning "three-masted ship" arose in the 17th century, and often takes the French spelling for disambiguation.
Both are probably derived from a Latin *barica, from Greek baris "Egyptian boat", ultimately from m Coptic bari "small boat."
By extension, the term "embark" literally means to board the kind of boat called a "barque".
The long poles used to manoeuvre or propel a barge have given rise to the saying, "I wouldn't touch that (subject/thing) with a barge pole." This is a variation on the phrase "I wouldn't touch that with a (insert length) pole." It appears that the association with barge poles came after the phrase was in use. Modern usage uses a ten foot pole, but the earliest instances in print involve a forty foot pole[1], which is improbably long for operating a barge.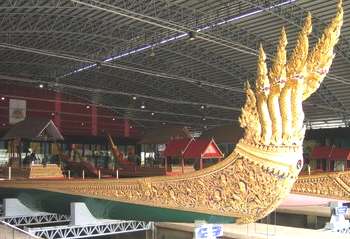 Royal ceremonial barge bow decoration
LINKS and REFERENCE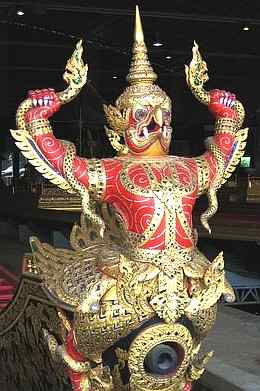 Royal ceremonial barge figure carvings
Healthier alternative tastes for adventure capitalists
Solar Red | Solar Cola | Solar Crush | Solar Citrus | Solar Spice