Space adventurers race to get aboard Virgin ship - October 12, 2004
Fueled by a desire to travel into space, millions of starry-eyed Web surfers are flocking to the Virgin Galactic space travel site.
Since its debut two weeks ago, approximately 7.5 million people have visited the Web site of Virgin Galactic, a space travel venture founded by British airline and entertainment magnate Sir Richard Branson. Around 3,500 of those visitors said they are willing to pay a deposit as soon as flights are available, said Will Whitehorn, a Virgin spokesman.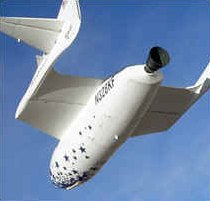 Galactic Enterprise
"Demand is going extraordinarily well since our Sept. 28 launch. We've had twice the number of people visit our Web site than we expected," Whitehorn said. Would-be astronauts also have shown up at Virgin's London office with checks in hand, he added. The cost for the two-hour flight, five minutes of which will be spent weightless, hovering above Earth, is approximately $190,000.
"We had about 185 people come to our office. One of them was Trevor Beattie, creative director for TBWA. That's one of the largest advertising agencies in the United Kingdom. He showed up at our office with a check, and we said we weren't accepting checks yet," Whitehorn said.
Beattie, known for his controversial advertising campaigns such as FCUK for retailer French Connection in the United Kingdom, flew to the Mojave for the second Ansari X Prize, where he met with Branson and the team for SpaceShipOne, which blasted into space from the desert floor.
There, the relentless Beattie gave Branson his check for a ride on Virgin Galactic's VSS Enterprise, once it begins flights in 2007.
Other celebrities also made flight requests while attending the Ansari X Prize competition. Former Kiss singer Gene Simmons expressed his desire to blast into space, as did Star Trek actor William Shatner. Other interested parties who filled out the online registration form and expressed a willingness to plunk down a deposit included chief executives, entrepreneurs and folks just looking to fulfill a lifelong dream to travel to space, Whitehorn said. "Seventy-eight percent of the registrants were from the U.S., with the rest split evenly among England, Germany, Japan and Australia," he added. "And the gender, as far as we could tell, was 58 percent male, which was less skewed than I expected."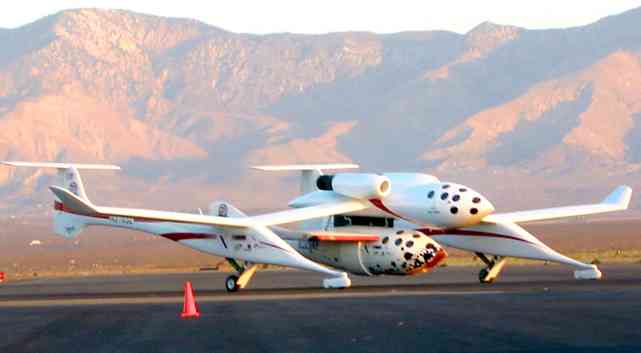 Spaceship One - Scaled Composites build
The age range of interested space travelers also was quite wide--from people in their 20s to 60s.
Whitehorn noted that visitors to the Web site were informed they needed to be in good health in order to take the trip.
While details have yet to be finalized, space tourist will undergo six days of medical preparation, G-tolerance training, talks with space experts and simulator training. On the actual flight day, the Virgin Galactic aircraft will travel down a runway, rather than a launch pad for a two-hour flight.
After the larger aircraft reaches 10 miles above sea level, the smaller VSS Enterprise will blast off from the mother ship, hurtling into space at a speed faster than a bullet. Once the VSS Enterprise enters space, the motor will idle and the weightless vessel will float in space for five minutes before returning to earth like a glider.
---
SpaceShipOne's Rutan: Space resorts in 25 years - March 1, 2005
SAN FRANCISCO--In a generation, outer space is going to look sort of like Orlando, if space pioneer Burt Rutan is right.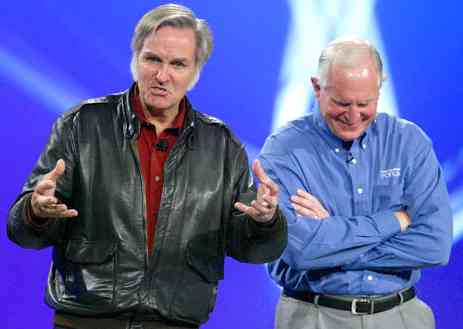 Burt Rutan and Intel's CEO Craig Barrett
Speaking at the Intel Developer Forum here, Rutan said commercial space flights that will let ordinary individuals go into outer space will start to occur in about 12 years, with resorts showing up in about 25 years.
So far, only 455 people have orbited in space, said Rutan, who designed SpaceShipOne, the craft that won the $10 million Ansari X Prize for private space travel. Intel CEO Craig Barrett brought Rutan onstage during a keynote speech on the opening day of the three-day conference.
"Twelve to 15 years from now (commercial space trips) will be in the $30,000 to $40,000 area to go outside the atmosphere," Rutan said. "We're going to have orbiting resort hotels in 25 years."
By comparison, Richard Branson's space tourism venture, Virgin Galactic, is charging would-be weekend astronauts approximately $190,000 for planned two-hour flights, of which about five minutes would be spent in weightless conditions.
A key factor in this will be improved safety. In a few years, early space flight companies will be able to offer the safety that 1930s airline companies provided, which is "about 100 times safer than the U.S. and the Russians offered in the first three decades of space travel," Rutan said.
Safe re-entry is one of the aspects of Rutan's SpaceShipOne craft that could help pave the way toward commercial space flights. The flight of the craft last year also could inspire a new generation of aeronautics engineers. Howard Hughes, Werner Von Braun and others were children when the early aeronautical achievements took place from 1908 to 1912, Rutan noted.
Virgin Galactic Enterprise - SpaceshipOne
Until recently NASA and its glacial pace took much of the romance and excitement out of space travel, he said. "In the last 30 years, we have bored our kids with the space program," Rutan said.
---
---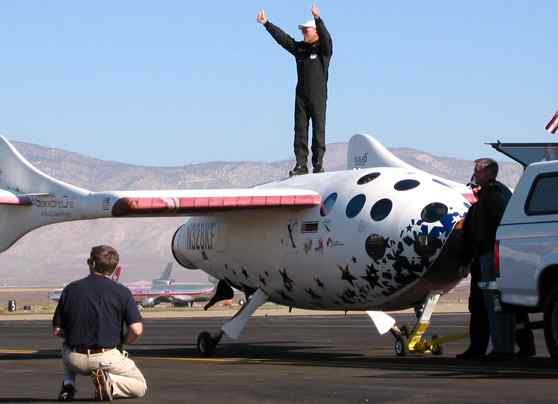 Virgin Galactic Enterprise - Mike Melvill test pilot