Solar Power- 21st century boating
Electric boating is regaining in popularity, and will continue to do so while diesel prices increase as resources diminish. Diesel has many costs which are not included in the price at the pump – such as environmental damage and global conflict.
Today solar powered electric propulsion is a practical, economic alternative to diesel engines on narrowboats. High performance solar panels, batteries, chargers, motors and motor controllers are more affordable than ever. We have selected a range at good value components running at a safe 48 volts.
Low maintenance and low running cost.

Space-saving installation.

It's quiet and clean.

25% discount on boat licenses from BW and EA.

Mains power for comfortable accommodation.
Electric boating gets you get closer to the wildlife. There's no need to shout over the engine noise and you can here someone falling in. Its a great way to enjoy the inland waterways and for many in a solar boat is an affordable low-impact home.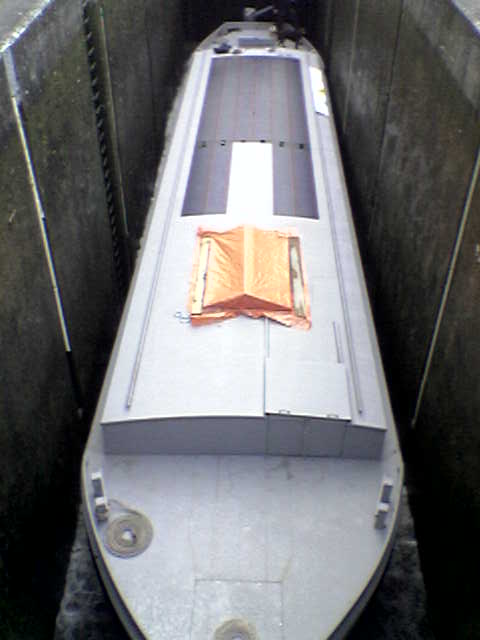 Unity 35 ton 20m narrow boat
Performance
Narrowboats are well suited to electric propulsion due to the efficient hull design and low canal speed limits. Our proven system powers narrowboats up to 72 foot at 4mph.
The slower you go, the further you can get on the stored power. Electric motors and controllers have excellent efficiency over the entire speed range, about 90%, but going fast does just require a lot more power (see Table). Diesel boats are also 4 times more efficient at 2mph compare to 4mph.
Most solar barges use their ton or two of batteries for the cabin electric supply as well as for cruising. Heavy usage of the domestic supply will reduce the range. ie. running the washing machine might cost a couple of miles cruising, lights, pumps & radio only reduces the range by a few hundred yards per day.
17 Ton narrowboat
60 foot (18 meters)

Speed Power

Solar miles per day

with 512Watts of solar panels, average June July day

Range on 48V battery 1050Ah battery
1 Ton, 37 kWh

2mph

750 W

7 mile

100miles

3mph

2.5 kW

3 miles

44 miles

4mph

6 kW

1.7 miles

25 miles
Batteries
Wet lead-acid traction batteries are efficient and robust and currently the best value. They need to be topped up with water occasionally or an automatic filling system can be installed. In an electric installation that compares in price to a diesel engine the battery is 5%- 10% of the boats weight.
How many solar panels?
We recommend at least half the roof is covered.
The electricity generating solar panels known as photo-voltaic (PV), give an average of 4 hours at their peak rated power per day in Southern England (March-September average). So 1000 Watts of solar panels will give you an average of 4kWh of electricity per day eg. 8 miles per day at 2 mph or fully charge your 345Ah battery from flat in 3-6 days.
The solar panels are one of the more expensive parts of the system, our price list brings you the latest prices on high-performance panels. They are getting better value all the time as cities such as Tokyo turn to solar for much of their power.
We can also install solar hot water using the latest solar-thermal collectors warming a twin coil water tank so that boiler or solid fuel stove can be used in addition in the winter.
12 Volt Solar Panels
for battery charging

Dimensions
lxwxd (mm)

☼ Charge
per day
(Ah/d)

Charge per sq. meter

Peak power

Price inc. VAT

The big plastic 64 Watt "low-light" panel.

Uni-Solar rigid framed panels are excellent value and made from durable plastic rather than glass. Their "triple junction" technology gives good performance in low light and partial shade. Although their peak power is 64 Watts, their total output is similar to the 80 Watt Sharp panel in typical British conditions. 20 year warranty.

PV-US-32

1366 x 383 x 32

12

23

32W

£180.00

PV-US-64

1366 x 741 x 32

24 Ah/d

23

64W

£280.00

8 x 80W panels on an electric boat produced 400 kWhours last year.

Sharp or LC Solar polycrystalline. Glass fronted, aluminium framed. They offer high power for their size. Large hail stones wont break them. Glass panels are the easiest to clean. The 80 Watt Sharps were last years best seller. All with 25 year warranty.

LC-40

640 x 536 x 35

12 Ah/d

36

40W

£170.00

LC-105

1434 x 642 x 42

31Ah/d

34

105W

£380.00

SH-PC-80

1200 x 530 x 35

24 Ah/d

38

80W

£300.00

SH-PC-123

1500 x 662 x 46

41 Ah/d

41

123W

£455.00

A USF-32 on a dinghy with electric outboard.

Uni-Solar flexible panels are light-weight and durable. They are flat and flexible so can be easily mounted anywhere. Tie it to the rigging or take it camping. Made in Mexico.
The 64 Watt version is for sticking down to the roof- A neat solar solution for a boat.

USF-11

554 x 424 x 5

4Ah/d

18

11W

£140.00

USF-32

1429 x 424 x 5

12 Ah/d

20

32W

£260.00

PVL-64 peel and stick

2845 x 395 x 4

24Ah/d

21

64W

£400.00

Flat walk-on panels, excellent performance.

Solara M-series stainless steel backed, teflon covered, walk-on panels. Very flat and they bend to the curve of a boat's top. Glue down or use screws or bolts. The cables come out of the upper side. Excellent performance for their size. German made.

SM 160

740 x 450 x 2

12 Ah/d

36

40W

£320.00

SM 225

750 x 610 x 8

19 Ah/d

41

56W

£420.00
PROJECTS:
May 2005 - "Unity" launched. A 68 foot (20 meters), 35 Ton replica of a horse drawn Kennet and Avon barge completes its first voyage from the builders, R.L.L Boats in Bristol to Devizes. One of the biggest boats on Britain's southern waterway network, powered silently by our high power solar system. Read review in Waterways World magazine (July 2005). See gallery for more pictures.
June 2005 – "Apsara" a new 60 foot, 17 Ton electric narrowboat is cruising by Solar Power. Three months ago this boat was a pile of steal at Liverpool Boats. The high-spec solar syatem and large battery give a 200 mile cruising range per two sunny weeks. Top speed is 4.5mph, efficient cruising speed is 2.5mph.. The one horse solar system will also supply power for completing of the internal fit-out. See gallery
CONTACTS:
Hugh Swann
07900 432249



3 Eldon Road, Reading,
Berkshire. RG1 4DJ.
The Solar Navigator - SWASSH (Small Waterplane Area Stabilized Single Hull) test model 2012
The latest Solarnavigator is designed to be capable of an autonomous world navigation set for an attempt
in 2015 if all goes according to schedule.