FOOD MARKETING CONSUMPTION and MANUFACTURING
Where does 'SOLARADE' fit in to the UK soft drinks market?
'Solarade' is part of the functional drinks market. These are sparkling, still and dilutable products, designed to help:
Replace lost minerals, sugars, trace elements and fluids after exercise

Boost or replace lost energy from ill health or general feeling of weariness

Stimulate concentration or awareness
The functional drinks market includes:
Sports drinks

Energy drinks

Vitamin and mineral-enriched drinks

ACE drinks (fortified with A, C or E antioxidant vitamins)

Wellness drinks

Nutraceutical drinks

Near-water drinks

Herbal drinks
A typical soft drinks cabinet
The main brands that dominate the take-home sector of the market are listed below. Note that this list includes all soft drink brands, so products that occupy smaller niches of the market are not listed:
Top 12 Take-Home UK Brands by Value 2002
Robinsons

Tropicana Pure Premium

Irn Bru

Ocean Spray
Top Take-Home Soft Drinks Suppliers by Value (£million) 2002
Coca Cola Enterprises - 1312

Britvic Soft Drinks - 557

GlaxoSmithKline - 308

Danone Water - 122

Tropicana UK - 120

AG Barr - 113

Gerber Foods - 98

Red Bull - 65

Proctor and Gamble - 55

Del Monte - 54

Own Label - 997
Top Take-Home Soft Drinks Suppliers by Volume (litres m) 2002
Coca Cola Enterprises - 1580

Britvic Soft Drinks - 707

Danone Water - 222

GlaxoSmithKline - 195

AG Barr - 157

Gerber Foods - 103

Tropicana UK - 68

Proctor and Gamble - 68

Princes Soft Drinks - 63

Highland Spring - 61

Own Label - 2194
The market for functional drinks and foods is growing as food and drink companies seek to benefit from the social trend towards personal well-being and healthier lifestyles. This is accompanied by the demographic reality of an ageing population; a greater proportion of the population is middle aged and elderly. These people are attracted to products that offer regenerative or rejuvenating properties.
In addition, younger consumers are drawn towards products that offer legal 'highs'. This can be seen in the nicknames that certain drinks attracted from its key consumer segment. It appears from this ready growth, that there is a gap in the market for am energy drink with a new flavour and a genuinely beneficial formula designed to restore health or otherwise replace lost energy.
Market Analysis: The soft drinks brands sold by each supplier
Coca Cola Enterprises
Britvic Soft Drinks
Abbey Well mineral water

Ame revitalising drink

Aqua Libra health drink

Britvic fruit juices, mixers and cordials

IceBlast frozen carbonated drink

Idris ginger beer, cream soda and dandelion & burdock

J2O 50% fruit juice range

Red Devil stimulant energy drink

Pepsi sold under license by Britvic since 1987

Purdey's multi-vitamin fruit drinks

Robinsons bought by Britvic in 1995

R Whites lemonade

Shandy Bass

Tango bought by Britvic in 1986

7UP bought in 1987
Danone Water
GlaxoSmithKline
AG Barr (Barrs)
Irn-Bru

Orangina franchised to Barrs in 1995

Ka carbonated soft drinks

Tizer bought in 1972

Lipton Ice Tea

D & B (Dandelion and Burdock)

Simply Citrus launched in 2000

Findlays Scottish mineral water

Iron Bru 32 - energy drink
Gerber Foods
Sunpride

Southern Delight

Southern Gold

Produce and package many own label* drinks for supermarkets and food retailing groups

Packaging other brand owners products such as: Ocean Spray, Welch's, Libby's Organic and C, Um Bongo, Thomas the Tank Engine juice drinks and Sunny D
Tropicana UK
Procter and Gamble
Sunny Delight

P & G is one of the world's biggest companies, making products in beauty and hygiene, hair care, animal nutrition, household and food and drink.
Princes Soft Drinks
Major producer of own label* soft drinks

Also produces Jucee, Twist 'n' Squeeze, Aqua Pura and Princes juices

Makes and sells under licence Virgin Cola, Ocean Spray squash and Cape fruit juices
Highland Spring
Highland Spring mineral water range

Gleneagles premium mineral water

Watermedia promotional bottled water
*Own label products are generic versions of goods often sold under brand names. Supermarket retailers, for example, stock versions of popular soft drinks' brands such as colas and lemonades, which carry the supermarket's name, rather than that of a premium brand's name. Own label products are almost always cheaper than premium brands, as the development and marketing costs of supplying them are usually lower.
Data source: Britvic Soft Drinks Category Report 2003
(Information sourced generally from own company Web sites)
---
A taste for adventure capitalists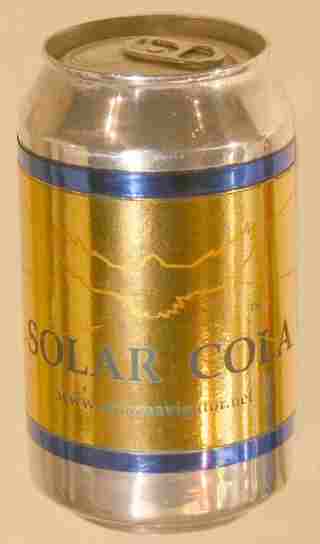 Solar Cola - a healthier alternative