The Jet-Ski is the brand name of Kawasaki's personal watercraft. The name, however, is often used as a generic term for personal watercraft (PWC), typically those propelled by water jets. These jets rapidly expel water, driven by a screw-shaped impeller, in a backward spray. Jet ski can also refer to versions of PWCs known as "stand-ups".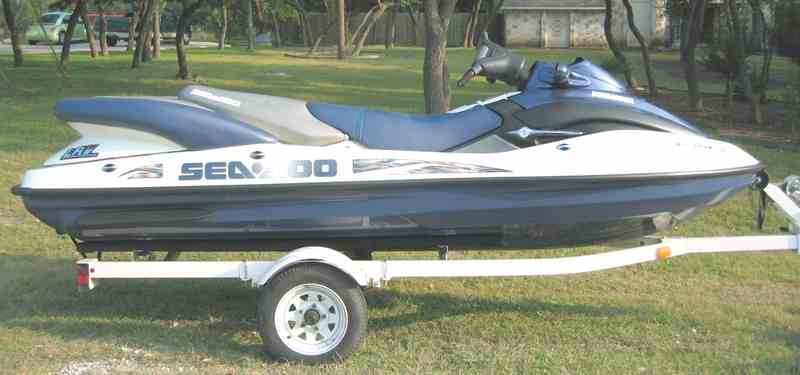 Kawasaki 'Sea Doo' Jet Ski
Because of their relatively low cost and the freedom they afford to owners, jet skis are widely used for recreation. However, many U.S. states require safety training for personal watercraft operators. All modern jet skis include a lanyard, commonly called a dead man's switch, to turn off the vessel if the operator falls off -- provided the lanyard is attached to the operator.
Lake Havasu, Arizona marcelo, is a favorite for jet ski riders and hosts the World Championships for personal watercraft racing each October. In Canada in general but mostly in Quebec, the common name for PWCs is Sea-Doo, which is a trademake or Bombardier (or BPR). This term is derived from Bombardier legendary Ski-Doo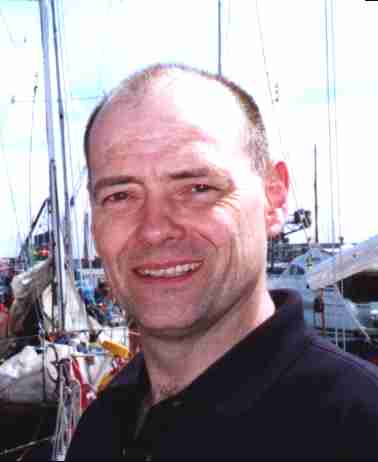 Nelson Kruschandl - My first boat
NK: When I was a schoolboy teenager, I built one of the first small personal boats now referred to as the jet-ski type, only with an exposed propeller. At the time in the 1970s everyone said the design wouldn't catch on! So much for that. The picture below shows the hull under construction. The build began in my bedroom in Eastbourne, when I was at Ratton Secondary School. I finally used an old lawnmower engine (Briggs & Stratton). The boat was completed in a garage in Seaford, which my father allowed me to take over, and later at Newhaven, but was disposed of when a move forced a clear-out - a storage problem. Pity!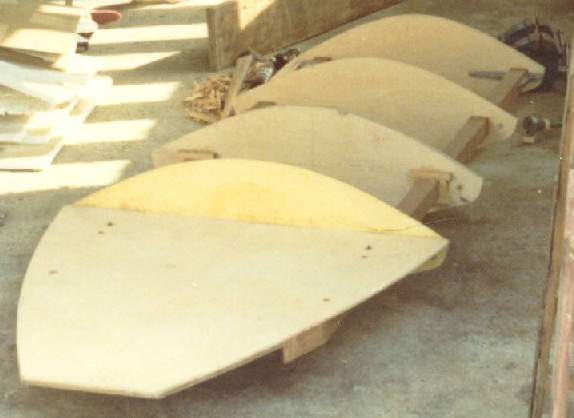 Nelson's first full size boat - Low two seat Jet Ski style
The 550 is a personal water craft made by Kawasaki. It was first built in 1982 and has been very popular. The 550 shares many of the same parts with the JS440 including the fiberglass hull, hood and hand pole. This craft played a huge role in the popularity of personal watercraft. It was arguably the most popular watercraft throughout the 1980s and early 90s. The 550 was a very popular choice for racing. The 550 underwent very few changes over its production history. The 550 slowly lost popularity when the larger more stable and powerful stand ups began appearing like the Kawasaki 650, 750 and Yamaha Superjet. Many consider the era of the 550 the heyday of personal watercraft racing.
The Superjet is a personal watercraft made by Yamaha Motor Corporation. Introduced in 1990 , it has become one of the most popular personal watercraft in history.
A personal water craft (PWC) is a recreational watercraft that the rider sits or stands on, rather than inside of, as in a boat. Models have an inboard engine driving a pump jet. They are often referred by the names Jet Ski or Sea-Doo, which are brand names owned by Kawasaki and Bombardier, respectively.
Most are designed for two or three people, though four-passenger models exist. Stand-up PWCs are also popular for single riders. The invention of both major types of PWC is usually credited to Clayton Jacobsen II of Arizona, originally a motocross enthusiast.
Some surfers use PWCs to get to the waves and get up to speed with them; this is known as tow-in surfing. They can also be used for towing water skiiers on flat water.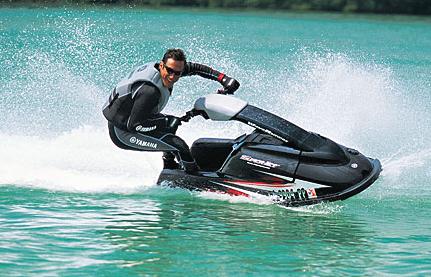 Yamaha 'Supajet' personal water craft
OTHER USES
Although most PWCs are purchased by individuals for recreational use, they are also used for more serious purposes. PWCs are small, fast, easily handled, fairly easy to use, affordable and their propulsion systems, which do not have external propellers, are safer for swimmers and wildlife. For these reasons, they are sometimes used in preference to small motorboats.
Lifeguards in some areas use PWCs equipped with rescue platforms to rescue water users who get into difficulties and carry them back to shore. Rescuers have also used personal watercraft to pick up flood survivors.
PWCs have been used by biologists studying marine life. PWCs are also used for law enforcement. Due to their high speed and excellent maneuverability, police and rangers use them to enforce laws on lakes and rivers.
A PWC has recently been used for coaching rowing on the River Tyne. When combined with a wash-reduction system, it is an excellent vehicle for assistant coaches, especially when the BOSE waterproof tannoy is also installed. The latest integrated GPS systems allow for accurate assesments of time and speed of the crews coached.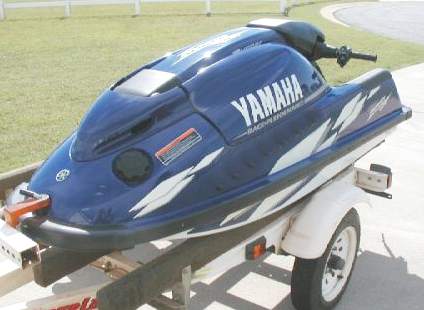 ---
LINKS
The Solar Navigator - SWASSH (Small Waterplane Area Stabilized Single Hull) test model 2012
The latest Solarnavigator is designed to be capable of an autonomous world navigation set for an attempt
in 2015 if all goes according to schedule.