HMS VICTORY is the oldest commissioned warship in the world, and is still manned by Officers and Ratings of the Royal Navy. She flies the flag of the Second Sea Lord and Commander in Chief Naval Home Command and lies in No 2 Dry Dock at Portsmouth Naval Base, Portsmouth. England. The Victory is the only remaining 18th century ship of the line in the world.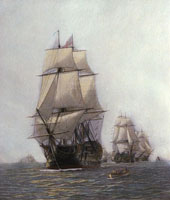 The Battle of Trafalgar
HMS Victory appears today in the form in which she fought her most famous battle, the Battle of Trafalgar (21st October 1805) at which Admiral Lord Nelson was shot by a French marine from the fighting top of the Redoutable. Although Victory underwent a major refit between the Battle of Cape St. Vincent (1797) and Trafalgar, her appearance today still gives an immense impression of the conditions aboard the flagship of Admiral Sir John Jervis on Tuesday 14th February 1797.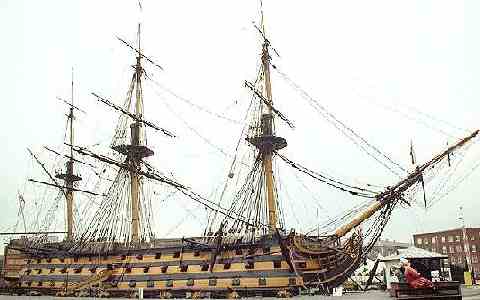 HMS Victory - Portsmouth Historic Dockyard, England - No2 dock
The Victory was designed by Thomas Slade, the Senior Surveyor of the Navy. Her keel was laid down in Chatham on 23 July 1759 and she was launched on 7 May 1765 but was not commissioned until 1778. This long period of weathering meant that the hull timbers were well seasoned, which is probably the main reason why she has survived so long. Once commissioned she became the most successful First Rate ship ever built.
On 13th December 1758, the Board of Admiralty in London, placed an order for the construction of 12 new line of battle warships, amongst them a 100 gun 'first rate'. The following year it was decided that this ship should be called Victory, although there had been considerable discussion over the name - the previous holders of the name having been largely unsuccessful. It is interesting to note that a certain Horatio Nelson was born in that same year, 1758, at Burnham Thorpe in Norfolk.
SPECIFICATIONS
Keel laid: July 23rd 1759 - No 2 Dock, Chatham Dockyard
Designer: Sir Thomas Slade, Surveyor to the Navy
Cost: £63,176 (in today's terms some £20 million)
Launched: May 7th 1765 - (38 tons of iron ballast added to the port side to stabilise trim)
Overall length: 227 feet

Length on gun deck: 186 feet

Length of keel: 151 feet 3 inches

Height of masthead: 220 feet above sea level

Overall breadth: 51 feet 10 inches

Moulded breadth: 50 feet 6 inches

Draught: 21 feet 6 inches

Sail area: 4 acres

Cordage used: 27 miles

Timber used: 2,000 oak trees (60

acres forest felled)
Following her launch, Victory was placed in 'ordinary' (reserve) where she remained until the War of American Independence (1778) when she was completed and fitted out with full armament (104 guns). Victory was refitted after each year at sea before again being placed on the reserve list in 1783. Victory returned to the fleet in 1789 following a period in repair and became the flagship of Admiral Sir John Jervis in 1796. After the Battle of Cape St. Vincent, Victory was surveyed as 'defective' and taken out of service (paid off at Chatham), serving in the river Medway as a hospital ship. From 1800 to 1803 she underwent substantial rebuilding at Chatham Dockyard at a cost of £70,993 (the stern galleries were enclosed at this time).
Victory returned again to the fleet in 1803 and served as flagship to Nelson until Trafalgar (1805). After campaigning under the flag of Sir James Saumarez (captain, Orion at St Vincent), Victory was withdrawn from active service in 1812. She served as a floating depot ship in Portsmouth harbour until 1922 when, under pressure from the Society for Nautical Research, she was towed into the Dockyard and given a permanent home in the historic No. 2 dry dock where she remains. Victory is currently nearing the end of a period of intensive restoration, intended to bring her as close as possible to her Trafalgar condition in time for the bicentennary in 2005.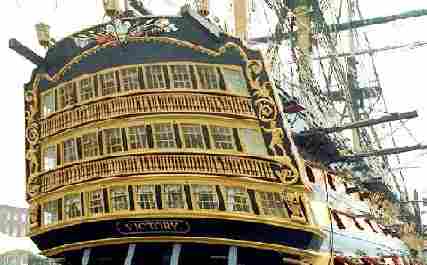 HMS Victory - the stern galleries
Her excellent sailing qualities made her a very popular choice for use by Admirals as their flagship. Admirals Keppel, Kemperfelt, Howe and Jervis all used her prior to Admiral Lord Nelson when he was Commander in Chief of the Mediterranean Fleet. Even after the Battle of Trafalgar she continued her active career and was involved in two Baltic campaigns under Admiral Saumarez.
Her active career completed on 7 November 1812 when she was then moored in Portsmouth Harbour off Gosport for 110 years fulfilling a number of roles. By 1921 the ship was in a poor state of repair, it was at this point that the Government supported by the Society for Nautical Research agreed that HMS VICTORY should be saved and to be a lasting reminder to the Nation of Admiral Lord Nelson, The Battle of Trafalgar, and the Royal Navy's supremacy in the days of sail.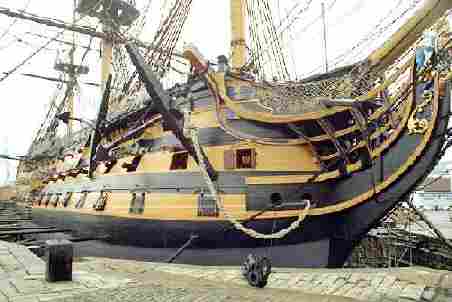 HMS Victory - starboard anchor
She was moved into her present dock on 12 January 1922 and since then has been undergoing restoration by the Royal Navy with assistance from the Society for Nautical Research, to return the ship to her Trafalgar design and condition. As well as her naval role she is also a major heritage attraction and attracts over 350,000 visitors each year.
PORSTMOUTH HISTORIC DOCKYARD
Portsmouth Historic Dockyard is a great day out on the South Coast. Admission tickets include entry to Mary Rose, HMS Victory, HMS Warrior 1860, Action Stations, the Royal Naval Museum and a Harbour Boat Tour!
Use the links below to find out more about Portsmouth Historic Dockyard and its many treasures.
| | | | |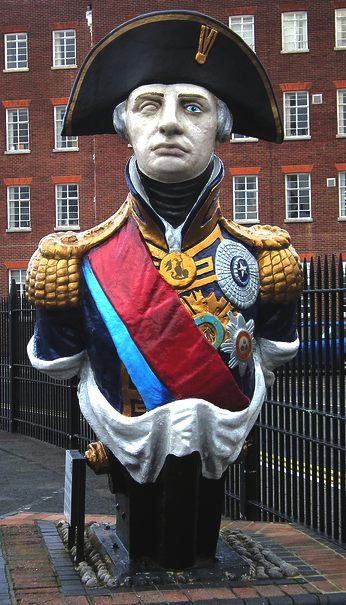 LINKS TO OTHER NAVAL and MARITIME SITES
.
---
LINKS
LINK TO CUTTY SARK - FIGUREHEAD
LINK TO HMS VICTORY - FIGUREHEAD
LINK TO HMS WARRIOR - FIGUREHEAD
http://www.maritimawoodcarving.co.uk/
http://www.hartmann-designs.de/
http://www.cindyvallar.com/superstitions.html
http://misscavendish.blogspot.co.uk/2010_09_01_archive.html
http://www.cityofart.net/bship/figurehead.htm
http://www.telegraph.co.uk/expat/expatpicturegalleries/7299378/Ship-figureheads.html
http://www.contemporarysculptor.com/hms-victory.htm
https://en.wikipedia.org/wiki/HMS_Victory
http://www.fotolibra.com/gallery/392971/hms-victory-figurehead/like/
http://www.markreeves.co.uk/html/htmlcolourphotos/hmsvictoryfigurehead.html
The Solar Navigator - SWASSH (Small Waterplane Area Stabilized Single Hull) test model 2012. The latest Solarnavigator is a robot ship designed to be capable of an autonomous world navigation set for an attempt in 2015 if all goes according to schedule. The platform is also ideal for persistent monitoring 365 days year 24/7 - with data streamed back to your command HQ via satellite.