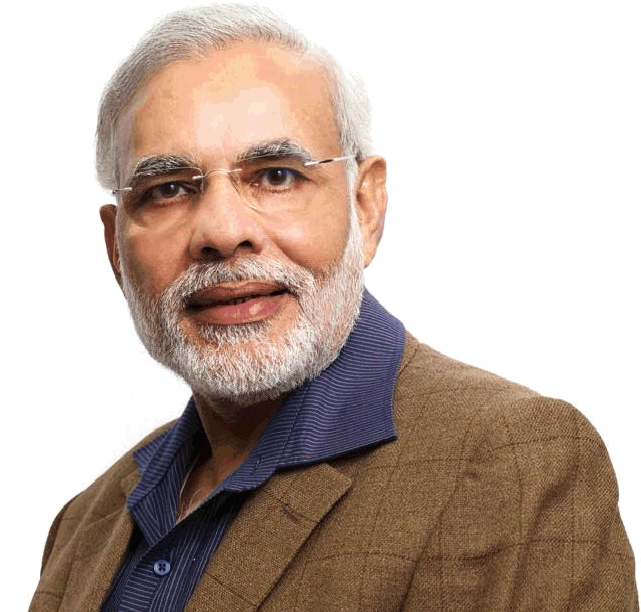 The Prime Minister of India, Narendra Modi, did not agree carbon reduction targets at COP26, aiming for more burning of coal to provide electricity for economic growth in a climate unstable world. In our book this makes him a climate criminal, where global warming requires zero growth and renewable energy, rather than blah, blah, blah, business as usual. He is turning out to be a disappointment as a potential sustainable world leader. Maybe, it is time for India to elect a new leader, with the gumption to deal with these pressing issues?

MAIL ONLINE INDIA JUNE 2014

Prime Minister Narendra Modi has announced his plans to clean up the Ganga — India's holiest river and also one of its most polluted — but his mission is not going to be easy.

Massive inflows of sewage and industrial effluents into the river are sure to make its clean-up one of the most complicated tasks taken up by environmental authorities.

Fifty cities located along the more than 2,500-km river discharge 2,723.3 million litres a day (MLD) of wastewater into it, according to the latest assessment report of the Central Pollution Control Board (CPCB).

On the other hand, existing treatment systems can handle only 44 per cent (or 1208.8 MLD) of the wastewater.

"The assessment of sewage generation and development of treatment capacities indicate a gap of 1,515 MLD, which should be reduced to improve water quality of river Ganges," says the report that is yet to be released by the Environment Ministry.

The situation is further complicated by 138 drains that discharge thousands of litres of wastewater into the Ganga and the critical condition of two of its tributaries, Ramganga and Kali.

A senior CPCB scientist, who was part of the team that conducted the study, said: "The Ganga needs a holistic cleaning-up and conservation.

"Any piecemeal measure will not yield anything. Any effort to clean up a particular stretch along a town like Varanasi will entail cleaning up of the entire river system upstream, right from its origin at Gaumukh."

Of the 50 cities along the Ganga, 36 classified as "class I towns" generate 2,601.3 MLD of wastewater, but have the capacity to treat only 46 per cent or 1,192.4 MLD waste.

Fourteen "class II towns" produce another 122 MLD of wastewater and can treat only 13 per cent or 16.4 MLD of wastewater.

Kanpur in Uttar Pradesh produces the highest volume of sewage at 339.3 MLD, followed by Allahabad at 208 MLD and Varanasi at 187.1 MLD.

These three highly polluting towns have capacities to treat only 171.1, 89 and 141 MLD of sewage, respectively.

Patna in Bihar generates 249.2 MLD of waste and has the capacity to treat only 109 MLD.

Kolkata is the highest producer of municipal sewage in West Bengal at 618.4 MLD, but has the capacity to treat a mere 27 per cent of the waste at 172 MLD.

Of the 51 treatment plants inspected by the CPCB in the Ganga catchment, West Bengal fares most poorly.

The state has 34 plants with an installed capacity of 457 MLD, but they are able to treat only 214 MLD of sewage, while 13 plants are not even functional.

The crisis is compounded further by 138 drains identified by the CPCB that discharge 6,087 MLD of industrial and domestic wastewater into the Ganga.

West Bengal is the biggest polluter in this regard, with 54 drains in the state emptying into the river, carrying 1,779 MLD of wastewater.

Much of the Ganga's miseries are accounted for by the critically polluted Ramganga and Kali, the two major tributaries of the river that merge with it near Kannauj.

The 596-km Ramganga carries a huge volume of industrial waste from paper mills at Kashipur and sewage from Moradabad while the 500-km Kali carries tremendous industrial discharges from slaughterhouses in Meerut and distilleries and paper units as it moves through Muzaffarnagar, Meerut, Modi Nagar, Hapur, Bulandshahr, Gulaothi and Kannauj.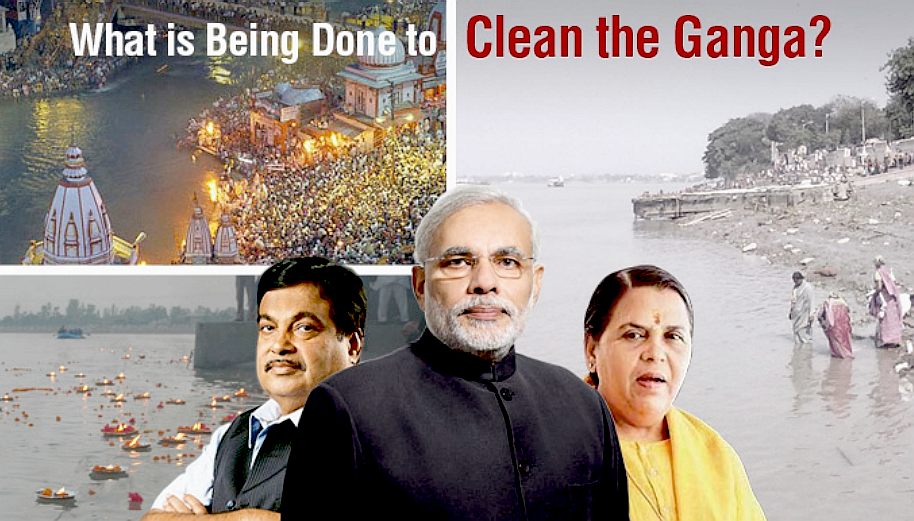 PRIME MINISTER - Narendra G Modi is making it one of his goals tackle the Himalayan problem that faces his country, in squaring up to the pollution of India's Holy River. Modi was sworn in as Prime Minister of India on 26 May 2014 at the Rashtrapati Bhavan. He was the first to invite all South Asian Association for Regional Cooperation leaders to attend his swearing-in ceremony. His first cabinet consisted of 45 ministers, 25 fewer than the previous UPA government.
BRAHMAPUTRA AND GANGA TO GET MORE WATER

Despite the retreating of glaciers in Himalayas, water supply in rivers like Ganga, Brahmaputra and Indus will increase in the coming decades, a new study said.

The study was conducted jointly by research organisation FutureWater, Netherlands' Utrecht University and the Kathmandu-based International Centre for Integrated Mountain Development.

"Our results show that the river flow will increase at least until 2050, despite retreating glaciers," researcher Arthur Lutz said in a statement on Monday.

"The glaciers feeding Indus river, although retreating, will generate increasing amounts of melt-water in the coming decades due to higher temperatures.

"For the other rivers, the increase in river flow is mainly caused by increasing precipitation," the researchers said.

Glacier and snowmelt contribute water to 10 important river basins originating from the Himalayas and in the Tibetan plateau serving over 1.3 billion people.

The group of scientists assessed the importance of meltwater for Indus, Ganga, Brahmaputra, Salween and Mekong rivers and discovered how climate change will alter river flow in the coming decades.

The findings of the study will be important in shaping climate change adaptation policy in the 12 riparian countries surrounding these river basins.

Co-researcher Walter Immerzeel said, "These results confirm on a larger scale what we already discovered last year for two small watersheds in the Indus and Ganga basins."

The scientists emphasise that their projections are only until 2050.

Scenarios for the distant future, or until the end of the century, remain uncertain, in particular for Indus river where meltwater is most important.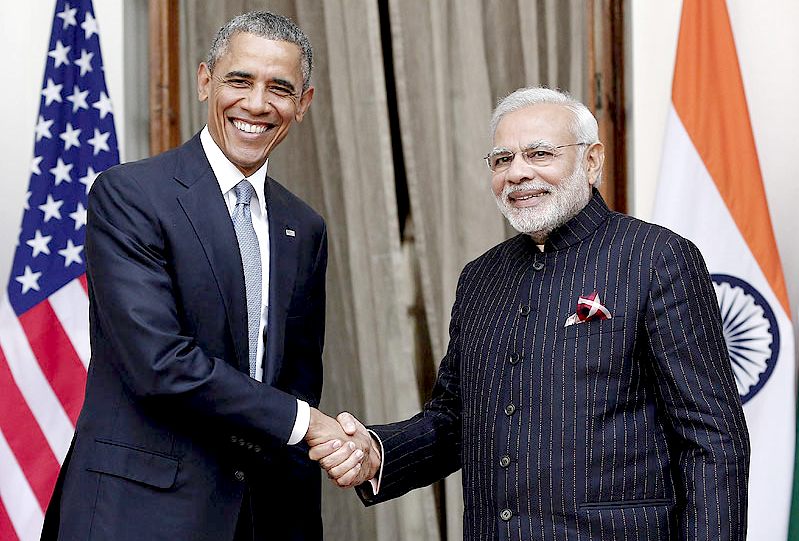 NICE SUITS - President Obama admires Prime Minister Narendra's suit. "I see you had your name sewn in, in case you lost it." Both countries agreed to try to limit pollution in the interests of climate control.
GANGA NAMO STYLE

The cleaning of Ganga is a priority item on the agenda of PM Narendra Modi,who declared his commitment to the issue during his Ganga aarti on May 17 after winning the Lok Sabha elections.

"When I see the pitiable condition of the Ganga, I feel pained, but I feel it is Maa Ganga who has decided I have to do something for her.

"The need of the hour is to restore the glory of the Ganga. Today Maa Ganga is calling us, her children to make the river clean once again," Modi had said.

The PM's commitment to cleaning the holy river is reflected by the appointment of Uma Bharti as Minister for Water Resources and renaming the ministry as Ministry of Water Resources, River Development and Ganga Rejuvenation.

Bharti,who launched a Ganga Samagra Yatra in Sept. 2012, travelled across the length of the river in five states and has also demanded national heritage status for the river. By Akash Vashishtha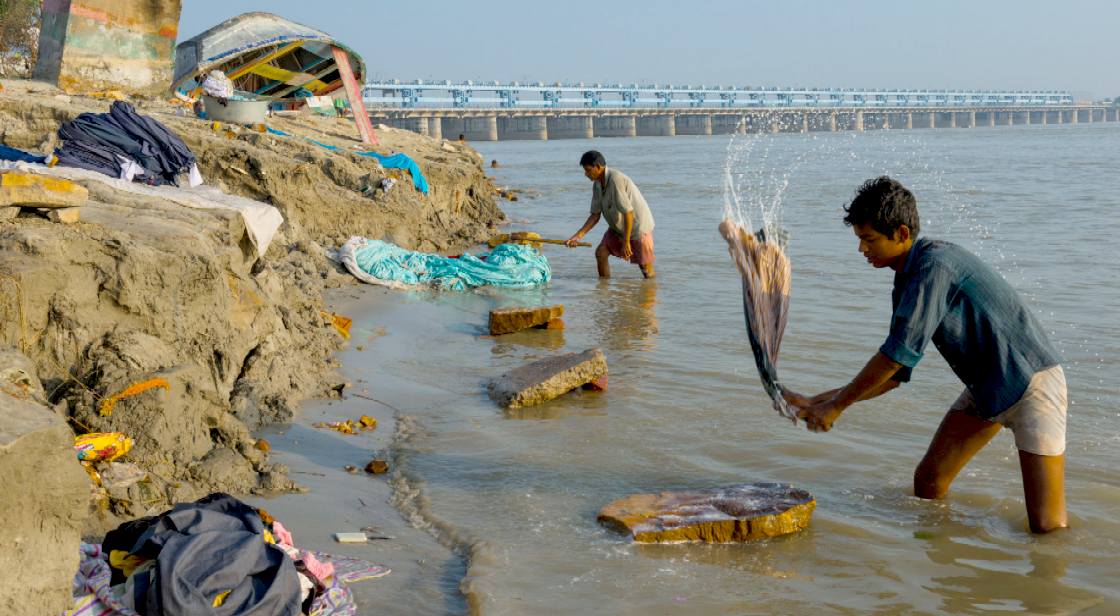 THE TELEGRAPH MAY 2014

Overlooking the muddy waters of the Ganges, the ancient Hindu pilgrimage city of Varanasi has long been a symbol of India's spiritual devotion in the midst of poverty and squalor.

Semi-naked worshippers stand in prayer in its sludgy but sacred river, splashing themselves with water polluted by raw sewage, industrial waste and the ashes of the dead, washed out from funeral pyres. Cows maraud through its narrow lanes, horns blare in traffic jams, and buffaloes, wild pigs and street dogs feast on rubbish piled high on the pavements.

But when Narendra Modi, leader of the Hindu nationalist Bharatiya Janata Party, is sworn in as prime minister on Monday he will kick-start what he promises will be the city's renaissance - a transformation from tourist nightmare into a pristine citadel of Indian culture, civilization and enterprise.

Mr Modi swept to a landslide victory with a campaign that ended a decade of Congress-led government and made him the first Indian leader to win a clear, single party majority in 30 years. While some regard him as authoritarian and fear his Hindu nationalism, he has promised to use his strong leadership style to speed development, promote economic growth, and to root out corruption.

With his own parliamentary seat in Varanasi, he has made the city's revival one of his top priorities, pledging to clean the river, clear the streets, and instil a new sense of civic pride. He wants it to show the way for India's often dirty cities to become clean by 2019, the 150th birth anniversary of Mahatma Gandhi.

"Cleaning our surroundings is also one way of serving Mother India," he said. "It's with small chores that big goals are accomplished. People must be thinking: 'why is this person speaking of garbage?' But that can change India."

It is an ambitious plan. Earlier this month, the World Health Organisation revealed that 13 of the world's 20 worst-polluted cities were in India, with Delhi as the very worst . Most Indian cities suffer serious water and power shortages, and high numbers of children die from poor sanitation and inadequate sewage and water treatment.

Varanasi suffers from most of these problems, but its woes are compounded by its status as one of India's biggest pilgrimage and tourism destinations. As many as 150,000 visitors arrive every day to add to the pressure of its 3.5 million population.

Last week, the city's mayor and Mr Modi's BJP colleague, Ramgopal Mohale, had the air of a man who had been rescued by an invincible cavalry general. He is responsible for the sewage-laden Ganges which the prime minister-elect had bemoaned in his victory speech, but until now claims to have been thwarted in his ambitions to clean up the mess by the Congress-led national government. With Narendra Modi now as both local MP and prime minister, he hopes any political obstacles will vanish.

His task, however, remains daunting. The city's sanitation system dates back to the Mughal period five centuries ago. It generates 300 million litres per day of sewage, all of which ends up in the Ganges and of which only 100 million litres is treated. More than 500 million tonnes of rubbish is generated every day from homes and factories but there are no treatment plants to dispose of it. "It gets dumped in open places," he said. Residents complain that they only have electricity for 15 hours in every 24.

Varanasi is India's holiest city for Hindus. It was favoured by Lord Shiva - one of Hinduism's most important gods - and the Buddha gave his first sermon just outside at Sarnath. Some of the country's greatest Hindustani classical musicians, like Ravi Shankar, were born and developed their craft in Varanasi.

A scheme begun by the late Congress prime minister Rajiv Gandhi in 1986 promised to clean up the river, and to date a total of £2 billion has been pledged, including £250 million for Varanasi itself. Little of it, however, has been spent on the city. When The Telegraph visited one solid waste management plant recently, it had not yet become operational despite being completed four years ago. Rubbish was piled high under a smart steel canopy, while expensive new garbage trucks, dumpers and tractors were rusting in sun-baked mud.

Kamal Mitra Chenoy of the Aam Admi Party, which ran against Mr Modi in the city, said much of the money earmarked for cleaning up the Ganges had been "siphoned off" by corrupt officials and politicians from all parties. "Not more than 30 to 40 percent of the total money, which runs into millions of rupees, was spent on the project," he said.

Mayor Mohale, a plump figure in tight white trousers and pale green shirt, said the city would have in Mr Modi a champion no-one will dare challenge. He will use his influence as prime minister not just to clean the Ganges but to bring in new five star hotels, build flyovers to ease traffic congestion, and modernise the city's weaving industry – it is famous for its 'Benares silk' .

"His vision is to make Varanasi the intellectual and cultural capital of the country,' Mr Mohale added.

However, M.J Akbar, a spokesman for the Mr Mod's party BJP party, said the task was not down to politicians or bureaucrats alone. Ordinary Indians had to play a part in the clean up, by cleaning up their own litter and taking better care of public spaces. "We must get that self-discipline," he said. "Indians are not anarchic but need a better civic sense. We finally have a leadership which talks about these things."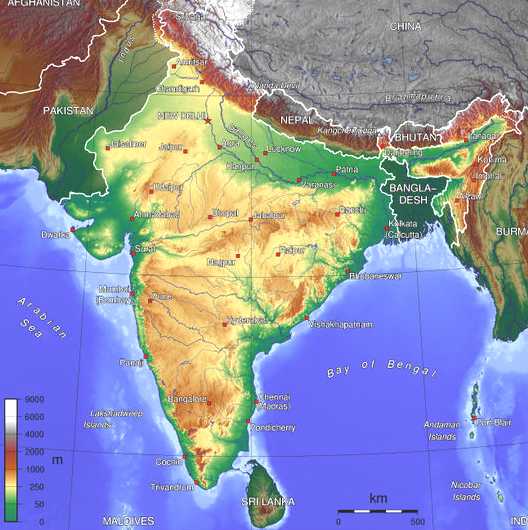 Map of India, the land mass bounded by the Arabian Sea and the Bay of Bengal
TELEGRAPH 10 FEB 2015

Narendra Modi's Bharatiya Janata Party (BJP) have suffered a humiliating landslide defeat in the Delhi state elections where the anti-corruption Aam Admi (Common Man) Party was swept to power.

The party won with 67 of 70 seats while the BJP was cut down from 32 to just three seats. The Congress Party failed to win a single constituency.

Arvind Kejriwal, the Aam Admi Party's charismatic leader, described the result as a "people's victory" and said his top priority was "ending bribery" in the capital where corruption is widespread.

Until the scale of Mr Kejriwal's victory emerged on Tuesday morning, Mr Modi had seemed invincible. Only last May he became the first Indian leader to win a single party majority since Rajiv Gandhi's sweeping Congress victory following the assassination of his mother Indira Gandhi.

Since then the 'Modi wave' has gathered in strength, capturing state legislatures - where much of India's real power lies - including Maharashtra and Haryana. His personal popularity even ousted a Congress ally from power in Jammu and Kashmir.

But just as he seemed unassailable and heading to yet another state election victory in Delhi, the emperor donned new clothes which cast him in an entirely different and unflattering light.

His choice of a dark Bandhgala Nehru jacket pinstriped with gold lines of his own full name suddenly traded his carefully crafted image from selfless leader who had sacrificed his personal life for India's betterment for self-aggrandising and insecure megalomaniac who needs the reassurance of his own name woven into his fabric.

The former Egyptian dictator Hosni Mubarak was another notable fan of the personalised pinstripe.

The claim that the fabric had been woven to order in London and tailored in India for 1,000,000 rupees - around £10,000 - or more than ten years' wages for many of those who voted for Mr Modi in the hope of a higher standard of living - left him a little more frayed at the seams. Even Rahul Gandhi, the Congress Party's slow-motion leader, belittled his "ten lakh ka (million rupee) suit".

Chetan Bhagat, one of India's most popular writers, said on Tuesday: "The suit has not gone down well."

The fact that he was humiliated in the capital by Arvind Kejriwal's unruly Aam Admi Party, which had grown out of India's anti-corruption movement, highlights how far mighty Mr Modi has fallen in the capital's estimation and marks out the limits of his hubris in a thicker tailor's chalk altogether.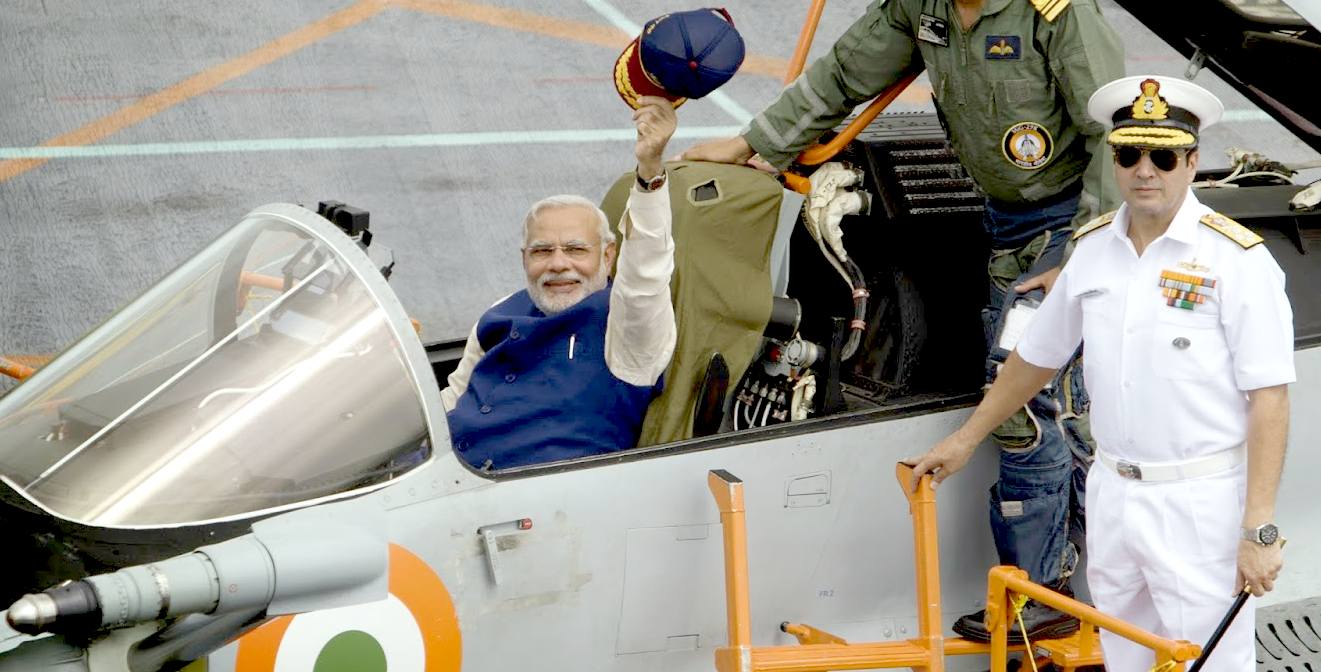 The Aam Admi Party won fewer seats than the BJP in Delhi's hung assembly but formed a government which soon slid into the kind of "anarchy" Mr Kejriwal, then chief minister, had said he believed in.

Despite pledges to tackle corruption, its ministers took the law into their own hands, leading vigilante groups to intimidate African immigrants it falsely accused of being drug dealers and prostitutes.

One African woman was punched in the face and forced to take a urine test in the street in an apparently racist assault. Despite the test proving negative, Mr Kejriwal continued to support his law minister.

As confidence in his ability to govern slumped, India's president Pranab Mukherjee warned him that "populist anarchy cannot be a substitute for governance." Mr Kejriwal resigned after 48 day tumultuous days as chief when rival parties failed to support his plans for an anti-corruption watchdog.

Delhi's voters have decided to forgive Mr Kejriwal and have favoured his humility over Mr Modi's strength, flamboyance and reputation for religious intolerance - there have been a number of attacks on churches in the last few months which have unnerved Delhi's more liberal voters.

Vir Sanghvi, a leading commentator, said the result was an historic one for India: "We are fortunate to see history in the making. This result is a defining moment for Indian politics."

Those supporters who had assumed the scale of his landslide last summer had guaranteed Mr Modi two terms in government may now have to revise their calculations.

In any event it certainly marks a change of fashion. Narendra Modi's trademark pastel linen short sleeve kurta shorts with Punjabi waistcoats are out, and Mr Kejriwal's modest 'muffler man' style of poly-wool sleeveless jumper and tight headscarf is in.

The personal pinstripe of hubris has met its nemesis in Mr Kejriwal's rickshaw wallah chic and Delhi's liberal intelligentsia is now hoping the trend will go national.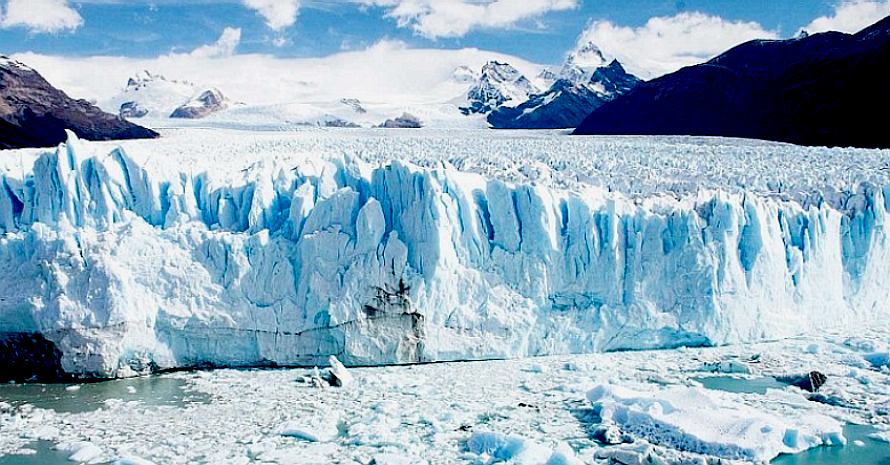 The Himalayas, source of the Ganges
TELEGRAPH 20 FEB 2015

When Narendra Modi wore a suit with his own name woven into its pinstripes to meet President Barack Obama last month he was ridiculed for his vanity. On Friday the Indian prime minister was praised for his philanthropy after the suit raised more than £400,000 to clean up the Ganges.

Gujarat-based diamond trader made the winning offer of 43.1 million rupees (£450,000) in fierce bidding to own India's most talked about gentlemen's garment since the celebrated Nehru jacket. One bid of more than half a million pounds was rejected because it narrowly missed the deadline.

The suit, a dark Chinese-collared Bandhgala with the prime minister's full name Narendra Damodardas Modi woven throughout its gold pinstripe, provoked a heated debate over what it revealed about Mr Modi's character.

Some, including his predecessor Dr Manmohan Singh's tailor, derided it as flashy and self-aggrandising, while his supporters said those who sneered were elitist snobs.

There was further controversy when his Congress opponent Rahul Gandhi claimed it had cost £10,000 to make and revealed a contempt for the poor.

His decision to auction the jacket and the seven-figure bids it drew to help clean up the toxic Ganges river confirmed his continuing star power and considerable philanthropy.

The winning bidder, Lalji Patel, a diamond trader from Surat in Gujarat, said he had bid so high because he and his son Hitesh were devoted to the Ganges and wanted to help clean up its polluted waters.

"We made a bid of 43.1 million rupees for the suit as the money will go for cleaning the Ganga. We never thought that we will get the suit for so little", Hitesh told reporters.

He said he would have the suit altered to fit and wear it once before displaying it in foyer of their family shop.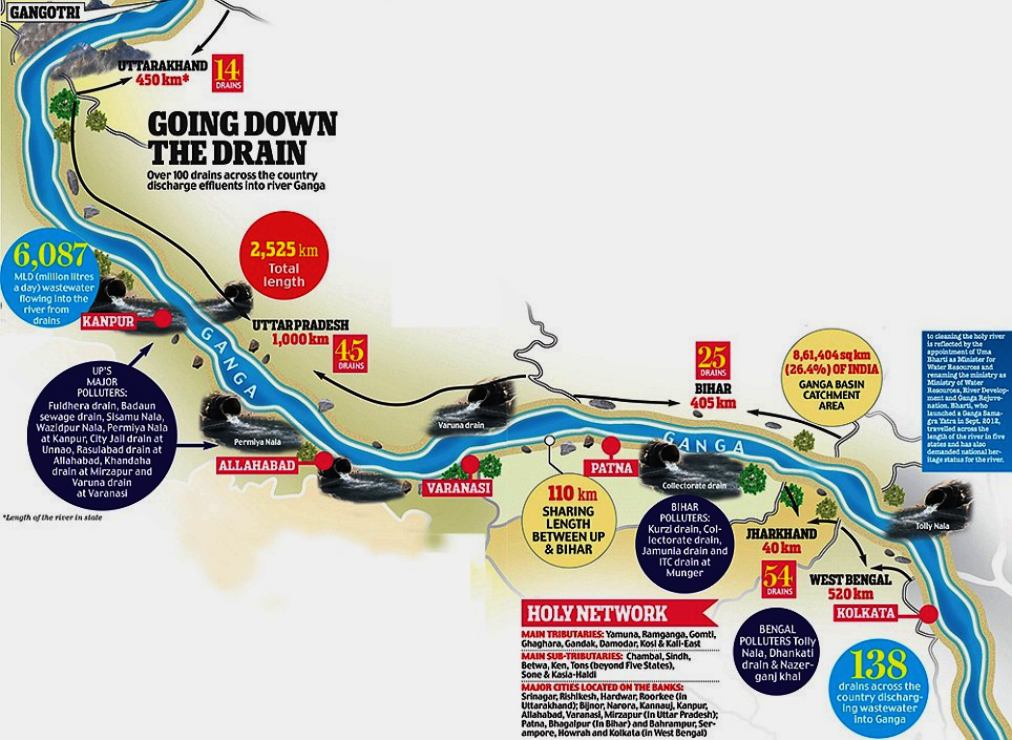 WIKIPEDIA

Narendra Damodardas Modi (Gujarati: [nəreːnd̪rə d̪ɑːmoːd̪ərəd̪ɑːs moːd̪iː]), born 17 September 1950) is the 15th and current Prime Minister of India, in office since 26 May 2014. Modi, a leader of the Bharatiya Janata Party (BJP), was the Chief Minister of Gujarat from 2001 to 2014 and is the Member of Parliament (MP) from Varanasi. He led the BJP in the 2014 general election, which gave the party a majority in the Lok Sabha (the lower house of the Indian parliament) – a first for any party since 1984 – and was credited for 2014 BJP electoral victories in the states of Haryana, Maharashtra, Jharkhand and Jammu and Kashmir.

Since taking office as Prime Minister, Modi's administration has focused on reforming and modernising India's infrastructure and government, reducing bureaucracy, encouraging increased foreign direct investment, improving national standards of health and sanitation and improving foreign relations. Modi has been appreciated for starting initiatives like Swachh Bharat Mission, Make in India and Digital India. Earlier, as Chief Minister of Gujarat, Modi's economic policies (credited with encouraging economic growth in Gujarat) have been praised, although his administration has also been criticised for failing to significantly improve the human development in the state and failing to prevent the 2002 Gujarat riots. A Hindu nationalist and a former member of the Rashtriya Swayamsevak Sangh (RSS), Modi remains a controversial figure domestically and internationally, despite his progressivism. Known for his tech savvy image, he is the second most followed politician on social media after U.S. President Barack Obama.
ECONOMIC POLICIES

As Prime Minister, Modi began working to speed up the efficiency of India's economy and make it more business-friendly. His government began reforming the red tape that had traditionally hindered Indian business, streamlining the bureaucratic requirements on companies such as a complex permit and inspection system and numerous regulations, so as to make business easier. Modi also ordered reform among the bureaucrats of the Indian Administrative Service, who were infamous for their inefficiency and lethargic work schedule, to ensure a more efficient government bureaucracy. The Planning Commission, which Modi accused of stifling economic growth with Soviet-style bureaucracy, was abolished and replaced with a think tank called NITI Aayog. Modi deregulated diesel prices in October 2014.

Modi's government also liberalised India's foreign direct investment policies, allowing more foreign investment in numerous industries. In May 2015, it was reported that foreign direct investment in India had risen 61% since the previous year. In September 2015, India was the world's top foreign direct investment destination, overtaking China and the United States. In November 2015, his government eased foreign investment regulations in 15 major sectors of the economy.

MISS WORLD 1994 - Aishwarya Rai (right) was born on the 1st of November 1973). She is now known as Aishwarya Rai Bachchan after her marriage. She is an Indian actress and the winner of the Miss World pageant of 1994. Through her successful Bollywood career, she has established herself as one the most popular and high-profile celebrities in India. Rai has received several awards, including two Filmfare Awards from ten nominations. She was awarded the Padma Shri by the Government of India in 2009 and the Ordre des Arts et des Lettres by the Government of France in 2012. She is cited in the media as the "most beautiful woman in the world".
In September 2014, Modi introduced the Make in India initiative to encourage foreign companies to manufacture products in India, with the goal of turning India into a global manufacturing hub.

Modi's government has increased infrastructure spending to massively expand the country's transportation infrastructure. Projects to improve and expand the country's road and railway networks were undertaken, with railway reform being among the government's top priorities. In November 2015, the Indian government signed major deals with General Electric and Alstom to supply India with 1,000 new diesel locomotives, which would be built in India as part of the "Make in India" scheme. In December 2015, Modi's government signed an agreement with Japan to jointly build a bullet train system linking Mumbai and Ahmedabad. The Indian government also began a massive expansion of India's highway network, and is intent on building transport links to remote areas. In addition, an expansion of the country's water transport network was put forward, with a plan on converting 101 rivers into national waterways for the transport of goods and passengers. Construction was started for new sea and river ports, and plans were drawn up for waterbus and hovercraft services.

Modi launched a flagship scheme for developing 100 smart cities on 25 June 2015. In his speech he said:

"For the first time in India, a challenge was being floated, in which the citizens of urban India could contribute in the formulation of development visions of their cities."

In addition to the smart cities initiative, Modi unveiled the "smart villages" initiative, under which rural villages will be given Internet access, clean water, sanitation, and low-carbon energy, with Members of Parliament overseeing the program's implementation in select villages in their constituencies, other than their own or those of their relatives, with the goal of at least 2,500 smart villages by 2019.

Modi also launched the Digital India program, which aims to ensure that government services are available to Indians electronically so as to reduce the amount of paperwork, build infrastructure to ensure rural areas get high-speed Internet access, and promote digital literacy, including among the poor.

In June 2015, Modi launched the flagship "Housing for All By 2022" project, which intends to eliminate slums in India by building about 20 million affordable homes for India's urban poor. The plan involves the participation of the private sector, and Modi carried out a series of reforms to make it easier to build low-cost housing.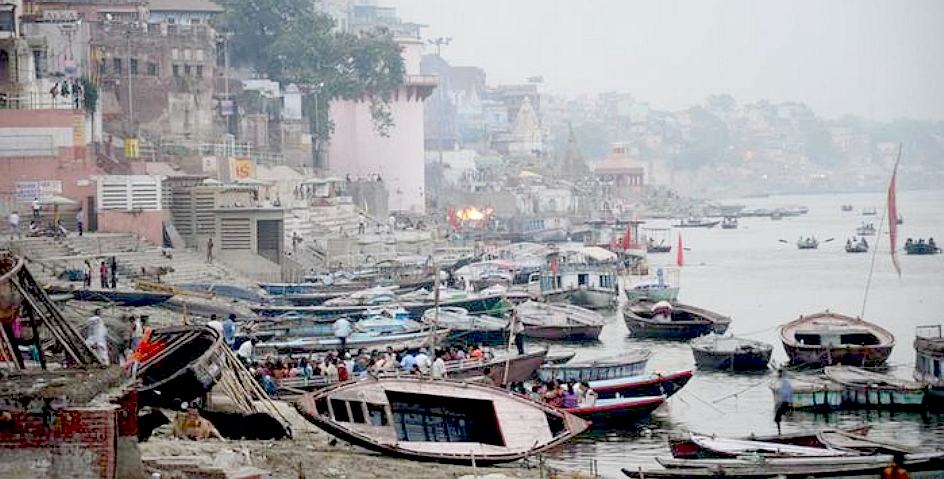 EARLY POLITICAL CAREER

On 26 June 1975, Prime Minister Indira Gandhi declared a state of emergency in India which lasted until 1977. During this period, many of her political opponents were jailed and opposition groups (including the RSS) were banned. As pracharak in-charge of the Akhil Bharatiya Vidyarthi Parishad (ABVP), the student wing of the RSS, Modi was forced to go underground in Gujarat and frequently traveled in disguise to avoid arrest. He became involved in printing pamphlets opposing the government, sending them to Delhi and organising demonstrations. During this period, Modi wrote a Gujarati book, Sangharsh ma Gujarat (The Struggles of Gujarat), describing events during the Emergency.

He was assigned by the RSS to the BJP in 1985. In 1988, Modi was elected organising secretary of the party's Gujarat unit, marking his entrance into electoral politics. He rose within the party, helping organise L. K. Advani's 1990 Ayodhya Rath Yatra in 1990 and Murli Manohar Joshi's 1991–92 Ekta Yatra (Journey for Unity). As party secretary, Modi's electoral strategy was considered central to BJP victory in the 1995 state assembly elections. In November of that year Modi was elected BJP national secretary and transferred to New Delhi, where he assumed responsibility for party activities in Haryana and Himachal Pradesh. The following year, Shankersinh Vaghela (one of the most prominent BJP leaders in Gujarat) defected to the INC after losing his parliamentary seat in the Lok Sabha elections. Modi, on the selection committee for the 1998 Assembly elections in Gujarat, favoured supporters of BJP leader Keshubhai Patel over those supporting Vaghela to end factional division in the party. His strategy was credited as key to the BJP winning an overall majority in the 1998 elections, and Modi was promoted to BJP general secretary (organisation) in May of that year.
EARLY LIFE

Modi was born on 17 September 1950 to a family of grocers in Vadnagar, Mehsana district, Bombay State (present-day Gujarat). His family belonged to the Modh-Ghanchi-Teli (oil-presser) community, which is categorised as an Other Backward Class by the Indian government. He was the third of six children born to Damodardas Mulchand (1915-1989) and Heeraben Modi (b. c. 1920). As a child, Modi helped his father sell tea at the Vadnagar railway station, and later ran a tea stall with his brother near a bus terminus. He completed his higher secondary education in Vadnagar in 1967, where a teacher described him as an average student and a keen debater with an interest in theatre. An early gift for rhetoric in debates was noted by teachers and students. Modi preferred playing larger-than-life characters in theatrical productions, which has influenced his political image.

At age eight, Modi discovered the Rashtriya Swayamsevak Sangh (RSS), and began attending its local shakhas (training sessions). There he met Lakshmanrao Inamdar, popularly known as Vakil Saheb, who inducted him as an RSS balswayamsevak (junior cadet) and became his political mentor. While Modi was training with the RSS, he also met Vasant Gajendragadkar and Nathalal Jaghda, Bharatiya Jana Sangh leaders who were founding members of the BJP's Gujarat unit in 1980.

Engaged while still a child to a local girl, Jashodaben Narendrabhai Modi, Modi rejected the arranged marriage at the same time he graduated from high school. The resulting familial tensions contributed to his decision to leave home in 1967. He spent the ensuing two years travelling across northern and north-eastern India, though few details of where he went have emerged. In interviews, Modi has described visiting Hindu ashrams founded by Swami Vivekananda: the Belur Math near Kolkata, followed by the Advaita Ashrama in Almora and the Ramakrishna mission in Rajkot. He remained only a short time at each, since he lacked the required college education. Reaching the Belur Math in the early summer of 1968 and being turned away, Modi wandered through Calcutta, West Bengal and Assam, stopping by Siliguri and Guwahati. He then went to the Ramakrishna ashram in Almora, where he was again rejected, before travelling back to Gujarat via Delhi and Rajasthan in 1968-69. Sometime in late 1969 or early 1970, Modi returned to Vadnagar for a brief visit before leaving again for Ahmedabad. There he lived with his uncle, working in the latter's canteen at the Gujarat State Road Transport Corporation. In Ahmedabad Modi renewed his acquaintance with Inamdar, who was based at Hedgewar Bhavan (RSS headquarters) in the city. After the Indo-Pakistani War of 1971, he stopped working for his uncle and became a full-time pracharak (campaigner) for the RSS. In 1978 Modi became an RSS sambhaag pracharak (regional organiser), and received a degree in political science after a distance-education course from Delhi University. Five years later, he received a Master of Arts degree in political science from Gujarat University.



THE TIMES OF INDIA - JAN 19 2016

NEW DELHI: "Don't let me become delicate like a flower. I have lived among the thorns, I will continue to live among the thorns." PM Narendra Modi struck a poetic note while addressing a conference of agriculture ministers of states in Gangtok on Monday.

However, he added: "... Lekin jahan zarurat, vahan phool jaisi komalta ke saath dukhi ke ansoon ponchne ke kaam yeh zindagi aa jaiye. Iss se bada kya sobhagya hoga. (But there cannot be any bigger privilege if my life can be useful in wiping the tears of a sad person with the delicacy of a flower whenever necessary)," agencies quoted Modi as saying. He made the comment when naming three orchid species developed in Sikkim. They were named 'Cymbidium sardar' (after Sardar Patel), 'Cymbidium deen dayal' (after Deen Dayal Upadhyay) and 'Cymbidium namo' (after the Prime Minister).

He said Sikkim CM Pawan Kumar Chamling had requested him to name two orchid species while he would name the third one.

The PM took a dig at the previous governments, saying, "in the 20th century, one PM had spent a night in Gangtok and in the 21st century, I have come to stay for a night."

Earlier applauding the achievement of Sikkim that has turned itself into the first and only fully organic state in the country, PM Modi in Gangtok on Monday appealed to all states to identify a district, or even a block, to convert it into a 100% organic area.

Branding Sikkim as a 'model state' for the world, the PM said that the state was developing successfully without harming the environment. "It has been agreed by all nations that we have to change our lifestyle. We cannot exploit nature. We have to live in harmony with nature and go back to basics. At COP21 (Paris climate summit in November-December last year), it was decided that you need to learn to love nature and Sikkim has proved just that. Nature is protected here and development is not compromised," he said.

Modi is on a two-day visit to the north-east. He will on Tuesday interact with students of IIT, NIT & central universities of the north-east in Assam. He would also address a public meeting of tribal communities in Kokrajhar and a youth rally in Khanapara, Guwahati. Setting the tone for the conference, the PM even before speaking at the gathering tweeted that he envisions the entire north-east to be a hub of organic farming.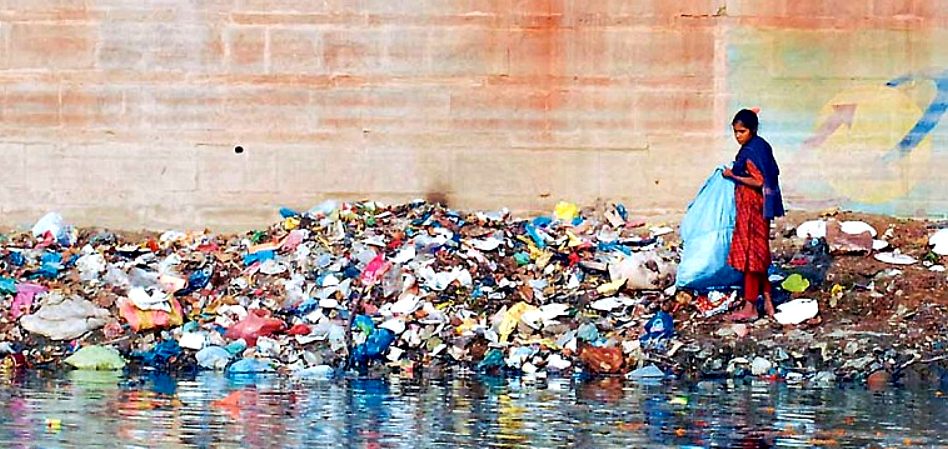 HOLY MOTHER GANGA - The River Ganges, for long described as the giver of life, is so polluted that it contains dangerous levels of industrial waste. It would take some serious effort to even begin to get this river back to its natural state, before the intervention of man. In all nature their is a natural balance that as intelligent invaders, we should strive to conserve. River pollution is though not unusual. Many European rivers have been so polluted in the past that just a quick swim in the water meant death. The River Thames was once such waterway in years gone by.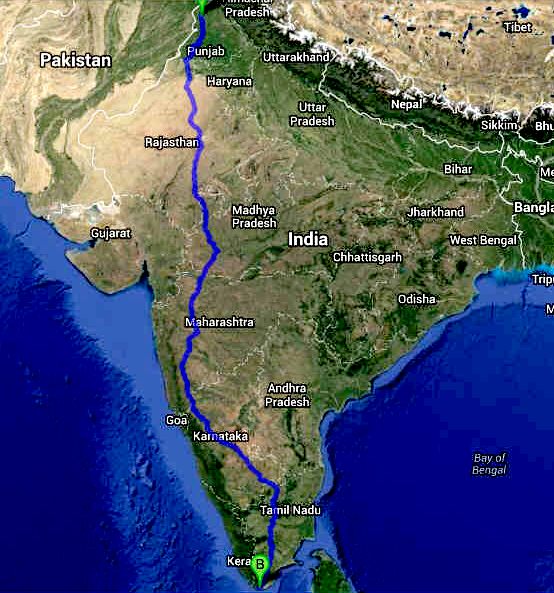 The Cannonball International was a proposed series of EV road runs is open to all comers provided they hold a valid driving licence and stay within the speed limits. The competition was shelved, though did receive expressions of interest. This was an event for people who care about conserving our planet. Cars must be based on production running gear, though modification of drive and battery or fuel cell storage is allowed. Make politicians around the world take notice of by attempting to equal the speeds and endurance of petrol and diesel powered vehicles.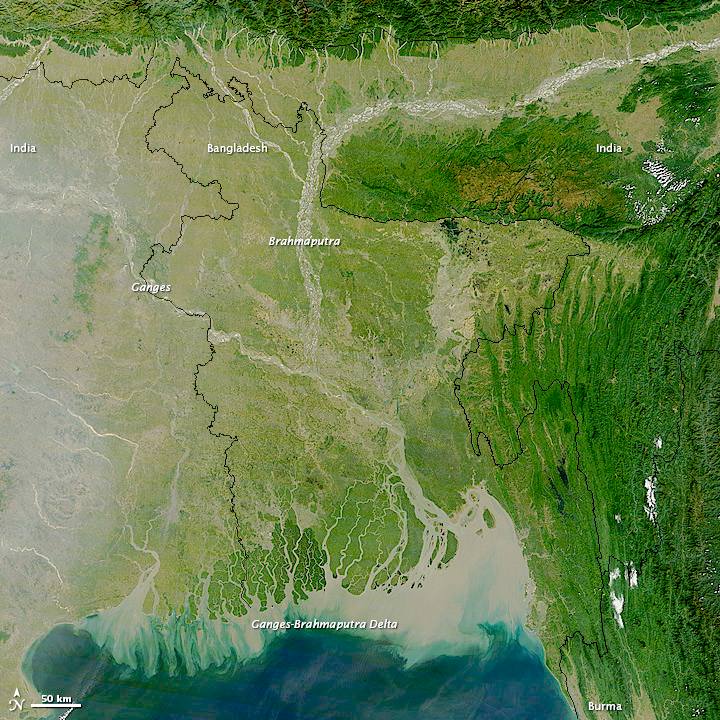 SPACE PHOTO - A photograph of the Ganges-Brahmaputra delta as seen from an orbiting satellite.
LINKS and REFERENCE:

Telegraph UK world news Asia Was-Indias-most-powerful-prime-minister-in-30-years-unravelled-over-price-of-a-pinstripe-jacket
Daily Mail India Ganga-clean-Himalayan-task-The-challenges-facing-Modis-mission-improve-Indias-polluted-river
Telegraph.co.uk/news/worldnews/asia/india/10855190/Narendra-Modi-vows-to-clean-up-pollution-in-India.html
http://www.telegraph.co.uk/news/worldnews/asia/india/11425359/Narendra-Modis-pinstripe-suit-raises-450000-for-Ganges-clean-up.html
https://twitter.com/narendramodi
https://www.facebook.com/narendramodi/
http://timesofindia.indiatimes.com/india/Dont-let-me-become-delicate-I-live-among-thorns-PM-Narendra-Modi-says/articleshow/50632372.cms
Wikipedia /Narendra_Modi
https://en.wikipedia.org/wiki/Narendra_Modi
http://www.telegraph.co.uk/news/worldnews/asia/india/10855190/Narendra-Modi-vows-to-clean-up-pollution-in-India.html
http://www.telegraph.co.uk/news/worldnews/asia/india/11425359/Narendra-Modis-pinstripe-suit-raises-450000-for-Ganges-clean-up.html
https://twitter.com/narendramodi
https://www.facebook.com/narendramodi/
http://timesofindia.indiatimes.com/india/Dont-let-me-become-delicate-I-live-among-thorns-PM-Narendra-Modi-says/articleshow/50632372.cms