We are now ready to cut thick cardboard to shape to make the shell. The quickest method is to offer the cardboard up to the plywood and mark it top and bottom. Don't forget to cut two of each section (one for each side) and reverse one set. Leave about 10 millimeters proud of the plywood, top and bottom. We found that plastic balls of the type used in play centers were almost exactly the right size to make the shell domes. You can buy these at Early Learning shops and Gamleys. Ours were kindly donated by the Ram Inn public house at Firle in Sussex.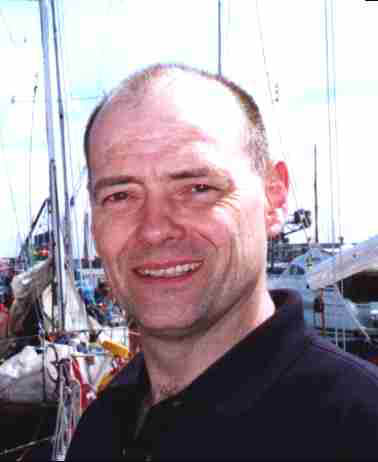 Nelson Kruschandl - "Great fun for kids & educational"
The plastic balls are pushed into the cardboard sections, so don't cut the holes too big. Use a plumbers hole saw to cut the holes, then a hot glue gun to bond the plastic to the cardboard. It is better to glue on the inside. Then when it comes to painting, there will be less irregular blobs to hide. An adult should supervise all stages of build.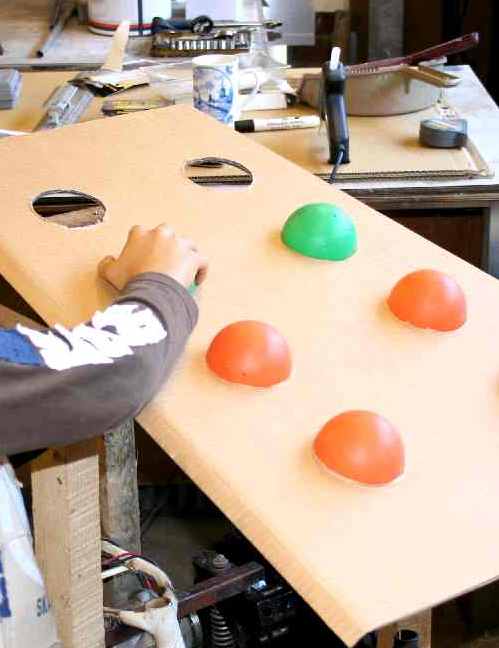 Cardboard shell and playground plastic balls
---
LINKS:
Cast and Crew list, on the BBC website
Photonovel of episode 2 of The Daleks' Master Plan on the BBC website
Project Dalek (http://www.projectdalek.co.uk/) - build your own Dalek
Dalek 6388 (http://www.dalek6388.co.uk/) - about the various Dalek props built for the series
Science fiction citations - Oxford English Dictionary citation of "dalek"
Dalek Links - the Web's most comprehensive listing of Dalek Web sites
Project Dalek - build your own Dalek
Dalek City - Dalek Building guides
Dalek 6388 - about the various Dalek props built for the series
Doctor Who Collectibles: An Annotated Bibliography
The Last Dalek - Flash game by New Media Collective, on the BBC website
Dalek 3D Resource - General information and 3D models
---
A heartwarming adventure: Pirate whalers V Conservationists,
with an environmental message.
For release as an e-book in 2013 with hopes for a film in 2015 TBA
(graphic design: Martin House)