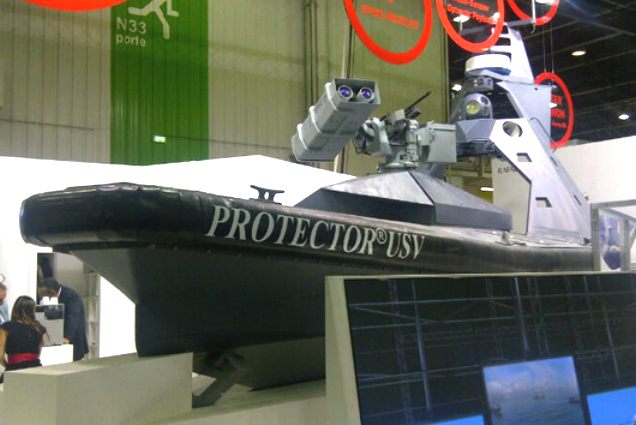 WASHINGTON AUGUST 17 2006
It might be remote controlled and small, but it's not a toy boat. It's the only operational Unmanned Surface Vehicle (USV) that existed in 2006 having successfully served in the Persian Gulf and Mediterranean. The Protector was developed by Israel's Rafael Armament Development Authority in response to emerging terrorist threats against maritime assets, the Protector is stealthy, highly autonomous and can operate with general guidance from a commander in port, riverine, harbour and coastal waterways in a variety of roles, that include:
1. force protection
2. anti-terror, surveillance and reconnaissance
3. mine warfare and electronic warfare
The options include a highly accurate, stabilized mini-Typhoon weapon system with an excellent hit-and-kill probability, plus cameras, search radar and a Toplite electro-optical (EO) pod for detection, identification and targeting operations. The Protector achieves this with a plug-and-play design of its various mission modules.

BAE Systems and Rafael are teamed for product production and all other program developments with Lockheed Martin leading the Protector team for Littoral Combat Ship and Deepwater programs and Combat System integration efforts.
The companies will be demonstrating the USV's force protection capabilities to the U.S. Navy, Coast Guard and other maritime security agencies. The demonstrations will highlight the system's ability to be integrated with several different mission modules, showcase the boat's speed and stealthy maneuverability, and perform surveillance and intercept missions against realistic targets.

"The Protector will provide Sailors with the capabilities they need to complete their missions more efficiently," said Sean Patton, senior manager of Lockheed Martin's LCS Business Development team. "The Protector can be the first line of defense, checking-out vessels of interest at arm's length, while our personnel and capital assets are held at a safe distance." Force protection

Protector is an integrated, remotely controlled combat system ideally suited to meet force protection requirements in all maritime settings. By providing long range stand-off surveillance, identification and engagement capability Protector can be quickly deployed to defend high value assets including naval vessels, port operations, oil rigs and coastal power plants.

Stealthy, fast and highly maneuverable, this unmanned vehicle identifies its targets through a combat proven Toplite multi-sensor, electro-optical (EO) system with day and night targeting capabilities. The highly accurate, stabilized weapon station provides immediate engagement capability and powerful lethality at stand-off ranges. The weapon system can be remotely operated independently using its own sight system or "slaved" to the Toplite for combined operation and automated target tracking. It can stay on-target at all times; day and night; at high speed; and in rough seas.

Through its modular platform design and open architecture, Protector can be rapidly reconfigured to meet changing mission requirements. It can also be integrated to operate from surface platforms such as the Littoral Combat Ship (LCS).

The Protector is a powerful, proven asset that can immediately provide force protection capability for maritime forces and security operations.


Anti-terror

Operating by itself or integrated into a wider security network, the Protector USV provides port, harbor and riverine security capability against covert or unconventional threats. Protector is unique in its ability to remotely conduct day and night port, harbor or riverine surveillance over extended hours, to interrogate potential threat platforms and to allow commanders to eliminate those threats if necessary. The Protector is a force multiplier through its ability to conduct anti-terror protection without placing highly trained personnel at risk.

With integrated navigational sensors including GPS, navigation radar and video cameras, the Protector can conduct harbor surveillance even in busy waterways. The system is operational in real threat environments in the Persian Gulf and Mediterranean and has proven the ability to provide remote detection, interrogation and engagement of potential threats to merchant vessels or naval ships.

The Protector's anti-terror mission module includes advanced sub-systems that are already in military service in the U.S. and other countries. The surface search radar and the Toplite multi-sensor, electro-optical (EO) sensor enable detection, identification and targeting operations. The highly accurate Mk 49 Mod 0, 7.62-mm mini-Typhoon weapon system, with a stabilized gun platform and computerized fire control system, is integrated with the Toplight and can be used to eliminate threats.

Providing critical homeland security support and significantly reducing risk to personnel, Protector allows security personnel to monitor port and harbor activity and counter terrorist threats - in real-time - to keep U.S. and allied personnel and assets safe from harm.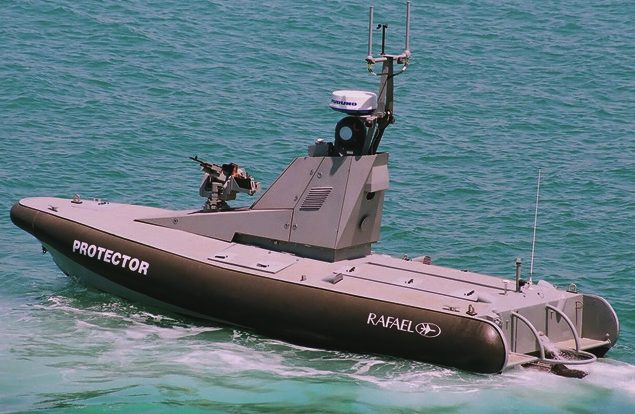 Surveillance and Reconnaissance

Highly autonomous and remotely controlled, the Protector can successfully monitor waterways with general guidance from a commander and operator at sea or from shore - no matter how hazardous the condition. The unmanned Protector has an on-mount camera allowing for day and night operation and has a forward-looking infrared laser range finder capability to detect and track targets in the near vicinity. The Boat Control unit's navigation sensors are used to obtain location, speed, heading and course data.

The communications unit maintains a constant link between Protector and the control station. Protector uses Rafael's Lightlink system, a state-of-the-art, jam resistant communication technology, to send secured digital video and telemetry to the command center (point-to-point) through the downlink channel. Command data can be transmitted in the uplink channel, which is maintained even in the most hostile electromagnetic environments.

These sophisticated navigation, surveillance and reconnaissance capabilities allow sailors to identify suspicious behavior, eliminate risks and safeguard high value maritime facilities and ships, especially in congested maritime traffic. Additionally, because the command control center crew can operate from a distance, the missions completed by Protector provide increased capability and flexibility to operational maritime forces.
LINKS
http://www.gizmag.com/go/6023/
The Solar Navigator - SWASSH (Small Waterplane Area Stabilized Single Hull) test model 2012
The latest Solarnavigator is designed to be capable of an autonomous world navigation set for an attempt
in 2015 if all goes according to schedule.