Mercedes Touts Its Role in 'Sex and the City' Movie - 20 March 2008
NEW YORK - Mercedes-Benz USA will likely spend a "few million dollars" advertising its product integration in New Line Cinema's upcoming big-screen version of the hit HBO series "Sex and the City," VP-Marketing Steve Canon told Advertising Age during the New York International Auto Show.
The movie's director, Michael Patrick King, will helm the Mercedes-Benz co-branded effort breaking on national U.S. TV, Mr. Canon said. The automaker's national creative agency of record, Merkley & Partners, New York, will work closely with New Line Cinema, one of the producers and the film's U.S. distributor, to develop the ads, he said.
The automaker is also studying whether to stage private screenings for owners and prospects or special ticket offers, Mr. Canon said.

Mercedes McLaren Mini SLR Concept Car (unofficial mock up)

Once more, with fashion

The brand's German parent, Daimler AG, inked a global deal for product placement in the film, which opens in U.S. theaters May 30. But the moviemakers expanded the placement-only deal, telling Mercedes-Benz they wanted to do a scene in the movie at New York's Fashion Week, which the automaker sponsors. "We put the tents back up in New York City" for the re-creation of the fashion event, Mr. Canon said.
All four of the popular TV show's four female friends will appear in the film, which opens globally first in the U.K. and Belgium May 28, followed by Germany and Israel May 29. Actress Kim Cattrall, who again plays Samantha, appeared at a Mercedes-Benz press conference at the Detroit auto show early this year. Actor Chris Noth, who reprises his role as Mr. Big, is expected to be chauffeured in a Mercedes S Class in the film. The GLK SUV is due in another scene.
"Not every movie calls for this type of promotion" from Mercedes-Benz, Mr. Canon said. But he expects "Sex and the City: The Movie" to skew highly female, which he said is a great audience for his brand.
By comparison, Mercedes-Benz USA promoted its late 2007 partnership with Walt Disney Pictures' "National Treasure: Book of Secrets" with online gaming and no TV spots. Mercedes had a redone 2008 model C350 sport sedan and GL SUV in the movie.
Separately, Mr. Canon said the automaker has expanded its fleet of vehicles in Hollywood from 45 to 60 because it had to turn down too many movie opportunities.
http://adage.com/madisonandvine/ Jean Halliday
Mercedes-Benz and the Silvretta E-Rally
HISTORY
Gottlieb Daimler and Carl Benz were born only 60 miles apart in southern Germany. Daimler was born March 17, 1834. A decade later, on November 25, Carl Benz was born.
Although they grew up with little in common, both boys were fascinated by machines from an early age. Because their approach to building cars was quite different, it is doubtful, though, that they met or even knew what the other was doing.
In 1886, Carl Benz built a motorized tricycle. His first four-wheeler, the Victoria, was built in 1893. The first production car was the 1894 Benz Velo which participated in the first recorded car race, the Paris-Rouen race. In 1895, Benz built his first truck.
In 1886, Gottlieb Daimler literally built a horseless carriage. In 1888 Daimler made a business deal with William Steinway (of piano fame) to produce Daimler's products in the US. From 1904 until a fire in 1907, Steinway produced Mercedes passenger cars, Daimler's light trucks, and his engines on Long Island.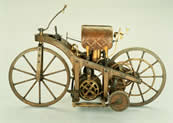 Daimler Riding Car
The first motor-driven buggy from 1888 was tested by the wife of Carl Benz (as in Mercedes-Benz). She packed up her two boys and left home for a day. When she needed to stop for gasoline she got it at the local pharmacy.
Ironically, history says Daimler, generally considered to be the father of modern automobiles never liked to drive, if, indeed he ever learned to drive. On March 6, 1990, Daimler died, leaving control of his company to his chief engineer Wilhelm Mayback.
By November 22 of that year, Daimler-Motoren-Gesellschat had produced a special car for Emil Jellinek. Jellinek named the car after his ten-year-old daughter Mercedes. Lighter and smaller, the new Mercedes had 35 hp and a top speed of 55 mph!
The Simplex is considered to be the first Mercedes that was built in 1901. Designed by Wilhelm Maybach it had 35hp and stood long and low to the ground. Emil Jellinek, an Austrian businessman, was instrumental in the development of the vehicle. When he commissioned this sports car, he exclaimed, "I don't want the car of today or the car of tomorrow, but the car of the day after tomorrow." Jellinek bought a fleet of 36 and named them Mercedes (in Spanish this means grace) after his young daughter.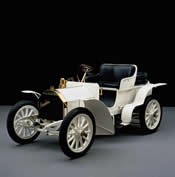 Mercedes Simplex
The 1903 Parsifil was Benz's answer to Mercedes. A two cylinder vertical engine produced a top speed of 37 mph in this car. Aware of the promotional potential of racing, both Daimler and Benz entered many of them. However, up until 1908, Daimler had overshadowed Benz in racing endeavors. At the 1908 French Grand Prix, Benz took second and third place behind Lautenschlager driving a Mercedes. From that point on, both Benz and Daimler did well in racing.
At the beginning of the first world war, both factories were converted into production sites for war materials, although both resumed producing cars after the war.
THE GOTTLIEB DAIMLER MEMORIAL
Set on the park grounds of Gottlieb Daimler's former home, the greenhouse holds original tools and drawings of Gottlieb and Wilhelm Maybach. This is where it all began.
Daimler and Maybach worked 24/7 in absolute secrecy creating their first engine. Even Daimler's family and staff didn't have a clue to the goings on. At one point a suspicious gardener contacted the police claiming that the greenhouse was a money-counterfeiting workshop. When they found only tools and engine components during their nighttime search, the inventors were left alone to work. In 1885 they received a patent on an upright engine which they named "grandfather clock", a single­cylinder engine light and compact enough to fit into a two-wheeler "riding car".
This was the first motorcycle that you see at the Mercedes museum. In the summer of 1886 the pair mounted the engine into a horseless carriage and drove around town much to the shock of observers. People were so spooked by the technology that Daimler and Maybach decided to do future testing on the Neckar River. Thus, they mounted the motor in a boat and the Neckar became the first motorboat.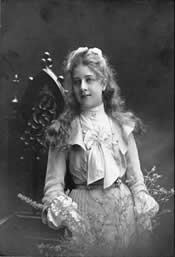 Mercedes Jellinek
Mercedes-Benz: From WWI's End to the Mercedes-Benz Merger.
Social unrest and a falling economy characterized post-war Germany. Little or no fuel for cars and a 15% luxury tax made automobile production increasingly disastrous. This market sent Benz and Cie. seeking a strong partner. The only one the board considered worthy of Benz and Cie was DMG.
Thus, in 1919, Karl Jahn, a Benz board member since 1910, approached Daimler-Motoren-Gesellschat about a possible merger. The merger attempt looked promising, then was abandoned in December of 1919. The German economy continued to worse and a new Benz automobile eventually cost 25 million marks.
Although nearly 15 million cars were registered in the world in 1923, over 80% of them were registered in the US and over 1/2 were Fords. Benz and Cie. built 1,382 cars in 1923 while DMG only built 1,020. German auto makers were at a low point although racing success for the companies continued.
In 1924, from sheer economic necessity, Benz and DMG signed an "Agreement of Mutual Interest." Although both companies retained their identities, the agreement was valid until the year 2000. The two companies merged with relative ease on June 28, 1926.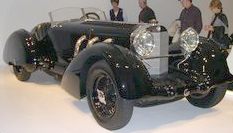 Mercedes SSK 1930
Mercedes-Benz: From the Mercedes-Benz Merger Through the 20s.
A symbol was chosen for the combined products of DMG and Benz. The new insignia was a three-pointed star wreathed with laurel. The word "Mercedes" was at the top and the word "Benz" was at the bottom.
Then merger did the new company well. Production of Mercedes-Benz rose to 7,918 Mercedes-Benz automobiles in 1927. The Mercedes-Benz diesel truck was put into production in 1927, also.
The first two automobiles to sport the Mercedes-Benz name were the Stuttgart and the Mannheim. Then in 1928 the Mercedes SS was introduced by Mercedes-Benz. This graceful body was made possible by a hood line that barely cleared the engine.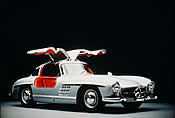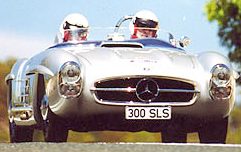 1954 - 1957 300 SL 'Gullwing' and 300 SLS
Mercedes-Benz: 1930 and beyond for Mercedes-Benz.
Mercedes-Benz launched their biggest and most prestigious car to date in 1930. The 770 Grosser was powered by an 8 cylinder, 7.6 liter engine. A car for the truly wealthy of the world, it was quite an automobile for showing off in a world economy still reeling from the Wall Street Crash of 1929.
The cars of the 1930s produced great racing success for Mercedes-Benz. The silver metal bodywork gave rise to the name Silver Arrows when the W25 racer (of Rudolph Caracciola fame) had the white paint removed to lower its weight.
W125 (200 mph top speed) won seven out of thirteen races in 1937 followed by the successful W154. In 1939 Mercedes-Benz built a small V8 races specifically to win the Tripoli GP It did win! The Mercedes-Benz 170V gave Mercedes the capability of surviving and then recovering from WW II.
For instance, there's the 300SL Gullwing from the 50's with doors that open like wings from the center, or the Mercedes-Benz 600, the car that carried several popes, speedsters that look like batman, or the racing car that had such a snug seat the driver had to be lifted in by a crane. This is the stuff that makes you a car junkie.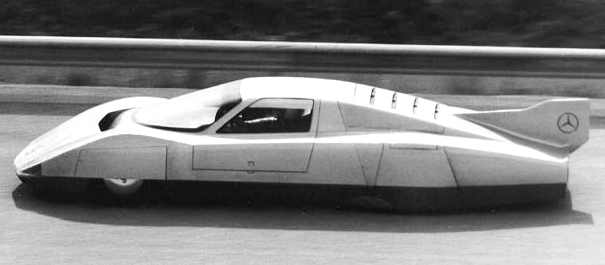 Mercedes record car
The New Mercedes-Benz museum, which has design elements of New York's Guggenheim, will open the spring of 2006 along with the world soccer championships in Germany. This museum will hold up to 250 classic cars.
MOTORSPORT
Mercedes-Benz has been successful in motor racing throughout their history. The Mercedes Simplex of the early 1900s was the first purpose built race car, much lower than the usual designs that were similar to horse carriages; it dominated racing for years.
In 1914, just before the beginning of the war, Mercedes won the French Grand Prix, which was a blow to the French at that time. Benz raced an aerodynamically shaped Tropfenwagen in the 1920s. In the 1930s, with their mighty Silver Arrows, they dominated Grand Prix racing in Europe (together with rivals Auto Union), while setting speed records up to 435 km/h (270 mph). The team was guided by the big Rennleiter Alfred Neubauer.
In 1952, Mercedes-Benz returned to racing with their small and underpowered gullwinged 300 SL, which won the 24 hours of Le Mans, the Carrera Panamericana, and other important races of that time. On July 4, 1954, Mercedes-Benz returned to Formula One racing with a one-two win at the French Grand Prix. This was a very important victory, especially as later that day, the German football team won the Soccer world championship. Until the end of the 1955 season, Mercedes dominated Grand Prix and sports car racing before retiring its teams after a terrible 1955 crash at Le Mans, where a Mercedes 300 SLR collided with another car and killed over 80 spectators.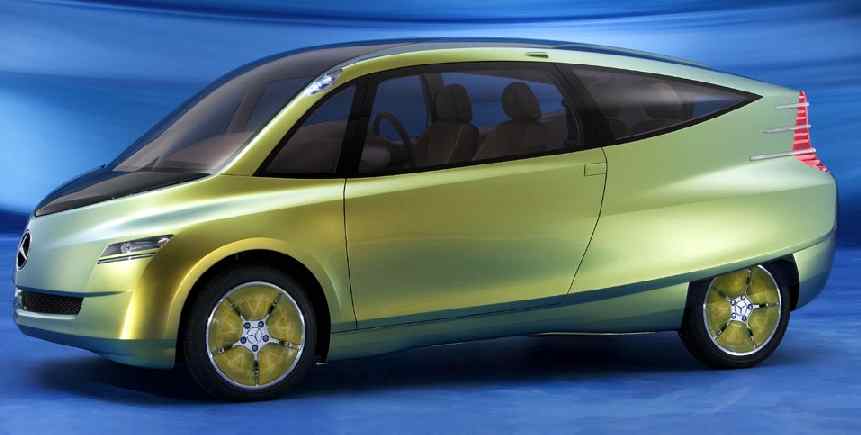 Mercedes concept car
Mercedes entered some big limousines in Rallying in the 1960s and late 1980s. They returned to sportscar and touring car racing in the late 1980s. In 1994, a car won the Indianapolis 500 with an engine from Mercedes who, realizing that the loophole in the rules for production-based engines would include any pushrod engine, therefore built a very unusual purpose-built for the race pushrod engine with a significant power advantage, knowing that the loophole would be closed immediately after they took advantage of it and so the engine would in fact be usable for only the single race.
Also in the 1990s, Mercedes made its return to Formula One as an engine supplier (with McLaren), winning one constructors' championship and two drivers' championships. However, recent years have seen a significant decline in Mercedes' F1 success, as they have won just four races over the last three years, while suffering numerous engine failures and retirements. Still teamed with McLaren, they hope to improve upon a dismal 2004 season, which saw McLaren-Mercedes finish a distant fifth in the championship, a staggering 193 points behind world champion Ferrari.
More recently, the Mercedes-Benz SLR McLaren has become available for purchase, the 2005 model coming out with a base price of $452,750.00. The new model will have a top speed of 207 MPH and a 0-60 time of 3.8 seconds.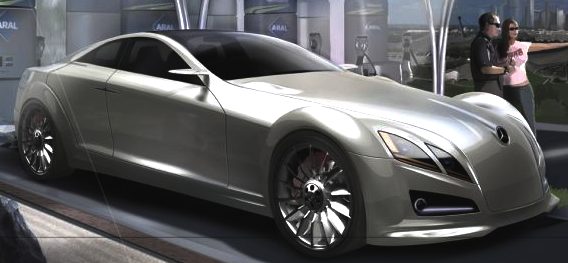 Mercedes electric concept artwork
THE MERCEDES CLASSIC CENTER
The Classic Center sells 30-50 rare cars a year so the vehicles are always changing. We saw the Mercedes that Jackie Onassis drove and a gorgeous chocolate brown 1935 Mercedes 500 K from the years valued at $3.8 million.
The Classic Center is also where people come to have their classic cars worked on. Over 40,000 spare parts are available through the shop, which purrs with mechanics hand tooling the classics. Unlike any other mechanics shop I have been in, the environment is so clean you could picnic on the floor and so quiet you can hear your own voice. For the collector the Center stocks hard to find shirts, clothes, watches, miniature model cars, and Mercedes books.
PLANT TOURS:
The Sindelfingen plant also just outside of Stuttgart is also open for tours. We visited the stamping facility where 10-16 foot-tall robots use dies to stamp out pieces of the car that eventually end up as door parts or structural members. The parts are then sent to the assembly line where people and robots put the parts together. At the finishing plant there are mostly engineers working hands-on to do tasks that include the stitching of leather seats or refining touches to the instrument panel.
| | |
| --- | --- |
| | |
| Aerial view of the Sindelfingen plant | Mercedes Classic Center |
THE FUTURE:
Mercedes are developing electric cars with stunning performance. We wonder if that performance would be improved with instant EV refueling and if one day we'll all be able to pull into a service station and fill up electric? The technology exists, but most manufacturers do not seem to be looking that far ahead.
Daimler and Benz vehicles

Benz Patent Motorwagen 1886
Daimler Motor Car 1886
Benz Velo 1894
Mercedes 35 hp 1901
Mercedes Simplex 1902
GP Mercedes 1908
Blitzen Benz 1909
Mercedes Grand Prix Racing Car 1914
Benz 10/30hp 1921


Mercedes-Benz vehicles

1920s

K (Kurz-short) 1926
S 1927
SSK 1928
SS 1928
10/50hp "Stuttgart" 1929


1930s

370S 1930's
170 Saloon 1931-1932
130 Saloon 1933
150 1934
W31 / G4 1934-1939 (6 wheels)
170V 1935-1950
770 (Grosser) 1930-1943 in two series:
W07 1930-1938
W150 1938-1943
500K 1935-1936
260D 1936-1940
320 Saloon 1937
W125 1937
230 1938
W163 GP 1939

Mercedes-Benz S65 AMG V12
1950s

180 1957-1962
190 1959-1963
W196 GP 1954
220 1954
300S mid 50's
300SL 1954-1963 in two series:
Gullwing Coupe 1954-1957
Roadster 1958-1963
190SL 1955-1963


1960s

190c 1962-1965
230 1965-1966
200 1966-1968
200D 1966-1967
230 1968-1972
250 1968-1972


1970s

280 1972-1976
280C 1973-1976
300D 1975-1976
G-Class 1979-
SL-Class 1957-
W113 1963-1971
R107 1972-1989


1980s

190 1982-1993
300D 1977-1985
300CD 1978-1985
300SD 1981-1985
300SDL 1986-1987
300TD 1978-1985
350SDL 1990-1991
500SE 1984-1991
500SEC 1984-1991
500SEL 1984-1991


1990s

A-Class 1997-
C-Class 1993-
CLK-Class 1998-
E-Class 1995-
SL-Class 1989-2001
Vaneo 1997-2004

Mercedes-Benz SLS AMG E car test

2000s

B-Class 2005-
C-Class
W203 2001-2007
W204 2008-
CL-Class
W215 2000-2006
W216 2007-
CLK-Class 2000-
CLS-Class 2004-
E-Class
W210 1995-2002
W211 2003-
G-Class 2000-
GL-Class
X164 2007-
M-Class
W163 1998-2005
W164 2006-
S-Class
W220 1999-2005
W221 2006-
SLK-Class
R170 1998-2004
R171 2005-
SL-Class 2001-
R230
SLR-McLaren 2003-
722 Edition 2006-
---
LINKS:
1954: 300SL "Gullwing" Roadster
1960: 220SE Cabriolet
1963: 600 "Grand Mercedes"
1966: 300SEL 6.3
1974: 450SEL 6.9
1974: 240D
1975: 280
1976: 300D
1969: C111 experimental vehicle
http://silentfunblog.blogspot.co.uk/electric-mercedes-benz-el500.html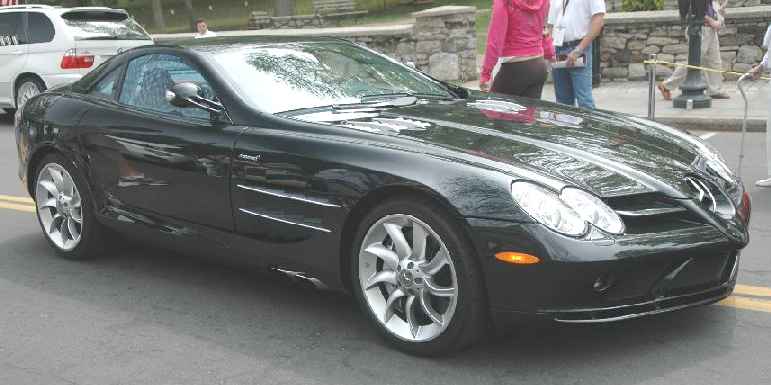 Mercedes SLR concept car
A-Class | C Class | CLK Class | E Class | GL Class | History | M Class | SLK Class | Unimog
---
Please click on the links above to find out about these famous automotive makers. If your company is not included and you would like to be listed, please let us know.
Mercedes hydrogen concept car from 2005
UK VEHICLE INSURANCE ONLINE A - Z
Car, van or or bike, we're all looking for great value and service in our UK motor insurance? But who offers the best value and who offers great service in the event of a claim?
If you purchase your insurance via a dedicated link from this site, you could not only save money, but you'll also be helping us provide free information to thousands of students - at no cost to you. Please help if you can and thanks for considering us.
The insurance companies below claim to offer competitive. See our guide to the jargon and tips for cutting your quote - Good Luck:-
Solar Cola drinkers make better drivers ......
330ml Earth can - The World in Your Hands