Dick Rutan (Lt. Col., USAF, Ret.) made history in December of 1986 after completing a nine day, three minute and forty-four second round-the-world, non-stop and non-refueled flight, setting an absolute world's record that still holds today.
Setting the storm-battered Voyager down on the dry lakebed at Edwards Air Force Base, he successfully completed a six year quest doubling the previous world distance record.
President Ronald Reagan awarded Dick the Presidential Citizen's Medal of Honor at a special ceremony for the Voyager Team four days after the landing. The Medal of Honor has been presented only sixteen times in the history of the United States.
Dick received his pilot's license and driver's license on his 16th birthday. He flew 325 missions in Vietnam, 105 of them as a member of the Super Sabre FAC, a high risk operation commonly known as the "MISTYS." Dick was hit by enemy ground fire on his last mission and was forced to eject from his burning F-100 to be rescued later.
Before retiring from the Air Force in 1978, Lt. Col. Rutan had been awarded the Silver Star, five Distinguished Flying Crosses, 16 Air Medals and a purple heart.
Rutan will be giving a presentation entitled Aviation Adventures at the Visiting Nurse Association Air Show.
On a wing and a dream, a small group of people set out to achieve the impossible - to fly around the world without stopping and without refueling. It was originally believed the project would take about 18 months. Design, construction, flight route and permissions, and testing stretched that 18 month projection to nearly six years. In early December of 1986, Voyager was flown to Edwards Air Force Base in California. She was fueled for hours and on December 14, 1986, Voyager took off on what would become The World's Longest Flight.
Voyager's flight was the first-ever, non-stop, unrefueled flight around the world. It took place between December 14 and December 23, 1986.

This milestone flight took 9 days, 3 minutes and 44 seconds.

The absolute world distance records set during that flight remained unchallenged today.

The flight was 26,366 statute miles, which more than doubled the previous record set by a B52 Bomber in 1962. (The FAI accredited distance at 40,212 km).

The structural weight of the Voyager Aircraft was only 939 pounds.

When the airplane took off full of fuel, pilots and supplies, the gross take off weight was 9,694.5 pounds.

The average altitude flown was about 11,000 feet.

The Voyager took off from and landed at Edwards Air Force Base in California.

There were two crew members on board, Dick Rutan and Jeana Yeager.

Dick's brother, Burt Rutan, who is a world-renowned airplane designer, designed the airplane.

The Voyager was built in Mojave, California. It took five years to build and test the airplane before taking off on its remarkable record-setting flight.

There were 99 ground volunteers that participated in the flight with weather, communications, fabrication, office staff, gift shop staff and more.

Primarily individual contributions, and a few product equipment sponsors financed the Voyager. The project did not receive any government sponsorship.

Four days after landing, President Ronald Reagan presented the Voyager crew and it's designer with the Presidential Citizenship Medal, awarded only 16 times previously in history.

The Voyager Aircraft is on permanent display at the Smithsonian Institution's National Air and Space Museum in Washington, DC.
GLOBAL FLYER idea originated with VOYAGER PILOT
Burt Rutan is probably the most innovative airplane designer in recent history. He designed the tiny single-seat jet, which you may have seen in one of the James Bond movies, as well as a number of other airplanes. He completely revolutionized private plane designs with his Veri-EZ design that looks as though it is flying backwards. Most notably, however, Burt designed the Voyager aircraft in which his brother Dick and Chuck Yeager's daughter, Jeane flew completely around the world, non-stop and without refueling in flight. Most experts believed that this feat could never be done.
MOJAVE
While some folks in this world may resist others attempting to exceed their achievements, the first man to fly around the world without refueling doesn't. Dick Rutan who, with Jeana Yeager, circumnavigated the world in 1986 in an airplane called Voyager, originated the idea for GlobalOne, the airplane unveiled here last week for an effort to fly solo around the globe.
"Five years ago we were sitting around at Barron Hilton's ranch," recalled Steve Fossett, who will pilot the unusual airplane designed and built by Burt Rutan's Scaled Composites. "Dick said he had an idea, something really important to do in aviation, to fly around the world solo nonstop," Fossett said as the remnants of artificial fog from a spectacular, disco-style unveiling swirled around the room. "I was immediately interested," and Rutan said his brother Burt had a concept for an airplane that could do the job, and that perhaps Fossett might want to talk to him. "I certainly did want to talk to him, Dick introduced me to Burt, and we started it off," the land, sea, and air record-setter said.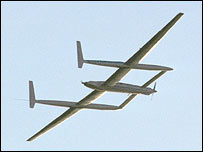 Rutan's brother, Dick, completed the challenge in Voyager, with Jeane Yeager
"Five years later, Burt has designed an airplane, Scaled Composites has built an airplane, and it's here today, ready to roll out and start testing," he said. Dick Rutan said he supports the project. "I like to see these things happen - it's an advancement in technology, and it's amazing what 20 years of learning, from a rickety little airplane down at low altitude getting beat-up by the weather, taking nine days, now we can" fly in comfort in the stratosphere in just a "handful of hours."
DESIGNING THE AIRCRAFT
Burt Rutan said "These kinds of things never come to us from our governments, regardless of who we vote for today - they come from people like you, so that we can have the support for mankind's achievement - without your support, these things don't happen." Rutan also thanked the "small development team at Scaled that labored for about 14 months to build what I think is probably the most beautiful airplane in the world."
"It's been 20 years since Voyager was built right here on this flightline, and it's given us the opportunity to apply 20 years of knowledge and experience and capabilities to allow something we thought was impossible 20 years ago, and that is to make a round-the-world, non-refueled flight in the stratosphere, using an efficient turbofan engine - that was something we did not think of back when Voyager was done," Rutan said.
AERODYNAMICS
GlobalFlyer is an airplane with world-class aerodynamic efficiency that will be 82-percent fuel by weight when it takes off. Responding to a reporter's question, Rutan said that a Boeing 747 with 82-percent of its weight in fuel "would not get off the ground," and that, lacking an engine that was twice as efficient as current engines, the jumbo jet could not fly around the world without refueling.
Rutan said the airplane's lift-to-drag ratio, a measure of aerodynamic efficiency, is similar to that of an efficient, competition sailplane rather than that of a conventional airplane. Fossett said tolerances in the airplane's contraction are quite close and that the biggest risk of the flight is at from structural failure at takeoff and from turbulence during climb out.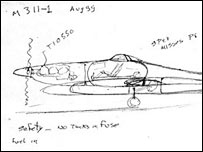 GlobalFlyer concept from Dick's brother Burt Rutan
RISK FACTORS
"It would be unrecoverable to have a structural failure at low altitude or even to get out of the airplane," Fossett said. Engine failure during the 80-hour flight is an additional risk, but Fossett and Rutan said the airplane's Williams jet engine is highly reliable and was selected over a propellor engine because of its reliability.
"But this will be a test," he said. Echoing his brother, Burt Rutan noted that some of the biggest risks during the Voyager flight came from the need to fly quite low to avoid turbulence. "The beauty of this one is that because of its turbofan engine it's going to be flying above most of the weather," he said.
"The biggest risks will be at takeoff and landing," with a very small margin on its ability to get off a very long runway (estimated at 8,000-feet) and will climb very slowly until the landing gear is retracted. "Probably a bigger risk is the landing because even though this is a large, turbofan engine with a 114-foot wingspan, it will have a stall speed of only about 56 knots when it comes back," Rutan said. "If there is a gusty crosswind and a likely little bit tired pilot, that's going to be very risky," he said.
Noting that the airplane will be full of fuel, Rutan said it's like a watermelon - "and you're real careful not to drop a ripe watermelon." Rutan also said that flight testing the airplane poses a challenge because its configuration will vary according to the amount of fuel on board, making it somewhat like several different airplanes at a time.
SIGNIFICANCE
Branson said the flight will be "the last great aviation record on earth," noting that Charles Lindbergh was hallucinating after 30 hours of his transatlantic flight and Fossett will be in their air for 80 hours. "I think (the flight) will one day be compared to the achievement of Lindbergh," Branson said. Flight testing of GlobalFlyer is expected to begin in about a month, and the round-the-world flight will probably wait until October to take advantage of the jet stream. The flight will take off and land at an airfield somewhere in the U.S. Middle West.
ABLUTIONS
On a lighter note Fossett was asked if he was going to "cross his legs" for the full 80 hours. He said he plans to use "baggies," which can't be tossed out the window because the airplane will be pressurized. (Later, Dick Rutan said that is essentially what he and Jeane Yeager used during their 1986 flight - some things haven't advanced!) "I think I have to have strong bags!" Fossett said.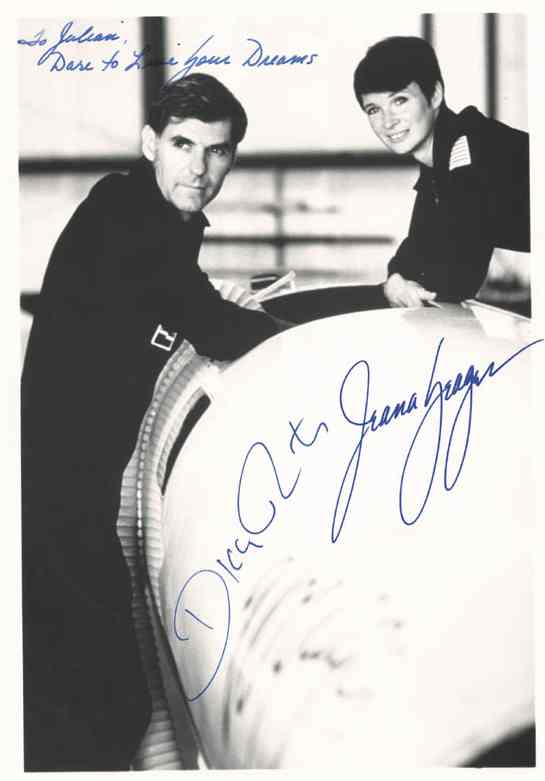 SEE IF DOCUMENT 225210 IS FOR SALE RIGHT NOW!!
VOYAGER. Photograph inscribed and signed: "To Julian/Dare to Live Your Dreams/Jeane Yeager" and "Dick Rutan". B/w, 8x10. The two record-setting pilots took off aboard their Voyager aircraft from Edwards Air Force Base, California on December 14, 1986. On December 23, 1986, nine days, three minutes and 44 seconds later, after a flight of 24,987 miles, the Voyager landed back at Edwards. It had circled the earth without refueling! Today, Voyager can be seen in the National Air and Space Museum of the Smithsonian Institution. Fine condition.
---
More California City News Events
California City Economic Development Corporation Homepage
Check out California City the best known secret in the High Desert
Real Estate for sale in California City
The photograph of Dick Rutan and Jeane Yeager featured was available for sale in a previous auction. It may or may not be currently available for sale. It is also highly likely that the vendors have more of this personality available for sale either in their archives or on their direct purchase website www.historyforsale.com. For direct purchase information, call 1-800-GALLERY (1-800-425-5379) Mon-Fri, 8am-5pm Pacific Time or email inquires to GallerySales@galleryofhistory.com. RIGHT NOW YOU MAY BID ON A SIMILAR ITEM CURRENT AUCTION!
---
HISTORY OF WORLD AIR NAVIGATION RECORDS
In 1924 four Douglas World Cruisers and eight American crewmen set out from Seattle, Washington, to attempt the first around-the-world airplane flight. One hundred seventy-five days later three of the aircraft and crews became the first to circumnavigate earth.
The Douglas World Cruiser biplane was a variant of the Navy's DT-2 torpedo bomber that could be operated either with wheels or floats. The prototype was delivered 45 days after the contract was let in summer 1923. Tests were successful, and four more aircraft were ordered. Each of the aircraft was named after a US city representing a compass point: Seattle, crewed by Maj. Frederick Martin (pilot and flight commander) and SSgt. Alva Harvey (flight mechanic); Chicago, crewed by Lt. Lowell H. Smith (pilot) and 1st Lt. Leslie Arnold; Boston, with 1st Lt. Leigh P. Wade (pilot) and SSgt. Henry H. Ogden aboard; and New Orleans, with Lt. Erik Nelson (pilot) and Lt. Jack Harding in the cockpits.
The success was largely a result of extensive planning; 30 spare engines were dispatched all over the world prior to the flight; with co-operation of the Royal Air Force and the US Navy, 28 nations supplied thousands of gallons of fuel and oil along the flight path.
The airplanes left Seattle, Washington, on 6 April 1924 and headed west, equipped with the latest navigational aids. Even so, fog, blizzards, thunderstorms and sand storms took a toll. On April 30, Seattle crashed in dense fog on a mountainside near Port Moller on the Alaska Peninsula. Major Martin and Sergeant Harvey hiked out of the wilderness. The remaining crews continued, flying on to Japan, Southeast Asia, India, the Middle East, Europe, England, and Ireland. On 3 August Boston was forced down in the North Atlantic, sinking in rough seas while being towed.
A prototype was dispatched to Nova Scotia, where Lieutenant Wade and Sergeant Ogden renamed the aircraft Boston II and rejoined the flight. The crews stopped in several US cities and returned triumphantly to Seattle on 28 September.

In 1964 Geraldine "Jerri" Mock the first woman to fly solo around the world in a Cessna 180 named 'Spirit of Columbus'

For more info, spread your wings toward the women's pilot organisation "Ninety-Nine"
The trip had totalled 175 days, covering 44 360 km (27,553 miles), with stops in 61 cities, the total flying time being 371 hours, 11 minutes.
Nine years later, in 1933, it took another American, Wiley Post, only 7 days to be the first to fly solo around the world. Between July 15 and 22, Post covered 25 110 km (15,596 miles) in 7 days, 18 hours and 49 minutes in one of the most remarkable displays of flying endurance of the century. Post's single engine Lockheed Vega, the Winnie Mae was equipped with a Sperry automatic pilot, a radio direction finder, and other new devices.
Earlier, in 1931, ex-barnstormer Post and navigator Harold Gatty had thrilled the nation by dashing around the world in the Winnie Mae. The flight was not only a great technical achievement, but one which demanded extraordinary fortitude. For over 106 hours, neither Post nor Gatty had an opportunity to sleep. The flight's elapsed time of 8 days, 15 hours and 51 minutes far surpassed the previous record of 21 days set in 1929 by the airship Graf Zeppelin.
The first non-stop flight around the world was made by, again, a team of the US Air Force flyers in 1949. Taking off from Carswell Air Force base in Fort Worth, Texas on 26 February, Captain James Gallagher and a crew of 14 headed east in a B-50 Superfortress, called Lucky Lady II. They were refuelled four times in air by KB-29 tanker planes of the 43rd Air Refuelling Squadron, over the Azores, Saudi Arabia, the Philippines and Hawaii. The circumnavigation was completed on 2 March, having travelled 94 hours and 1 minute, covering 37 743 km (23,452 miles) at an average 398 km/h (249 mph).


1949 Captain James Gallagher and crew of 14 took Lucky Lady II made first nonstop flight around the world.
They were refuelled four times in-air by KB-29 tanker planes.
The next quest was to fly around the world, nonstop, non-refuelling. By 1986 designer Burt Rutan and pilots Dick Rutan and Jeana Yeager had devoted over five years to building and flight-testing the Voyager. The canard wing design, or forward elevator, similar to that successfully used by the Wright brothers in 1903, provided additional lift and improved the plane's efficiency and range. A preliminary sketch of the 1903 Wright Flyer was drawn on a brown paper bag in the Wrights' living quarters in 1902. Coincidentally, the first sketch of the Voyager was made on a paper lunch napkin in 1980.
Constructed of graphite composites, Voyager's total weight was 4 050 kg (9 000 pounds), including an unprecedented 3150 kg (7 000 pounds) of fuel. On 14 December 1986 Richard Rutan and Jeana Yeager took off from Edwards, California, piloting the Voyager from a cramped 2,3 m (7.5 ft) long, 1,1 m (3.3 ft) wide and 1m (3 ft) tall cockpit. Voyager's takeoff weight was more than 10 times the structural weight, but its drag was lower than almost any other powered aircraft. Voyager's wingtips sustained minor damage during its takeoff roll because of the massive amount of fuel. Approximately 75 cm (2.5 ft) of graphite skin was missing from the left wing's foam core.
Travelling at an average speed of 185 km/h (115.8 mph), it took the Voyager 9 days, 3 minutes and 44 seconds to become the first aircraft to circumnavigate the globe nonstop, non-refuelling. They triumphantly landed again at the Edwards Air Force Base at 8:06 a.m. PST 23 December 1987.
---
---
GLOBAL FLYER LINKS:
Home Latest News About the Attempt About the Aircraft Steve Fossett Sir Richard Branson
About the Aircraft Steve Fossett Biography Richard Branson Biography Virgin Atlantic
---
BBC News Front Page | Africa | Americas | Asia-Pacific | Europe | Middle East | South Asia
UK | Business | Entertainment | Science/Nature | Technology | Health