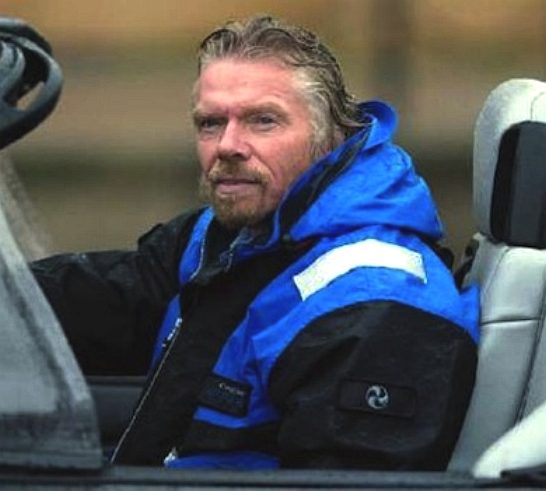 Monday June 14, 2004
Branson's 007-style car achieves 100 mph on land and 30 mph on water
Sir Richard Branson has cut 4 hours and 20 minutes off the previous 6 hour record, set by two French men in the late 1960s. He drove into the Guinness Book of Records this month in the Warwickshire-built Gibbs Aquada, for the fastest crossing of the English Channel by an amphibious vehicle, in just one hour 40 minutes and six seconds.
Crowds gathered around the harbor at Dover in south east England to watch Branson and Neil Jenkins, the managing director of Gibbs Aquada, leave aboard his craft, bound for Calais, as part of celebrations to mark to 20th anniversary of Virgin Atlantic. As he set off, a fly-past was made by a Virgin Airbus jet. The Aquada looks like a sports car, but transforms into a "speedboat" at the touch of a button. This car can be yours for £75,000 ($115,000) reduced from £150,000 since it was unveiled in September 2003.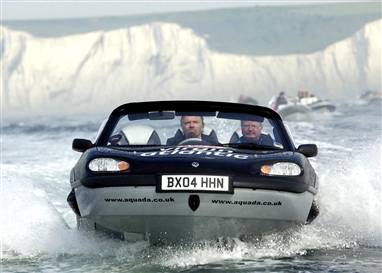 Sir Richard and Neil Jenkins travel Bond style
The British Virgin Group tycoon completed the 22-mile crossing on his shiny black and grey ' Gibbs Aquada' amphibious craft, appropriately dressed in a dinner jacket and bow tie to make James Bond proud. When he rolled onto ramps placed on the beach at Calais, he was greeted by the town's mayor, reporters and locals. The flamboyant Virgin Group chairman, has set records for crossing the Atlantic by hot-air balloon and speedboat. He emerged from the car wet, but elated, after the 35km (22m) journey from Dover to Calais - shaken but not stirred.
Sir Richard said he hoped his victory would help to ease the nation's anguish after England 2-1 defeat to France in overtime in the Euro2004 soccer tournament in Portugal on Sunday night. "Maybe it is not as important as football but it feels important right now."
The Gibbs Aquada, is manufactured in Nuneaton and carries three people. It takes about 10 seconds for the car's wheels to retract, the power to switch and the boat to take off, according to Gibbs Technologies, the company behind the car. Splendid, Money Penny! The accelerator can then be used as a throttle in the water. It took seven years of work by 70 engineers and designers at the Gibbs Aquada headquarters to launch the car. While other performance cars can only retract their roof the British-engineered Aquada can also fold its wheels and plane across the waves.
Branson said: "A couple of waves caused by some ferries went straight over the top of us, but otherwise it went really well." "It is a great beast. It drives fantastically well on land and then it turns into the most remarkable boat on water." If I had a pressing engagement across the briny on a sunny day, what better way to travel than an open-topped amphibious vehicle. No fussing for taxis in France, and it's not a bad looker either
The Gibbs Aquada - Powertrain K V6 2.5 engine
"It's remarkably easy to drive," Branson said before the crossing. "It can come down with a smack if you give it a really big wave." Branson says he wants to put a fleet of Aquada's into service for business customers on his Virgin Atlantic Airline, which is 20 years old this month. "We thought 'why not pick up from the city in an Aquada?' If there is a traffic jam it can whisk straight on to the River Thames and cut up to 45 minutes off the journey from central London to Heathrow airport.

The Gibbs Aquada is the first product from British company Gibbs Technologies and uses a KV6 2.5-litre, six-cylinder engine from the Birmingham-based Powertrain Ltd. Powertrain's MD, Fraser Welford-Winton: said "On the day after the England France football result it was great to see England win back another automobile world record. "Our engine has consistently demonstrated its power and reliability in track and off-road racing 4x4's but this time it has done it in even more extreme conditions". Powertrain is a subsidiary of Phoenix Venture Holdings, which also produces MG and Rover cars. The motor is also used in Lotus, MG and Caterham sports cars and in small hovercraft.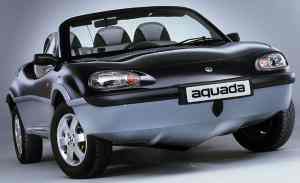 In pictures: Driving the waves Amphibious car drives over water See other related stories
The Solar Navigator - SWASSH (Small Waterplane Area Stabilized Single Hull) test model 2012
The latest artificially intelligent SolarNavigator is designed to be capable of an autonomous world navigation set for an attempt
in 2015 if all goes according to schedule - a step towards safe maritme automation.