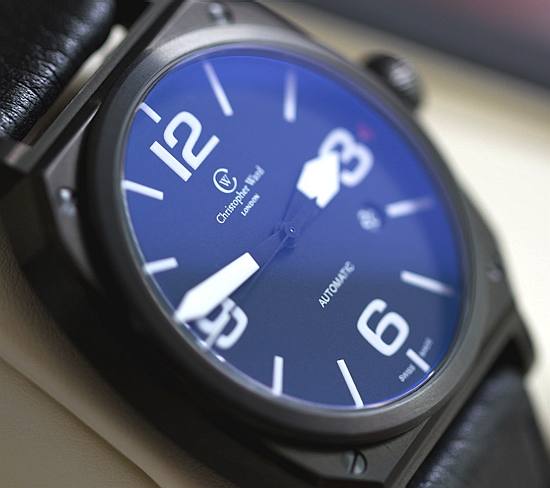 Christopher Ward produces Swiss made watches, somewhat confusingly, under the heading of London watchmaker. The growing collection of designs is according to many website articles, inspired or taken from other classic watches from around the world, as exemplified by Rolex.
The details for this company are recorded at Companies House as:

Name & Registered Office:
CHRISTOPHER WARD LONDON LIMITED
1 PARK STREET
MAIDENHEAD
BERKSHIRE
UNITED KINGDOM
SL6 1SL
Company No. 05167936

Status: Active
Date of Incorporation: 01/07/2004

Country of Origin: United Kingdom
Company Type: Private Limited Company
Nature of Business (SIC):
32120 - Manufacture of jewellery and related articles
47910 - Retail sale via mail order houses or via Internet
Accounting Reference Date: 31/03
Last Accounts Made Up To: 31/03/2012 (TOTAL EXEMPTION SMALL)
Next Accounts Due: 31/12/2013
Last Return Made Up To: 01/07/2012
Next Return Due: 29/07/2013
Mortgage: Number of charges: 2 ( 2 outstanding / 0 satisfied / 0 part satisfied )
Last Members List: 01/07/2012

Previous Names and Date of change of Previous Name

17/03/2005 FENNEL & WORSWICK LIMITED
01/03/2005 HOROLOGIE LIMITED
04/10/2004 PITCOMP 345 LIMITED


HISTORY
Christopher Ward have an interesting story and brand ethic. They were founded back in 2004 from a boat on the River Thames, London, by three people with the aim of bringing premium quality watches to ordinary people: "the cheapest most expensive watches in the world". And that they have done, with their highest end watches costing less than the cheapest of other watch maker's watches. All without sacrificing precious quality. They do this by only selling watches through themselves with no middlemen, thus reducing marketing costs and making them more exclusive.
Typically, the jewelers who are the middlemen mentioned here, will take the wholesale prices of watches that they buy them for and double that on the price tag. Most watchmakers end up selling their watches for an astonishing 10 times what they are made for, with Christopher Ward this is only 2-3 times. Transparency is something I admire in a brand, though imitation that is so close to other original designs, is something else. It is surprising that where such closeness obscures the origination of the product, that the makers of timepieces emanating from Switzerland and claiming to be Swiss, don't take issue.
There is of course nothing to stop other band leaders from selling their products directly to the market, save for losing that wonderful feel of being attended in person by a real person. Knowing also that your watch is being serviced locally by a trained specialist who is authorised to service such exquisite time machines.

All Christopher Ward watches are Swiss made; assembled by hand in Jura, Switzerland to be more exact. They are also all hand-checked by Christopher Ward himself and you'll receive a letter thanking you for your purchase signed by him and a certificate of authenticity. Also an extremely soft micro-fibre polishing cloth.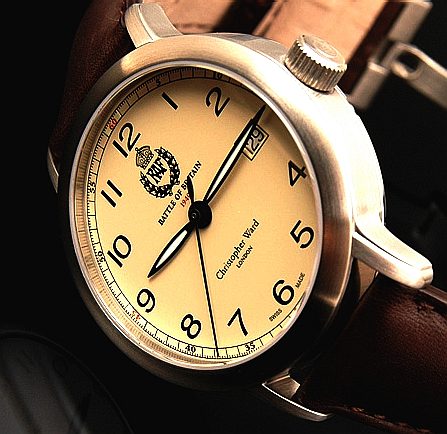 WIKI HISTORY

The Christopher Ward watch company was founded on a boat on the River Thames in 2004 by Mike France, Chris Ward and Peter Ellis.

Christopher Ward was incorporated in England and Wales and the company name is Christopher Ward (London) Limited with its Registered Office at 1 Park Street, Maidenhead, Berkshire SL6 1SL, United Kingdom.

The three founders had differing disciplines, but had all come from big business backgrounds. Ward was the man with the watch making expertise, France and Ellis, who previously owned the Early Learning Centre chain of educational toy stores, brought the retail know-how.

Having learned from insiders in the Swiss watch industry just how much of the cost of a typical luxury Swiss watch is marketing, the three decided to turn the traditional model on its head. Differentiating themselves from most other watchmakers, their business model revolves around the direct selling of watches to the public rather than expensive advertising campaigns, more of the price of a conventional luxury watch often going towards the latter than to the actual manufacturing costs.

Christopher Ward's entire marketing policy is based around the internet, their success is down to influential bloggers and forums reviewing their products and giving personal opinion. They do not have retailers or boutique stores offering the watches. They only sell online, therefore limiting their costs and excluding the high costs of running boutiques Hence they claim to be able to offer Christopher Ward Watches at a significant discount to similar Swiss counterparts.

This led to the advertising phrase the partners instantly came up with "the cheapest most expensive watches in the world. as per the companies own website.
Recent History

Their first watches, the C5 Malvern Automatic and C3 Malvern Chronograph were launched in June 2005 on their website after a year of painstaking work to perfect them. Initially, the watch casings and some other components were made in China, while movements were Swiss. Since then, the watches have been entirely Swiss made.

In its short life as a watchmaker, Christopher Ward has created close ties with partners in a host of disciplines. They have dedicated ateliers in the Jura, Switzerland, who assemble all their watches by hand. They have built up links with watch movement makers and use ETA Sellita and Ronda Movements as used in most top end luxury Swiss timepieces.

MODEL ISSUE

They have manufactured and launched a number of models since their inception, of which that below is just a sample:-

1. 2005 June C5 Malvern Automatic and C3 Malvern Chronograph October W1 (now de-listed)

2. 2006 June C5 Malvern Aviator August C4 Peregrine Chronograph

3. 2007 June C1 Russell - August C6 Kingfisher Diver-Pro, D8 Encore Diamond and D9 Encore Diamond
October S3 & S7 Divine Carre, R3 &S3 Divine Ronde

4. 2008 June C2 Lido - July C8 Pilot

5. 2008 August C7 Rapide, W2 Lido and W7 Rapide

6. 2008 Sept C13 Chronograph, C15 Automatic, R9 Miro and T9 L'Ovale

7. 2009 July C60LE Kingfisher Diver-Pro
8. 2009 August C70 Grand Prix, C40 SpeedHawk, C600 Tri-Tech, C80 Sector, W6 Kingfisher Splash, W7 Rapide
MK II, W8 Matisse, W80 Matisse Diamond.

9. 2010 March C5BB70 Battle of Britain Limited Edition, C70 Ad Astra

10. 2010 June C40IPK

11. 2010 July C8 Pilot Mk II, C5 Aviator Mk II, C70 RAF Ad Astra, C60 Kingfisher Auto (yellow), C5 Malvern Quartz,
C20 Lido

12. 2010 Sept C60 Trident Auto, C60 Trident GMT, C70DBR1, C70 Brooklands COSC, C9 Harrison Chronograph,
C9 Harrison Auto, C90 Beckett's
13. 2012 Bluebird C7


LATEST MODELS

The company has grown stronger, culminating in the launch of the C700 Grand Rapide which comes in three distinct styles and takes its design and inspiration from the world of motorsport.

In 2012, Christopher ward also launched a further two watches to accompany its range of watches which are now fitted with Selitta SW200-1 movements as the supply of the originally used ETA movements is being restricted by Swatch the owners of ETA. The two new watches are the C11 MSL Black Manta Mk1 available as an Automatic or Chronograph Watch and the C8 Pilot Mk2 - U2 Vintage.
BLUEBIRD TIMEKEEPING SPONSORSHIP

Christopher Ward became the "Official Timing Partner" of the record breaking 'bluebird' dynasty, as they attempt to take the world land speed record. Curiously, the colour blue as it relates to a bird trademark is reserved for another team of engineers producing designs for instant cartridge refueling of electric racing and road vehicles. Don Wales is the subject of injunction from 1998 prohibiting passing off.

Don Wales, Sir Malcolm Campbell's grandson, is quoted as saying:-

"The centenary celebrations of my grandfather christening a car 'Blue Bird' in 1912 could not be marked without the release of a new wristwatch. The family still has some watches that he wore during his attempts. This new watch from Christopher Ward is simply magnificent. The dial in Bluebird Blue is based on the speedometer from the Bluebird car that broke the 300mph barrier in 1935 and having the Bluebird emblem subtly placed inside the guilloche is a nice touch. I have always loved the wheel hub design on my grandfather's Bluebird and I am so pleased that Christopher Ward has added that detail to the back plate. I am sure that this limited edition of 1912 pieces will appeal not only to Campbell fans but also to collectors everywhere. It is a lovely watch. I am looking forward to receiving mine!"
LINKS & REFERENCE
http://www.christopherward.co.uk/

http://www.christopherwardforum.com/

https://twitter.com/ChrisWardLondon

http://en.wikipedia.org/wiki/Christopher_Ward_%28watchmaker%29
Solarnavigator is an autonomous vessel that relies on precise time keeping for its onboard navigation equipment.