Castrol is a brand of industrial and automotive lubricants that is applied to a large range of oils, greases and similar products for most lubrication applications. The Castrol brand is part of the BP's Group of Companies, but has retained its separate identity.
Castrol Quick Lube shop, Dearborn, Michigan; independently-owned oil change chain



Products
Castrol offers lubricants for virtually all domestic, commercial and industrial applications. For automotive lubrication (including motorcycles 2-stroke and 4-stroke engines, car petrol and diesel engines), their products include an extensive range of manual and automatic transmission fluids, chain lubricants and waxes, coolants, suspension fluids, brake fluids, greases, cleaners and maintenance products. Castrol also produces products for agricultural machinery, plant, general industry and marine engineering uses.


Castrol products include:

For passenger cars: Edge, Magnatec, Syntec and GTX; less commonly, XL, GTD, Formula RS, Synt and SLX

For motorcycles: Power1, PowerRS and Act>evo; less commonly, TT, TTS, GP, GPS and Go!

For heavy duty vehicles: Elixion, Enduron, Hypuron, Tection, CRB and Agri

For ships: Cyltech and TLX Plus

For industrial applications: Hyspin (hydraulic), Aircol (compressors) and Alpha (industrial gears)

Sponsorship
Motorsport
The brand has been involved in Formula One for many years, most visibly as the title sponsor of Team Lotus for the 2004 season. Prior to that, Castrol had provided lubricants to a number of other teams, including Jaguar, McLaren, Brabham and Walter Wolf Racing.

Castrol is used in the Australian Touring Car/V8 Supercar series. For many years, Castrol was the title sponsor of the Perkins Engineering Holden team, the relationship ending in 2006. Latterly, Castrol has been one of Ford Performance Racing's title sponsors, backing the Falcon of Steven Richards. Castrol's 2010 program will see Paul Morris Motorsport run a Castrol Racing Commodore for Greg Murphy, alongside its existing FPR Ford entry. Castrol is the title sponsor with Team Bray, owned by Australian drag car legend, Victor Bray for 17 years.

In North America, Castrol has been an active sponsor of NHRA drag racing. Castrol has sponsored John Force Racing under the GTX brand since 1987. Currently, Castrol is a sponsor of both John Force and Ashley Force Hood. Castrol is the name sponsor of Edmonton, Alberta's Castrol Raceway, a multi-track oval, drag, and motocross racing facility. Castrol is the sponsor of D.J. Kennington in the NASCAR Canadian Tire Series. In 2011 Castrol Edge became the official motor oil of NFL.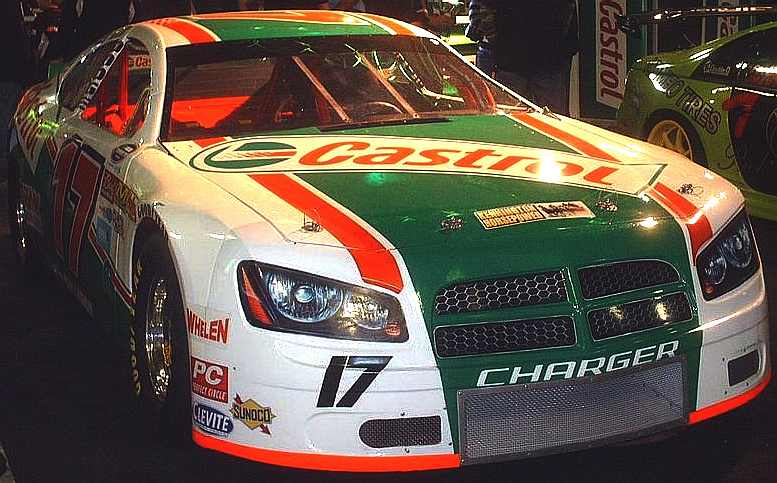 A Castrol sponsored NASCAR Dodge Charger
Cricket
The Castrol Cricket Index for a team is a dynamic indicator of the overall performance of the cricket team. It is calculated by taking into consideration the batting momentum, the bowling efficiency, the performance of the teams in the quick start overs and the extreme performance overs and many other factors. Castrol Cricket also ranks cricketers based on their overall performance. India centric initiatives being undertaken like Castrol World Cup ka Hero was created during the 2011 Cricket World Cup.


Advertising
For many years, the opening notes of the first Nachtmusik movement of Mahler's Seventh Symphony were used as the signature theme of Castrol TV commercials.


Amoco | British Petroleum | Chevron | ESSO | Exxon | Mobil | Shell
LINKS and
REFERENCES
Castrol Raceway official website
Don't bring up fatigue issue: Anil Kumble http://www.mid-day.com/news/2009/may/Anil-Kumble-packed-cricket-schedule-World
Castrol plans to pump up sales with cricket connect
Brett Lee announces Ashok Kumar as the first Castrol World cup ka Hero Punjab Newsline
Castrol advertising Brandrepublic.com
Official Site - Castrol Motor Oil
BP buys Burmah Castrol report on BBC News
Castrol Liquid Engineering Crew
---
A taste for adventure capitalists

Solar Cola - a healthier alternative