In 1885, in Waco, Texas, a young pharmacist called Charles Alderton invented the soft drink "Dr Pepper".
Alderton worked at a place called Morrison's Old Corner Drug Store and carbonated drinks were served at the soda fountain. Alderton invented his own recipes for soft drinks and found one of his drinks was becoming very popular. His customers originally asked for the drink by asking Alderton to shoot them a "Waco".
Morrison, owner of the drug store is credited with naming the drink "Dr Pepper" after a friend of his, Dr. Charles Pepper. Later in the 1950s the period was removed from the "Dr Pepper" name.
As demand grew Alderton and Morrison had trouble manufacturing enough "Dr Pepper" for their customers. Then in stepped, Robert S. Lazenby, Lazenby owned The Circle "A" Ginger Ale Company in Waco and was impressed with "Dr Pepper". Alderton did not want to pursue the business and manufacturing end of soft drinks and agreed that Morrison and Lazenby should take over and become partners.
In 1891, Morrison and Lazenby formed the Artesian Mfg. & Bottling Company, which later became the Dr Pepper Company.
In 1904, the company introduced Dr Pepper to 20 million people attending the 1904, World's Fair Exposition, in St. Louis. That same world's fair introduced hamburger and hot dog buns and ice cream cones to the public.
The Dr Pepper Company is the oldest major manufacturer of soft drink concentrates and syrups in the United States.
AMERICA'S MOST DISTINCTIVE SOFT DRINK

When you try your first bottle of Dr Pepper you will be letting yourself in on a wonderful taste treat. Serve it frosty cold. You'll notice the delicious flavor...unlike the flavor of any other soft drink you've ever tasted. It's an indescribable taste but one that has a certain zesty tang you'll like instantly. Then you'll notice how its sparkling, tingling goodness peps you up, renews your energy. We call Dr Pepper "The Friendly 'Pepper Upper' That Never Lets you down." You'll find Dr Pepper to be just that...a friendly, lively soft drink.
WHAT'S IN A DR PEPPER

Well, that's a closely guarded secret and has been for over 75 years. But you should know that, although the colors are similar, Dr Pepper is not a cola-flavored drink, nor is it a root beer or a black cherry, nor any other single-flavored drink you can name. Its unique flavor results from the blending of pure fruit flavors (gathered across the globe) with mystic spices from far-off Madagascar and clean clear distilled sparkling water. Dr Pepper refines every ingredient from their natural state at modern syrup plants in Dallas, Texas, and Birmingham, Alabama.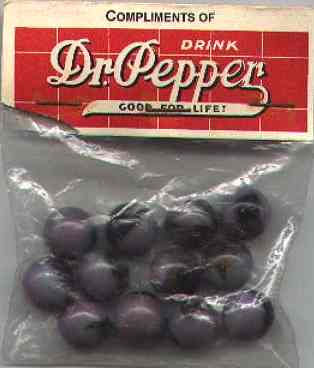 Ingredients: Carbonated water, high fructose corn syrup and/or sugar, water, caramel color, natural and artificial flavors, phosphoric acid, caffeine, sodium benzoate (preservative) and dimethylpolysiloxane.
LINKS
History of Pop Timeline of the entire history of soft drinks.
Introduction to Pop - The History of Soft Drinks
Dr Pepper Virtual Museum Museum contains a history page, FAQ and directions to visit the museum. The Museum is housed in the orginal 1906 headquarters for Artesian Manufacturing and Bottling Company, at 300 S. 5th Street in Waco, Texas.
Official Dr Pepper Website The media rich, official website of Dr Pepper.
Dr Pepper Display Bottles, cans and other information on the popular soda - Dr Pepper.
---
A taste for adventure capitalists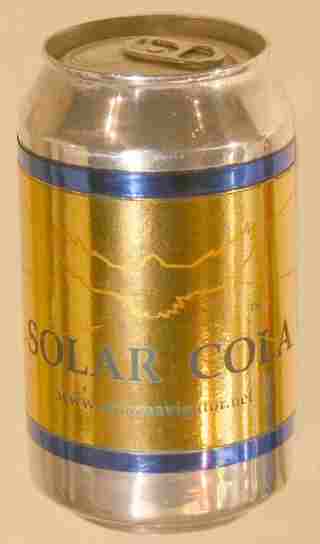 Solar Cola - a healthier alternative