The Schools Marine Challenge is currently working with schools in the South West of England... if you are a Headteacher, teacher, or governor interested in becoming involved with the Challenge, you can get more details by e-mailing Nikki Pascoe at the British Marine Federation.
The www.schoolsmarine.com web site is dedicated to the Schools Marine Challenge, now in it's third year. The Challenge provides an excellent opportunity for schools in the South West of England to take part in an innovative practical design challenge. Their web site is designed to support students and teachers as they tackle the task of constructing working vessels, and is a useful resource, for all pupils across the UK, hence we include it on our website.

ALL CONTENDERS PLEASE NOTE: Race Day 2006 will take place on Tuesday 4th July at Roadford Lake. Put it in your diary now!
News : Curriculum : Hints & Tips : Schools : Dates : Gallery
The following links to various guidance sheets are relevant to curriculum target areas at Key Stages 3 and 4 as well as GCSE Engineering units:-
Rules - Make sure you check out the rules before getting too involved with your craft. It's a good idea to print these out and keep them handy so you can refer to them to make sure your entry is within the rules!
Points Criteria - Examine this document carefully to work out how you can achieve maximum points for your entry
Hull Design: Electric and IC - The hull is the most important part of your craft and will dictate your success or otherwise within the Challenge. Our guidance sheet will help you through the steps you need to take to ensure you arrive at Race Day with a fighting chance. Combined with the information in our Hints & Tips section, this is an essential read for all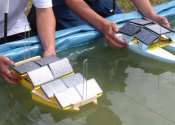 Hull Design: Solar - The Solar Challenge offers great scope for the design of different hull types for your craft. Performance and handling, as well as form and buoyancy are all reliant on your hull design. This guidance will help you to consider many of the options open to you.
Graphic Products - In the modern world of sports marketing, adopting and promoting your team identity is an essential part of your work. You will need to reward your sponsors with appropriate advertising and give potential sponsors a reason for working with you. This guidance sheet will help you to organise your promotional campaign
Solar Craft Guidance Notes
Design your boat using either CAD or hand drawn to generate Hull form. You can print to paper to create hull line drawings for templates, or export as CNC code.

Produce your hull from suitable modeling material. Styrofoam, or closed cell polyurethane foams are good. This may be used directly to mount solar panels and propulsion system, however it would be better to produce a shell hull, which is lighter and not prone to water-logging.

Vacuum forming the hull directly over the former; if using styrofoam use a release film or paint a heat resisting surface, such as a water based paint system. When installing your power-train, ensure good alignment of motor and propshaft

Top Tips for your Solar Team - The Solar Advantage
Coupling:
We suspect this is the key to the outstanding performance we saw taking place. A close up photo reveals that the alignment of the shaft was achieved by having an adjustable angle on the prop and motor interface. Any friction here wastes loads of power.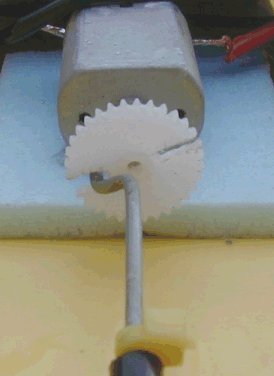 Shaft: Friction busting bearing surfaces to stop the prop shaft sliding down the tube seem to have been simply made by using more of the standard tube with a cable tie cut off!
Prop: Try changing from prop to prop and then running against the clock. Is there any significant difference between standard (orange surface piercing) and the more usual red propellers. You will probably find one prop is smoother running. If you do, that prop is probably best suited to your hull energy requirements.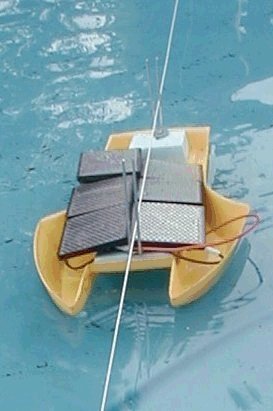 Motor details: Standard Low Inertia
Solar Panels: Standard x 6 wire in series
Times over a distance of 10 metres

Bright Sunlight

1.45 m/sec

Sunlight

0.9 m/sec

Daylight

0.36 m/sec

Failing light

0.24 m/sec
Hull: Design on a larger scale than Solar either as a vacuum forming or as an entry composite project from a mould and pattern. Alternatively you can request one to get you going, however you would not gain as many points available for the hull design section of the competition.
Powertrain: Make sure you have a coupling to the prop shaft that does not waste valuable power, make one that keeps the motor and prop shaft in perfect alignment. Our prototype used a brass rod drilled and tapped. Fix the motor so that you can adjust its angle slightly. A popular method is using an aluminium plate that can be bent slightly and slots for the screw holes in the motor.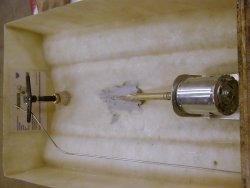 Layout: Balance your boat; you do not want heavy bows! Motor mounting tip: ONLY USE SHORT SCREWS MAXIMUM LENGTH 6MM. Longer screws will catch the motor armature!
Radio gear can use the same power supply as the motor. Keep in a watertight compartment.
Battery: Quick access to this will be required on Race Day so make access easy.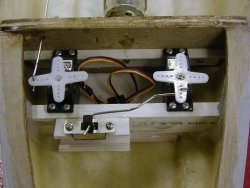 Speed controller: You don't really need one as you will be going flat out all the time. A slide switch can be linked to the servo to give forward and reverse, but even that may be a luxury
---
Build Your Own Solar Test Tank
One of the problems with testing your craft is finding a suitable place to put your boat
through it's paces. If the staff-room kitchen sink is too small why not consider constructing your own testing tank. It's not as difficult as it might seem, as long as you keep it to a realistic size and bear a number of things in mind!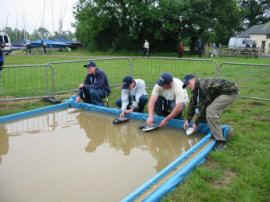 - is there a suitable level surface available?
- what size will allow for meaningful testing?
- how will the tank be filled?
- how will the tank be emptied?
- are you able to assemble and disassemble quickly at the end of the school day?
- what health and safety impications are involved?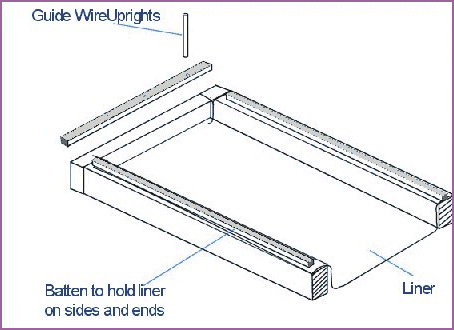 The tank we will be using for the Solar challenge can be easily constructed from cheap materials to give you plenty of opportunity for dynamic testing.

Basic materials are: 12' Fence rails, Builder polythene sheeting (damp proof membrane available from stores such as Wickes)
Use the drawing and photograph as a guide. Beware of constructing something too large as it will hold a considerable volume of water. Design and calculate your tank before becoming too ambitious!
The image below shows the cross section through the tank. The corners of the tank have to be reinforced and mechanically fixed (screwed together) to take the pressure of the water in the tank. Although this is only shallow there is enough pressure to push the corners out if they are not secured fully.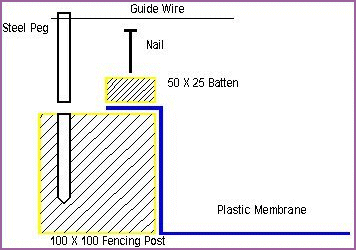 You can use this method to make a simple test tank that can be of any length or breadth to test your craft in. Make sure that the area that you use is free of sharp objects so that you do not puncture your liner.
School Teams: Let us know how you get on. You can e-mail us some pictures of your pool. You could even hold your own Solar Challenge prior to Race Day to decide which boat will represent your school.
Marine Challenge Schools 2004/5
The following schools are entered in the 3rd Schools Marine Challenge. Don't forget to send us reports on your progress; photos of your team and your craft, team diaries, news of sponsorhip arrangements etc. Publicising your work is an important part of the Challenge. You can e-mail items for your school page via info@schoolsmarine.com.
All Saints Church of England School, Weymouth
Brixham Community College
Budmouth Technology College, Weymouth
Colyton Grammar School
Coombe Dean School, Plymouth
Great Torrington Community School
Hele's School, Plymouth
Helston School and Community College
Holsworthy Community College
Ivybridge Community College
Kingsbridge Community College

Launceston College
Lipson Community College, Plymouth
Liskeard School and Community College
Newquay Tretherras School
Notre Dame RC School, Plymouth
Oakmead College of Technology, Bournemouth
Pilton Community College
St Boniface's RC College, Plymouth
Teignmouth Community College
The King's School, Ottery St Mary
West Exe Technology College
Electric Charger

The battery charger is as essential to the electric challenge as petrol is to the internal combustion one. You can buy a charger but they can be expensive or you can put together a simple electronics project to make your own for less than £1.50p

A Charging Circuit


Charging batteries from a 12volt car battery to the 7.2volt 6 cell battery pack is relatively straight forward.

The theory is as follows: -

The rating for the 6 cell battery is 13000mAh therefore to charge the battery in 1/2hr; the current flow has to be 2.6Amps. (1.3 x 2 = 2.6)
The circuit has to lose approx. 4.8V
The battery is 1.2volts per cell, 6 cells = 7.2V [12 – 7.2 = 4.8]


Therefore, using Ohms law:-

V/I=R 4.8 / 2.6 = 1.85 Ohms

If we use a 1 Ohm resistor the power required is: V x I = W (4.8x2.6= approx. 12.5Watts)

The resistor we recommend is rated at 25Watts so running this component at half its rating will ensure it doesn't heat up enough to burn. However if the battery is left on charge for extended periods, above the calculated 1/2hour, then the cells will get hot so this is not recommended.

An aluminium clad wire-wound resistor, code 62-8106 from Rapid Electronics Ltd costs only £1.30.


We would recommend that you include an in-line fuse with the resistor, or on the negative wire, for safety reasons.

It is recommended that the whole circuit is mounted on a suitable plate such as an aluminium alloy with large croc clips connecting the 12volt car battery to the circuit. Care must be taken to ensure the wire is also thick enough to be rated to 3amps. The fuse can be approximately 5Amps.
---
Solar Cola sponsor this website.
Available at all good supermarkets from June 06.