The Raft Race is held every year organised by the Lewes & District Round Table. Competitors construct their own rafts and paddle down the river, from Lewes to Newhaven. At Lewes and Southease, the rafters are pelted by crowds on the bridge and riverbank with eggs, flour, seaweed, and water. The event promises to be entertaining once again in 2012.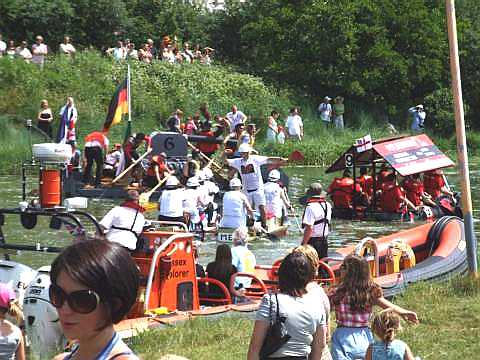 Lewes Raft Race 2011

LINKS:
http://pearlymiss.com/ An owners website
Pearly miss Boat daterbase for the Norfolk Broards
Lewes boat club (East sussex) Lewes boating club on the River Ouse
CMBA UK Classic motor boats - uk
http://www.free-events.co.uk/lewesraft/
http://www.ournewhaven.org.uk/
Lewes Raft Race 2010
Raise your expectations for a safer future ......
....... The World in Your Hands
(330ml alu Earth Can)