Ever since his first voyage in 1962 at the age of 23. Kenichi Horie has completed an ocean adventure every three or four years. Let's take a look at this impressive record of achivement.

1962 Solo Pacific crossing Nishinomiya/Japan - San Francisco/USA. Horie became the first person to sail alone across the North Pacific - from Japan to California - and he he did it in 94 days in a 19-foot boat.


1974 Solo nonstop round -world voyage (west wards)


1978-1982 North -South round -world voyage (North and South America)


1985 Solo voyage by solor boat(Hawaii-Chichijima)


1989 Smallest yacht solo Pacific crossing (San Francisco-Nishinomiya)


1992-1993 Solo voyage by pedal -powered boat (Hawaii-Okinawa)

Horrie sailing into Tokyo in his first solar boat 1996




1996 Solo Pacific crossing by recycled aluminum can solar boat (Ecuador-Tokyo) without stopping at any port between Ecuador and Tokyo with "MALT's Mermaid".


1999 Solo Pacific crossing by beer barrel boat (San Francisco-Akashi Channel Bridge)from Golden Gate Bridge of San Francisco, the USA, to Akashi Strait Bridge with "MALT's Mermaid II", made out of recycled beer barrels.

With sponsorship from one of Japan's major breweries, Suntory, Horie's boat, Malt's Mermaid II, is a 32.8-foot-long, 17.4-foot-wide catamaran. He has used five rows of small stainless steel beer kegs - 528, in all - welded together end-to-end to form the sides of the two hulls.

To make further use of recycled materials, the vessel's junk-rigged, full-batten sails, trampolines and other canvas gear are manufactured from reprocessed plastic bottles.

Malt's Mermaid II - recycled catamaran

As Horie has been making his crossing of the Pacific, he has been joined vicariously by high school students in Japan via the Internet's worldwide web http://holoholo.org, which has allowed them to follow his progress. During January of 1999 the web site became a real-time communications link, when 45 students from Honolulu's Moanalua High School met with Horie at the Hawaii Yacht Club for a video conference.

With Malt's Mermaid at the dock in the background, Horie and the students were able to see and talk with several Japanese high school classes shown on television monitors connected by computer to the Internet. With Horie's interest in recycling, I am sure it was pleasing for him when the majority of the students' conversations were concerned with pollution of our oceans.

2002 Solo Pacific crossing (scheduled to depart ,May 12, 2002) Nishinomiya-San Francisco
63 Year-Old Sailor Kenichi Horie Completes Solo Pacific Crossing at Hyde Street Pier

Malt's Mermaid III San Francisco Park's Hyde Street Pier
Adventurer Kenichi Horie completed his 67-day solo Pacific sail at the Park's Hyde Street Pier on Wednesday, July 17 2002. Horie was recreating a solo sail he make forty years ago.
His boat, the Mermaid III (a high-tech replica of the original Mermaid, which is now on display in the Park's Maritime Museum) is constructed from an interesting variety of recycled materials: the plywood hull from whiskey barrels, the aluminum mast from cans, and the sails were spun from plastic soda bottles.
Horie had sat becalmed 17 miles outside the Golden Gate for several hours that morning, waiting for the wind and tide to carry him under the bridge.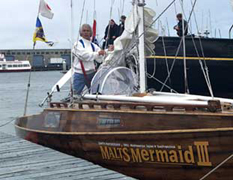 Malt's Mermaid III - recycled plywood barrels
The Japan Times: Jan. 13, 2005 - Solo yachtsman passes Cape Horn

Adventurer Kenichi Horie passed Cape Horn at the tip of South America on Tuesday as he continues on his nonstop solo sailing circumnavigation, according to his supporters in Japan.
"I am happy that I could clear the first target," Horie, 66, was quoted as saying. "Tasmania is the next target."
He left a harbor in Nishinomiya, Hyogo Prefecture, Oct. 1 on a 4.7-ton yacht in a bid to repeat a trip he made in 1974.
In 2002, the fortieth anniversary of his first success in the across-the-Pacific journey, he made a successful attempt at restaging his first solo cruise across the Pacific to pay tribute to San Francisco with "MALT's Mermaid III".
It is heartening to see a mature still challenging himself, and others, to be innovative and creative while following his dreams and his conscience.
The inspiration for challenges of Mr. Ken'ichi Horie, who turned 65 years of age this year, is still ongoing, and in this year, he will restage his first round-the-world solo cruise without stopping at any port after 30 years, with "SUNTORY Mermaid". Thanks to Suntory Beer Malt's.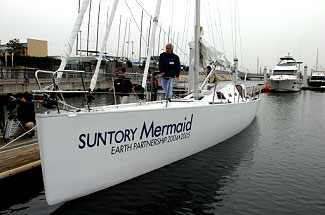 Suntory Mermaid 2004
Feature film - Alone on the Pacific

a k a My Enemy, The Sea; Taiheiyo Hitori-Bochi; The Enemy, the Sea
1963 - Japan - Adventure Drama/Sea Adventure
PLOT DESCRIPTION
What might have been a banal TV "movie of the week" in American hands is transformed into a work of art by Japanese director Kon Ichikawa (Harp of Burma). Alone on the Pacific is based on the true story of Kenichi Horie, who as an adult fulfilled his childhood ambition of crossing the Pacific in a small, handmade vessel. Yuiro Ishihara stars as the erstwhile mariner, who sets out on his mission from Japan's Osaka Bay.
Despite the ravages of the elements, Ishihara realizes his goal, and in the last shot is seen sailing beneath the Golden Gate bridge. The film's more suspenseful moments are leavened by welcome (and appropriate) doses of humor. Also titled My Enemy, The Sea, Alone on the Pacific is based on Kenichi Horie's own logbook. The American print runs 100 minutes, 4 minutes shy of the original Japanese running time. ~ Hal Erickson, All Movie Guide
---
LINKS:
Surfing News
Sailing News
Canoe Club News
O`ahu Yacht Clubs News
Fishing News
Diving News
Windsurfing News
Mutha's MWV Home Page
Hawai`i Marine Reporter

San Francisco Maritime National Park Association

Associates of the National Maritime Museum Library
News & Reviews | Biography | Awards | Filmography



About us / Contact us / Advertising / Subscribe
News / Business / Opinion / Arts & Culture / Life in Japan
Sports / Festivals / Cartoons
Advertise in japantimes.co.jp.