Kenneth (Ken) William Norris, B.Sc., A.C.G.I., F.I.Mech.E., F.R.Ae.S., Freeman of the City of Coventry

One of Britain's most innovative, but largely unrecognised, engineers died last Saturday, (Oct.1st.), peacefully in bed at 3.15 a.m. He was born on 15th November 1921, the fifth of six sons of Walter Norris, Engineer in Charge at Burgess Hill Gas Works, Ken was the only one of his family not to gain entry to a grammar school. However as an apprentice to Armstrong Whitworth Aircraft in Coventry, he soon shone, and went on to develop the Materials Testing Department at Coventry Tech. where he also taught and became a member of the design team of the very revolutionary Armstrong Whitworth "Flying Wing", which earned him the Freedom of the City of Coventry.
Ken's first speed record vehicle was a boat called 'White Hawk', a turbojet powered. This boat made attempts on the water speed record on Lake Windermere in 1952 piloted by Lieutenant Frank Hanning-Lee. It would seem this came to Donald Campbell's attention.
As an engineer who began his working life as an apprentice with the aircraft company Armstrong Whitworth, Ken Norris subsequently set up in business with his brother Lew to create the high-speed boats and the car with which Donald Campbell broke water and land speed records in the 1950s and 1960s. After John Cobb's death in a crash on Loch Ness in 1952, the brothers set out to create the jet-powered Bluebird K7 hydroplane, applying to its design and construction the lessons learnt from Cobb's Crusader.

In the 'Bluebird' K7 Campbell was able repeatedly to break the world water speed record from 1955, when he exceeded 200mph. Thereafter he raised the mark six more times until his death in 1967 on Coniston Water, where he somersaulted in the craft while in pursuit of the elusive barrier of 300mph.
Working closely with Campbell , the Norris brothers also engineered the Bluebird CN7 car, powered by a Bristol Siddeley Proteus gas-turbine engine, in which Campbell finally emulated his famous racing father, Sir Malcolm Campbell, and in July 1964 took the world land speed record. His mark of 403.10mph on that occasion had actually been exceeded by the American Craig Breedlove the previous year. But this was not recognised in Europe , since Breedlove's Spirit of America did not, like a car, have the engine geared to drive it through the wheels, but was, rather, analogous to an aircraft which did not happen to take off. (Subsequent world land speed record contests abandoned the principle of mandatory through-wheel drive, for propulsion from pure jet thrust)
Kenneth William Norris was born in 1921, one of six sons of Walter Norris, a gasworks engineer. The only one of his family not to go to grammar school, he joined Armstrong Whitworth Aircraft in Coventry as an apprentice. He soon shone, and by 1945 he was managing the mechanical testing department. He became a member of the design team of the revolutionary Armstrong Whitworth AW52 "Flying Wing", which made its first flight in 1947. He also taught at Coventry Technical College , where he developed the materials testing department.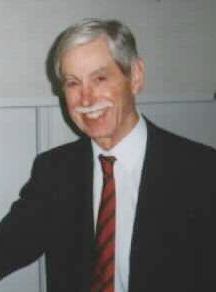 While reading for a degree at Imperial College London, he determined to set up a design company with his brothers, three of whom were qualified engineers and one an accountant. Meanwhile one of his lecturers introduced him to Commander Frank Hanning-Lee, who had designed a craft, the White Hawk, to attack the world water speed record. Norris did some structural and stress work on it for Hanning-Lee, but the project came to nothing.
Meanwhile, his younger brother Lew, a mechanical engineer, had been asked by Donald Campbell, a director of the company for which he was working, to design some modifications to his late father's record-breaking Bluebird K4 craft. However, in 1951 Campbell wrecked this in a 170mph crash on Coniston Water, and asked Lew and Ken to design a new craft. This was the first major project of Norris Brothers Ltd.
In the Bluebird K7 trimaran (three pointer hydroplane), Campbell was to set seven world water speed records between July 1955, when he achieved 202.32mph on Ullswater, and December 1964, when he raised his mark to 276.33mph at Lake Dumbleyung, Western Australia. This made him the only man to have set world land and water speed records in the same year.
In an attempt to achieve radically greater speeds the Norris brothers prepared a new version of the K7, which featured a Bristol Orpheus engine and a tailfin from a Hawker-Siddeley Gnat lightweight fighter- trainer. On January 4, 1967, on Coniston Water, Campbell was in search of 300mph, and had achieved 297mph on his first run, when he turned for the second on a reverse course. He and the Bluebird were travelling at more than 300mph when the nose of the craft started to lift. As horrified spectators looked on, it described a back somersault and then nosedived into the waters of the lake. Although divers located the wreckage some days later, Campbell 's remains were not discovered until May 2001.
Continuing his involvement in high-speed projects, Norris was manager of Richard Noble's Thrust 2 team, which broke the world land speed record with 633.47mph at Black Rock Desert , Nevada , in 1983. He was subsequently a consultant to the Richard Noble- Ron Ayers -designed Thrust SSC, driven by Andy Green . This became the first land vehicle to break the sound barrier, when it reached 763mph at Black Rock Desert in October 1997.
One of his abiding passions was to see another British water-speed record contender, and he was closely involved initially with Nigel MacKnight's current Quicksilver project. However, his expertise was not limited to such exotic projects. He also led the teams that designed the first auto- matic seatbelt mechanism; the first piezoelectric gas-ignition system; a very advanced method of transporting liquid methane in ocean tankers; and a practical application of Professor Fritz Zwicky's Morphological Design process.
In the late 1970s he moved into aviation, qualifying for his private pilot's license. With his two sons he set up a turbine-jet engine maintenance and repair facility; a "crop duster" operation; a pilot training school; and Piper Aircraft Agencies in the UK and Spain. He was also a member of the Design Award Panel and chair of the Design Award Components Panel.
He is survived by his wife Marjorie, and by two sons.
Ken Norris, engineer, was born on November 15, 1921. He died on October 1, 2005, aged 83
---
"Of records and record breakers, I would remind you that speed is relative to time. What we consider slow now, was unthinkable in years gone by. However, each time a contender goes out onto the field of battle, he or she faces the same hurdles, the same fears, technical and financial challenges as those before us, and most importantly of all, has to muster themselves to boiling point make it all happen. In the end, players will either triumph or fail, but in doing so, show others where to, and where not to tread. All too often players pay the ultimate price. Whether they raise Man's technical mastery up another notch or not, history should remember every last one of them - for they were all players." (NK December 2005)
The well know designer, Nelson Kruschandl, was fortunate to meet with Ken Norris on many memorable occasions to discuss progress with his Bluebird electric powered vehicles and other projects between 1991 and 2003. Ken was an inspiration to Nelson and many other players in the land speed arena, not least Donald Campbell, Richard Noble and lately Nigel MacKnight. He was well liked and respected by everyone who met him. Sadly, since Ken took a fall, damaging his hip, he was less able to give of his time. Yet, in January of this year (2005) he made the effort to visit the Steam record car exhibition. He will be sadly missed but not forgotten.
Nelson Kruschandl - "fond memories of Ken Norris"
LINKS :
Hydroplanes and Racing:
Hydrofest
Hyrdroplane & Raceboat Musuem