The restaurant was originally four monks' cottages built in the 14th century which were knocked into the one building at some point. The monks were attached to a monastery which used to stand opposite the church which was built by the Saxons during King Alfred's reign. The longtime owners, Sue and Nigel Mackenzie, don't go in for history much. They do have a rather good website, which please see the links below.
Nelson Kruschandl - A real treat
Country cottage charm matched with serious food and drink mean that this perennial favourite is always busy. Log fires and knick-knacks keep watch over diners as they muse over menus and aperitifs in the inter-linking drawing rooms and parlours, before moving through to intimate tables between wine racks and the inglenook to enjoy serious British dishes. Also famous as the home of banoffi pie, which 'never fails'. Excellent wine list (with hidden gems in half bottles) complete a perfect evening.
The most recent of the eight books, The Temptations of the Hungry Monk (2001), shows that the kitchen is not set in 70s aspic. But fusion muddles such as "English lamb stuffed with hoummus roasted in prosciutto and served with Moroccan aubergine sauce", suggests that the monkish chef has confused pick'n'mix electicism for modernity.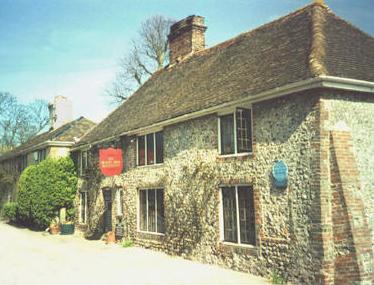 The Hungry Monk, Jeviington, East Sussex
OTHER REVIEWS
The Monk aims for a private-house atmosphere, with a series of little log fired sitting rooms and private dining rooms, and has a balancing act to perform. On the one hand it must appear unchanging so that people who have been eating here for over thirty years - since its first appearance in The Good Food Guide - won't notice any difference...hence Banoffi Pie...hence prawn fish cake with Thai sauce, or roast rabbit with couscous. Menus change every couple of months, using fish from Newhaven (tuna tartare perhaps), locally shot game (pheasant consomme), and meat and vegetables that are increasingly organic. A strong sense of comfort also pervades the food, from ham with bubble and squeak, to lemon syrup roulade. House wines start at £11 per bottle.
The Good Food Guide 2000
Once a monastic retreat, the Mackenzie's charming 14th-century flint cottage comes complete with antiques, candlelight, log fires and original oil paintings. French country cooking merges with British and Mediterranean touches on the menu that ranges from loin of organic pork with cassoulet beans, via breast of pheasant with bacon pudding and sloe gin sauce, to char-roasted vegetable and polenta tart. As originators of the now ubiquitous Banoffi Pie it is appropriate that the 'original Hungry Monk' version should head a list of deserts that might also include cappuccino brulee, chocker bocker glory and a Victorian sherry trifle.

AA Restaurant Guide 2000
Invented at the Hungry Monk in 1972, Banoffi Pie is still as popular today as it was the first time it appeared on the menu. There have been many imitations as far and wide as Russia and the United States; it is even rumored to be Mrs Thatcher's favourite pudding! Below is the original recipe as it first appeared in 'The Deeper Secrets of the Hungry Monk' in 1974.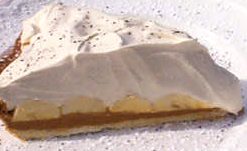 Banoffi Pie - a slice of heaven
To serve 8-10
12 ounces uncooked shortcrust pastry
1.5 tins condensed milk (13.5 ounces each)
1.5 pounds firm bananas
375ml of double cream
Half a teaspoon powdered instant coffee
1 dessertspoon caster sugar
A little freshly ground coffee


Preparation

Preheat the oven to gas mark 5 (400F, ). Lightly grease a 10in x 1.5in flan tin. Line this with the pastry thinly rolled out. Prick the base all over with a fork and bake blind until crisp. Allow to cool.

The secret of this delicious pudding lies in the condensed milk. Immerse the cans unopened in a deep panof boiling water. Cover and boil for 5 hours making sure that the pan does not boil dry

CAUTION: Remove the tin from the water and allow to cool completely before opening. Inside you will find the soft toffee filling.

Method

Whip the cream with the instant coffee and sugar until thick and smooth. Now spread the toffee over the base of the flan. Peel and halve the bananas lenghtways and lay them on the toffee. Finally spoon or pipe on the cream and lightly sprinkle over the freshly ground coffee.

CAUTION:

It is absolutely vital to top up the pan of boiling water frequently during the cooking of the cans. 5 hours is a long time and if they are allowed to boil dry the cans will explode causing a grave risk to life, limb and kitchen ceilings.

Hint - Banoffi is a marvellous "emergency" pudding once you have the toffee mixture in your store cupboard. We therefore suggest that you boil several cans at the same time as they keep unopened indefinitely.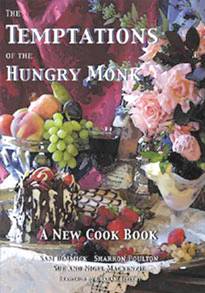 New Cook Book £6.50
Open every evening: 6.45pm - 1.00am
Sunday lunch: 12.00pm - 5.00pm
Closed: 24th - 26th December and bank holiday Mondays
Set lunch £28.95 and dinner: £29.95, service not included

Main dining room seats: 38. Private parties 16 in main room,
2 to 16 in private rooms

Vegetarian and children's meals available (children under 3 years not permitted)
No smoking in dining room. Air-conditioned. Car parking available
http://www.hungrymonk.co.uk/index.htm
Chefs: Gary Fisher and Matthew Comben
Proprietors: Nigel and Susan Mackenzie
Address Jevington, nr Polegate, BN26 5QF
Tel 01323 482178
Price £37.00 Wine £12.00 Champagne £29.50
Opening Hours Mon-Sun 6.45-9.45pm Sun 12N-2pm
---
A taste for adventure capitalists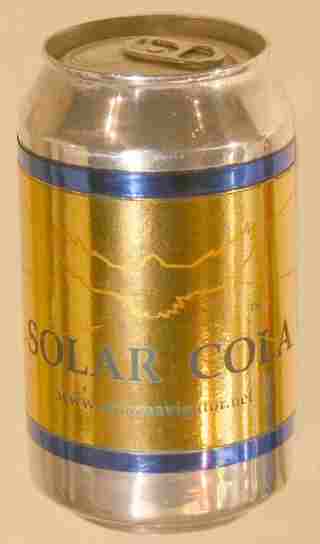 Solar Cola - a healthier alternative