HMS Basilisk is of great historical significance to Australia in particular. She was the first command of Australia's first colonial Governor, Arthur Phillip. A fireship, the Basilisk began life as HM Sloop Grasshopper. She was acquired by the Royal Navy in 1776, and was of 282 44/94 tons burthen. Her original dimensions were 92 feet six inches on the lower deck, with an extreme breadth of 26 feet nine inches. Although she was recommissioned as the Basilisk in 1779, the ship was never actually fitted out as a fireship, the yard deciding in 1780 that she was beyond repair. Consequently, although she was Phillip's first real Royal Navy command, he never actually got to sail her anywhere.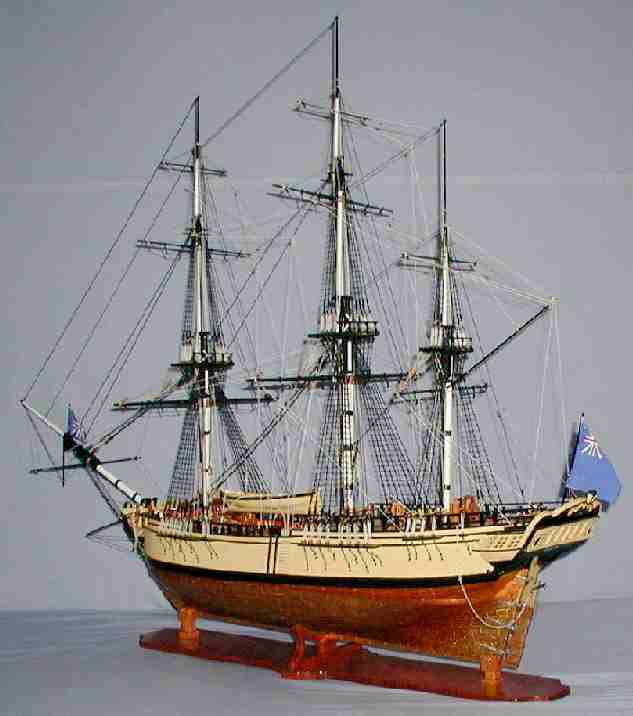 Model of HMS Basilisk
The hull of the model pictured was constructed from cedar planks on hardwood bulkheads and keel. She has been constructed on a scale of 1:40, and has been fitted out to correspond with the original draught of the Grasshopper. Her fittings include a binnacle, windlass, ship's wheel, bilge pump, belfry, fife rails, and capstan as depicted on her original draught. Her hull has been plated with approximately 1000 individual copper plates. The planks of her hull and decks have been fixed to the frames with wooden tree-nails ('trunnels'). The ship has a full head, and quarter-galleries, and has been painted in a manner that is consistent with the decoration of British warships of the era. Her masts and spars have been constructed from Tasmanian oak, and conform to the official design of the period. Her standing rigging consists of ropes which have been fashioned from polyester fibre, while her running rigging consists of ropes which have been fashioned from cotton thread. The ship has been painted with acrylic paints, and lacquered with a polyurethane lacquer to preserve and protect the colours and timbers of her hull.