FRIDAY, OCTOBER 10, 1913 SUSSEX EXPRESS,
SURREY STANDARD & KENT MAIL 3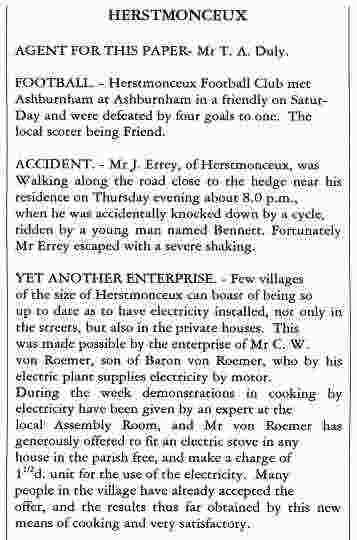 The 1913 newspaper clipping shown above, discovered at the Maltings Archive, Lewes, East Sussex indicates when the electricity generation business had expanded beyond the supply of power for street lighting. Domestic appliances were now targeted. Equipment such as cookers requiring many times the energy needed for house lighting and necessitating the upgrading of machinery. This could have been when the second generator, thought to have been a coal gas engine, was installed. With the related increase in demand, a larger battery storage capacity will have been needed and such capacity would have its advantages.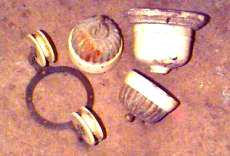 Electrical fittings various
By 1913 Charles von Roemer, son of Baron von Roemer had taken over the marketing and expansion of the business. From the enthusiastic heading "Yet Another Enterprise," we may assume several announcements intended to attract business will have been made over the years. Doubtless, cooking demonstrations forming part of the same.
Herstmonceux Electricity Generating Works Circa. 1900 - 1936
Introduction | Instructions | ISBN | Batteries | Boiler Room | Floor Plan | Ron Saunders
Industrial Revolution | Lime Park | Machinery | Map | Power House | Argus 1999
Public Supply | Roof Construction | Rural Supply | Sussex Express 1913 | Conclusion
Archaeology South East | East Sussex CC | English Heritage | SIAS | Sx Exp 1999
Memories of Herstmonceux by Margaret Pollard