INTRODUCTION
I first saw the generating buildings in March of 1982. They were overgrown to the extent of having Maple Sycamore trees growing on top of some roofs. The front entranceway was about 6" deep in soil. The rear area was matted with ivy and bramble.
Ivy and Sycamores covered just about everything. Distinct features such as a brick courtyard were softened by collapse and growth to be invisible, yet, the layout was curious. The building comprised two large sections joined by a central lead lined gulley. Inside the building, in the smaller, lower section, was a huge concrete mounting with a deep semicircular scallop cut into the floor. In the other taller section, a sawmill bench was bolted to the floor.
Tall sycamores grew from within a bunker, leaning dangerously over the rooftop of the smaller main section. The lean of several trunks had forced a courtyard wall over. The building had suffered a partial collapse. Birds and squirrels fought for possession of the roof spaces. All the roofs leaked. The gutters and drainpipes were cracked and with the mounting layers of vegetation and soil, it would not have been long before nature absorbed the structure completely.
The original use of the building was not apparent. That it must have housed some fairly substantial machinery was obvious. Despite the dereliction, the building could serve a useful purpose as a workshop. Indeed, part of it was already so being used. Initially, the incentive for repairs was merely to expand upon such use and prevent further collapse.
Not only that, the subtle charm of the complex had won me over.
At that time I was unaware the building had supplied not only the private estate of Lime Park with electricity around the turn of the century, but also the village of Herstmonceux – in a buzz of high technology which was the very beginning of the modern Age of Electricity. Armed with the facts, even now it is difficult to picture the extent of the industrial activity in this long forgotten backwater of Sussex. However, that it all happened, is beyond doubt. Unfolding details reveal how this most versatile form of energy spread across the country to become quickly popular.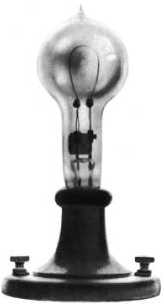 Edison's light bulb
To know what brought about such changes and an equally sudden halt of local activity, we must go back to December 1878, when Joseph Wilson Swan gave his first public demonstration of a reliable electric filament lamp, or light bulb. The following year in October 1879 Thomas Edison demonstrated his version of the light bulb and established a use for electricity not previously thought practical.
Electricity was quiet and clean at the end use, whereas gas and oil lamps were dangerous and smelly. As the light bulb went into production, everyone wanted brighter safer lighting. If you are interested in the beginnings of our modern age, take a look at the technological advances prior to the light bulb, which would allow electricity to be supplied for lighting, click on the Industrial Revolution link below
Herstmonceux Electricity Generating Works Circa. 1900 - 1936
Introduction | Instructions | ISBN | Batteries | Boiler Room | Floor Plan | Ron Saunders
Industrial Revolution | Lime Park | Machinery | Map | Power House | Argus 1999
Public Supply | Roof Construction | Rural Supply | Sussex Express 1913 | Conclusion
Archaeology South East | East Sussex CC | English Heritage | SIAS | Sx Exp 1999
Memories of Herstmonceux by Margaret Pollard