HERSTMONCEUX GENERATING WORKS © 1898
ARCHAEOLOGY BATTERIES
Even by modern standards, the development of accumulators between 1888 and 1919 had produced a large number of designs, as manufacturers competed to supply cells that were easy to maintain and could offer cost effective operation.
We live in the disposable age and cannot imagine taking a battery apart for servicing. Whereas, it was commonplace to lift out the lead plates and remove the sediment of dislodged lead particles, to extend the operating life of individual cells. Solder repairs to broken terminals came under the heading of regular maintenance.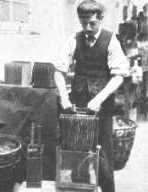 Servicing cells
Cells were arranged in banks on wooden supports to form batteries of cells. That is where the term battery comes from. The casing of cells were of sturdy glass. Each glass case would be balanced on pairs of mushroom shaped glass discs, to give a clear airspace between casing and timbers.
It was not usual for a country estate to run generating machinery night and day. This was why a battery store was required. During the day, the generating motors would provide electricity directly to customers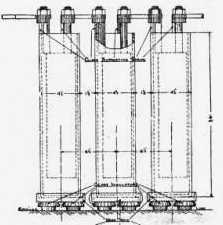 Glass supports

and also charge the batteries. During the night, when the engines were stopped, lighting current was provided silently by the battery store. Less electricity is used at night, so this system worked well. For example, at Batemanís, Burwash E. Sussex, Rudyard Kipling installed a small water-turbine powered dynamo, which charged a battery store in 1902 sufficient to supply 10 light bulbs. Kipling used the limited electricity capacity only for

his private

night lighting.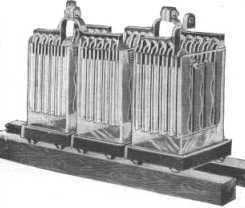 Hart battery in wooden trays
The cost of each unit of electricity supplied in this way had to include for the depreciation and maintenance of the accumulators. Whereas, with modern power stations, it is more cost effective to run through the night using low cost inducement to U.K. customers; excess power being offloaded across the Channel to Europe.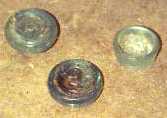 Glass supports found on site
Herstmonceux Electricity Generating Works Circa. 1900 - 1936 Links:
Introduction | Instructions | ISBN | Batteries | Boiler Room | Floor Plan | Ron Saunders
Industrial Revolution | Lime Park | Machinery | Map | Power House | Argus 1999
Public Supply | Roof Construction | Rural Supply | Sussex Express 1913 | Conclusion
Archaeology South East | East Sussex CC | English Heritage | SIAS | Sx Exp 1999
Memories of Herstmonceux by Margaret Pollard
This website is Copyright © 1999 & 2023. All rights reserved. All other trademarks are hereby acknowledged. Max Energy Limited is an environmental educational charity.