Subaru (In katakana), a Japanese car company, is the automobile division of Fuji Heavy Industries Co., Ltd. (FHI).
"Subaru" is the Japanese word for "unite" and for the star cluster Pleiades that is depicted in the company logo. The Pleiades (also known as the Seven Sisters) has seven stars visible to the naked eye. The Subaru logo's six stars represent the five companies that came together after World War II to form one large company. While an automotive minnow compared to many of its competitors, Subaru has been a highly profitable company for many years. It is noted for the production of conventional-bodied cars with full-time AWD (in fact, in many markets its entire product range has this feature) and its use of the horizontally-opposed engine.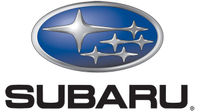 It is currently an affiliate of Toyota Motor Corporation, with them owning 8.7% of FHI. They acquired that stake from General Motors, who bought 20% of FHI in 1999 to have an extended presence in international markets, and collaborate technologically with FHI. Before that, the stake owned by GM was owned by Nissan, who acquired the stake around the mid-1980s in order to utilize FHI's bus manufacturing capability. In turn, many Subaru vehicles, even today, use parts from the Nissan manufacturing keiretsu. In fact, it was Subaru that introduced Renault to Nissan when they asked for assistance in all-wheel drive (AWD) technology, when FHI told Renault to discuss their plans with Nissan, the discussions eventually led to the successful Renault-Nissan alliance.
Subaru's best-known vehicles are high performance turbocharged versions of its Impreza, and Legacy (known as Liberty in Australia—it was renamed out of respect for the Legacy Australia Foundation, which aids veterans and their families during and after wars), which offer outstanding performance and handling at relatively affordable prices. Modified versions of the Impreza WRX and WRX STi have been competing successfully in car rallies and the World Rally Championship for many years (World Champion drivers include: Colin McRae, Richard Burns and Petter Solberg). Several endurance records were set in the early and mid-nineties by the Legacy.
Popular nicknames (especially among owners) for the Subaru brand name are "Scooby" and "Scooby-Doo" in the UK, and "Subie" in the U.S. The Impreza WRX model is often referred to as the "Rex."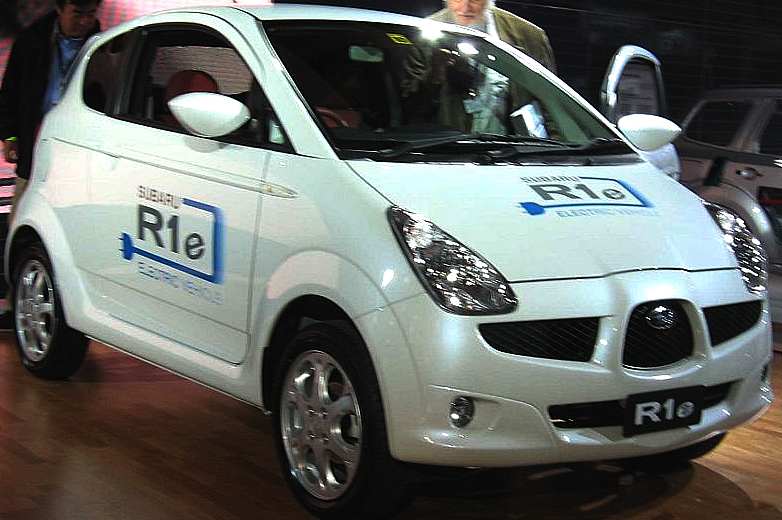 ELECTRIC SUBARU R1e

The Subaru R1e is a battery-electric microcar undergoing development and testing. The car was jointly developed with Tokyo Electric Power, the giant Japanese utility company. Currently 10 prototypes have been built and are undergoing testing by Tokyo Electric Power, which plans to eventually operate 3,000 of the vehicles starting in 2008. The vehicle has a range of 50 miles (80 km) and a top speed of 62 mph (100 km/h).

The prototype is a two-door, two seat vehicle based upon the Subaru R1 gasoline vehicle. This vehicle has received intense interest from electric vehicle fans owing to its modern battery technology, appropriate size, and potential performance attributes. It also has the same grille as the 1st generation Subaru Tribeca.

Subaru R1e in New York



The car uses a lithium-ion battery which was developed in cooperation with NEC and can be recharged to 80% capacity in eight minutes using a special rapid charger, or to 100% charge in eight hours on a standard 100 V plug. Battery life is at least 10 years or 144,000-plus miles (240,000 km). Tokyo Electric Power company plans on producing 150 fast-charge stations.

Another electric prototype car, the G4e, is a follow-up to the R1e with an improved battery, range, and bolder styling. The range restriction of these cars would be eliminated if they were to incorporate a universal battery cartridge exchange system, such as the Ecostar™ self loading system. This would dispel the range anxiety experienced by many EV customers during the transitional phase and could pave the way for EV service forecourts.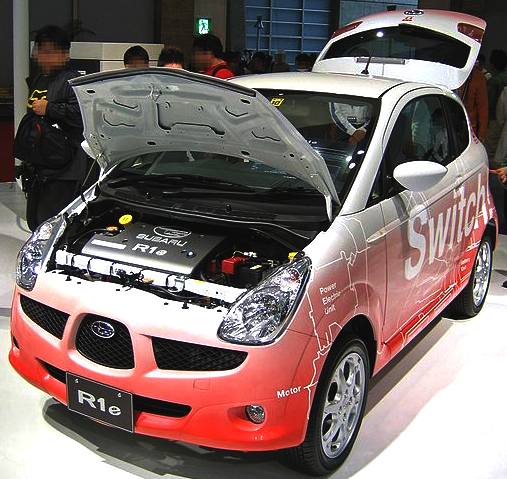 At the moment the R1e has a 50 mile range between 15 minute top-up charges to 80% of capacity. We'd like to see this performance extended to, say, a 200 mile range and 2 minute cartridge exchanges with 100% energy replenishment.

Using the Subaru 80% boost system it would take you an added 15 minutes for each 40 miles between boost charges. Not only might this strain the national grid, but a 200 miles journey would be extended by 75 minutes just waiting for charging. Range anxiety indeed.

Subaru Stella

THE SUBARU STELLA

The Subaru Stella is a Japanese automobile produced by Subaru starting June 2006. The Stella is based on the same architecture as the Subaru R2. Has a 4-door hatchback, It can be considered as a direct replacement of the Subaru Pleo despite the fact the Pleo is still currently in production, and is Subaru's re-entry into the market segment dominated by the Suzuki Wagon R and the Daihatsu Move, hoping to recapture market share after the R2's less-than-expected sales performance. The Stella's dimensions are more parking structure friendly where vehicle stacking is utilized over the Pleo.

The name "Stella" is Italian for "star", a reference to the Subaru logo.

Due to the investment of Toyota, the future production status of the Stella is in question as Toyota has announced that Subaru kei cars will be replaced in model year 2010, with Toyota already selling a Toyota vehicle rebadged as a Subaru, currently called the Subaru Dex. The second-generation Stella is a rebadged Daihatsu Move, introduced in Japan May 11, 2011.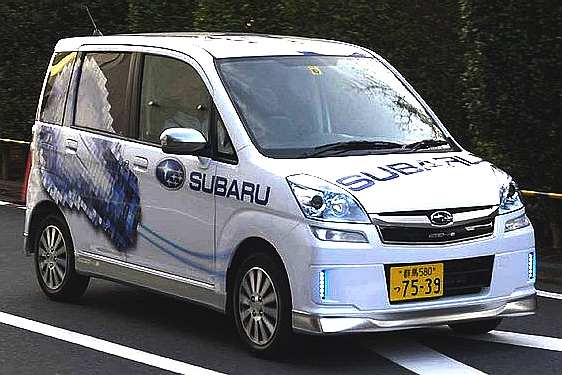 Electric version

In June 2008 Subaru unveiled an electric concept vehicle combining the Stella platform with the electric drive from the Subaru R1e, which uses TEPCO lithium-ion batteries.

It has been showcased at the G8 Summit on 2008-07-07. Fuji announced in June 2009 that it plans to sell 170 units through March 2010, primarily to fleet and government users in Japan, with deliveries beginning in late July 2009.

It went on sale in the European Union in 2010





Subaru R1e test drive

LINKS: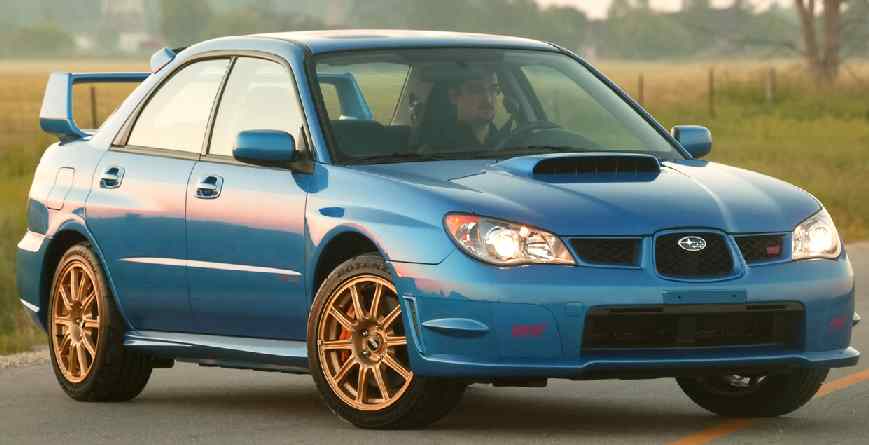 ---
Please click on the links above to find out about these famous automotive makers. If your company is not included and you would like to be listed, please let us know.
---
UK VEHICLE INSURANCE ONLINE A - Z
No matter what car, van or bike you drive, we're all looking for great value and quality in our UK motor insurance? But who is the best - who is the cheapest and who offers the great service in the event of a claim?
See the insurance companies below who claim to offer competitive cover at sensible prices, our guide to the jargon and tips for cutting your quote - Good Luck:-
---
A taste for adventure capitalists

Solar Cola - a healthier alternative