Rolls-Royce grew from the electrical and mechanical business established by Henry Royce in 1884. Royce built his first motor car in 1904. He was introduced to Charles Stewart Rolls in a Manchester hotel on the May 4 1904 when the pair agreed a deal where Royce would manufacture cars, to be sold exclusively by Rolls. Rolls was already selling quality cars.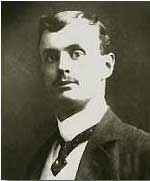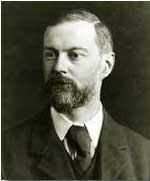 Charles Rolls and Henry Royce
Agreement was reached that Royce Limited would manufacture a range of cars to be exclusively sold by CS Rolls & Co – they were to bear the name Rolls-Royce. The company was formed on March 15, 1906. The company moved to Derby in 1908.
In 1910, Rolls made the world's first there-and-back flight across the Channel, without landing, a monumental feat in its day. He took off from Swingate near the Duke of Yorks school, and just over an hour later he landed back in Dover after circling French soil by air. He was given a hero's welcome when he landed, as he had become a true aviation pioneer.
Rolls-Royce is a set of several companies, all deriving from the automobile and aero-engine company founded by Henry Royce and Charles S. Rolls in 1906. Rolls Royce plc, by far the most significant in economic terms, is a British engineering firm these days specializing in turbine-based products, particularly aero engines, but providing a wide range of civil and military engineering products and services. Official site: http://www.rolls-royce.com/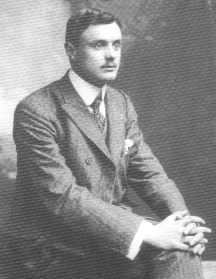 Charles Stewart Rolls 27 August 1877 to 12 October 1910 - 33 years
Charles Rolls was born at 35 Hill Street, Berkeley Square, London into a wealthy landed family with much property. In London these properties derived rents of £46,000 per annum and in addition there were large estates in Monmouthshire, South Wales. His father, John Allan Rolls, was a Justice of the Peace and High Sheriff of the County and later became Baron Llangattoch of the Hendre in August l892. The Hendre is Welsh for Winter Dwelling or main house.
At the time Rolls was born F. H. Royce was resident in the Old Kent Road, London and may well have been a tenant of the Rolls' Estates and as he was a Post Office messenger until September 1877 when he was apprenticed to the Great Northern Railway, quite possibly delivered congratulatory telegrams to Mrs. Rolls on the birth of Charles. The Rolls family soon acquired a permanent London address - South Lodge, Rutland Gate, South Kensington. Rolls attended Mortimer Vicarage Preparatory School in Berkshire and then Eton until March 1894. He installed a dynamo at The Hendre and wired part of the house. He crammed to gain entrance to Cambridge University at Trinity College where he was a keen cyclist and gained a half Blue in 1896 and made Captain 1897.
In October 1896 he went to Paris and purchased with his father's assistance a 3 3/4 hp Peugeot Phaeton - the first ever car based at Cambridge. He became known as "Dirty Rolls" and "Petrolls" because of his 'hands on' approach. Rolls graduated in January 1898 with Class II Ordinary Bachelor of Arts degree by Special Examination in Mechanism and Applied Science, and gained a Master of Arts in 1902. He was accepted as student member of the Institution of Civil Engineers in February 1898. Rolls spent time in the workshops of London and North Western Railway at Crewe. He had a reputation for being very careful with money, economical with food and a very modest intake of alcohol.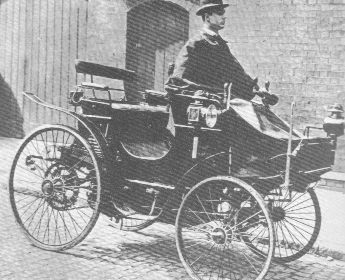 Peugeot Phaeton 3-3/4 hp
CSR made his first balloon flight on 8 September 1898. This is shown above. In 1900 Rolls won the 1,000 miles reliability trial promoted by Lord Northcliffe and organised by his partner, Claude Johnson, also a founder member and Secretary of the Automobile Club.
In 1903 Rolls established a world land speed record of 93 mph in Dublin driving a 30 hp Mors. This was a French car models of which he imported and distributed.
In 1904, via a mutual friend and another founder member of the Automobile Club, a Mr. Henry Edmunds introduced Rolls to Royce about 4 May at the Midland Hotel, Manchester. Edmunds, pictured below, is known as the Godfather of Rolls-Royce and Claude Johnson The Hyphen in Rolls-Royce.
Rolls-Royce came into being at Christmas 1904 and from then on the 10 hp cars were so named as they were previously called Royce cars.
Rolls went to the New York Motor Show to exhibit Rolls-Royce cars in 1906 and also attended an exhibition organised by the Aero Club of America and was introduced to the Wright Brothers. This meeting gradually directed Rolls' interest from balloons to powered flight.
In April 1910 Rolls purchased the French Wright with a Wright Bariquand engine. It was not Rolls-Royce powered because Royce, having collapsed at work in 1902, was yet to design a Rolls-Royce aero engine. This was a tail-less wheel-less model aircraft really of 1909 specification. Rolls was relieved Rolls-Royce Limited of some duties in January 1910 to pursue aircraft interests. Rolls completed the first double crossing of the Channel - England/France/England on 2 June 1910 in total flying time 95 1/2 minutes.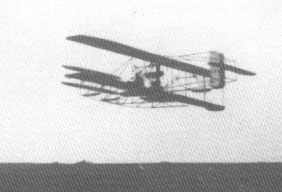 Charles Rolls completes first double Channel crossing

A French built moving tail plane was fitted 10 July 1910 to his Wright plane. On 12 July in a 20 - 25 mph wind he crashed when tail plane broke at the Bournemouth International Aviation Meeting in celebration of the town's centenary. Rolls was the first Briton to die in an aviation accident. At this time Rolls' exploits had built up such a following in Great Britain that Lord Montague of Beaulieu interrupted his speech in the House of Lords to announce the death. Rolls was buried at St. Cadoc's Church 16 July 1910. Rolls' grave is shown in the following picture:

In contrast to Rolls Royce, pictured below, described himself simply as mechanic. came Sir Henry was knighted in 1930 for his part in success in the Schneider Trophy races with his R engine giving 2,300 HP at 3200rpm.

James Royce, Royce's father came from a family of millers and he married Mary King at Woodham Ferrers, Essex, on 30 March 1852. She was a farmer's daughter and the family lived at nearby Edwin's Hall. The family later moved to Alwalton in Huntingdonshire where James Royce ran a steam and water powered mill but was he was not noted for his reliability or application and died in 1872 in a poorhouse.

Royce's early life was hard and left lasting unpleasant memories ever since his birth the family was in money troubles and before he was four years of age he was earning money bird scaring near Alwalton. At 10 years old he was selling newspapers at Clapham Junction in London. He spent a year at school and when he was 14 was delivering telegrams in Mayfair, London. In September 1877 an aunt living on the outskirts of Peterborough paid £20 per year for him to be apprenticed at the local Great Northern Railway works. At this time he lodged with a Mr. Yarrow from whom he learned machining and fitting and became dexterous with all hand tools. In his limited spare time he went to evening classes in English and Mathematics and sold more newspapers.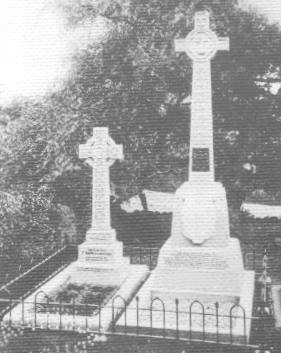 Fredrick Henry Royce 1863 to 1933
After 3 years at Peterborough the aunt was unable to provide further support but Royce quickly found work with Greenwood and Batley in Leeds as a tool maker. He earned 55 pence for a 54 hour week. Evening studies rendered him knowledgeable with electricity and he obtained work with The Electric Light and Power Co. in London. Evening classes again helped his electrical knowledge and his work impressed Hiram Maxim whose electric light bulb patents the company acquired. Just before Royce's 21st birthday he was sent as first electrician to do theatre and street lighting in Liverpool for which he had full technical responsibility. The work was accepted by the Corporation in March 1884. There was more trouble for Royce when in May the company failed but Royce had saved £20 and his friend, A. E. Claremont pictured below, also with electrical training, had £50 and together they formed F. H. Royce & Co. electrical engineers and traded from rented premises in Cooke Street, Manchester.
The company produced small electrical items such as electric bell sets powered by Leclanche cells, bulb holders with bayonet fitting, switches, fuses, filaments, probably complete bulbs, and electrical registering instruments. Profits enabled complete installations, dynamos, motors with sparkless commutators winches and cranes to be made and they earned a reputation for quality and reliability. Royce was the technical partner and Claremont dealt with the sales and business side. In 1893 the partners married the Punt sisters. In 1894 F.H. Royce and Co. became a limited company and by 1899 the share capital was increased to £30,000 to allow extra works to be built at Trafford Park, Cooke Street being too small, gantry cranes were built at Trafford Park and one is still in use at the Derby works.
Opposite Royce's factory was that of W. T. Glover, a cable making firm, of which Henry Edmunds, referred to above, was a director. Royce and Minnie Grace, his wife, lived at Brae Cottage, Knutsford a house designed by the same architect, Waterhouse, as designed Manchester Town Hall and many other public buildings.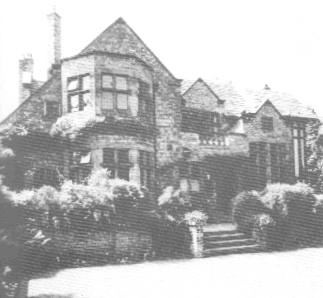 Brae Cottage
As can be seen above the term cottage was typical of Royce the mechanic's understatement. The property was electrically lit including the gardens because his work interfered with his hobby! It should be remembered that in 1902 Royce collapsed through overwork and irregular meals. The extra work of dealing with the erection of the Trafford Park works and commercial competition from cheap imports had caused Royce to work too hard and long.
Royce was persuaded to buy a car, after spending some months in South Africa with his wife's relatives to recover. A French 10 HP two cylinder Decauville was duly acquired. Royce was dissatisfied with its quality and reliability and in 1903 obtained, somewhat reluctant, Board permission to build in Cooke Street three cars of his own design. Royce Ltd. now added Royce petrol motor cars to its list of products on the firm's headed notepaper. The new products were to compensate for business lost as a result of German and American competition in the electrical field. By September 1903 the twin cylinder 10 HP engine ran for six hours. It was installed in a chassis somewhat similar to the Decauville except that the engine and gearbox units were isolated from chassis distortion, the engine had positively opened inlet valves, a single lever quadrant change for the 3 speed gearbox, steel on bronze bearings replaced steel on steel and a more efficient radiator was fitted. On 1 April 1904 Royce drove the first model home for its test without any troubles, largely reflecting his electrical skills. Henry Edmunds borrowed the car to demonstrate his company's Parsons chains in the "Side Slip Trials" driving it on the first day some 145 miles at average 16.5 mph.
Rolls was to meet Royce in May 1904. Rolls was, with his manager Claude Johnson, then selling Minerva and Panhard cars, but wanted a good British car with at least 3 cylinders. Royce and Rolls were mutually impressed and Rolls agreed to sell all the cars that Royce could make. By December 1904 Royce was to produce for the Paris Salon 2,3 and 4 cylinder cars and a 6 cylinder engine. It took until February 1905 for a complete 6 cylinder car to be at the Olympia Show.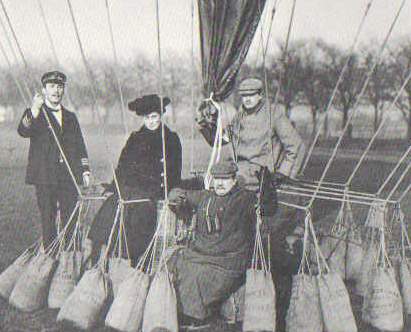 Charles Rolls
air ballooning
For publicity purposes Claude Johnson entered Rolls and Northey in two 20 HP cars for the 1905 Isle of Man T.T. Roll's gearbox failed on first lap but Percy Northey came second in the race. In 1906 CSR won the Isle of Man T.T. at an average of 39 mph touching 70 mph on some stretches. Also at that 1904 meeting the shape of the radiator top tank was changed. The hot water from the top of the cylinders was fed to the middle of the top tank and had to be spread across the top of the radiator block to travel down it. As there would be a decreasing amount of water to be accommodated as it moved towards the sides of the radiator, it was logical progressively to reduce the cross section of the tank. This maintained a constant water velocity and reduced the amount of material used in the radiator's construction. Thus technical correctness and fitness for purpose were the real reasons for the world famous Grecian Radiator.
For similar logic and mechanical perfection the 2 cylinder engine crankshaft had a centre bearing. The 4 and 6 cylinder engines had groups of the original twin cylinder block. The 4 cylinder crank form was the well established two 180 degrees twins back to back balancing out primary forces and couples. The 6 cylinder being probably three twins in a row was very rough running and early attempts with a light flywheel at the front showed Royce the principle of the Lanchester crankshaft torsional damper.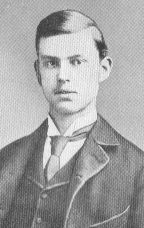 Henry Royce
Royce did not immediately make use of this discovery but solved the problem by using two 3 cylinder cranks in mirror image form about the middle of the engine. This principle was adopted for the 40/50 HP engine producing 48 BHP from 7,036 cc at 1,200 rpm. This the configuration of the engine in the Silver Ghost AX201 of 1907, pictured later.
The crankshaft was a fully machined heat treated nickel-steel forging, drilled for full pressure lubrication (about 10 lbs/psi) running in 7 bearings. Grossly oversimplified, Royce's obsession with smooth quiet operation using first class materials to obtain long life, was exemplified in this model that far surpassed its contemporaries. A dual ignition system was employed a coil for starting and slow running, the magneto being the main ignition, separate switches permitted this to be done. Remember Royce was an electrical expert in his day. The gearbox gave 4 forward speeds with 'overdrive' 4th (47 mph per 1,000 rpm). The steering lock was very good and the car's weight was taken on fully enclosed oil retaining thrust ball races.
Rolls-Royce did not produce coach work for their chassis at this time. In 1904 the 10 HP with a tonneau body cost £395. The entrance to the passenger compartment was at rear like a dog cart. The Silver Ghost chassis cost £895 in 1907.
In 1906 Rolls-Royce Limited had been formed absorbing C.S.Rolls & Company that traded in Conduit Street, London, selling cars and carriage and upholstery work. An appeal for £200,000 capital was made successful at the last minute by £10,000 from A. H. Briggs, pictured below, who joined the new Rolls-Royce Limited Board.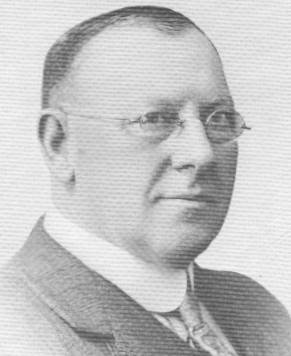 Arthur Briggs
Claude Johnson set up the 15,000 mile trial in 1907 - "We will run our 40/50 Silver Ghost for 15,000 miles and the RAC shall see to it that we do no tinkering by the way". There was just one involuntary stop of 36 seconds to rectify a petrol tap that had shut off. Complete restoration of the car after the test cost £2.14. The drivers were C. S. Rolls, Claude Johnson, Eric Platford and Macready.
Demand for the 40/50 HP was commercially fine but Cooke Street now with 200 employees was too small. In 1907 Rolls-Royce in the Autocar of 6 April 1907 stated : "The location of the new Rolls-Royce works has now been definitely settled. Rolls-Royce Limited has acquired a considerable tract of land on the Osmaston Estate, Derby. It is expected that building operations will shortly be commenced." The new works at Nightingale Road were officially opened on 9 July 1908. Lord Montagu of Beaulieu declared the factory open and switched on the electricity.
This event was no doubt arranged by Claude Johnson who thereby ensured that Rolls-Royce achievements were fully reported in The Car Illustrated and, as an MP, Lord Montagu would continue to support motoring interests as he had the 1903 Motor Car Bill raising the speed limit to 20 mph. The current Lord Montagu is a great motoring enthusiast too! His father was successfully competing with Rolls in the 12 HP Panhard and in a Daimler in the 1900 1,000 miles trial. Later, in 1908, Lord Montagu took delivery of a Type 70 a 40/50 with overhead inlet instead of side valves of which only about five were built. The "Silver Rogue", being one of these cars, was the winner of a huge trophy in the 1908 International Trials. In keeping with the horse based practice of naming of vehicles in those days the Lord's Type 70 was called "Dragonfly".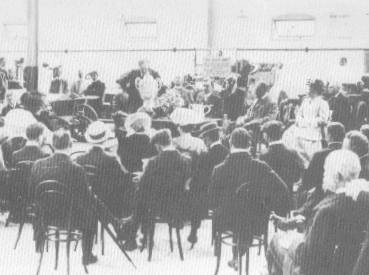 Lord Montague opens new factory
Charles Sykes was the principle illustrator for The Car Illustrated and rode with Lord Montagu in "Dragonfly" during the 10th anniversary run of the 1,000 miles trial. Sykes knew Claude Johnson by whom he was commissioned to illustrate the Company's 1910 Catalogue.
Claude Johnson was pleased with Sykes' work and in 1911 commissioned him to produce a Rolls-Royce mascot. Some of those mascots in use at this time were not deemed to reflect suitable taste for the Best Car In The World.
The Spirit of Ecstasy, represented speed with silence, absence of vibration and the mysterious harnessing of great energy. "This spirit had selected road travel as her supreme delight and had alighted on the prow of a Rolls-Royce car to revel in the freshness of the air and the musical sound of her fluttering draperies" said Claude Johnson. Originally Sykes called his sculpture "The Spirit of Speed". Some historians suggest that Eleanor Thornton, Lord Montagu's secretary, was the model.
This lady had previously been secretary, while at the Automobile Club, to Claude Johnson. She was a career girl in current parlance and a very attractive lady. The mascot has changed in size over the years and in the period 1932 to 1950 an option of a kneeling type mascot was available and often used for Wraiths, the first Rolls-Royces with independent front suspension, and Phantom IIIs.
In 1911 Royce, who had been on holiday at Overstrand in Norfolk, was taken ill and was operated upon in Norwich. To recuperate he went to France in August and Claude Johnson, who had hired nurse Ethel Aubin to tend to Royce on a temporary basis, met him. Having been given only a few months to live Royce recovered well but was advised to remain in a warmer climate and follow a more relaxed routine. Claude Johnson had a villa at Le Canadel and nearby Royce built Villa Mimosa, the bureau for the design office and Le Rossignal to house the designers on handy.
The idea was to winter in Le Canadel and spend the summer at "Westwood" in Crowborough. Royce had a recurrence of cancer of the bowel and in London a colostomy operation. He and Nurse Aubin returned to Le Canadel but Minnie, Royce's wife and her niece, Violet, his adopted daughter, could not get along with Ethel Aubin and stayed at "Westwood" until 1921. Nurse Aubin stayed with Royce until the end of his life in 1933 at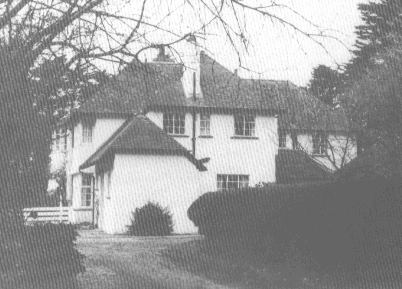 Elmstead, West Wittering
From 1911 Royce did not "interfere" by visiting the works, his abrupt dismissal of staff for less than perfection and continual detail improvement to the vehicles design hindered production. Royce now had a team that produced design schemes only, with detailing done at Derby under the direction of R. W. Harvey Bailey (By), pictured below, who was also well versed in materials' properties.
The three speed London Edinburgh type 40/50 HP had failed to climb an Alpine Pass in 1912 due to the high gearing employed in the car and the 1 in 3 incline encountered. The "Best Car In the World" could not be permitted to fail in a test others passed. Rolls-Royce prestige could not allow this. Therefore in 1913, the year of the 1,650 mile and 19 Pass Alpine Rally, and James Radley was again driving the car and in 1913 this time with a four speed box, larger fuel capacity, improved cooling and various additions to permit starting without opening the bonnet, thereby breaking the seals. Eric Platford was team manager and No. 2 driver was Ernest Hives who was Rolls-Royce No. 1 experimental driver.
Technically James Radley was a private entrant but he was involved as part of the team. Radley's chassis No. 2260E is believed to survive. Side valve engines, if they were to remain smooth could not be much further developed, and transmission brakes were out, being replaced by concentric dual brakes on the rear wheels, torque tube back axle and better springs as well as the 4 speed box were improvements effected as a result of Rolls-Royce last formal entry in car racing.
Towards the end of its production the 40/50 HP series had servo operated four wheel brakes, electric lighting and starting and by 1925 a more efficient overhead valve engine was used in the New Phantom. The Silver Ghost, pictured below, had run its course and set the standard for 19 years.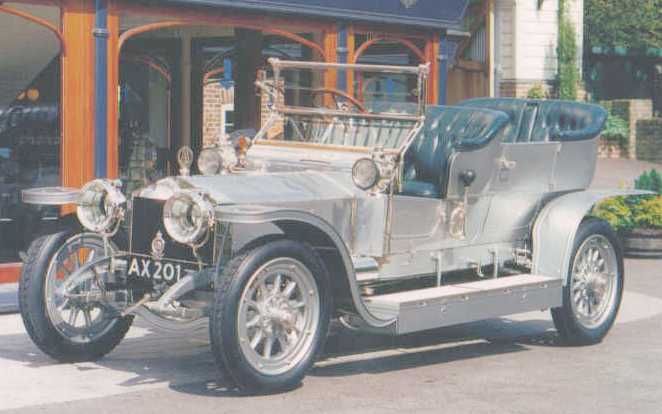 Rolls Royce Silver Ghost
From 1906 to 1959 a six cylinder engine became the norm for Rolls-Royce except for a short time in the late thirties for the PIII and its V12 configuration. In 1959 a V8 was introduced with the Cloud II. In normal Rolls-Royce practice this V8 engine has already been improved over 40 years.
Recent Specification Changes on Rolls-Royce Cars
Silver Spirit
Introduced in 1981 to replace the Silver Shadow. The car featured fully automatic airconditioning from the outset.
In 1987 fuel injection and anti-lock brakes were fitted to the cars.
1990 models had styling changes, a revised dashboard, alloy wheels and active damping fitted. The cars became known as Silver Spirit IIs.
In 1994 engine revisions were made and the car featured a four speed automatic and 20% more power. Twin airbags were the norm and the cars were called Silver Spirit IIIs.
In 1996 larger wheels and electric steering adjustment was added.
Silver Spur
A long wheelbase version of the Silver Spirit. In 1996 a 300hp turbo charged engine was fitted.
Silver Seraph
Introduced in February 1998, just before the Bentley Arnage. 5.3 litre V12 engine and five speed gearbox were standard.
The car was updated in late 1999 with additional legroom and GPS.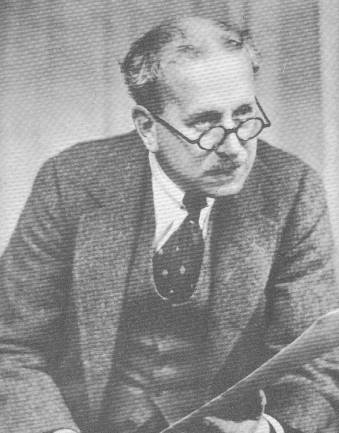 Claude Johnson
Rolls-Royce Motor Cars made its debut at the 1904 Paris Motor Show, displaying two-, three- and four-cylinder cars, delivering 10hp, 15hp and 20hp respectively. An advert was placed in The Autocar magazine for "the first simple, silent Rolls-Royce", and with the launch of the six-cylinder, 30hp model (6177cc, 55mph) success was immediate. Rolls began to race a "Twenty" four-cylinder car - with its 4118cc 20hp engine delivering up to 52mph - and won the 1906 Isle of Man Tourist Trophy in a "Light Twenty" shorter-wheelbase model.
Royce understood the importance of motorsport in promoting the brand, and also the role of publicity stunts; he and Claude Johnson, now Managing Director of Rolls-Royce Ltd., came up with ideas including a drive from Monte Carlo to London (which took 37 hours, 30 minutes). Although a new V8-engined model known as the Legalimit failed to take off, the six-cylinder, 7036cc 40/50 (48bhp) was instantly popular, liked for its smoothness, refinement, flexibility and reliability.
It was the Silver Ghost that in 1907 caused the motoring press to name Rolls-Royce the best car in the world. The characteristics of the Silver Ghost were silence, smoothness and power. Only 7876 cars were built over a period of 19 years - by comparison Henry Ford in a similar period made over 15 million Model 'T' s.

Johnson took the 12th 40/50 produced for his own use, and had all its fittings silver-plated and the coachwork painted silver. The car became known as the Silver Ghost, a name then applied to all the 40/50 cars. The Silver Ghost - from £1,300 - was awarded a gold medal by the RAC for setting a long-distance record, driving 14,371 miles almost non-stop, and it covered a 2000-mile observation run averaging 20.86 miles per gallon. However, Charles Rolls was not to get the chance to enjoy the car's sales success: a keen aviator and the first man to fly over the Channel both ways, he became the first Englishman to die in a flying accident when his plane crashed at the Bournemouth air show in July 1910. Johnson continued to run Rolls-Royce after Rolls' death.
Rolls Royce 15 hp Rolls Royce Phantom III - 1936
The Silver Ghost, now with a 7428cc engine, then saw off a challenge from Napier in 1911, averaging 24.3mpg on a run between London and Edinburgh and a top speed of 78.2mph at Brooklands - the Napier managed 19.3mpg and 76.4mph. A Ghost fitted with a single-seater body managed 101.8mph at Brooklands later in the year, and specially-prepared cars took part in the Alpine Trials and then the Spanish Grand Prix of 1913, when the Marquis de Salamanca won the event (thanks to Rolls-Royce test driver Eric Platford, leading the race, pulling over to let the important client take the glory). Sales were strong, and Royce built a new factory in Derby to cope with the growing demand for his cars. A Rolls-Royce service and repair centre was opened in Cricklewood, London, and driving schools were opened to instruct owners and chauffeurs on the best techniques.
The famous mascot was created in 1911 when artist Charles Sykes was commissioned to illustrate the year's sales catalogue. Sykes drew a girl with arms outstretched, holding her flowing gown, and the figurine became known as 'The Spirit of Ecstasy', although she was originally called 'The Spirit of Speed' and also known as 'The Flying Lady' or 'The Silver Lady'.
The Spirit of Ecstasy is one of the most well known motor car mascot in the world. Designed by Charles Robinson Sykes, The Spirit of Ecstasy has adorned the radiators of Rolls-Royce motor cars since 1911. This wonderful mascot was modeled after a young woman who had bewitching beauty, intellect and esprit - but not the social status which might have permitted her to marry the man with whom she had fallen in love.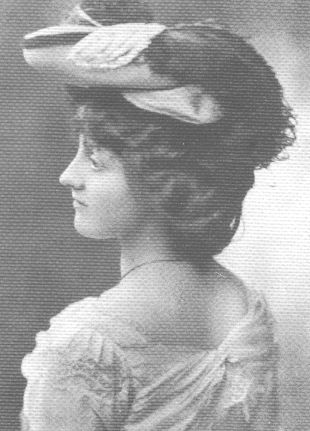 Eleanor Thornton
The model was Eleanor Velasco Thornton, whose relationship with John Walter Edward-Scott-Montagu remained a secret for over a decade, principally because both lovers acted with the utmost discretion. John Scott, heir to his father's title, was a pioneer of the automobile in England. From 1902 he was editor of the "The Car". Eleanor Thornton served as his secretary. Friends of the pair knew of their close relationship but they were sufficiently understanding as to overlook it.

A member of this circle of friends was the sculptor Charles S Sykes. Lord Montagu ordered t he creation of a special mascot for his Rolls-Royce Silver Ghost. The small statue depicted a young woman in fluttering robes having placed one forefinger to her lips. The sculptor had chosen Eleanor Thornton as model for this figurine, which was christened "The Whisper".
Lord Montagu had made the decision to put a mascot on top of the radiator, and it had become a fashion. Rolls-Royce had noted other owners of their cars following the new vogue, but doing so with questionable style by choosing mundane or even risqué and vulgar subjects.
Following Lord Montagu's commission, Charles Sykes was asked to create a mascot which in future would adorn every Rolls-Royce. In February 1911 he presented the "Spirit of Ecstasy", which was easily recognizable as being a variation on the theme of "The Whisper". The similarity was hardly coincidental because the model for both had been Miss Thornton.
The Spirit of Ecstasy and Inspiration
The Spirit of Ecstasy was delivered by the Company with every Rolls-Royce. Each was done using the technique which was thousands of years old and known as the lost-wax method. This practice results in the mould's being destroyed to reveal the casting, which explains why no two figures are exactly alike. Sykes, assisted by his daughter Jo, remained responsible for manufacturing the Spirit of Ecstasy for many years. Likewise, each of the unique creations bore his signature on the plinth. The sculptures are either signed "Charles Sykes, February 1911" or sometimes "Feb 6, 1911" or "6.2.11". Even after Rolls-Royce took over the casting of the figures in 1948 each Spirit of Ecstasy continued to receive this inscription until 1951.

From 1911 to 1914 the Spirit of Ecstasy was silver-plated and thus many thought it a massive piece of precious metal - one reason for the frequent thefts. In smaller versions, and now made from highly polished nickel alloy, the radiator decoration has stood its ground on every Rolls-Royce, including those in the present range.
Over the years various alterations have been made. Those mascots for Rolls-Royce motor cars at the Springfield plant in the USA were modified. Bowing a little more forward no longer were they a danger to the bonnet. The original version had touched the bonnet sides when these were opened without the precaution having been taken of turning the figure sideways.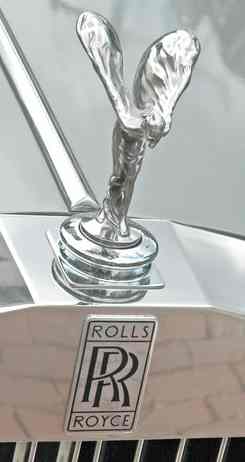 Rolls Royce - Flying Lady

Royce did not like the Spirit of Ecstasy, which he judged her to be just a fashionable bauble and complained that she spoiled the clear line of the car's bow. The order to create the sculpture was given during the chief engineer's illness and had been absent. Thus it became a habit that Rolls-Royce cars used by Royce were rarely driven with a mascot in place.

Towards the end of the twenties the new body line of Sports Saloons had reduced the height of the coachwork. Royce was prompted to think about a lower variation of the Spirit of Ecstasy, by which alteration a driver might benefit from clear vision even with the windscreen lower and his seating position reduced in turn. Sykes created a kneeling version of the mascot, which fulfilled this requirement.
The kneeling version remained after the Second World War for the new Silver Wraith and Silver Dawn. All following models, however, sported a standing mascot, although this has now been reduced in size considerably compared to the old one.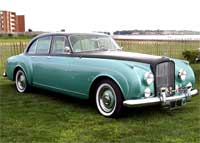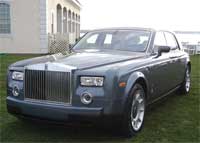 Silver Cloud - 1960 Seraph - 2004

Rarely, however, is the correct term "Spirit of Ecstasy" used - detractors remark this was only done at the factory in Crewe. The nickname "Emily" is widespread and Americans speak of the "Silver Lady" or the "Flying Lady".

In 1920 Rolls-Royce had taken part in a competition in Paris for the most apposite mascot in the world. This they did with a gold-plated Spirit of Ecstasy, which secured Rolls-Royce first place. From then on gold-plated versions of the Spirit of Ecstasy were available from the company - at an extra charge.
Safety regulations in some countries turned out to be a stumbling block to the fitting of the Spirit of Ecstasy. She qualified as a sharp-edged piece of metal jutting from the coachwork, which might injure a victim in an accident. because of this, in Switzerland during the second half of the seventies, the installation of mascots on Rolls-Royces was forbidden and purchasers of a new Rolls-Royce delivered to that country found their mascot in the glove compartment. The problem was solved with the Silver Spirit and Silver Spur; at the merest knock the Spirit of Ecstasy sank into the radiator surround and vanished out of harms way. Thus were the safety regulations satisfied.
The woman who had been the model for the radiator decoration, was not to appreciate its success. Eleanor Thornton lost her life when, on 30 December 1915, on the SS Persia, while on passage to India, was torpedoed off Crete by a German submarine. She had been accompanying Lord Montagu who had been directed to take over a command in India. He was thought to have been killed, too, but survived and was rescued a few days later by another ship. On his return to England he read the obituary articles in the newspapers about his own demise.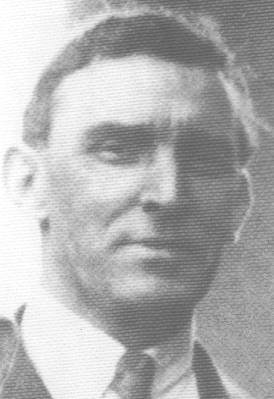 R W Harvey-Bailey
---
AIRCRAFT ENGINES
At the start of the First World War, in response to the nation's needs, Royce designed his first aero engine – the Eagle, providing some half of the total horsepower used in the air war by the allies. The Eagle powered the first direct transatlantic flight as well as the first flight from England to Australia – both in the Vickers Vimy aircraft.
Henry Royce's last design was the Merlin aero engine, which came out in 1935 although he had died in 1933. This was developed from the R engine, which had powered a record-breaking Supermarine S6B seaplane to almost 400mph in the 1931 Schneider Trophy.)
The Merlin was a powerful V12 engine, and was fitted into many World War II aircraft: the British Hawker Hurricane, Supermarine Spitfire, De Havilland Mosquito (twin-engined), Avro Lancaster (4-engine), Vickers Wellington (2-engine); it also transformed the American P-51 Mustang into possibly the best fighter of its time, its Merlin engine built by Packard under license. Over 160,000 Merlin engines were produced.
Rolls Royce's most famous engine is the Merlin. This motor was essential to Britain`s war effort, it not only powered the Spitfire, but also the Hurricane, Lancaster and Mosquito. The Spitfires in the Battle of Britain were fitted with the Merlin III of 1,030 horsepower.
Designed by Rolls-Royce as a private-venture, the Merlin was able to take advantage of the new 100 octane fuel developed in the U.S.A. The Merlin only had one disadvantage when compared with German engines, the latter were fitted with fuel injection to deliver a precise charge of petrol to the combustion chamber. The Merlin still used a carburettor, which had the advantage of being much simpler and needing much fewer components, but it did cause the Merlin to "conk-out" if negative G forces were applied.
Thus a German pilot with a Spitfire on his tail could simply pull negative G nosing into a dive and the Spitfire would fall behind until the engine picked up, only a matter of a second or two, but that second was all the German needed. Spitfire pilots developed a way around this by doing a half-roll before following into a dive. This meant that the force of gravity acted in the opposite direction and the Merlin was unaffected. In 1941 a carburettor modification, developed by Miss Tilly Shilling, enabled the Merlin to carry on working with short periods of negative G, a vital stop-gap until the introduction of true negative G carburettors in 1943.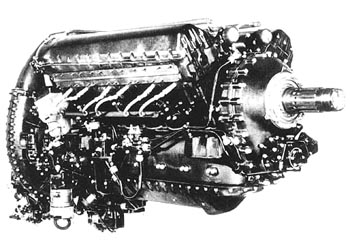 Rolls Royce Merlin Engine
One thing that is often forgotten is that the capacity of the Merlin was quite small when compared to the opposition. The Merlin had a capacity of 27 litres, whereas the DB601 of the Messerschmitt was 39 litres and the BMW801 engine of the Focke-Wulf 190 had 42 litres. The superiority of the later Merlin engined Spitfires (ie Mk IX) over these Luftwaffe aircraft is all the more remarkable when this is remembered.
ROLLS-ROYCE MERLIN ENGINE.
TYPE- TWELVE CYLINDER 60 DEGREE UPRIGHT VEE LIQUID COOLED INTERNAL COMBUSTION ENGINE.
BORE x STROKE= 5.4in x 6in (137.3mm x 152.5mm) CAPACITY= 1,647 cu in (27 litres)
MERLIN III
TAKE OFF POWER: 880 HP AT 3,000 REVS
INTERNATIONAL RATING: 990 HP AT 2,600 REVS AT 12,250 FT.
MAX POWER: 1,440 HP AT 3,000 REVS AT 5,500 FT.
WEIGHT: 1,375 LBS.
MERLIN 66
TAKE OFF POWER: 1,315 HP AT 3,000 REVS
MAX POWER: OVER 1,650 HP.
WEIGHT: 1,650 LBS

In parallel, Rolls-Royce began development of the aero gas turbine, pioneered by Sir Frank Whittle. The Welland engine entered service in the Gloster Meteor fighter in 1944 and Rolls-Royce had the confidence immediately after the war to commit itself to the gas turbine, in which it had a technological lead.
In the post-World War II period Rolls-Royce made significant advances in gas turbine engine design and manufacture. The Dart and Tyne turboprop engines were particularly important enabling airlines to cut journey times within several continents whilst jet airliners were introduced on longer services. The Dart engine was used in Argosy, Avro 748, Friendship, Herald and Viscount aircraft, whilst the more powerful Tyne powered the Atlantic, Transall, Vanguard and the SRN-4 hovercraft. Many of these turboprops are still in service. Amongst the jet engines of this period was the RB163 Spey which powers the Trident, BAC 1-11, Grumman Gulfstream II and Fokker F28.

Rolls-Royce entered the civil aviation market with the Dart in the Vickers Viscount. It was to become the cornerstone of the universal acceptance of the gas turbine by the airline industry. The Avon-powered Comet became the first turbojet to enter transatlantic service and in 1960, the Conway engine in the Boeing 707 became the first turbofan to enter airline service.

The other major manufacturers in Britain between the wars were Armstrong Siddeley, Blackburn, Bristol, de Havilland and Napier. The leader among these was Bristol which, in 1959, merged with the motor car and aero-engine maker Armstrong Siddeley. Three other smaller engine companies were absorbed into Bristol Siddeley and Rolls-Royce in 1961. Finally, the capability of the British aero-engine industry was consolidated when Rolls-Royce and Bristol Siddeley merged in 1966.
During the late 50's and 60's there was a significant rationalisation of the British aero-engine manufacturers, culminating in the merger of Rolls-Royce and Bristol Siddeley in 1966 (Bristol Siddeley had itself resulted from the merger of Armstrong-Siddeley and Bristol in 1959). Bristol, with its principal factory at Filton, near bristol, had a strong base in military engines, including the Olympus, which was chosen for Concorde.
---
ROLLS ROYCE JET ENGINES
Rolls-Royce Avon jet engine.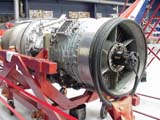 The Rolls-Royce AVON series was developed in the late 1940`s - early 1950`s as a replacement for the NENE and entered production as the first Rolls Royce axial flow turbo jet. The AVON (in several varients) was fitted to the Hawker Hunter (x 1), English Electric (BAC) Canberra (x 2), Supermarine Swift (x 1), Supermarine Scimitar (x 1), Vickers Valiant (x 4), deHavilland Sea Vixen (x 2).
Designed originally to meet a speceification for a 6,500lbs engine, the Avon was given the ID of AJ 65 (Axial Jet 65 hundred pounds). Designed as a single shaft turbojet, eventually to go into service with and without reheat. The reheat system used a simple two-position eyelet nozzle.

The first engine to went into service in 1950, it was a RA.3 Avon Mk 101 fitted in a Canberra B.2. Other engines were fitted as follows: RA-3 Avon Mk 109 / RA.3 - Canberra B.6, Avon Mk 104 & Mk 107 - Hawker Hunter, Avon Mk 105 - Supermarine Swift.


Rolls-Royce Orpheus jet engine.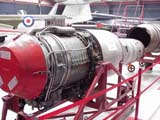 The Orpheus was a single spool, axial flow turbo jet developed from 1953 as a purely company-financed (Bristol) venture.

The first engine ran at 3,000lbs on 17 December 1954 and was type tested to 3,285lb the following year, first flying in the prototype Folland Gnat on 18 July.

Engines were fitted to the following aircraft:
Orpheus Mk 701 - Folland Gnat (Thrust 4,250lbs) - Jet-Pak booster pods for Indian C-119s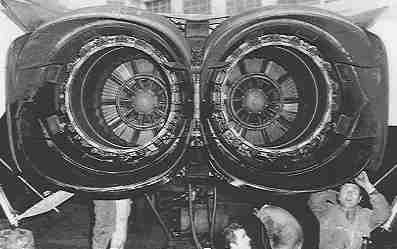 The Olympus is the only civil jet engine to use the reheat technique, in which fuel is injected into the engine's exhaust gases to produce additional heat and thrust for takeoff and transonic acceleration.
Early versions of the Olympus were fitted to the Avro Vulcan bomber and a higher-powered variant, the Olympus 320, was developed for the TSR2 supersonic strike aircraft. The engine on display was extensively redesigned during the development programme, and dry thrust was increased from 102 kN (23 000 lb) to 138 kN (31 000 lb).
Technical details
Power output

Weight
Engine
Compressors

Combustion
Turbine


Static thrust: 138 kN (31 000 lb);
with reheat: 161 kN (36 280 lb)
3110 kg (6850 lb)
Twin-spool turbojet with reheat
Seven-stage low-pressure and seven-stage high-pressure
Eight cased flame-tubes
Two-stage
---
ROLLS ROYCE FINANCIAL PROBLEMS
With the emergence of the widebody airliners in the late 1960s, Rolls-Royce launched the RB211 for the Lockheed L-1011 Tri-Star.

Early problems with the RB211 led to the company being taken into state ownership, and the flotation of the motor car business in 1973 as a separate entity. The three-shaft turbofan concept of the RB211 has now established itself at the heart of the Rolls-Royce world-class family of engines.
Financial problems caused largely by development of the new RB211 turbofan engine led—after several cash subsidies—to the company being nationalized by the Heath government in 1971. (This delay has been blamed for the failure of the technically advanced Lockheed TriStar to succeed in the airliner marketplace, when it was beaten to launch by its competitor, the Douglas DC-10.)
In 1973 the automobile business was spun off as a separate entity, Rolls-Royce Motors. The main business of aircraft and marine engines remained in public ownership until 1987, when it was privatized as Rolls-Royce plc, one of many privatizations of the Thatcher government.
In 1980 Rolls-Royce Motor Cars was acquired by Vickers. In 1998 Vickers sold the company on to Volkswagen (see below). A year later Rolls-Royce plc acquired Vickers plc for £576m.

Rolls-Royce returned to the private sector, undergoing a number of mergers and acquisitions to create the only company in Britain capable of delivering power for use in the air, at sea and on land.

In 1990, Rolls-Royce formed an aero engines joint venture with BMW of Germany. Rolls-Royce took full control of the joint venture from January 2000. The legal name of the company is now Rolls-Royce Deutschland Ltd & Co KG.

Allison Engine Company in Indianapolis was acquired. Allison brought with it major new civil engines including the AE3007 for Embraer's new regional jet, and existing, successful defence programmes.

Rolls-Royce Motor Cars was sold by Vickers to Volkswagen, although BMW hold the rights to the name and the marque for use on Rolls-Royce cars, having acquired the rights from Rolls-Royce plc for £40m in 1998. BMW will take over responsibility for Rolls-Royce cars from the beginning of 2003.

Rolls-Royce took full control of its oil and gas joint venture, Cooper Rolls, with the acquisition of the rotating compression equipment interests of Cooper Energy Services. It also acquired National Airmotive in California, a major repair and overhaul facility now part of Rolls-Royce Engine Services.

The 1990s ended with the £576m acquisition of Vickers plc which, with primarily the Ulstein and Kamewa products and capabilities joining the Rolls-Royce existing gas turbine activities, transformed Rolls-Royce into the global leader in marine power systems.
Today Rolls-Royce engines continue to power many of the world's civil and military aircraft and the company has been particularly effective in reducing noise and adverse emissions from its aviation products, anticipating international regulations arising from community campaigns and improved environmental understanding.
---
ROLLS ROYCE GOES TO SEA
Rolls Royce bought Vickers marine in September 1999 at a cost of £576m, paying some 53% above the share value, which rocked the stock market and confidence in the business strategy. The deal was concluded in les than a week by Rolls Royce chairman Sir Ralph Robins and Vickers chairman Sir Colin Chandler and so the famous British engineering company entered the marine market with the aim of creating a marine arm to mirror the success of their aerospace division.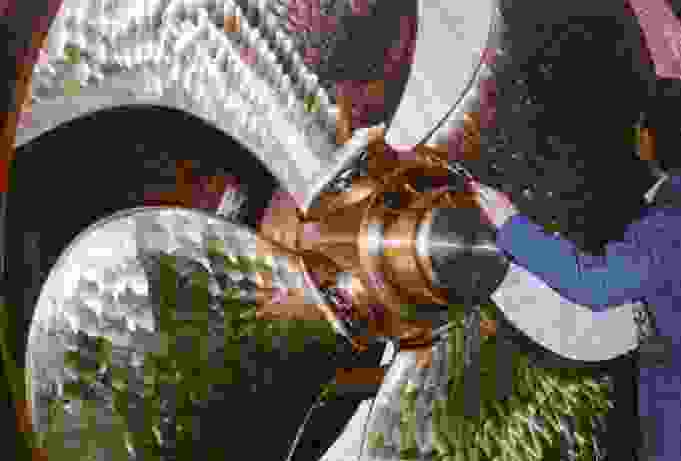 Managing director, Bob Sunerton, said we need to gain access to the commercial marine market in growth areas such as the booming cruise ship market, water jets, etc. Rolls Royce is also keen to promote its gas turbine replacements to traditional diesel engines for warships and super fast cargo vessels. Hence growth in the marine market is mainly on the back of expected naval orders.
---
Rolls-Royce cars from 1998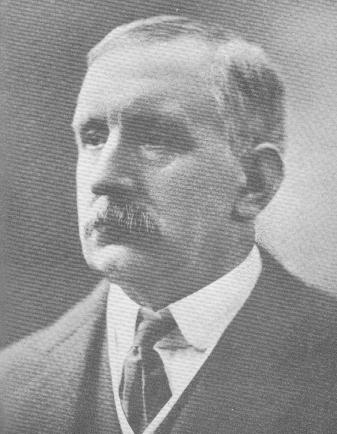 Henry Edmunds
Production Numbers and Dates Pre 1946
| | | |
| --- | --- | --- |
| Dates | Model | Number Produced |
| 1904 - 1906 | 10hp | 16 |
| 1905 | 15hp | 6 |
| 1905 -1906 | 20hp | 40 |
| 1905 - 1906 | 30hp | 31 |
| 1905 - 1906 | V8 Legal Limit | 3 |
| 1907 - 1925 | 40/50hp Silver Ghost | 6,173 |
| 1921 - 1926 | 40/50hp Springfield Ghost | 1,701 |
| 1922 - 1929 | 20hp | 2,940 |
| 1925 - 1929 | New Phantom (Phantom I) | 2,212 |
| 1926 - 1931 | New Phantom Springfield | 1.225 |
| 1929 - 1936 | 20/25hp | 3,827 |
| 1929 - 1935 | Phantom II | 1,672 |
| 1936 - 1938 | 25/30 | 1,201 |
| 1936 - 1939 | Phantom III | 710 |
| 1938 - 1939 | Wraith | 491 |
Post 1946
| | | |
| --- | --- | --- |
| Dates | Model | Number Produced |
| 1947 - 1959 | Silver Wraith | 1,783 |
| 1949 - 1955 | Silver Dawn | 785 |
| 1950 - 1956 | Phantom IV | 18 |
| 1955 - 1959 | Silver Cloud | 2,359 |
| 1959 - 1962 | Silver Cloud II | 2,716 |
| 1962 - 1966 | Silver Cloud III | 2,376 |
| 1959 - 1968 | Phantom V | 832 |
| 1965 - 1976 | Silver Shadow | 19,493 |
| 1965 - 1976 | 2 door/drophead | 1,111 |
| 1968 - | Phantom VI | |
| 1977 - 1981 | Silver Shadow II | 10,560 |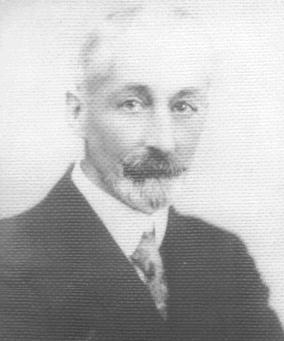 Ernest Claremont
ROLLS ROYCE LINKS :
Rolls Royce Homepage
About Rolls-Royce
Media Room
Investors
Corporate
Social
Responsibility
Careers
Education
History
Centenary
Global
Suppliers
Contact us
Search
EUROPE
Belgium

Rolls-Royce International Limited
227 Rue de la Loi
1040 Brussels
Belgium

Tel: (+32) 2 230 8652
Fax: (+32) 2 230 0872
Contact us

Czech Republic

Rolls-Royce International Limited
IBC Building
Pobrezni 3
18600 Prague 8
Czech Republi


Tel: (+420) 2 248 35069
Fax: (+420) 2 248 35013
Contact us

France

Rolls-Royce International Limited
122 Avenue Charles de Gaulle
92522 Neuilly-sur-Seine Cedex
France

Tel: (+33) 1 4722 1440
Fax: (+33) 1 4745 7738
Contact us

Germany

Rolls-Royce Deutschland Ltd & CO KG
Eschenweg 11
15827 Dahlewitz
Germany

Tel: (+49) 33708 6 0
Fax: (+49) 33708 6 3000
Contact us
View website

Germany

Rolls-Royce Deutschland Ltd & CO KG
Hohemarkstr. 60-70
61440 Oberursel
Germany

Tel: (+49) 6171 90 0
Fax: (+49) 6171 90 7000
Contact us
View website

Italy

Rolls-Royce International Limited
Via IV Novembre 114
00187 Roma
Italy

Tel: (+39) 06 6976 671
Fax: (+39) 06 6791 755
Contact us

Spain

Calle Rio Bullaque 2
Piso 6
28034 Madrid
Spain

Tel: (+34) 91 735 6736
Fax: (+34) 91 735 6737
Contact us

United Kingdom

Rolls-Royce International Limited
65 Buckingham Gate
London
SW1E 6AT

Tel: +44 (0) 20 7222 9020
Fax: +44 (0) 20 7227 9178
Contact us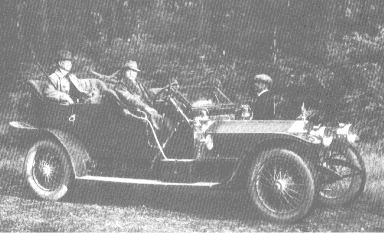 Rolls Royce Type 70 "Dragonfly"
AMERICAS
Brazil, South America

Rolls-Royce International Ltda
Av. Almirante Barroso 52
9th Floor
20031-000
Rio de Janeiro RJ
Brazil

Tel: (+55) 21 2277 0100
Fax: (+55) 21 2277 0186
Contact us

Chantilly, USA

Rolls-Royce North America
14850 Conference Center Drive
Chantilly
Virginia
VA 20151

Tel: (+1) 703 834 1700
Fax: (+1) 703 709 6087
Contact us
View website

Indianapolis, USA

Rolls-Royce Corporation
PO Box 420
Speed code S-07
Indianapolis
Indiana
IN 46206-0420

Tel: (+1) 317 230 2000
Fax: (+1) 317 230 6763
Contact us
View website

Montreal, Canada

Rolls-Royce Canada Ltd.
9500 Cote de Liesse Road
Lachine
Montreal
Quebec
H8T 1A2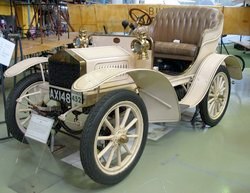 Rolls Royce 1905
MORE LINKS:

Founding the company
Post World War I to World War II
Post-war to the 1960s
1971 to 2003: decline and rebirth
2003: New company, new Phantom
RROC, Rolls - Royce Owners' Club (USA)
Texas Region of the RROC
Silver Cloud Society of the RROC
Atlantic Region of the RROC
Yankee Region of the RROC
Modern Car Society of the RROC
RREC, Rolls - Royce Enthusiasts' Club (UK)
CCCA, Classic Car Club of America
Silver Ghost Association
---
Please click on the links above to find out about these famous automotive makers. If your company is not included and you would like to be listed, please let us know.
---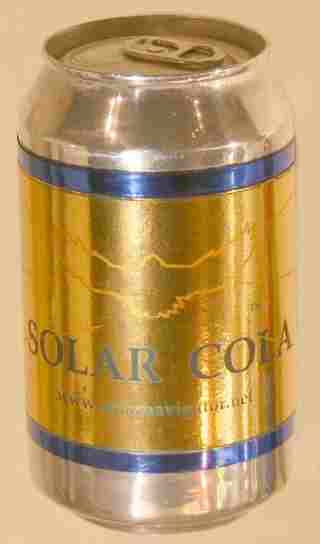 Solar Cola sponsor this website