One time winner of the Darwin to Adelaide race and arguably, the most expensive solar powered vehicle project to date. This Honda car was used very successfully to advertise Honda road vehicles. This sums spent developing this car would have built and equipped the Solar Navigator trimaran.
Honda - Darwin to Adelaide winner
Entrants in the cross Australia race, from Darwin to Adelaide, use solar panels to power a lightweight car over 2,000 miles at speeds of up to 50 miles per hour. Clearly, solar power can deliver enough energy to drive a vehicle considerable distance given the right conditions.
---
Honda Entering Solar Cell Market for Homes and Vehicles
- 18 December 2005
Nikkei. Honda Motor is entering the market for solar cells designed for use in households and also plans to promote their use in vehicles, according to a report in the Nihon Keizai Shimbun.
Honda is building a ¥10-billion (US$86.5-million) factory to begin mass production in fiscal 2007 of solar cells made an inexpensive thin-membrane non-silicon metal compound developed by Honda engineering. The Honda solar panels, first announced in 2002, feature a light-absorbing layer formed by a compound made of copper, indium, gallium and diselenium (CIGS).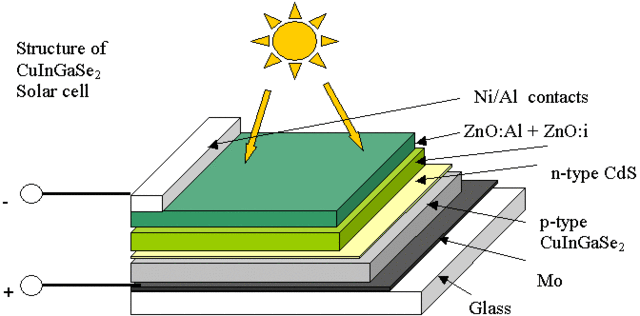 Thin-film solar cells based on CIGS (Cu(In,Ga)Se2) absorbers are among the leading devices which are expected to lower the costs for photovoltaic energy conversion. Other companies working with CIGS cells include Shell Solar and Würth.
Early Honda CIGS module prototypes had a maximum output of 112 W at dimensions of 1,367 × 802 × 46 mm. Honda is working to improve the efficiency.
Honda's solar cells will likely sell for some 1.5 million yen each, 20%-30% less than silicon-made cells, according to the report.
The new plant will initially have an annual capacity to produce about 30 megawatts worth of solar cells, enough for 10,000 households a year. Initially, the company aims to market them only in Japan. But it will later sell them in overseas markets, eyeing mainly North America and Europe, where demand is expected to surge in the future.
Honda is also considering a scheme that would use solar cells to power a home electrolysis unit for the production of hydrogen for vehicle refueling. Honda's current prototype home hydrogen
energy systems rely on natural gas reforming.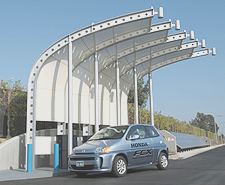 Honda combined its CIGS solar cells with a Honda-developed compact electrolysis unit that uses a new Ruthenium-based catalyst in a prototype at its Torrance, California facility.

The prototype solar-powered electrolysis unit produces hydrogen at a rate of 2 normal cubic meters per hour (Nm3/hr).

HISTORY


The Honda story is the story of one man, Soichiro Honda, and his unparalleled achievement of bringing motor cycles to the masses. Soichiro Honda was a mechanic, a racer, a businessman, and a manufacturer. But most of all he was a dreamer. He dreamed of a better way of making piston rings, founded a small company, and began production. He dreamed of giving people everywhere an economical form of transportation, and began producing small motorcycles, including one built in 1949 called the D-Type Dream.

He also loved racing too. So his company built bigger and faster machines, two, four, five and six-cylinder race bikes and won the Isle of Man. Honda Motor Company is by far the world's biggest motorcycle maker. Honda's first motorcycle was born out of necessity in immediate post World War II Japan, where public transportation was desperately overcrowded and gasoline severely restricted.

Looking for a solution to his, and thousands of others', personal transport problems, Honda came across a job lot of 500 war surplus two-stroke motors designed to power electric generators; nobody else wanted them so Honda picked them up cheap. His aim was to adapt them for attachment to push-bikes and, by October 1946, his small factory in Hamamatsu was making complete, makeshift motor bikes using proprietary cycle frames. Because gasoline was in short supply, Honda adapted his motors to run on turpentine, a fuel that he himself distilled from pine trees and sold throughout Japan. Turpentine (or gas thinned out with turpentine) was not the best thing for powering motorbikes, and required a lot of strenuous pedaling to warm the engine up enough before you could get going.

Honda's first bikes were very successful and supplies of the surplus engines ran out after a few months. Business was good by then, so he decided to manufacture his own motors. Using the surplus motor as a model, Honda designed and built his own 50cc engine.

In November 1947, the 1/2 horsepower A-Type Honda was being manufactured and sold as a complete motorbike. Because the motorbike gave off a lot of smoke and a stench of turpentine it was known as the "Chimney". Soichiro Honda started Honda Motor Company in 1948, at the age of 41. Soon after he hooked up with financial whiz Takeo Fujisawa and together they built an empire.

1948 saw Honda introduce a 90cc version of the A-Type known as the "B-Type". By 1949 Honda came out with the "D-Type". Mr. Honda was involved in every step of the two-stroke D-Type Dream's design and manufacture. This was Honda's first motorcycle. This was far from simply slotting a motor into a pushbike frame. Honda called his machine 'The Dream', because his dream of building a complete, motorcycle had come true. Soichiro Honda was an engineer and was always looking to produce better and more sophisticated machines.

It turned out to be the 146cc, OHV, four-stroke E-Type Dream. A powerful machine producing 5 1/2bhp capable of 50mph. It had a steel frame and proper suspension front and rear. By October 1951 the new Dream was in production at the rate of 130 units per day.

In 1952 Honda produced the first "Cub" F-Type, a 1/2 horsepower, 50cc, two-stroke engine that was produced in huge numbers. You could get one to fit to your pushbike or buy the complete red and white Honda "Auto Bai". Less than a year after its Introduction, production was 6500 units per month, at that time it was 70% of Japan's powered two-wheeler market.

In 1953 Honda produced the 90cc, four-stroke single, a motorcycle of even greater sophistication. This was known as the Benly, in Japanese this means "convenience". The J-Type Benly had a three-speed gearbox, produced 3.8bhp, a pressed steel Frame, rear suspension with the engine and swinging arm on a sprung pivot, and telescopic front suspension. Before long they were selling at a rate of 1000 units a month.

In 1954 a 200cc scooter, the Juno, was introduced to capture some of the sales from the Vespa scooter copies that were being built in Japan. Honda produced different versions of the Dream and Benly motorcycles over the next few years incorporating different size engines (up to 350cc) and other refinements.

In September 1957 Honda introduced their first twin-cylinder motorcycle, the sophisticated 250cc OHC four-stroke C70 Dream. It was the forerunner of Honda's high-performance 125 and 250cc twins. In early 1958 Honda fitted an electric starter to the 250cc Dream and named it the C71 and, in 1959, the latest Benly an incredibly sophisticated 125cc OHC four-stroke twin, capable of 70mph was introduced as the C92.

In July 1958 Honda introduced in Japan what became the world's most successful motor cycle, the C100 Super Cub. The Super Cub was developed over three years to be a cheap and practical motorcycle that literally anyone could use. It used a 50cc four-stroke OHV motor and centrifugal clutch with three-speed transmission. It was so easy to operate that even new riders could ride it as easily as a pushbike. Its innovative frame without a crossbar made it popular with the ladies and set a new trend in commuter motorcycling. The word "scooterette" was coined to describe this step-through style motorbike which sold in 50, 70 and 90cc versions.

In 1959 it was the first Honda motorcycle sold in the U.S., eventually becoming the world's best-selling vehicle (30 million to date). As proof the original concept and design was perfect is the fact that today's C50, C70 and C90s have only detail changes to set them apart from the machines of 25 years ago. That same year, 1959, Honda introduced the 250cc C72 Dream in Amsterdam. This was the first Japanese bike to be officially shown in Europe. It surprised the crowd with its unusual pressed steel frame, swing arm and front leading link forks, sophisticated OHC all aluminum engine, electric starter and indicators.

In the UK learners had just been restricted to motorcycles of this size and wanted the fastest bikes they could legally ride. The Honda's were the fastest 250s around, and the C72 with its improvements like 12-volt electric's and wet sump lubrication, successor of the C71, was capable of 80mph and could still get 66 miles per gallon. The CB92 retained the pressed-steel frame and leading link forks while the CB72 received a tubular style frame and telescopic front suspension.

In 1961 two years after Honda started selling Super Cubs, Honda stunned the racing world with "Mike the Bike" Hailwood's twin victories at the Isle of Man. It was the first of an unprecedented string of victories that was only the beginning of Honda's racing tradition.

From the beginning, Mr. Honda dedicated his company to racing, racking up over 100 major motorcycle championships around the world. What was learned from building high-performance racing machines later led to the development of groundbreaking production motorcycles.

The classic CB72 and CB77 helped fuel interest in riding, got America on two wheels, and established Honda as a serious player. The Hawk name has appeared on Honda models CB72, CB77, CB400T, NT650, VTR1000F ever since, the latest being the 1998 VTR1000F. In 1962 this breakthrough advertising "You meet the nicest people on a Honda" shattered the myth that motorcycles were only for tough guys and rebels. It reached out and made Honda and motorcycling in general, appealing to everyone.

The C77 a 305cc version of the Dream and the CB77, a Super Sports motorcycle producing 28.5bhp were introduced in 1963. In 1964 the C95 a 154cc version of the Benly and a 161cc version Of the CB160 was also offered. The Hondells recorded "Little Honda" in 1964. Honda entered the American pop culture as the subject of this hit song.

In 1965 Honda, always eager for a new market, jumped into the big leagues with their first big, fast production motorcycle, the innovative 43bhp CB450 twin. This was a double overhead-camshaft machine with torsion bar valve springs that would do a genuine 104mph, a machine to challenge the 500cc-plus bikes. Despite its performance, sales of the CB450 worldwide were Poor. A number of engineering changes were made, in 1967 a five-speed gearbox was added. In 1967 Honda had their first big off-road win in the "first" Baja 1000.

In 1968 Honda stopped production of the CB72 and CB77 and produced a new line of high performance SOHC twins with five-speed gearboxes, called the CB250 and CB350, with the CB350 able to hit 106mph.

At the Tokyo Show of 1968 Honda, after months of tantalizing rumor, unveiled a landmark achievement that would change the motorcycling world forever. A 750cc bike with four cylinders and a disc brake that was so fast and powerful a new word, "superbike", was coined to describe it. The CB750F four was the biggest bike out of Japan, proving that a high-performance motorcycle could also be very reliable.

In April 1969 Honda set the motorcycle world on fire with the introduction of the CB750. Performance was staggering, easily hitting 120mph and at the time it had better acceleration than anything else on the road. In 1969 the first Honda automobile sold in the U.S., leading Honda to become a preeminent automotive power.

Honda EV test program
---
1947~59

'47

Honda's first product, the A-type bicycle engine, produced.
* A year before the establishment of
Honda Motor Co., Ltd.

'49

Production of the Dream D (2-stroke, 98cc), Honda's first production motorcycle, begins.

'51

Dream E (4-stroke, 146cc) released.

'52

Cub F (2-stroke, 50cc) released.

'53

Benly J (4-stroke, 90cc) released.

| | | | |
| --- | --- | --- | --- |
| '58 | | Long-selling Super Cub C100 motorcycle released. | |
1960~69

'61

Knockdown exports from Suzuka to Taiwan begin.

'63

Super Cub awarded the French Mode Cup.

'68

Motorcycle production reaches 10 million units.

| | | | |
| --- | --- | --- | --- |
| '69 | | Dream CB750 Four, with a 4-cylinder engine, released; export of the bike to North America begins. | |
1970~79

'72

Elsinore CR250M released.

'74

Gold Wing GL1000 released in US.
1980~89

'80

Tact scooter released.

'82

VF750 Magna released.

'87

Tact Fullmark released.
Japanese motorcycle production reaches
50 million units.

'88

US-made Gold Wing Touring motorcycle released in Japan.
Thai-made Cub 100EX released in Japan.
1990~99

'90

Super Cub receives Japan Design Award.

'92

Super Cub production reaches 20 million units.

'94

Limited-edition sales of CUV-ES electric scooter begin.

'96

Sales of Valkyrie, a large US-made custom motorcycle, begin.

'97

Motorcycle production reaches 100 million units.

| | | | |
| --- | --- | --- | --- |
| '99 | | Giorno Crea, a water-cooled 4-stroke 50cc scooter, released. | |
2000~03

'00

Environment-friendly VFR sports motorcycle released.

'01

400cc scooter, Silver Wing, released. Dio, a 50cc water-cooled 4-stroke scooter, released.
US-made 1800cc Gold Wing sports touring model released.

'02

Chinese-made scooter, Today, released.
100cc Ape with a 5-speed transmission released.
Super Cub sales reach 35 million units.

'03

Pantheon, first motorcycle equipped with a small PGM-FI, released in Europe.
CBR600RR SuperSports bike released.
---
Please click on the links above to find out about these famous automotive makers. If your company is not included and you would like to be listed, please let us know.
---
UK VEHICLE INSURANCE ONLINE A - Z
No matter what car, van or bike you drive, we're all looking for great value and quality in our UK motor insurance? But who is the best - who is the cheapest and who offers the great service in the event of a claim?
See the insurance companies below who claim to offer competitive cover at sensible prices, our guide to the jargon and tips for cutting your quote - Good Luck:-
---
A taste for adventure capitalists

Solar Cola - a healthier alternative