General Motors Corporation also known as GM, is a United States-based automobile maker with worldwide operations and brands including Buick, Cadillac, Chevrolet, Daewoo, GMC, Holden, Hummer, Opel, Pontiac, Saturn, Saab, and Vauxhall.
Chevrolet and GMC divisions produce trucks, as well as passenger vehicles. Other brands include ACDelco, Allison Transmission, and General Motors Electro-Motive Division that produces diesel-electric locomotives. GM also has stakes in Isuzu, Subaru, and Suzuki in Japan and a joint venture with AutoVAZ (Lada) in Russia. In December 2003, it acquired Delta in South Africa, in which it had taken a 45 percent stake in 1997, and which is now a fully-owned subsidiary, General Motors South Africa.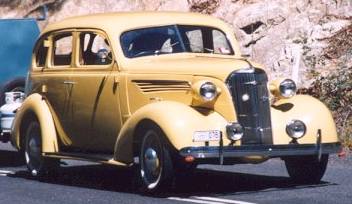 Chevrolet 1937
GM's headquarters are in the Renaissance Center in Detroit, Michigan. General Motors is the world's largest vehicle manufacturer and employs over 340,000 people. In 2001, GM sold 8.5 million vehicles through all its branches. In 2002, GM sold 15 percent of all cars and trucks in the world. They also owned Electronic Data Systems from 1984 to 1996 and, prior to selling it to News Corporation, DirecTV. GM owned Frigidaire from 1918 to 1979.
The current chairman (since May 1, 2003) and chief executive officer (since June 1, 2000) is Rick Wagoner, succeeding John F. Smith, Jr.
William C. Durant had doubts about relying on a single manufacturer with a single line, and decided that a consortium of automobile makers would be able to support one another, and if parts suppliers were acquired, then the consortium would be self-supporting: this seems to have worked well for Henry Ford's company which manufactured its own steel thus enabling them to carry on assembly when other rival companies had to lay-off workers because of shortages, strikes, etc. Thus, Durant went on a buying spree. Durant attended a meeting of The Big Four, with Benjamin Briscoe of Maxwell-Briscoe who called the meeting, Henry Ford, and Ransom Olds, now the head of REO Motor Car Company.
The idea collapsed, but Durant proceeded nevertheless and formed the General Motors Company in New Jersey on 16 September 1908 with an exchange of Buick and General Motors stock, after Durant had obtained an option to buy 75% of Olds Motor Works stock [which he then exercised] and six weeks after General Motors was formed, Durant exchanged his Olds stock for General Motors stock. In 1910, the entire Buick organisation, which included the Jackson, Church and Wilcox Company in Saginaw, Michigan, became part of the General Motors Company of Michigan and the Jackson, Church and Wilcox Company became known as the Jacox Company instead. General Motors Company was incorporated on September 16 1908 in Hudson County , New Jersey , U.S.A. as a holding company for Buick, then controlled by William C. Durant, and acquired Oldsmobile later that year. The next year, Durant brought in Cadillac, Elmore, and Oakland.
GENERAL MOTORS EXPORT COMPANY was founded on June 19 1911 in the State of Michigan with a capital of $10,000 under the bankers in control of General Motors Company at the time, with the President Thomas Neal, January 26 1911 to November 19 1912 becoming President of the Export Company as well, until he resigned as General Motors Company President.
The Chevrolet Motor Company incorporation papers were signed on November 2 1911, with the place of business listed as Detroit , and papers were filed and recorded with the Secretary of State of Michigan the next day in Lansing , Michigan so November 3, 1911 became the incorporation date. GENERAL MOTORS CORPORATION was incorporated in Delaware on October 13, 1916, with an increased capital of $100 million. Chevrolet joined General Motors Corporation in May 1918: Chevrolet Motor Company sold its assets to General Motors Corporation for about $32 million worth of G.M. stock and also sold its Scripps-Booth stock to G.M. for the balance in G.M. stock.
During the 1920s and 1930s General Motors bought out the bus company Yellow Coach, helped create Greyhound bus lines, replaced intercity train transport with buses, and established subsidiary companies to buy out streetcar companies and replace the rail-based services with buses. GM formed United Cities Motor Transit, in 1932. See General Motors streetcar conspiracy for additional details.
General Motors bought the internal combustion engined railcar builder Electro-Motive Corporation and its engine supplier Winton Engine in 1930, renaming both as the General Motors Electro-Motive Division. Over the next twenty years diesel-powered locomotives and trains, the majority built by GM, largely replaced other forms of traction on American railroads.
On December 31, 1955, General Motors became the first American corporation to make over one billion dollars in a year.
After GM's massive layoffs hit Flint, Michigan, in the 1980s, budding documentary filmmaker and Flint native Michael Moore focused on the company and its chairman and CEO at the time, Roger B. Smith, in his first big hit, Roger & Me.
A strike began at the General Motors parts factory in Flint, Michigan on June 5, 1998, that quickly spread to five other assembly plants and lasted seven weeks.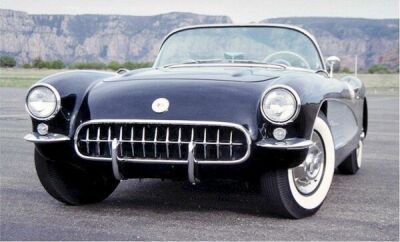 Chevrolet Corvette 1953
At one point it was the largest corporation in the United States ever, in terms of its revenues as a percent of GDP. In 1953 Charles Erwin Wilson, then GM president, was named by Eisenhower as Secretary of Defense. When he was asked, during the hearings before the Senate Armed Services Committee if as secretary of defense he could make a decision adverse to the interests of General Motors, Wilson answered affirmatively but added that he could not conceive of such a situation "because for years I thought what was good for the country was good for General Motors and vice versa." Later this statement was often garbled when quoted, suggesting that Wilson had said simply, "What's good for General Motors is good for the country." At the time, GM was the one of the largest employers in the world – only Soviet state industries employed more people.
John DeLorean wrote a great deal about the follies of GM's moves in the late 1950s and 1960s, explaining as an insider how GM started to lose ground, to the point where the company found itself no longer in total command of the American marketplace - and, indeed, sustaining mountainous losses as Ford and Chrysler grabbed truck sales and Asian automakers eroded GM's car sales.
CHEVROLET CORVETTE

Introduction: The Chevrolet Corvette first appeared in 1953 as a unique American entry into the sports car market dominated by European makes. Although not a muscle car by definition, the Corvette used muscle car powertrains and has represented American performance for almost fifty years.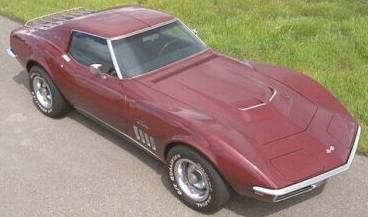 Chevrolet Corvette 1969
The new 1953 Corvette had a fiberglass body, chrome-framed grille with 13 heavy vertical chrome bars, rounded front fenders with recessed headlights with wire screen covers, no side windows or outside door handles, a wraparound windshield, and protruding, fender-integrated taillights.
The interior featured a floor-mounted shifter for the Powerglide two-speed automatic transmission and oil pressure, battery, water temperature, and fuel gauges, plus a tachometer and clock.
Each 1953 Corvette was virtually hand-built and a lot of minor changes were made during the production run. All of the first-year cars were Polo White with Sportsman Red interiors.
All had black canvas convertible tops which manually folded into a storage space behind the seats.
Other 1953-only features included special valve covers, a one-piece carburetor linkage and a small trunk mat. Short exhaust extensions were used on all '53s (and early '54s) because they were prone to drawing exhaust fumes into the car through the vent windows. A black oilcloth window storage bag was provided to protect the 1953 Corvette's removable plastic side windows when stowed in the trunk.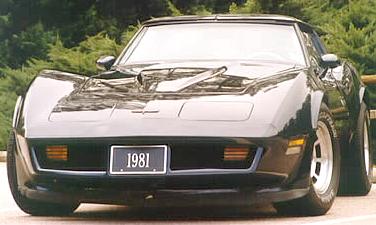 Chevrolet Corvette 1981
The all new 1968 Corvette was a dramatic change in appearance from previous Corvettes. The all new styling bore a striking resemblence to Chevrolet's Mako Shark II concept car and was a bold look. The new Corvette also introduced hidden windshield wipers and removable T-tops on Coupe models. A new three speed automatic transmission replaced the previous two-speed unit. Under the hood, the Corvette gained several interesting engine options, including the 327 cid V8 L79 rated at 350 bhp, and the L89 aluminum head option for the L71. The rare L88 engine option was still available for a whopping $1,032, and just 115 were sold. Still rated at the same 430 bhp as the regular 427 engine, the wise buyers that checked off the L88 option were treated to a host of goodies such as a bubble top hood, the 427 engine with an aluminum intake and aluminum heads with a 850 CFM dual feed Holley carb. Mandatory options included an aluminum radiator, heavy duty brakes, and the Muncie M-22 transmission. Luxury options such as Power windows, power steering, and radios were not available.

Chevrolet Corvette 2003
The fifth Generation Corvettes combined traditional Corvette performance with cutting edge design and improved reliability, to produce the greatest Corvettes ever.
1997-2003 Engine: LS1 350 V8 345 HP
LE MANS, France, June 19, 2005 – Corvette Racing made history today at the 24 Hours of Le Mans, scoring its fourth 1-2 finish in the GT1 class in five years with the new Corvette C6.R. Corvette Racing drivers Oliver Gavin, Olivier Beretta and Jan Magnussen reprised their victory in last year's 24-hour endurance race, and were again joined on the podium by teammates Ron Fellows, Johnny O'Connell and Max Papis.

The team celebrated Corvette's 45th anniversary at Le Mans in style, finishing fifth and sixth overall. Corvette Racing turned back the challenge of the Aston Martin team in a hard-fought battle that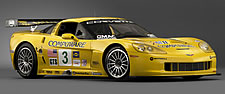 Chevrolet Corvette Le Mans winner
---
Thanks to years of wildly varying competence within General Motors, the variety of vehicles produced by the world's largest automaker is astounding. From the mind-blowing performance and early-1980s interior of the Camaro to the overdeveloped technology of today's Cadillac, GM vehicles can seem to have little in common other than poorly designed cruise controls and overloaded stalks. Still, GM seems to be regaining world leadership in technology - a position it has not had in many decades - showcased by the latest wonder, a V8 concept engine with direct injection, dual in-block cams, variable displacement, and variable valve timing.
GM has also been taking advantage of its worldwide leadership, bringing in Opel (GM-Europe) models to form the basis of cars like the Cadillac CTS and Saturn LS. Indeed, there's talk of bringing over the formidable Holden Commodore from Australia to fill the gap left by the Caprice. The police would line up for that one.
While GM cars also vary in quality, they have been getting better each year, and today seem to have few common weak points. The 3.8 engine, common across brands, is best in class, as is a new 4.2 liter truck inline six and the Vortec V-8 engines - not to mention the Cadillac Northstar series. A new concept engine shows off a wide variety of advanced technologies.
The new inline six has spawned two new, high-tech engines, one with four cylinders and one with five, both with better effiency than most competitors. Enthusiasts can also look forward to a new V-12, a new V-6, and a new six-speed automatic transmission. One thing is for sure: GM is committed to leading the world in powertrains. We suspect the new V8s will blow the doors off of Ford, beating even the powerful new Dodge Hemis.
Cadillac is to be moving from silent, well-cushioned, large cars to more sporty models, leaving the Lincoln and Lexus crowd behind in favor of the BMW and Volvo buyers, while preening Buick to take Cadillac's prior place. (The move to three-letter-names almost across the board may be another indicator of where they're trying to go.)
In May 2005, Standard & Poor's downgraded GM's credit rating to junk bond status.
On April 4, 2005 General Motors Corp. sold is Electro-Motive Division to Greenbriar Equity Group LLC and Berkshire Partners.
The General Motors Empire includes or has included the following marques including associates:
Acadian AWD Bedford Bedford-Buick Beaumont Bedford Truck Buick Cadillac Cartercar Chevrolet Chevrolet Truck Daewoo Elmore Envoy Epic Ewing FIAT Flxible Geo General Motors Cab General Motors Truck GM [EV-1] G.M.C. Grabowsky Hertz Rent-a-Car Hindustan Holden Hummer Isuzu La Salle Little Lotus Maple Leaf McLaughlin McLaughlin-Buick Marquette [first] Marquette [1929-30] Maruti Monroe Nissan [vans] Northway Oakland Oldsmobile Opel Pontiac Rainier Randolph Rapid Truck Reliance Truck Renault [vans] Saab Samson Samson Tractors Samson Trucks Saturn Scripps-Booth Sheridan Suzuki Vauxhall Viking Volvo Truck [Canada] Welch Whiting Yellow Bus & Coach Yellow Cab Yellow Truck. It should be noted that GMC and Saturn are the only divisions actually created by GM! The rest were purchased or merged in.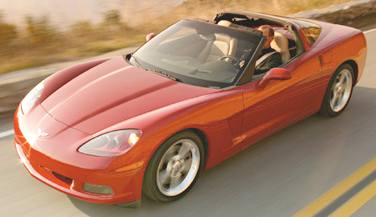 Chevrolet Corvette 2005
General Motors Hughes Electronics
Hughes Electronics was formed in 1985 when Hughes Aircraft was sold by the Howard Hughes Medical Institute to General Motors for $5 billion. General Motors merged Hughes Aircraft with its Delco Electronics unit to form GM Hughes Electronics (GMHE). The group then consisted of:
In August 1992 GM Hughes Electronics purchased General Dynamics' Missile Systems business. In 1994 Hughes Electronics introduced DirecTV, the world's first high-powered DBS service. In 1995 Hughes Electronic's Hughes Space and Communications division became the largest supplier of commercial satellites. Also in 1995 the group purchased Magnavox Electronic Systems from the Carlyle Group. In 1996 Hughes Electronics and PanAmSat agree to merge their fixed satellite services into a new publicly held company, also called PanAmSat with GMHE as majority shareholder.
In 1997 GM transferred Delco Electronics to its Delphi Automotive Systems business. Late in the year the defense operations of Hughes Electronics (Hughes Aircraft and missile business) were merged with Raytheon.
Hughes Space and Communications remained independent until 2000, when it was purchased by Boeing and became Boeing Satellite Systems.
In 2000 the remaining parts of Hughes Electronics: DirecTV, DirecTV Latin America, PanAmSat and Hughes Network Systems were purchased by NewsCorp and renamed The DirecTV Group. Newscorp sold PanAmSat to Kohlberg Kravis Roberts & Co. (KKR) in August 2004.
Reinventing the Automobile with Fuel Cell Technology
The hydrogen fuel cell has the potential to eliminate transport pollution. General Motors has established extensive hydrogen fuel cell research and development facilities both in the U.S. and Europe. It has produced a concept vehicle called AUTOnomy that captures the vision and potential of hydrogen fuel cell technology, and the revolutionary Hy-wire, a vehicle crammed with electronic technology.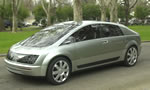 The GM Hy-wire has no internal combustion engine, it uses a hydrogen fuel cell
The Hy-wire's fuel cell propulsion system is housed entirely in an 11-inch thick skateboard-like chassis. By-wire controls attached to the chassis through a single docking port use electrical signals instead of mechanical links of hydraulics to control steering, acceleration and braking. Without an engine, steering column or other conventional vehicle components, this concept provides unprecedented design freedom.
Nelson Kruschandl, the designer of Blue Max BE3 , says: "As a lad, I admired most of the concept vehicles produced by General Motors at shows and in print. Way back in 1992 GM expressed an interest in my Joystick patent, but this was not pursued. I'm pleased to say they are continuing to produce great designs and to push forward the frontiers of automotive technology."
GM has made great strides in solving many of the challenges inherent in fuel cell technology, including the tendency to freeze and stop working in cold weather. The GM fuel cell's freeze start-up time has decreased to less than 15 seconds for 100% power at minus 20 degrees Celsius.

With its historic expertise in manufacturing and engineering, GM has taken a leadership position in fuel cell technology, systems, controls and gasoline/natural gas hydrogen fuel reforming.

GM's prototype stationary fuel cell unit already generates power for GM's New York fuel cell development facility.

In only two years, the power density of GM's fuel cell stack technology has increased tenfold, while costs have decreased proportionately.

In only eight months, GM developed and delivered the world's first and only hydrogen fuel cell vehicle with an on-board gasoline reformer. GM's revolutionary fuel cell vehicle, Hy-wire, has no internal combustion engine, instrument panel, brake or accelerator pedals — but it does have ample power supplied by a GM fuel cell that runs on hydrogen.
HISTORY OF GENERAL MOTORS TO 1919
---
Please click on the links above to find out about these famous automotive makers. If your company is not included and you would like to be listed, please let us know.
---
UK VEHICLE INSURANCE ONLINE A - Z
No matter what car, van or bike you drive, we're all looking for great value and quality in our UK motor insurance? But who is the best - who is the cheapest and who offers the great service in the event of a claim?
See the insurance companies below who claim to offer competitive cover at sensible prices, our guide to the jargon and tips for cutting your quote - Good Luck:-
---
A taste for adventure capitalists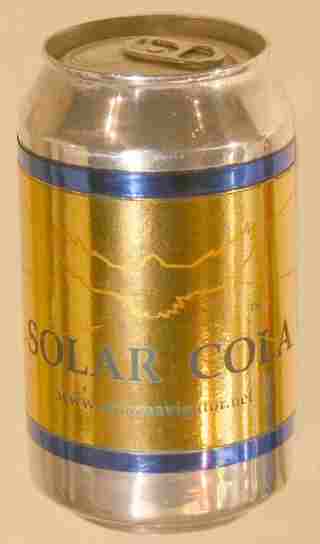 Solar Cola - a healthier alternative