The World Sailing Speed Record Council was established by the International Yacht Racing Union (now renamed the International Sailing Federation) in 1972. The object was to provide impartial results for increasing numbers of claims to high speed sailing craft (on water: never on ice nor land!).
Early on the decision was made to base such speed ratifications on a one-way leg of exactly 500 metres. Meetings were held every year, often several meetings a year, in various suitable places in the world and speeds climbed with boats of various configurations and with sailboards.
In 1988 following several controversial claims about the times and status of long voyages, WSSRC was asked to take over additionally offshore sailing records.
Now in 2001 the organization has a full time Secretariat. Hardly a day goes by without some form of activity in what is now a separate and increasing branch of the sport of sailing. The undoubtedly expert council draws members from Australia, France, Great Britain and the USA. Its most immediate duty is the ratification, or otherwise, of timed claimed records, inshore and offshore, which have been achieved in accordance with the rules of WSSRC.
Certificates are issued to record holders and their times are listed. WSSRC has a facility for issuing Performance Certificates to sailors who wish to be officially times over accepted courses, but are not expecting to beat a record. Another service is a continuous coordinated list of best elapsed times of offshore racing events in all parts of the world, accepting the times of the race committee.
WSSRC Ratified Passage Records
WSSRC Performance Certificates
Longest Distance Run in 24 Hours
Intermediate Round The World Records
Transatlantic, Ambrose Light Tower to Lizard Point, Crewed
Powered Sailing Systems Records under WSSR Rule 21 (c)
Other Kinds of Sailing Records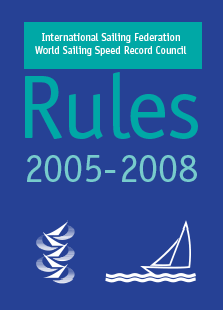 Rules 2005 - 2008
The entire rile document may be downloaded in PDF format HERE. It's just over 1 megabyte in size. You may need the free Acrobat reader to view, download it here.
WSSRC Publications
WSSRC publications will be despatched without charge to sailors, clubs, press and organizations anywhere in the world. To order go to our Contact page.
ISAF / World Sailing Speed Record Council Rules 2005 - 2008
Contents include:
24-hour distance

Inshore records

500-metre record

Private events inshore

Offshore rules, courses, detail

Application form for record attempt
WSSR Newsletter No 106
WSSR Newsletter No 105
WSSR Newsletter No 104
WSSR Newsletter No 103
WSSR Newsletter No 102
WSSR Newsletter No 101
WSSR Newsletter No 100
WSSR Newsletter N0 99
WSSR Newsletter No 98
WSSR Newsletter No 97
WSSR Newsletter No 96
NYYC Transatlantic Race Record broken.
WSSR Newsletter No 95
WSSR Newsletter No 94
WSSR Newsletter No 93
WSSR Newsletter No 92
WSSR Newsletter No 91
WSSR Newsletter No 90
WSSR Newsletter No 89
WSSR Newsletter No 88
WSSR Newsletter No 87
WSSR Newsletter No 86
WSSR Newsletter No 85
WSSR Newsletter No 84
WSSR Newletter No 83
WSSR Newsletter No 82
WSSR Newsletter No 81
WSSR Newsletter No 80
WSSR Newsletter No 78
WSSR Newsletter No 77
WSSR Newsletter No 76
WSSR Newsletter No 75
WSSR Newsletter No 74
WSSR Newsletter No 73
WSSR Newsletter No 72
WSSR Newsletter No 71
WSSR Newsletter No 70
WSSR Newsletter No 68
WSSR Newsletter No 67
WSSR Newsletter No 66
WSSR Newsletter No 65
WSSR Newsletter No 64
WSSR Newsletter No 63
WSSR Newsletter No 62
WSSR Newsletter No 61
WSSR Newsletter No 60
You can contact John Reed, WSSRC Secretary at:
WSSRC
PO Box 2
Bordon, Hampshire
GU35 9JX, UK
Phone: +44 (0) 1420 472293
Fax: +44 (0) 1420 476067
Email: cjohnreed@compuserve.com
---
LINKS: