The need for fresh water on an oil platform is really no different than whatís usually needed at home or work. It is just that on an oil platform there is no public utility to provide a steady supply of potable water. For this reason oil rigs usually make their own water.
Alfa Laval has a long-standing reputation as the leading supplier of desalination equipment based on plate heat exchangers for offshore platforms and marine vessels.

Alfa Laval's entry into the desalination market for land-based processing industries in the mid-1990s was based on a major breakthrough: a new type of thermal desalination system called Pressed Plate using Falling Film. This system requires smaller space for installation and minimizing scaling.
---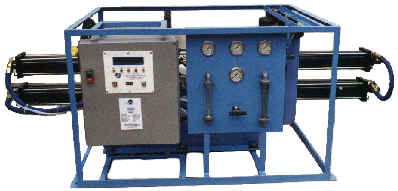 GET custom desalinator
GET manufactures state-of-the-art water makers (seawater & brackish water desalination systems) for every application and in every size from 1 ton to 1,500,000 tons (about 200 gallons to several hundred million gallons) per day. These reasonably priced watermakers are energy efficient, produce high quality, tasty, soft, healthful drinking water, and offer reliable operation, low maintenance and low operating costs. GET offers standard watermaker models which we gladly customize for you and custom water maker systems designed especially for your application.
GET, Inc. has over 26 years experience in designing, manufacturing, installing & servicing water makers (sea and brackish water purification equipment).
GET water makers can be customized to fit in your available space and can be set up to operate from any standard A/C power source. GET can also help by providing a source of power if needed. Water makers are used to provide a dependable, high quality, safe source of good-tasting, healthful drinking water from available seawater, brackish or polluted water.

GET equipment features Reverse Osmosis (R/O) technology. GET designs are state-of-the-art, optimizing efficiency, reliability, product water quality, and overall low cost per unit of water. GET advanced designs recover higher percentages of the feed water as good quality product water. Boiler feed quality may be obtained by using specialized GET equipment designed for that purpose, even from seawater feed containing up to 55,000 PPM TDS.
GET, Inc.
Global EnviroScience Technologies
Mail: PO Box 90756, Long Beach, CA 90809-0756, USA
Factory: 3286 E. Willow Street, Signal Hill, CA 90755, USA
Tel: 1-562-989-5400; Fax 1-562-989-5405
Toll-Free Tel: 1-800-600-8482 (US Only)
E-Mail us now! : info@get-inc.com
---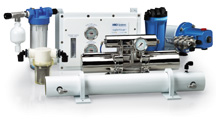 Seafari Escape Modular
Seafari Escape Modular
200 to 600 U.S. Gallons Per Day
(757 to 2,271 Liters)
8 to 25 U.S. Gallons Per Hour
(30 to 95 Liters)
The new Seafari Escape Modular (SEM) with its unique EfficientSea energy transfer technology brings efficient, compact, extraordinarily quiet watermaking to small and midsize power or sail boats. The unit's energy transfer device eliminates the need for a power-hungry high pressure pump, reducing the electricity consumption of the RO system by as much as 75%. The SEM is ideal for sail and power boats with very limited onboard power, and even less onboard space. The system easily adapts to various boat designs and installation locations. The flexibility of this modular system provides a quiet, efficient watermaking system that will fit your boat perfectly.
---
Thomas Desalination

24851 Big Valley Blvd., Poulsbo, WA 98370
Contact: *Dana Thomas
Tel: (360) 598-4481
Fax: (360) 598-2274
Email: Aguadana@Aol.Com
Web: www.thomasdesalination.com
Thomas Desalination has been servicing and installing reverse osmosis desalinators for over twenty years to the pleasure boat market from San Diego, California to Anacortes, Washington.

Sunburst Boat Company

18316 41st Place West, Lynnwood, WA 98037
Contact: *Len & Jackie Dickinson
Tel: (425) 697-3700
Fax: (425) 697-3737
Email: Sunburstboat@Att.Net
Web: Www.Sunburstboatcompany.Com

Sunburst Boat Company was established in 1985. Our experienced staff specializes in service and installation of reverse osmosis desalinators suitable for use on 25 feet pleasure crafts to cruise ships.

Solent Yacht Services

Bldg. 13 Shamrock Quay, William Street, Northam
Southampton England S014 5ql
Contact: *Ray Bryan / Chris
Tel: 011-44-2380-335294
Fax: 011-44-2380-637337
Email: Solent.Yachtservices@Talk21.Com
Web: www.solentyachtservices.com
Solent Yacht Services sell, service, and install reverse osmosis desalinators for pleasure boats in Great Britian. We have the experience of more than two decades in the marine and boating industry.

AER Marine Supply

2301 NASA Road # 1
Seabrook, TX 77586
Contact: Richard Miller
(281) 474-3276 Phone
(281) 474-2714 Fax
sales@aersupply.com Email
www.aersupply.com

AER Supply was founded in 1977. A family business started by Dick and Lou Miller is now owned and operated by Richard Miller (son) and Judy Johnstone (daughter). AER has evolved into a technical or added value distributor specializing in providing products and support in all large pleasure craft and light commercial applications including Water Purification, HVAC, Refrigeration, Filtration, Sanitation, Electrical, Plumbing, Generators, and Propulsion.

Bates Unlimited

1544 Sawdust Rd #602
The Woodlands, TX 77380
Contact: Lyle Bates
(281) 367-4312 Phone
(281) 367-4326 Fax
(800) 367-9048 Toll-Free
bates@batesunlimited.com Email
www.batesunlimited.com

Bates Unlimited was established by Lyle Bates in 1983 as a part-time side business to meet the need for reverse osmosis membrane cleaning in the Houston area. In October 1990, Bates committed his efforts full-time to develop Bates Unlimited as a service and distributing company to the marine/offshore water treatment market.


Ocean Options, Inc

95 Riverside Dr., Tiverton, RI 02878
Contact: Mike Bowden; Ed Hamilton
Web: www.oceanoptions.com
Tel: (800) 832-3905; (401) 624-7334
Fax: (401) 624-8050

Ocean Options specializes in refrigeration, air conditioning, reverse osmosis desalinization and heat for yachts and commercial vessels.


Sea Recovery

Sea Recovery
P.O. Box 5288, Carson, CA 90745
310-637-3400
310-637-3430 Fax
sales@searecovery.com
www.searecovery.com
Tom Ginnetti, Sales Manager
Sea Recovery was established in 1981 and conceived with the vision of manufacturing small Sea Water Reverse Osmosis Desalination Systems for marine applications. The company's initial product line turned Sea Water into Drinking Water for the Marine Industry, and remains the company's focus today.


HRO Systems

P.O. Box 5463, Carson, CA 90745
310-631-6300
310-631-6395 fax
sales@hrosystems.com
www.hrosystems.com
Toni Chavez, Dealer Development
HRO System www.hrosystems.com
Established in 1976, HRO Systems is the pioneer of marine reverse osmosis desalination systems (commonly referred to as watermakers). HRO Systems is the leader specializing in sea water desalination systems from 170 to 44,000 U.S. gallons per day (644 to 166,558 liters)
---
A taste for adventure capitalists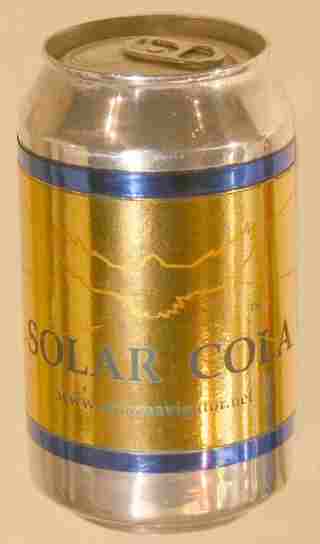 Solar Cola - a healthier alternative