THE DESIGN TEAM

For the Virgin Atlantic GlobalFlyer and its pilots Sir Richard Branson or Steve Fossett to set a world record for the first solo, non-stop, non-refuelled circumnavigation of the world they will have to follow a strict set of rules laid down by the governing body of aviation record attempts, the Federation Aeronautique Internationale.
Burt Rutan Jon Karkow
Burt Rutan, seen above, is no stranger to round the world attempts. He designed the Voyager that brother Dick and Jeanna Yeager flew around the world. He is now the man who designed the Virgin Atlantic GlobalFlyer. Jon Karkow, seen above, the chief project engineer and test pilot for the Virgin Atlantic GlobalFlyer.
The FAI's rules state that a record attempt like this must start and finish at the same airfield and cross all meridians of the globe. What's more the course must not be less than the very precise figure of 36,787.559 kilometres (around 23,000 miles) which is equal in length to the Tropic of Cancer. To allow the Virgin Atlantic GlobalFlyer to catch the vital jet stream winds, the FAI rules don't oblige that record attempts follow the imaginary line of the Tropic itself but simply that the distance flown exceeds it.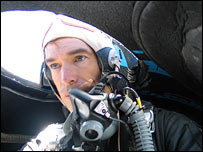 John Karkow test pilot
The Virgin Atlantic GlobalFlyer looks like no other plane because it is designed to do what no other plane can. Engineered by Scaled Composites, the company that built Richard's balloon gondolas in the past, the aircraft's unique twin-boom fuselage and wide, graceful wingspan have been created so that the plane can hold fuel equivalent to nearly five times its own weight - enough to ensure that it can make it round the world without stopping.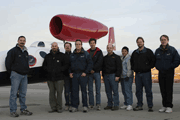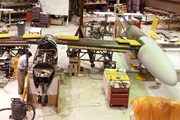 Global Flyer Team Under Construction
LIFT OFF
As the sun set over Salina, 8000 people watched from the side of the runway as Steve Fossett and the Virgin Atlantic GlobalFlyer successfully took off into the air.
Leaving at 18:47 CST, it was a smooth take-off except for a moment when the aircraft dipped dramatically towards the runway. "When it dipped we were a little bit nervous," Jon Karkow said it was not an unusual procedure during a climb.
After take-off Kevin Stass, Mission Control director, said: "Everyone at Mission Control is really pleased that the Virgin Atlantic Globalflyer had successful accomplished take-off."
Richard said it was "an enormous relief to see it lifting off because it had never flown before with such a load of fuel on board." Saying that the aircraft's take-off was a "beautiful sight", Richard said that having left Salina, its "next stop Salina. Something I never thought I'd be able to say with a plane!"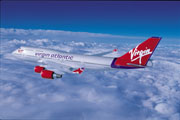 Virgin Jumbo Jet
---
---
GLOBAL FLYER LINKS:
Home Latest News About the Attempt About the Aircraft Steve Fossett Sir Richard Branson
About the Aircraft Steve Fossett Biography Richard Branson Biography Virgin Atlantic