Wednesday 12 January 2005 Sir Paul McCartney gives £1M to the tsunami appeal.
The former Beatles star and wife Heather Mills announced yesterday (12.01.05) that they had offered the massive sum and that their contribution had already arrived with aid agencies working to help people caught up in the Boxing Day disaster.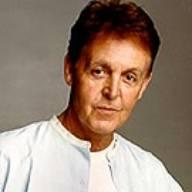 Sir Paul Mc Cartney
A source close to the couple admitted: "Like most people they were moved by the devastation. They wanted to do their bit to help and be part of the British effort."
A spokesperson for the International Rescue Committee said they were "overwhelmed" by the offer which will be spent on supplying clean drinking water and medicines and deploying mobile emergency teams to help victims in India's Aceh province - one of the areas worst affected by the tidal wave.
The 62-year-old singer joins a list of high-profile stars who have donated large sums money to the disaster campaign. Last week it was reported that movie director Steven Spielberg had given more than £800,000 to the relief effort, while 'Speed' actress Sandra Bullock had offered £530,000 to the American Red Cross and German racing driver, Michael Schumacher, had made a massive £10 million donation.
---
LONDON, England (AP) -- Paul McCartney and his wife Heather are donating £1 million ($1.9 million) to help victims of the tsunami, the ex-Beatle's publicists said Wednesday.
They are giving the money to the International Rescue Committee UK, an aid group that works with the New York-based IRC network, McCartney's press office said in a statement.
The charity was "overwhelmed by this generous gesture," according to the statement.
The British government has pledged some £75 million ($140 million) in aid to affected countries, while the British public has donated about £100 million ($190 million) to charities helping with the aftermath of the tsunami.
---
Red Cross confirms $1.9 million tsunami donation from Paul McCartney - UPI News Service, 01/13/2005

Paul McCartney has donated $1.9 million to the International Rescue Committee's South Asia tsunami relief effort, IRC officials announced.
George Rupp, the New York-based organization's president, said the donation by Paul and Heather McCartney will be a great help in the group's campaign to provide medical treatment and distribute food and other relief to victims of the Dec. 26 tsunami.
"It will have a major impact on the capacity of IRC emergency teams in Aceh, Indonesia, to deliver lifesaving assistance to tens of thousands of people from devastated communities," Rupp said.
The IRC has five teams in Indonesia -- including specialists in health, water supply, sanitation and child protection. IRC teams also include experts in child trauma who are providing counseling for children and trying to reunite families that were separated by the disaster.
HOME > ENTERTAINMENT NEWS > People
---