PEPSI COLA of KLAMATH FALLS, OREGON, Pepsi Cola of Klamath Falls Unveils 172 Kilowatt Solar Electric System for 'Net Zero' Energy Use.
It all started by updating an out-of-date lighting system. When it was finished, Pepsi Cola of Klamath Falls had installed the Northwest's largest solar electric system, 172 kilowatts at three locations -- a system that will generate all the energy the facilities will use over the course of a year.
A combination of tax credits, financial incentives, attractive loan terms -- and the prospect of eliminating all of their electric bills --attracted Pepsi to solar energy. "The tax benefits for installing a solar electric system are substantial and the prospect of making all the electricity we need is appealing," said John Bocchi, general manager, Pepsi Cola of Klamath Falls. "I don't know why more businesses aren't taking advantage of this. It makes financial sense and it's the right thing to do."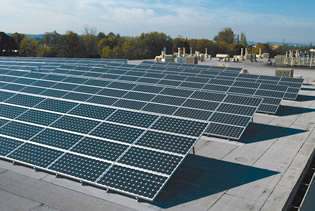 Pepsi Cola of Klamath Falls is a 50-year-old family owned business. Currently there are eight siblings with ownership in the company.
The package of incentives and tax credits that closed the deal for the Bocchi family included $210,000 in incentives from Energy Trust of Oregon, Inc., $444,412 in Business Energy Tax Credits from the Oregon Department of Energy, an accelerated state and federal tax depreciation schedule and a $950,000 loan from the Oregon Energy Loan Program.
"The owners show great concern for the environment in installing this solar electric project," said Hal Simms, loan officer with the Oregon Department of Energy's Loan Program. "We are pleased that we can assist and look forward to helping other business owners with their renewable energy projects."
Pacific Power was a valuable partner in making this project a reality. "We pre-purchased green tags from Pepsi's solar facility for Oregon Blue Sky customers," said Bill Edmonds, Pacific Power's director of environmental policy. "That helped provide start-up funds for the project." Under the utility's Blue Sky options, Oregon customers voluntarily can purchase one of three renewable power options.
"This project shows that solar is more than a clean resource choice for Oregon's environment, it's a good business decision for Oregon businesses," said Peter West, director, renewable resource program, Energy Trust of Oregon.
The solar installation is actually three systems. An 11 kilowatt system features 64 photovoltaic panels in Lakeview, Ore. A Klamath Falls warehouse produces 29 kilowatts, generated by 165 photovoltaic panels. Excess power generated by the systems flow to the local grid for a credit on Pepsi's bill from Pacific Power.
The 132 kilowatt system at the company's main office and warehouse, Klamath Falls, features building-integrated photovoltaic technology (BIPV), with 1,042 laminated solar panels bonded to the metal roof.
"The material used for building-integrated systems is extremely lightweight and unbreakable, making it a good choice for metal roof structures that cannot hold the weight of more common framed PV panels," said David Parker of Advanced Energy Systems, Eugene, Ore., whose company designed and installed the system.
As a condition of the contracts with Energy Trust and the State of Oregon, solar electric systems receiving incentives and tax credits must be connected to the local utility grid. Bocchi estimates that Pepsi will export about 50,000 kilowatt-hours of electricity per year after satisfying its own internal loads.
In August, Pepsi completed a lighting retrofit at their main warehouse to save more than 30,000 kilowatt-hours of electricity each year, or $1,800 on the firm's annual electric bill. Pepsi received an Energy Trust incentive of nearly $2,000 and Business Energy Tax Credits of $2,300 for a payback of just over one year.
Energy Trust of Oregon, Inc., is a nonprofit organization dedicated to changing how Oregonians use energy by promoting energy efficiency and clean renewable energy for Oregon customers of Pacific Power, Portland General Electric and NW Natural. For more information, visit the Energy Trust website, http://www.energytrust.org/, or call 1-866-ENTRUST (368-7878).
Contact:
Solar energy is one of our state's most abundant – and least utilized – renewable resources. The Energy Trust offers cash incentives on solar electric systems:
Homeowners - up to $10,000

Businesses - up to $15,000
Energy Trust incentives, combined with Oregon state energy tax credits, can cover up to 60 percent of the total cost of a solar electric system.
Today's solar systems are reliable, attractive and affordable. Systems installed under Energy Trust programs meet the highest industry standards and include contractor warranties that give you peace of mind.
Modern low-profile solar arrays complement most roofs, and installation is simple. With minimal maintenance, you can expect at least 20 years of energy production from a free and renewable energy source.
A solar electric system can trim 15 percent or more off your electric bill. When your system produces more power than you use, the power goes into the utility's grid system through net metering, and you're credited for the excess power. Today, hundreds of Oregonians are powering their homes and businesses with solar electric systems.
If you're ready to plug into the sun, call us at 1-866-ENTRUST (1-866-368-7878).
PowerLight Corporation - Solar Electric
Solar technology is cost effective, reliable, and environmentally sound. Powerlight Corporation is a designer, manufacturer and installer of grid-connected solar electric systems.
www.powerlight.com
Southwest Pv - Solar Electric Systems
Extensive information about solar power, along with a line of products, modules and components at your fingertips. Southwest Pv is a large volume international distributor for BP Solar.
www.southwestpv.com
4lots.com - Lots of Solar Panels
We carry a wide selection of solar panels from 2.2 watts to hundreds of watts.