Since Coca Cola was invented in 1886, the famous drinks success had largely been due to the company's superlative marketing campaigns. Both the art and public relations departments have shone. These guys have rarely disappointed the public, reading the latest trends and keeping one step ahead of its rival cola companies - however that may be achieved.
On 11 November 2004, Coca-Cola Chairman-CEO E. Neville Isdell issued what he called a "Manifesto for Change" throughout the beverage giant's marketing operations. He vowed to restore the "world-class' marketing reputation for which Coke was previously known by increasing marketing spending by $400 million a year. Meanwhile, the company announced it was lowering its long-term volume growth and earning's targets. Mr. Isdell's was the second major marketing 'manifesto' issued by a top Coca-Cola executive in the last 21 months. In February of 2003, then-COO Steven J. Heyer issued his own, declaring that Coca-Cola was about to start marketing in "a radically different way."
Mr. Heyer envisioned a global network that functioned as both a media company and a beverage distributor able to deliver "a message, a motivation, an idea, a CD, a DVD or a ticket" as well as beverage products to consumers around the world. Some industry observers now wonder aloud if Mr. Isdell's manifesto is ultimately likely to have any greater effect than Mr. Heyer's did. Do YOU believe the latest manifesto is a clear, practical and effective plan likely to restore Coca-Cola or a PR move to offset negative debate about generally lackluster operations?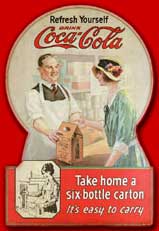 The Coca-Cola Company.
From Investor Relations to Coca-Cola Scholars, you can learn about the company behind the brands at The Coca-Cola Company site.
(URL: www.coca-cola.com)

"Pemberton's French Wine Coca"
In 1885 Pemberton launched his own competing brand, "Pemberton's French Wine Coca", a drink advertised as an "intellectual beverage" and "invigorator of the brain".

(URL: www.businessheroes.com/Pages/articles/1998/98070201.htm)
Biography of Dr. John S. Pemberton
Article by Jack Hayes. Nation's Restaurant News. Part of Library of Congress Coca-Cola advertinsing history collection.
(URL: memory.loc.gov/ammem/ccmphtml/colainvnt.html)
History of Coca Cola and its Evolution - A long and detailed history of Coca Cola.
Coca Cola - Official Site
Coca Cola Display - History of vintage coke cans and bottles.
Dr. John Pemberton - Inventor of Coca-Cola
Highlights in the History of Coca-Cola Television Advertising
Themes for Coca-Cola Advertising
History of Pop - Timeline of the entire history of soft drinks.
Introduction to Pop - The History of Soft Drinks
ON THE BOOKSHELF:

Mistakes That Worked
by Charlotte Foltz Jones, John O'Brien (Illustrator) / Paperback - 48 pages (1994) / Doubleday
Recounting the fascinating stories behind the accidental inventions of forty familiar objects.

I'd Like the World to Buy a Coke: The Life and Leadership of Roberto Goizueta
by David Greising / Paperback: 304 pages / John Wiley & Sons (June 1999)
Goizueta, a chemical engineer, who first worked for Coca-Cola in Cuba. After the revolution, Goizueta came to the United States and went on to become the youngest vice-president ever at Coca-Cola.

Secret Formula: How Brilliant Marketing and Relentless Salesmanship Made Coca-Cola the Best-Known Product in the World
by Frederick Allen / Paperback / Published 1995
A fascinating portrayal not just of Coca-Cola's corporate brilliance, but of how it inveighed its way into the center of American, and world, consciousness.

For God, Country, and Coca Cola: The Definitive History of the Great American Soft Drink and the Company That Makes It
by Mark Pendergrast / Paperback - 576 pages (March 2000) / Basic Books
An objective account of Coca-Cola's history from its inception to mass production, with the attitude of de-mythologising some of the stories the company has sold to the public.

Coca-Cola Girls: An Advertising Art History
by Chris H. Beyer / Hardcover: 288 pages / Collectors Pr; ISBN: 1888054441; (November 1, 2000)
Page after page of pretty young women posing with the Atlanta elixir. The "Coca-Cola Girl" was the image the company preferred for pitching its potion, from the 1890s to the 1960s.