Pro Trek Triple Sensor Watch: Direction, Altitude, Barometric Pressure, and Temperature Readings
PRT-40C
This great looking triple sensor Protrek watch (Pathfinder watches in the US) is just the job for explorers, mountain climbers, or anyone who loves the great outdoors and is Nelson's choice for timekeeping - when not diving.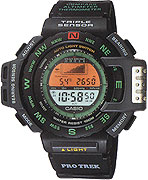 · Digital compass: Measures and displays the direction in 16 directions. Measuring range: 0° to 359° Measuring unit: 1° Memory capacity: 5 sets of measurement data with direction, month, date and measurement time.
Abnormal magnetic field detect function. Bidirectional calibration and northerly calibration function

· Altimeter: measuring range: 0m to 4,000m (0 ft to 13,120 ft) Display unit: 5 m (20 ft) Auto-memory function (up to 50 sets of altitude memory with month, date, time and temperature) Target altitude alarm. Graph display for the target altitude. Altitude tendency graph. Changeover between meters and feet(ft)

· Barometer Measuring range: 610 hPa to 1,100 hPa (18.00inHg to 32.45inHg) Display unit: 1hPa (0.05 inHg) Tendency graph display of atmospheric pressure Changeover between hPa and inHg

· Thermometer: Measuring range: -10°C to 60°C (14°F to 140°F) Display unit: 0.1°C (0.2°F) Changeover between Celsius (°C) and Fahrenheit (°F)

When diving Nelson relies on his Casio divers watch, capable of working to 200m depths. This watch is 10 years old. It's had two new straps and fresh batteries three times and is still going strong.