AUSTRALIAN ENERGY NEWS ARTICLE
One extremely cold winter's morning in Canberra, the solar powered boat enthusiasts were out on the shores of Lake Burley Griffin preparing their craft for the 3rd boat race sponsored by Bayer Australia. It was so cold many of the entrants were seen scraping ice off their solar panels. Soon the frosty morning gave way to a clear sunny day and perfect conditions for the race.
The race is held as part of the Australian Science Festival to incorporate the fun, excitement and, at times, frustration of scientific development of renewable and non-polluting energy boats. Sponsored by the chemical and pharmaceutical company, Bayer, the event is aimed at creating a greater understanding of the need for research into sustainable development.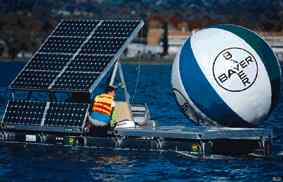 Mr Juergen Selck, Managing Director for Bayer Australia said "It is hoped this initiative will encourage a shared commitment by industry, government and education institutions to explore new applications for renewable energy. Our goal is to build its profile to rival the Australian solar car race in prestige and world attention".
The race is open to any craft which is driven by a non-polluting fuel. The race caters for different levels of technology, from the light-hearted backyard enthusiast to the serious researcher/developer. The five classes are as follows:
Competition Class;

International Class;

Open Class;

Commercial Class; and

Hybrid Class.
The race proceedings were compered by well known scientific personality, Dr Karl Kruszelnicki, and radio announcer Mr David Glyde. Mr Hans Tholstrup, of World Solar Challenge fame, acted as an alternative energy advisor. "Solar enthusiasts from all around the world watch this race with interest. Fostering solar energy on our waterways is vital to the future of the earth", said Hans.
Although not piloting the craft, Hans had an entry in this year's race, the 'Karin'. Karin is a 10m catamaran and prototype solar boat and, as far as it is known, is the largest solar boat in the world. It resembles two torpedoes held together by 28 BP solar panels. These will convert the sun's power to a useable 2240 watts (4HP) to power an electric outboard motor. The boat rides no more than 30cm above the water.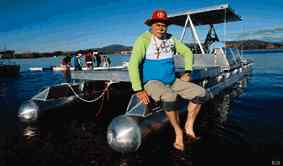 Hans Tholstrup with 'Karin' a 10m catamaran
There were many familiar crafts on the lake but many more new entrants which demonstrates an increasing interest in solar boat technology. The event has attracted international competitors from Russia and Japan and the number of entries coming from schools around Australia is continually growing - and becoming highly competitive.
Frank Wheeler, holder of the world distance record for solar boat racing, was here again with his 'Sun Pirate II'. Frank built his nine metre aluminium solar-electric catamaran specifically for the ocean and intends to make an ocean voyage to circumnavigate Australia. The boat is powered by a 48 volt outboard motor and cruises at about 5 knots. With 20m2 of solar panels. Frank says 'on a good day I can get 2,400 watts. I will be completely self sufficient in terms of power and should not have to return to land for charging even if I am underway 24 hours a day.'
The 'Majorie K', winner of last year's race, was out on the lake again this year strutting its stuff - although not as an entrant. A beautiful craft, which uses wings of solar cells pivotally mounted and controlled to be angled to the sun or the wind as desired. The Solar Sailor Company, owners of the 'Majorie K', intend to build a multipurpose 300 person solar catamaran for use on Sydney Harbour. It would be the most advanced technology watercraft in the world and would herald a new era in boating. Using solar sails, batteries, and two small high efficiency fossil fuel generators, it would be suitable for day or night cruises in any weather. It would be a silent, state of the art, graceful in appearance and environmentally sound.
THE WINNERS
Murray Baker's 'Defence McGreen II' broke the course record for the fastest lap, at 11.06 knots. The boat, a 12 metre long, wooden coxless four rowing shell, is fitted out with a high efficiency brushless DC electric motor and a large capacity battery bank, among other things. The boat was very impressive to watch, although the crew had some difficulty and did not complete the full 5 hours to take out the endurance record on the day.
The 'Amp Cat III' owned by the Alternative Technology Association and piloted by Steve Downing was the day's outright winner. The boat is an International A Class sailing catamaran lengthened to 6 metres and outfitted with a 1kW, home-made electric outboard motor. The foredeck is covered with 10 solar panels of 55 watts each. The boat completed 10 laps in 4 hours 49 minutes, with the fastest lap clocked at 5.49 knots.
Fraser Argue's 'Styro' came second by a meagre six minutes, which made for a very exciting finish to the five-hour race. The enthusiasm of the entrants was addictive and both competitors and spectators seemed to be in their element sharing technologies and tales.
All the styles and variations of craft on the lake provided a magnificent sight. From small canoes and row boats with electric motors to the magnificence of the 'Majorie K', 'Sunboat II', and the 'Karin'. All entrants should be congratulated, as it is through their efforts we come closer to seeing solar craft as the norm on all Australian waterways. We at project Solar Navigator would like to take this ethos one stage further - we would like to see solar craft as the norm on the high seas.
Publications > Australian Energy News > Contents
DOMESTIC ENERGY | INTERNATIONAL ENERGY | GREENHOUSE RESPONSE
Back to ISR | HOME | ABOUT US | CONTACT | LINKS | SEARCH