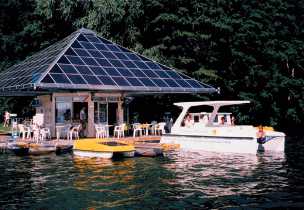 Solar boat rental office
A dock for solar boats offers climate-friendly mobility and leisure. The solar water taxis will have capacity enough to transport 8 to 100 persons.
The solar catamarans and the solar pavilion are an attractive enrichment for the International SolarCenter as well as for the visitors to EXPO 2000.
Solar modules integrated in the roofs provide emission-free energy to power the solar boats and the solar café. Through the use of state-of-the-art electronic control, the facilities cover their own energy requirements.
EINTRO LIVING+WORKING ENVIRONMENT+DEVELOPMENT COMMUNICATION+INFORMATION LEISURE+MOBILITY EDUCATION+CULTURE PARTNER START INDEX