Wallenius Wilhelmson unveil plans to build a solar powered ship capable of transporting 10,000 cars from Britain to New Zealand - March 2005
The futuristic 'Orcelle' may be the first ship to use sun, wind and waves to propel its payload across oceans using renewable energy. A model of the ship is to be displayed at the World Trade Fair in Aichi, Japan in February 2005.
A spokesman for the Scandinavian company said: "This will be the first truly environmentally friendly ship, protecting the atmosphere and marine species". They have around 60 modern vessels that together carry 17 million vehicles a year by sea.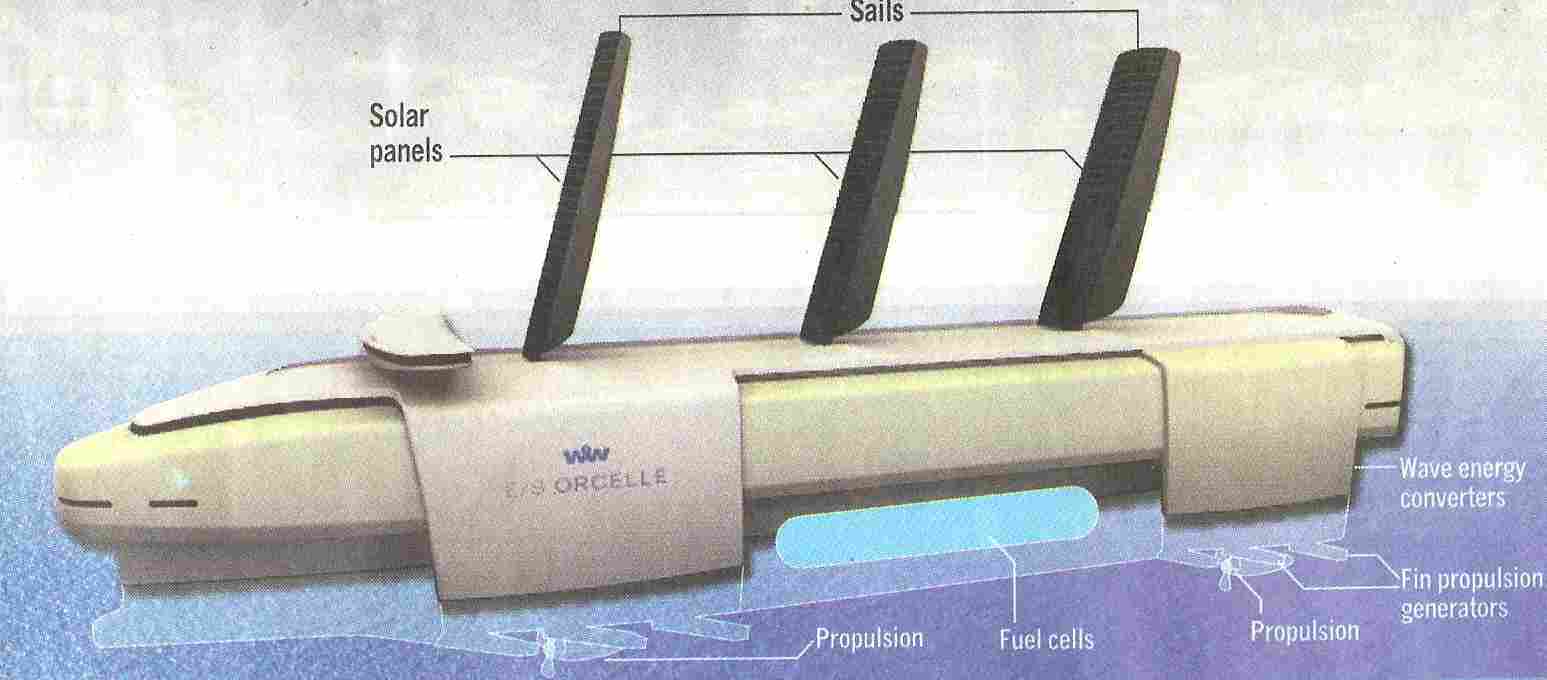 E/S 'Orcelle' - Solar, wind & wave powered cargo ship - Cost £46 million +
At 820 feet long 'Orcelle' is shorter than the Queen Mary 2 (1,132ft) and the QE2 (963ft). The ship is called the E/S Orcelle after the Orcelle Dolphin - the French word for Irrawaddy dolphin, one of the world's most critically endangered species. The E/S stands for "environmentally sound ship". The vessel will include a cargo deck the size of 14 football pitches.
Wave energy is to be harnessed by 12 dolphin like fins an the ships hull. While, sun and wind energy is collected by three giant rigid wingsails, also covered in solar panels.
The cruise speed is in the region of 15 knots. Stability is provided by the shape of the Pentamaran hull - a slim monohull that will have two smaller support hulls know as sponsons on each side. You may recognise this layout as a Trimaran, or stabilised monohull (see Solar Navigator) in that there are essentially, three hull components in contact with the water.
The cost of the ship is not yet known, but it will be more expensive than a conventional cargo ship which are up to £46 million. Nils Dvvik, the company's chief executive, said that the ship with some of Orcells's features could be launched in the next five years, but that it could be 25 years before we see a vessel incorporating all of the design features.
Solar Navigator (test model) - cost: around £5 million
---
Solar boas in Europe -
In the USA -
Solar Boats Built by Engineering Students Wins National Competition
Mailing list for Solar BoatsWorld championship of solar-electric regata
In Canada -
Solarboat projectSolar kit for boat
In Australia -
In Japan -
Free time with solarboats :
In Germany : Walking with solarboats in Nordhorn
Energy - Environement
Planair in La Sagne Switzerland.
Solar energy links
SSES, Société Suisse Energie Solaire Switzerland
Service cantonal de l'Energie, Neuchâtel Switzerland
Futurebike, Human Powered Vehicles (HPV) Switzerland
Swissolar Switzerland
Solarserver Germany
Solarpolis Germany
A lot of links in Austria
CONTACT: +44 (0) 7905 147709 (UK)