The first zero-emission, solar-electric boat to ply Ontario's historic Trent-Severn Waterway (August 06), called "the Loon", is now being manufactured and made available for sale to environmentally conscious boaters around the world. This entirely unique boat, which carries up to 8 passengers in comfort, is unlike any boat previously manufactured in more ways than just its lack of exhaust trail in the water.

"I designed the Loon to address a number of areas lacking in conventional boats, making the Loon the ideal craft to enjoy the natural splendor of Ontario's lakes and inland waterways" stated its inventor and boat builder, Monte Gisborne, president of the company which is now building these boats for retail sale. "Everything from the seating arrangement to pontoon design to the propulsion system was designed to minimize man's impact on the ecosystem while maximizing enjoyment on the water". The result is a boat which probably won't satisfy the go-fast waterskiing crowd, but should attract a lot of attention from people who enjoy a more relaxing ride, particularly the baby boomers. The chosen hull is the aluminum pontoon deck boat, the most popular style of boat today with North America's aging population.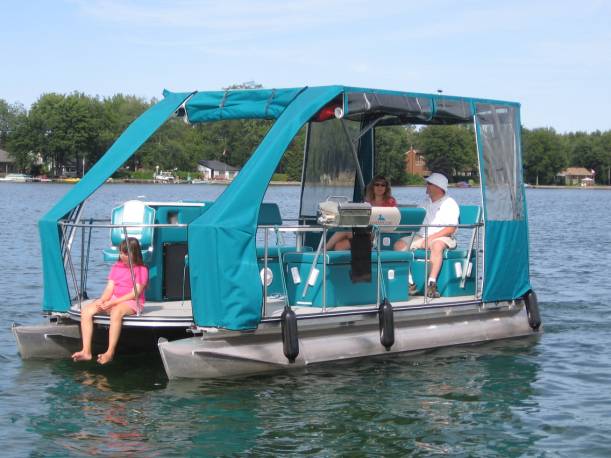 'Solar Loon' is around $25,000 US, complete and ready to enjoy

A prototype boat (shown above) was built and tested last summer to determine the viability of solar-powered boats. A trip down the Trent-Severn Waterway was completed in August; Gisborne felt so confident in his invention that the family came along for the ride. He summarized that trip "Miles traveled: over 100. Cost of fuel: zero. Reaction from boaters who never expected such a boat to make the trip: priceless". The results of this trip encouraged Gisborne to bring the product to the market. Some timely seed capital was raised and a suitable production facility at Starport Landing Marina on Lake Simcoe was discovered. After months of further development work, the first production boat was completed, with many improvements over the original prototype.

The sale of the first boat came as a bit of a surprise to Mr. Gisborne; the call didn't come from a Toronto cottager, but from Belize, Central America. An entrepreneur from there wanted to take people on guided tours to see the indigenous species of Howling Monkey, but found out that only zero-emission boats were permitted. "Gas boats were not allowed so I began to search out options. The Loon seemed perfectly suited to my needs so I contacted Mr. Gisborne" stated Byron Chu, president of Maya World Promotion Ltd. Further research on commercially available solar-powered boats yielded higher-priced and less-capable vessels from abroad, so Mr. Chu put in his order for a Loon, which he will take delivery of this month.

With the price of gas like it was after Katrina ($1.90 per litre at marinas) and the detrimental effects of internal combustion, people are becoming more sensitive to the issue of burning fuel purely for pleasure, believes Gisborne. "Exhausting hydrocarbons directly into your own lake isn't much different from urinating in your own family recreation room", he states. "We need sensible options if we want to leave something for future generations to enjoy… and I believe that water and electricity do mix!"


For more information, please contact:
Monte Gisborne, B.Tech
The Tamarack Lake Electric Boat Company
monte@tamarackelectricboats.com
207 Bayshore Drive ,
R.R.#3, Brechin , Ontario Canada L0K 1B0
(705) 484-1559
(416) 432-7067 (cell phone)
Monte Gisborne drives a hybrid-electric Toyota Prius, one of the first sold in Canada. He has built and sold pure electric vehicles for several years, including low-speed cars and street-legal electric motorscooters.
In the winter he rides a self-built electric snowmobile dubbed the Sk-E-Doo, and in the summer he cuts his lawn using a low-noise electric garden tractor — both emission-free vehicles built in his own garage.
Phrases like "gas-powered" and "combustion engine" might as well be swear words in the Gisborne household, which recently relocated from Whitby to Brechin, a town on Lake Simcoe.
His daughter once had to list all the items plugged into the power outlets of her home as part of a school assignment, but the teacher returned the list with a bunch of question marks when she read "snowmobile," "scooter," and "lawn mower" among a group usually consisting of toasters, microwave ovens, and blow dryers.
For the past few years, however, Gisborne's attention has been focused on Ontario's waterways, where loud, emission-spewing powerboats suck up gasoline like Homer Simpson drinks beer at Moe's Tavern. This summer, many cottagers and boaters were reminded of their fossil-fuel habits as they watched gas prices surge above $1 at the marina pumps.
Let's be clear, electric-powered boats are nothing new, but Gisborne, 42, got to thinking: If boats sit or travel soaking up the sun all day, why not build a battery-powered boat that can plug into a socket or charge up for free using rooftop solar panels? Gisborne is a mechanical engineer?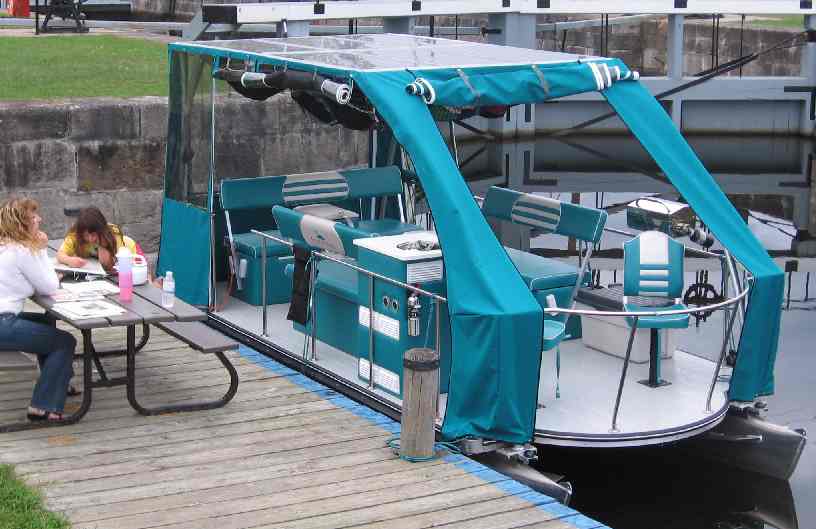 'Solar Loon' typically docked
After more than three years of pursuing the idea — researching boat styles, studying market potential, creating a design and sourcing out parts — Gisborne completed his prototype, which he fondly calls the Loon.
The Loon is a 20-foot pontoon-style boat that uses eight 6-volt lead-acid batteries and a 738-watt solar panel canopy to power a highly efficient electric motor. Gisborne designed the boat from scratch, including the aluminium frame he got custom-made in Quebec and the patent-pending energy management system that assures efficient interplay between the batteries and solar panels.
Pontoon and deck boats, both classes of "party boat," are two of the most popular boats on the market, according to Canadian Marine Manufacturers Association.
"The pontoon segment is constantly growing," says Sandy Currie, executive director of the association.
And their design and relatively large, flat surface areas make them ideal for installing solar panels, which can provide shade for passengers while absorbing energy from the sun.
"The intended market is the inland lake cottage owners who typically use their boats to travel from marina to cottage as necessary and for trips on the `cocktail circuit' around their lake area," says Gisborne.
Makes sense, considering cottage country is having a population explosion of baby boomers who would rather sip something cool on a quiet, leisurely boat ride than bounce around to the fury of a 250-horsepower Evinrude. This is not your typical wakeboard crowd.
Starting on a full charge the Loon has a range of between 50 and 100 kilometres a day depending on sun conditions. "I'm basically six times as efficient as a regular gas-powered boat," says Gisborne.
The Loon first hit Lake Simcoe on Aug. 2. But the real test came 10 days later, when Gisborne took his wife and daughter on a weeklong trip along the Trent-Severn Waterway, travelling 170 kilometres from Brechin to Bobcayeon and back.
"We travelled through eight locks and stayed at the many marinas en route, recharging from the electrical grid as we stayed overnight to supplement the solar input," says Gisborne. "We were amazed at the number of big boats for sale, many openly admitting to not being interested in paying $1.23 per litre of gas."
Gisborne had the Canadian Innovation Centre, a not-for-profit market research firm, do a validation study of his idea earlier this year. The report that came out in May gave the Loon thumbs up for its commercial potential.
"Research confirms that the Loon will do well given the rising cost of gasoline and the efforts to prohibit internal combustion engines on waterways in the U.S. and Canada," the report stated.
Last week I took a ride on the Loon, which I found roomy and comfortable. We travelled about seven kilometres to a popular spot called Lagoon City. We docked for lunch. Gas at the nearby marina was $1.25 a litre.
"While we're having lunch the batteries are charging back up," Gisborne pointed out, making me realize that the solar component is always working while the sun is shining. Forget about boating, this is a floating battery that during sunny days is always being topped up.
Gisborne said there's no reason that energy couldn't be tapped for use in appliances around the cottage while the boat is docked and not in use, offsetting electricity drawn from the grid.
It wasn't a particularly sunny day on this run. In fact, it was a bit chilly on Lake Simcoe, and it made me realize the speed limitations of this boat — the maximum is about 8 knots.
We were averaging about 5 knots (9 kilometres an hour) on our trip, which isn't bad for bopping about on a quiet Muskoka lake. It's not very reassuring, however, on a turbulent body of water such as Simcoe.
Gisborne figures we consumed about 2.5 kilowatt-hours of energy on our 14-kilometre voyage. Had it been a good sunny day, the solar electricity produced from eight hours of sunlight exposure would have more than offset the electricity consumed during our 90-minute trip, he says.
"Negating any effect that solar would have offered us, and using a cost of 10 cents per kilowatt-hour, we consumed about 30 cents worth of electricity when the charger inefficiencies are taken into account," Gisborne calculated. "That works out to about 3.5 cents per mile travelled."
Gisborne has set up the Tamarack Lake Electric Boat Co.
http://www.tamarackelectricboats.com/
named after the quiet lake his cottage is on, where gas-powered boats are prohibited. The firm's goal is to launch a commercial version of the Loon next April, just in time for the new boating season.
He thinks he can profitably sell the boat for $25,000, which the Canadian Innovation Centre said is competitive with similar pontoon-style boats on the market that run on gas.
"Nobody is going to take me seriously until I'm up and running," says Gisborne, who ultimately would like to have a company such as Lake Forest, Ill.-based Princecraft Boats, a leading maker of aluminium pontoon boats, build the Loon under license.
"I view them or a company like them being essential to my business plan," he says, adding that Princecraft will test-run the Loon in September.
Another part of his plan, for which he's seeking investment support, is to build a fleet of Loons that could be rented on various inland waterways, such as the Trent-Severn. Rentals would include a full itinerary and all overnight marina fees, which of course would include shore power outlets for overnight charging.
"Monte has a good idea, a workable idea, and it's terrific he's finding a way to scale it up and get the product on the market," says Currie of the marine manufacturer's association.
---
Rideau Canal Solar Cruise Proves Viability - November 2006
Sun-Powered Boat Travels Between Kingston and Ottawa With Ease
It was a sign of the times and it read clearly: $1.55 per liter. But rather than wince and reach for his wallet, Monte Gisborne actually cracked a smile as he waved to the gas attendant expecting him to make the customary fill-up. "No thanks" he said "Today I'm filling up with a blend of sunshine and relaxation!"
The Loon, Mr. Gisborne's solar-powered boating creation, headed out from Kingston on August 12th and buzzed quietly into downtown Ottawa 6 days later, without a roar or a ripple to be seen or heard. Not a drop of oil was burned in the process and the Gisborne family, including wife Denise and daughter, Deanna, nine, seemed rested and comfortable as they greeted media and government at Dow's Lake Marina near Hartwell's Lock. The family stayed aboard the boat during the entire trip, cooking meals and sleeping under the large overhead solar array. "I think that the main difference between our Rideau cruise and those made by others is public perception" stated Gisborne. "People expect to give up so much by ridding themselves of oil, but that really wasn't the case here at all. We enjoyed ourselves equally or perhaps more than those who miss so much over the roar of a motor or barely see anything due to the blur of the landcape and wildlife going by. Most creatures are skittish and tend to scatter when a faster and louder boat goes by."
The Loon is a solar-assisted boat, meaning that it can take advantage of shore electrical power to help keep the batteries topped up. The Gisbornes would do exactly as gas boats do and plug into a power outlet readily supplied by the marinas and lock stations they docked at overnight. Each day would start with a fully-charged pack of batteries and end with about half of a charge still left. "At no time ever did we feel uncomfortable that we would get stuck without a charge" Gisborne stated " that notion simply goes away with experience". All onboard devices such as a fridge, kettle and microwave also got their energy from the same batteries.
This was the first time that a solar-powered boat has traveled the Rideau in its 174-year history. It was opened in 1832 to transport British troops from Montreal to Lake Ontario to protect its subjects from foreign invasion (which didn't materialize) and didn't evolve into a tourist attraction until the end of that century. Plans are presently underway to classify it as a World Heritage Site in 2007 by UNESCO.
Gisborne comments: "The sustainable future of the Rideau and other waterways depends on a new boating regime and electric boating offers just that. We need sensible options if we want to leave something for future generations to enjoy… and I believe that water, fun, safety and electricity do mix!"
For more information, please contact:
Monte Gisborne, B.Tech
The Tamarack Lake Electric Boat Company
monte@tamarackelectricboats.com
207 Bayshore Drive ,
R.R.#3, Brechin , Ontario Canada L0K 1B0
(705) 484-1559
(416) 432-7067 (cell phone)
---
A taste for adventure capitalists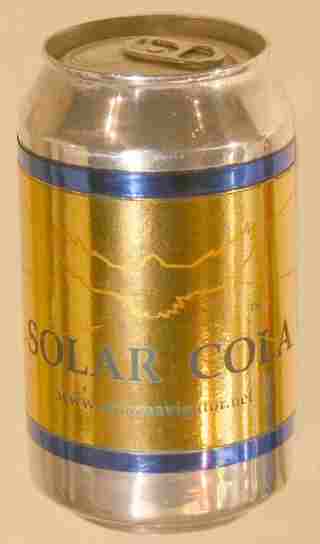 Solar Cola - the healthier cola alternative