Guarana or Guaranį (pronounced gwa-ra-'naa), Paullinia cupana (syn. P. crysan, P. sorbilis), is a shrub or small tree in the Sapindaceae, native to Venezuela and northern Brazil, known for the high stimulant content of the fruit. The name 'guaranį' comes from the Tupi-Guarani word wara'nį. Guaranį plays a very important role in their culture, as this plant is believed to be magical, a cure for bowel complaints and a way to regain strength. They also tell the myth of a 'Divine Child', that was killed by a serpent and whose eyes gave birth to this plant.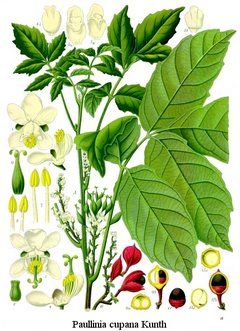 Uses
The Guaranį plant contains guaranine, a substance that chemically resembles caffeine and so acts as a stimulant. Like many caffeine-containing plants, it is used for drinks; a kind of carbonated soft drink that is made from the Guaranį fruit is known as "Guaranį". Guarana contains a compound called Methylxanthine, the source of its energy boosting properties.
Numerous different brands of Guarana are available, differing greatly in flavour, some of them tasting hardly like natural Guarana fruit. Guarana soft drinks are particularly popular in Brazil, where sales are second only to cola drinks. They are typically fizzy and sweet, with a very fruity aftertaste. Most Guaranį is produced in Brazil and consumed either in Brazil or in nearby countries, such as Paraguay. Major brands in Brazil include Guaranį Antarctica and Guaranį Brahma from AmBev, Kuat from The Coca-Cola Company, besides local producers.
There are a number of other energy drinks containing Guaranį available worldwide, including Golly Guaranį, 180, Bawls, Rockstar, AMP, V, SoBe, Guaranį Power, MDX, Monster, Crunk Energy Drink, Von Dutch, Full Throttle and Full Throttle Fury, Vores Ųl, and Molson Kick (the last two are beers). Actually, guarana is an extremely common ingredient in energy drinks. Some people see Guarana as an aphrodisiac.
---
Solar Cola - a taste for adventure
We are looking for distributors in: Australia, Canada, China, Europe, Japan, India, Russia, South Africa, South America, UK, and the USA. All enquiries for the Middle East and North Africa please see our distributors in Jordan and London.
The state of the Cola market globally and in the UK is ripe for a fresh quality brand, with excellent potential for growth. According to ResearchandMarkets.com the UK drinks market is worth an estimated £53.5 billion, representing a 7% share of total consumer spending. The global soft drinks market is roughly the same percentage of total consumer spending for developed countries.
Prospective investors in our company should consult their own independent investment advisers, and please note this information is provided for general guidance only. It is not a prospectus, but is provided in response to the number of requests we have received asking for more information
For all trade enquiries please contact: Nelson Kruschandl at:
Solar Cola UK or Solar Cola Exports
United Kingdom
+ 44 (0) 1323 831727
+44 (0) 7905 147709
---