ANYONE FOR CRICKET?
While Coca Cola's latest advertising campaign may not be all that original, unless the tagline is registered trademark, and indeed registrable, the worst that can happen to them is that the public take a dim view of the moral position.
The Washington Post has proclaimed it the next "below-the-radar drink for hipsters." John Craven, of BevNET.com, a beverage-industry review site, calls green tea colas "the most unique innovation in carbonated soft drinks to hit the category in the past decade," singling out Cricket as one of the "cleanest" colas ever tasted by the experts at BevNET.com. George Clooney is a fan. He not only made sure that Cricket was available on the set of his now-canceled HBO television series K Street, but he allowed his actors to be filmed guzzling the stuff. David Tureaud, of Tureaud Events and Productions, is such a convert to Cricket that when producing the various parties and events at last year's Mill Valley Film Festival, he made Cricket Cola the sole soft drink available on the premises.
Of course, tea in bottles is nothing new.
Over the last several years, grocery-store shelves have been strained beneath a rapidly multiplying, tribal like explosion of bottled tea drinks. Sporting exotic names like Tazo, Tejava, Tribal Tonics, SoBe and, uh, Snapple, tea-based beverages have become nearly as plentiful as soft drinks. Especially plentiful are those containing green tea. Green tea can now be found in all kinds of things: there's green tea ice cream, green tea power bars, even green tea breath mints. Available green tea beverages tend to mix the tea with everything from mango juice, cranberry juice and carrot juice to stuff like guarana, yohimbe and arginine. There are green tea sodas and green tea root beers.
It was only a matter of time till someone invented a green tea cola. Cricket, made from green tea and cola nut, hit the market last year, after being launched earlier in San Francisco by a Maryland-based startup. Cricket has since expanded into over a dozen states. Shortly thereafter, another green tea cola, Steaz, was debuted by the Healthy Beverage Company, makers of several green tea products, who have now established a whole line of green tea-based soft drinks. So far, the trend has not developed further, as industry watchers wait to see if there is a large enough market for green tea colas, and while the producers work to convince an already overwhelmed public that green tea and cola are flavors that were meant for one other.
Coke Stole Slogan, Claims Cricket-Cola
A small soda company is suing Coca-Cola for trademark infringement. And they're wrong.
Cricket Cola's tagline is "happiness in a bottle" and has been using the phrase for the past 22 months.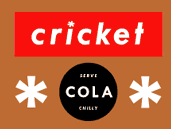 In unveiling its latest campaign, "The Coke Side of Life," the marketer described its concept as aiming to demonstrate how Coke is akin to "happiness in a bottle." From what we can tell, this took place in a press release. Coke claims to not have used the phrase in any advertising.
A statement in a press release isn't trademark infringement and Cricket Cola, is, as Coke said in a statement, using this as an, "opportunity to gain publicity and to create negative press around our campaign and brand."
Cricket Cola is a gourmet soda made with green tea, kola nut and cane sugar brewed by a bunch of whiney pants who should spend less time threatening to file frivolous lawsuits and more time coming up with creative ideas to actually market their product and not just their attitude.
"Tiny Cricket Cola Aims Legal Slingshot at Coke" [AdAge via
---
Tiny Cricket Cola Aims Legal Slingshot at Coke
The Gourmet Brand Claims Beverage Giant Took Its Tagline - April 19, 2006
CHICAGO (AdAge.com) -- Call it happiness in being first.

Despite the millions Coca-Cola Co. began spending in a splashy global campaign last month to try to convince consumers that its flagship brand is "happiness in a bottle," a tiny brand called Cricket Cola already owns that tagline. Now, the little brand with print ads that shout "Hello Goliaths, Meet David" is demanding Coke get off the happiness bandwagon.


'I just don't think it's fair'

"It's uncanny. The coincidences were a little too much for us," said Mary Heron, co-founder and CEO of the company, which makes a gourmet cola made with green tea, kola nut and cane sugar (a diet version uses Splenda). "It's really diluting our marketing. I just don't think it's fair."


While the company hasn't trademarked the line, Ms. Heron claims her lawyer said Cricket's use of the line is now common law because it has been on bottles for two of its three years in existence. "Every bottle of Cricket Cola that people can take in their hands says that drinking [it] can make you happy and that it is happiness in a bottle," Ms. Heron said.


When Coke unveiled its global campaign and tagline, "Welcome to the Coke side of life," the marketer liberally stated the "happiness in a bottle" concept to describe the aim of its latest creative effort. In a statement, Coca-Cola said it doesn't use the phrase in its advertising. "The tagline for our new campaign is 'The Coke Side of Life,' which focuses on optimism, choosing a positive outlook and why people love to drink Coca-Cola."


Coke went on to say that "We do not believe there is any basis to Cricket Cola's claims that we have infringed its rights, and we are disappointed that it is using this opportunity to gain publicity and to create negative press around our campaign and brand. We will look into the issues and respond appropriately in a timely manner."


The Potomac, Md., company, through its lawyer, has sent a cease-and-desist letter to Coke and asked for yet-to-be-negotiated compensation for harming the fledgling brand. The letter, dated April 17, asserts that Cricket began using the happiness line 22 months ago on its packaging, in sales materials and advertising, and plans to use the line as it works to build distribution and sales of the soda. It gives Coke 14 days to respond or face a lawsuit.


Dreamwerks vs. DreamWorks

One such case was between a small science-fiction convention business called Dreamwerks that sued the movie studio DreamWorks for trademark infringement over concerns that people would think the convention business was copying the much larger film production company, even though it was first to market. Ms. Wald said Cricket Cola's case is unusual because the trademark office doesn't allow companies to submit press releases as
evidence of trademark use in establishing a registration.

"But sometimes what happens in the real world and happens in the trademark office are different," she said. "There have been cases where the public has come to recognize a brand in a name that the company itself isn't even using." For example, in the 1960s, Volkswagen didn't like people calling its Beetle "the bug," but eventually was successful in getting rights to the nickname based on how the general public and the press were referring to the car. The same was true with IBM and "Big Blue" and Federal Express and "FedEx."

"It's not absolutely impossible that if the public starts thinking of a particular product with a nickname that it could affect its own rights and the rights of other people who have that nickname as their actual brand," she said. "If liability for trademark infringement can arise from a press release as opposed to an actual product, then advertisers have to be a lot more careful in what they say in ads because here would be a new problem."
---

Cricket Cola
REVIEW

Cricket Cola is a unqiue cola made with green tea. Sure, this is a bit unorthodox, but the the taste will make you put any reservations that you may have aside. It's extremely refreshing and quite possibly the cleanest cola we've ever tasted. Made with real sugar, natural flavors, green tea, vanilla, and kola nut, this product has an extremely distinct flavor. The combination of the green tea, kola nut, and vanilla gives the product a sweet vanilla flavor and a slightly herbal finish. Definitely give this product a try.
According to their website, the makers of Cricket Cola came up with the idea late one one evening. They'd long talked of making a cola and leaving out the phosphoric acid and other space age ingredients. Apparently, they mixed only natural core of cola, by which we think they mean the essential oils, with real cane sugar and instead of using refined caffeine, they added two cups of freshly brewed green tea. After about an hours infusion time the drink was tasted and the makers claim to find themselves smiling wider and laughing louder.
Brewed in Los Angeles with a concentrated infusion of green tea equal to two full cups of green tea per bottle, Cricket--created by John and Mary Heron of Potomac, Md.--is marketed as "the world's first micro-cola," meaning that it's made in small batches with what Mary Heron assures is "tender loving care." Ads proclaiming Cricket to be "Happiness in a Bottle" might be pushing things a bit, but maybe only slightly, if one likens happiness to a gentle non-buzzy surge in one's physical alertness and energy.
The makers also claim that lots of Doctors and Writers think Cricket's ingredients may:
| | |
| --- | --- |
| Reduce risk of heart disease & stroke | Stengthen bones |
| Reduce blood pressure | Reduce cholesterol |
| Prevent cancer & arthritus | Enhance immune system |
| Aid in weight loss | Improve digestion |
| Reduce cavities, gingivitus | Improve memory, calm and relax |
| Reduce bad breath | Create a sense of well being |
Most of the above can said for Solar Cola. In fact, the marketing slant is very similar indeed, but they are not talking litigation about something any other product could claim, subject to ingredients.
The makers of Crocket Cola claim it is a simple cola, a drink without the big colas metallic twang and super saccharin's sweetness, or ingredients with code numbers. The makers claim such a drink did not exist - so they hit the kitchen and after making a sticky mess, they made it. They go on to say: it's not a product of market research and countless labs and focus groups and it's not what you might expect. But it is something that challenges the traditional idea of cola as a fast food staple, and a couch potato favorite. It's a drink that uses natural ingredients and has become something surprising along the way. They say they are happy they made it and happy to drink it.
We see it as a sort of Liptons Ice Team, popular in Europe at this time, blended with some cola ingredients to produce an acceptable hybrid. This is of course the essence of development. We suspect, that given the right marketing push, the drink could become very popular indeed.


Diet Cricket Cola
REVIEW

Cricket Cola recently reformulated its Diet Cricket and with good results. The green tea base is more prominent in the diet version but the cola is still noticable. Cricket sprung for the good stuff and used sucralose as its sweetener. There is very little aftertaste, although we feel it could be a bit sweeter. This a very original and high quality product.
INGREDIENTS:
Cricket Cola

Ingredients: carbonated water, sugar, invert sugar, natural flavors, green tea powder, citric acid, malic acid, tartaric acid, vanilla extract, kola nut extract, sodium benzoate and potassium sorbate

Nutrition Facts: serving size 1 bottle; calories 130; fat 0g; sodium 50g; total carb 31g; sugars 31g
Diet Cricket Cola

Ingredients: carbonated water, natural flavors, green tea powder, splenda, sucralose, vanilla extract, citric acid, malic acid, tartaric acid, kola nut extract, sodium benzoate and potassium sorbate

Nutrition Facts: serving size 1 bottle; calories 5; fat 0g; sodium 50mg; total carb <1g; sugars 0g; protein 0g
Brand's marketing effort 'threatened'

"Cricket's marketing efforts -- and its ability to build a distinctive brand around the 'Happiness in a bottle' tag line -- is threatened and frankly can be destroyed by Coca-Cola's marketing power and use of that message in its current worldwide marketing campaign," the letter said. "Coca-Cola's conduct in that regard would support a finding of trademark infringement under [paragraph/section] 43(a) of the Lanham Act."


First bottled in San Francisco and distributed there and in the Washington, D.C., metro area, the brand now is being sold in Hawaii, North Carolina, South Carolina, Texas and Washington and is soon to begin distribution in France. Wolfgang Puck's Las Vegas restaurants carry it as does Midwestern sub chain Potbelly and Starbucks in British Columbia, Canada. Ms. Heron wouldn't disclose sales for the privately held company, but said it plans to expand distribution and shelf-keeping units in the near future.


The dispute is notable in that it tests the reverse confusion doctrine of the Lanham Act that is a favorite in David and Goliath situations, said Jane Shay Wald, partner-trademark practice at the law firm Irell & Manella.
---
Cricket Cola is a drink made from kola nut and green tea. Created by John and Mary Heron of Potomac, Maryland and produced in San Francisco, California, it comes in diet and regular and is known for its "old school" aesthetic. One of the few micro-brewed sodas in the United States.
HERE ARE SOME USER COMMENTS:
Rating: * Douglas Layne, 04/16/2006
Yuck! This cola was just horrible. I stomached about three swallows of this swill before dumping it in the garbage.
Rating: ***** JohnHenry Haugh, 11/17/2005
I have had alot of sodas in my 21 years, due to my extreme caffeine addiction. None have ever been near this good, however. this soda is perfect. excellent flavor, just carbonated enough, not too sweet, but the taste from the cane sugar helps to make this perfectly flavored and made soda the best of the best. Here's a little tip I picked up from the first bottle I ever had: keep your bottles sitting not in the fridge, but in a cabinet, and put it in the freezer for about 20-30 minutes before you drink it. Another tip: never drink it warm. for all it's great taste while chilled, it tastes and feels like drinking fire while it's warm. they even warn you on the side of the bottle to "serve chilled."
The next big thing in bold, cold beverages - green tea cola?
Rating ? Biz Stone 2006
Biz Stone, a computer programmer employed by Google.com, is a die-hard fan of a soft drink called Cricket Cola, a green tea-based beverage that has so captured Stone's fancy he's taken to writing eloquent, glowing descriptions of it on his well-designed blog site.
QUOTE: "The reason I first noticed it," he says when reached by phone, "and the main reason I wanted to try it, was because of the label. It's a very cool label. I want some really good graphic design in my fridge, so when people come over they can be, like, 'Hey, nice fridge.' I could tell that Cricket would look really nice with the bottles all lined up in a row. I'm a big fan of anything lined up in mass quantities. Good graphics just make it sweeter."
As for the stuff itself, once he tasted it--and they serve it in the cafeteria at Google, it turns out--he was hooked, appreciating it as a healthier alternative to products like Coke and Pepsi.
"Whenever I drink Diet Coke," he says, "all I can think about is that legend about someone leaving a nail in a glass of Coke, and the nail dissolving in two days. I don't know if that's true, but I can't help but think about it when I drink Coke. When I drink Cricket Cola, I can think, 'This stuff doesn't seem harsh enough to melt nails.'" While such questions are best left to the young science-fair competitors within our public-school system, there is no question that Stone is not alone in his devotion to Cricket.
"It is naturally caffeinated," Heron says. "What you are getting is the natural caffeine that's found in those two concentrated cups of green tea. And the green tea is a mellow lift, not that spiky lift you get from chemical caffeine. It's not the jolt that races your heart, the kind I used to get from Diet Pepsi."
Yes, Heron is a recovered Pepsi drinker, whose path to creating a green tea cola began when her doctor told her to go cold turkey from chemical-rich drinks like Pepsi and Coke. Asked to affirm the Washington Post's prediction that Cricket would capture the "hipster" market, Heron hedges.
"We'd love to believe that all the cool people and the below-the-radar hipsters are drinking Cricket," she says, "but our audience is actually much wider than that."
Meaning what - even non-cool people?
"Independent thinkers," Heron laughs. "People who happen to be cola drinkers, people seeking a non-mainstream alternative to Coke and Pepsi." The only thing preventing those independent thinkers from adopting Cricket as their official drink of choice is that the stuff is still relatively hard to find. Even in the Google cafeteria, Cricket is only occasionally in stock.
That suits Biz Stone perfectly.
"It's fun for me, not ever knowing if it's going to be there," Stone says. "I like Cricket, but only once in a while because it has an unusual taste, and if I had it every day it would spoil the fun of having something unusual, and it would stop being unusual. Fortunately, the cafeteria at work does only stock it sometimes, so I always have to ask. I like the diet version, but sometimes they only have the nondiet version, so it's kind of like a big tease. 'Oh, no! Almost there but not quite!'"
---
LINKS and REFERENCE:
Cricket Cola www.cricketcola.com/
Cricket Cola | BREW www.cricketcola.com/brew.html - 3k
[ More results from www.cricketcola.com ]
Cricket Cola - The BevNET.com Review
Cricket Cola is a unqiue cola made with green tea. ... Cricket Cola recently reformulated its Diet Cricket and with good results. The green tea base is more ...
www.bevnet.com/reviews/cricketcola/ - 40k - 21 Apr 2006
Cricket Cola - Wikipedia, the free encyclopedia
Cricket Cola is a drink made from kola nut and green tea. Created by John and Mary Heron of Potomac, Maryland and produced in San Francisco, California, ...
en.wikipedia.org/wiki/Cricket_Cola - 15k
A Cola combined with Green Tea. Who would of thunk it. Cricket Cola did and we are glad. An amazing combination that works great together. ...
shop.store.yahoo.com/soda-pop/cricketcola.html - 7k
CricketSoda.com : Columns : Cricket Cola
A column about how Cricket Cola stole my idea. By Levi Blackman and brought to you by cricketsoda.com. www.cricketsoda.com/stuff/stories/ leviblackman/stories/cricketcola.php - 13k
Cricket Cola 12oz Longneck Bottle SodaKing Your Gourmet Beverage Specialist.
www.sodaking.com/product_info.php/products_id/498 - 22k
Cricket Cola: The Green Tea Cola - Colas,Something Different ...
Cricket Cola: The Green Tea Cola; with Cricket you might find yourself smiling just a little wider or laughing a little louder. Maybe it's the Green Tea.
www.sodapopstop.com/products/detail.cfm?link=581 - 13k
Metroactive Dining | Cricket Cola
When I drink Cricket Cola, I can think, 'This stuff doesn't seem harsh enough to ... Cricket, made from green tea and cola nut, hit the market last year, ... www.metroactive.com/papers/ sonoma/05.18.05/dining-0520.html - 11k
Bottle Cap-O-Rama - Cricket Cola
bottle caps, soda, beer, beverages, drinks, collecting.
www.webomatica.com/joomla/content/view/199/26/ - 10k
More: Coca-Cola coke Trademarks Cricket Cola
Latest by Timbojones
---
A taste for adventure capitalists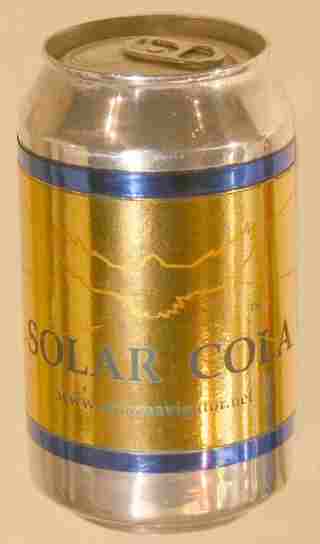 Solar Cola - a healthier alternative
We are seeking seed capital to develop our supply chain and begin a world marketing campaign. We are offering shares in our company by way of equity funding. Although, this product has potential for good growth, the value of shares in any company, private or public, can go down as well as up.
Prospective investors in our company should consult their own independent investment advisers, and please note this information is provided for general guidance only. It is not a prospectus, but is provided in response to the number of requests we have received asking for more information.
For all Investor and Trade enquiries contact: Nelson Kruschandl
Solar Cola UK or Solar Cola Exports
United Kingdom
+ 44 (0) 1323 831727
+44 (0) 7905 147709
---