PROJECT OUTLINE
Project Black Swan is an attempt to beat the world record for an electric powered boat. See the news page for updates on the project.
Phase one - A number of model boats will be built and tested and we hope to break the model record of 120mph.
Phase two - Final design of the full size boat will then be completed and construction will begin.
Phase three - Testing the boat at speed on water with an internal combustion engine engine.
Phase four - Testing of the electric motors and power supply.
Phase five - Testing the boat at speed with electric setup.
Phase six - Taking the boat to a suitable venue and attempt to beat the record and also exceed 100mph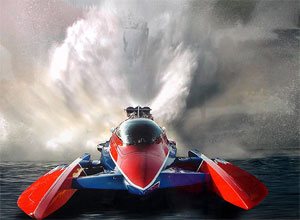 Project Black Swan - artists impression
PROJECT TEAM
Manager/Gopher - Andy Taylor
Engineer - "BURNS" the engineer
IT/CAD - Mark Steadman
Electronics - KJ Technical Consultant Electronics
Website and Multimedia - Sparks
CONTRIBUTORS
Team Black Swan are actively seeking Individuals and Organisations who are willing to contribute the project.
For more information contact Andy Taylor: projectblackswan@yahoo.co.uk
We are seeking Sponsorship locally ( Bristol ) and Nationally. If your company has the vision to form a rewarding partnership then we would like to hear from you.
The team would like to thank mtroniks for their support. Mtroniks are a UK based firm who have a reputation for quality electronics and they will be providing the team with equipment and technical advice.
www.mtroniks.net
Thank you to fastkar.co.uk for their donation to the project. We have made good use of the batteries which provides power to the mobile charging station and power some of our test equipment and lighting displays.
www.fastkar.co.uk
Chris Lloyd of COAST 2 COAST MARINE SERVICES LTD Portishead has donated a 14inch diameter 26inch pitch 2 BLADE SURFACE PROP for testing. Chris has many years experience of racing and his wisdom will be an asset to the team.
Many thanks to Richard of Solcentric who has loaned us a speed boat for research and development (see gallery). His interest in alternative energy can be followed by clicking here. Richard also sells boats suitable for the enthusiast or new entrant into the marine world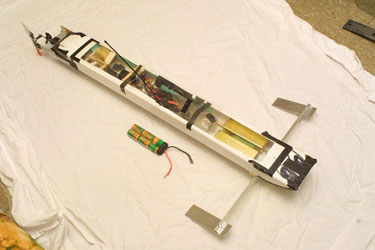 Project Black Swan - outrigger test hull
Bernard Holder (For his invaluble advice and support on Hull Design & Manufacture). Bernard writes for Model Boat Magazine and races his offshore ic power boats in almost every class. In fact he has dominated the UK scene over the past few years and is winner of a number of National Championships.
Allan Shillitto (For his advice on fast electric model boats and on brushless motors in particular). Allan has his own website Astec Models and is no stranger to breaking records.
Many thanks to Prestwich Models for advice on props and with for the balancing and polishing. Visit their website here.
The University of the West of England are now assisting the teams efforts. Alec Gregory (Aerodynamics) and Andrew Jones (Marine Propeller), Farid Dailami & John Lanham will be overseeing and supporting their work.
"To break the 200mph barrier we must dance beautiful with Mother Nature, Neptune will be unforgiving should we step upon her toes" www.uwe.ac.uk
LINKS and REFERENCE
news • project team • contact details • test boats • gallery • links
---
A taste for adventure capitalists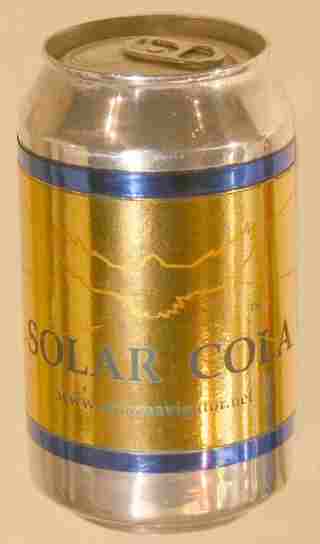 Solar Cola - a healthier alternative