Navatek, Ltd. pioneered commercial SWATH technology in the U.S., designing and building the first commercial U.S. Coast Guard-certified SWATH (Small Waterplane Area Twin Hull). The 16-knot, 131-foot, 430-passenger ship Navatek I was launched in 1990, marking the first advanced hull form developed by Navatek Ltd. and earning the company its first U.S. patent for its novel "Coke-bottle" SWATH hull form.
In 1993, Navatek, Ltd. designed the 20-knot, 85-foot, 149-passenger SWATH Navatek II, and built it in Hawaii at Pacific Shipyards International LLC. Navatek II incorporated canted struts developed by Lockheed-Martin Corp. further improving the vessel's inherently superior ride quality. Navatek I and Navatek II entered commercial service as tour boats in the Hawaii market.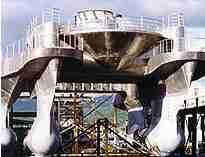 The SWATH hull form offers exceptional sea kindliness and stability in a seaway, but requires excessive horsepower to achieve high speeds. Navatek subsequently teamed with Lockheed Martin to research and test a fast SWATH hull form variant patented by Lockheed Martin called SLICE. Navatek and Lockheed Martin received an Advanced Technology Demonstration (ATD) grant from the U.S. Office of Naval Research to design and build a 30-knot, 105-foot SLICE prototype to test the SLICE concept. The SLICE prototype vessel was launched in November 1996.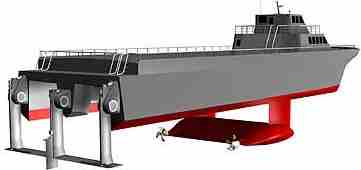 Based on the success of MIDFOIL, Navatek received funding from the Office of Naval Research to convert an existing Navy Surface Effect Ship (SES) to a lifting body ship. Work on this $18 million project began in 2000 and resulted in the U.S. Navy technology demonstrator craft called HYSWAC ®. The SES-200 provided the parent hull of the HYSWAC, reducing project costs. During the two-year project, Navatek removed the existing SES air lift system and all related components, and installed a 170-ton Navatek underwater lifting body incorporating a new propulsion drivetrain (engines, gearboxes, shafts and propellers) within the lifting body. This allows the craft to be operated with variable immersion as speed increases with the parent hull fully out of the water at maximum speed. An aft crossfoil was also added for pitch and roll control, along with a proprietary Navatek advanced ride control system (ARCS).
Launched in June 2003 at Pacific Shipyards International, the 160-foot, 30+ knot HYSWAC has a full-load displacement of 340 LT. Sea trials of the new craft are ongoing. The HYSWAC is designed to confirm on a large scale the three major benefits of underwater lifting bodies verified through CFD studies and on the earlier, small-scale, 52-ton MIDFOIL.
---