Education is at the heart of the work of the Lincolnshire Wildlife Trust. Last year (November), with funding from the Heritage Lottery Fund and Waste Recycling Environmental Ltd (WREN), the Trust launched a three-year project: the Education and Community Action Project or ECAP.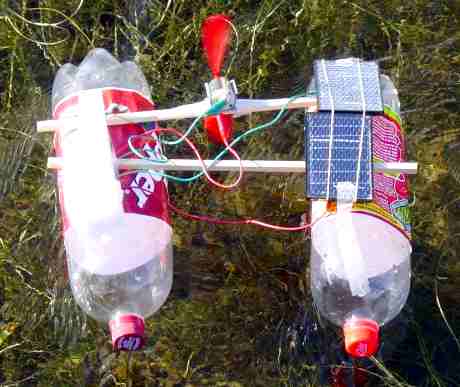 Dr Pepper twin hull mono-fan
Mary Porter, Education Development Officer said "For over 50 years the Trust has encouraged educational use of nature reserves, primarily at our residential field centre at Gibraltar Point National Nature Reserve but also at other sites. This work has expanded rapidly since the start of the Education and Community Action Project. We have new and experienced education staff; who have already come up with new and stimulating ideas for all ages groups and abilities – both on nature reserves and visiting schools and community groups."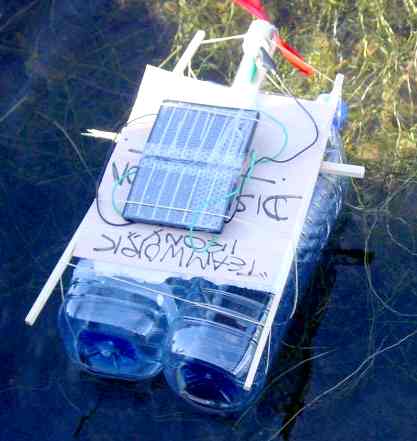 Evian twin hull mono-fan
Rei Brown The Trust's Education Officer at Whisby Nature Park, Rei Brown, has been showing school groups how to build solar powered boats using recycled materials such as empty pop bottles. Some photographs of the boats being built and on the water are shown on this page and more photographs of the children building their vessels on a link page - just click on the pictures.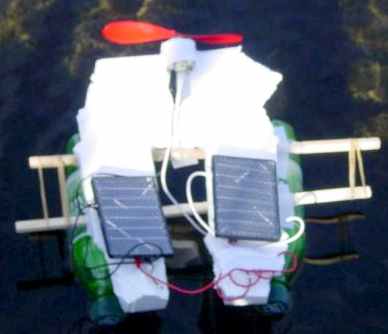 Another twin hull design
A newsletter will be produced by ECAP three times a year, to coincide with the school terms. Copies of the newsletter are available from the Lincolnshire Wildlife Trust. Send an SAE to ECAP newsletter, Lincolnshire Wildlife Trust, Banovallum House, Manor House Street, Horncastle, Lincolnshire LN9 5HF or email Mary Porter at mporter@lincstrust.co.uk
LINKS: action man conversion Windmill blackcurrant bottle boat
For more information contact:
Rachel Shaw, Public Relations Assistant
Email: rshaw@lincstrust.co.u
Tel: 01507 526667 (ansaphone out of office hours)
Fax: 01507 525732
Lincolnshire Wildlife Trust
Banovallum House
Manor House Street
Horncastle
If your boat is shown on this page or your picture on the link page and you want credit for your boat, or to tell us about the experience, please let us know using the email contact below.
MORE ON AGENDA 21 MEMBERS OF PARLIAMENT A-Z HOUSE OF LORDS A-Z COUNCIL'S AGENDA 21