Boat builders Farrow and Chambers Ltd. of Grimsby built the craft which began in January 2002, completing the hull in April. Around twenty companies, local and national, have supported the Lightning Strike! project, each offering expertise and hardware.
LS is built from marine ply. She is a three-point planing hull with outrigged forward sponsons sporting twin tail fins bridged by an airfoil section. The pilot sits in an open cockpit at the rear. There is no roll cage or safety capsule.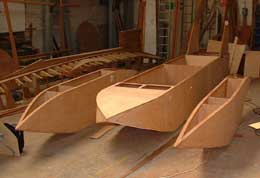 Lightning Strike is to be powered by electric motors driving through a surface-piercing prop. As with any electric vehicle, it is the balance of the weight of stored energy to duration and power that matters. The long foredeck in front of the cockpit could house up to a ton of batteries. The batteries may be moved fore and aft within the foredeck to help adjust trim.