EARLY YEARS
Diana, Princess of Wales, formerly Lady Diana Frances Spencer, was born on the 1st of July 1961 at Park House near Sandringham, Norfolk. She was the youngest daughter of the then Viscount and Viscountess Althorp, now the late (8th) Earl Spencer and the late Hon. Mrs Shand-Kydd, daughter of the 4th Baron Fermoy.
The Prince and Princess of Wales return from their 1981 wedding
at St. Paul's Cathedral
Earl Spencer was Equerry to George VI from 1950 to 1952, and to The Queen from 1952 to 1954. Lady Diana's parents, who had married in 1954, separated in 1967 and the marriage was dissolved in 1969. Earl Spencer later married Raine, Countess of Dartmouth in 1976.
Together with her two elder sisters Sarah (born 1955), Jane (born 1957) and her younger brother Charles (born 1964), Lady Diana continued to live with her father at Park House, Sandringham, until the death of her grandfather, the 7th Earl Spencer. In 1975, the family moved to the Spencer seat at Althorp (a stately house dating from 1508) in Northamptonshire, in the English Midlands.
Lady Diana was educated first at a preparatory school, Riddlesworth Hall at Diss, Norfolk, and then in 1974 went as a boarder to West Heath, near Sevenoaks, Kent. At school she showed a particular talent for music (as an accomplished pianist), dancing and domestic science, and gained the school's award for the girl giving maximum help to the school and her schoolfellows.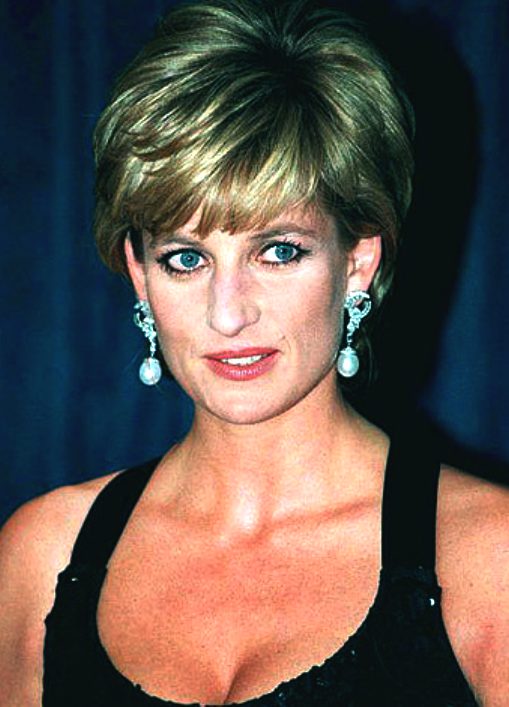 She left West Heath in 1977 and went to finishing school at the Institut Alpin Videmanette in Rougemont, Switzerland, which she left after the Easter term of 1978. The following year she moved to a flat in Coleherne Court, London. For a while she looked after the child of an American couple, and she worked as a kindergarten teacher at the Young England School in Pimlico.
When Princess Diana's marriage was unravelling and she was being attacked from all sides, she would try to fortify herself with the mantra: 'Remember you're a Spencer.' Diana may have been abandoned by the Royal Family, but no one could deny her own deeply aristocratic lineage. The Spencers are one of Britain's oldest dynasties, and Diana's union with Prince Charles had represented the summit of several centuries of social mountaineering. Though the heir to the throne has taken most of the blame for the failure of his marriage, the first part of Channel 4's The Spencers – Diana's Dynasty shows that the seeds of the princess's emotional turmoil were sewn long before the break-up, in her own troubled upbringing.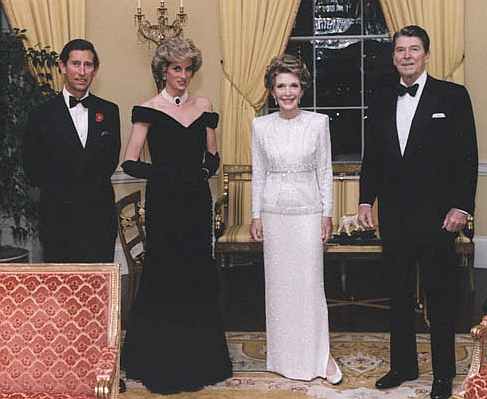 The Prince and Princess of Wales with US President Ronald Reagan
and his wife, First Lady Nancy Reagan
ROYAL CONNECTIONS
On the surface, Diana's childhood was one of privilege and material comfort. Her family can trace their line back to William the Conqueror. For more than 400 years, the magnificent 13,000-acre Althorp estate in Northamptonshire has been the family seat. They built their huge fortune on wool-spinning in Tudor times, but by the middle of the last century there was little money left other than in property.
Diana's father Johnnie, who would become the eighth Earl Spencer, managed to keep a toehold in high society as a royal equerry. He was effectively an elevated servant, but at least this allowed him to hobnob with the Windsors – very important for a man to whom status mattered enormously. So it was a surprise to some that his chosen bride was Frances, daughter of Lord and Lady Fermoy, who was considered a little beneath him on the society ladder. Frances's socially-ambitious mother, though, was very well connected: she was a lady-in-waiting and very close personal friend to the Queen Mother. Frances and Johnnie's wedding was billed as one of the social events of 1954, with the Queen and Princess Margaret among the guests. Lady Fermoy gave the newlyweds Park House, her home on the Sandringham estate, and the Spencers became close neighbours of the Royal Family.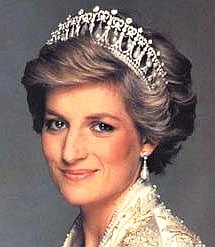 Diana Princess of Wales
UNHAPPY FAMILY
After Frances gave birth to two daughters, Sarah and Jane, Johnnie was desperate for a male heir. In 1960, they had a son, John, who died after just 11 hours, and Diana arrived on 1 July 1961. It was another three years before Charles, the future ninth Earl, was born and Johnnie finally got the son he craved.
Frances soon became unhappy and when Diana was six, she left the family home for London and the arms of her lover, wallpaper magnate Peter Shand Kydd. There ensued a battled for custody of the children. When it came to court, Johnnie had an extraordinary ally – Frances's mother, Lady Fermoy. Determined to drive the Spencer dynasty on, she sided with her son-in-law, testifying against her daughter. Johnnie Spencer won the day.
Close in age, Diana and Charles were deeply affected by their parent's bitter divorce. School holidays were spent being shuttled between their father and mother. There was no doubt, in his father's eyes at least, that Charles was the chosen one. He received much more attention than his three older sisters.
None of the Spencer siblings took to their father's second wife Raine, daughter of the romantic novelist Barbara Cartland. Behind her back the children called their bouffant-haired stepmother 'Acid Raine'. She alienated them even more when she fired staff, sold off art treasures to prop up the cash-strapped estate, and redecorated Althorp to her own flamboyant taste. The children suffered a further blow when Johnnie had a stroke. They had to accept that Raine was now firmly in charge.
Diana, Princess of Wales and then First Lady Hillary Clinton
CHOSEN TO BE QUEEN
The elder sisters Sarah and Jane left the family home to live in London. It was Sarah who first caught the eye of Prince Charles and she was tipped as a royal bride. However, in 1980 it emerged that it was the youngest and most naοve Spencer girl who was actually in his sights. The formidable combination of the Queen Mother and Lady Fermoy worked behind the scenes to help engineer the union and Diana and Charles became engaged in February 1981. For Johnnie, it was a dream come true: one of his daughters was a future Queen. According to friends, though, Diana felt like a sacrificial lamb; just a few days before she married, she had deep misgivings.
Lady Diana Spencer married The Prince of Wales at St Paul's Cathedral in London on 29 July 1981. During her marriage the Princess undertook a wide range of royal duties. Family was very important to the Princess, who had two sons: Prince William and Prince Henry (Harry). After her divorce from The Prince of Wales, the Princess continued to be regarded as a member of the Royal Family.
The marriage was solemnised by the Archbishop of Canterbury Dr Runcie, together with the Dean of St Paul's; clergy from other denominations read prayers. Music included the hymns 'Christ is made the sure foundation', 'I vow to thee my country', the anthem 'I was glad' (by Sir Hubert Parry), a specially composed anthem 'Let the people praise thee' by Professor Mathias, and Handel's 'Let the bright seraphim' performed by Dame Kiri te Kanawa. The lesson was read by the Speaker of the House of Commons, Mr George Thomas (the late Lord Tonypandy).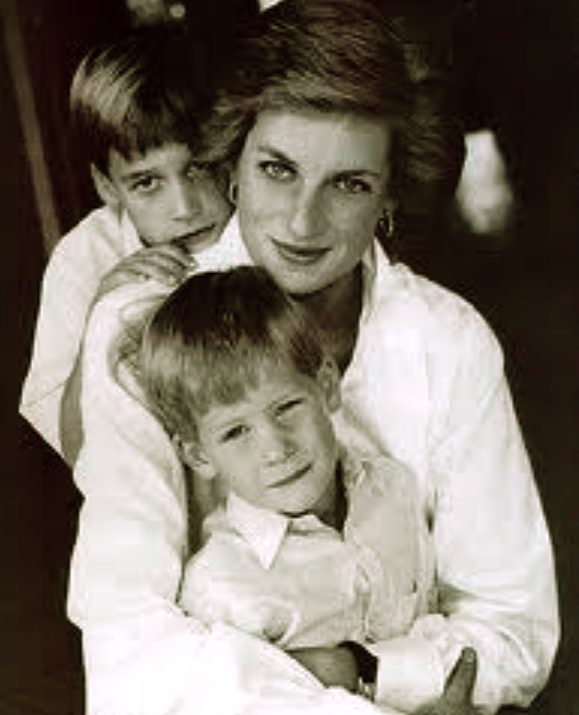 The Princess was the first Englishwoman to marry an heir to the throne for 300 years (when Lady Anne Hyde married the future James II from whom the Princess was descended). The bride wore a silk taffeta dress with a 25-foot train designed by the Emanuels, her veil was held in place by the Spencer family diamond tiara, and she carried a bouquet of gardenias, lilies-of-the-valley, white freesia, golden roses, white orchids and stephanotis. She was attended by five bridesmaids including Princess Margaret's daughter Lady Sarah Armstrong-Jones (now Lady Sarah Chatto); Prince Andrew (now The Duke of York) and Prince Edward were The Prince of Wales's supporters (a Royal custom instead of a best man).
The Prince and Princess of Wales spent part of their honeymoon at the Mountbatten family home at Broadlands, Hampshire, before flying to Gibraltar to join the Royal Yacht HMY BRITANNIA for a 12-day cruise through the Mediterranean to Egypt. They finished their honeymoon with a stay at Balmoral.
The Prince and Princess made their principal home at Highgrove House near Tetbury, Gloucestershire, and shared an apartment in Kensington Palace.
The royal wedding of 29 July 1981 was dressed up as a fairytale. Diana soon produced two sons, William and Harry – the required 'heir and a spare'. But the marriage was rapidly heading for an unhappy ending.
Within six years, Diana and Charles were leading separate lives and she had begun an affair with James Hewitt. An extraordinarily tough, volatile, sexy woman began to emerge. To many, it seemed her Spencer traits were breaking through as she stepped out of the shadows of her husband's oppressive family.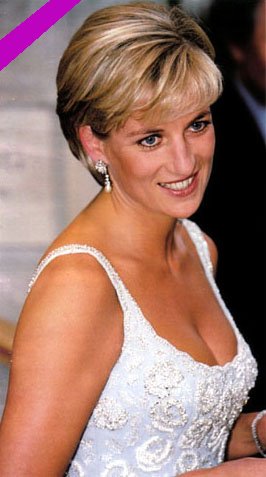 Diana Princess of Wales - radiant
RUTHLESS EARL
Johnnie died in March 1992, and Charles Spencer, at 27, became the ninth Earl. His stepmother's days within the dynasty were numbered; her belongings were removed from Althorp in black bin liners.
Raine's swift departure showed that Charles could call upon the ruthless Spencer streak when he felt the need – just as he would some years later when he reminded the world that his sister had belonged to the House of Spencer, not the House of Windsor.
CHARLES SPENCER
Charles Spencer's speech at his sister Princess Diana's funeral on 6 September 1997 was a historic moment. The passionate eight-minute eulogy, heard by a world audience of nearly three billion people, made him as famous as Diana for a short period. The second part of Channel 4's The Spencers – Diana's Dynasty records how the head of the Spencer clan made certain the world knew that Diana's sons, heirs to the British throne, were as much a part of his ancient family as the House of Windsor.
Even from an early age, Charles had shown a single-mindedness well beyond his years in protecting his and the family's interests.
Charles quickly took against his flamboyant stepmother Raine after she married Johnnie and began to stamp her distinctive style on Althorp, the family's Northamptonshire seat.
After Oxford University, Charles worked as a royal correspondent at the American TV network NBC, but this career was short-lived as he found his privacy becoming increasingly important.
When Johnnie died, son-and-heir Charles inherited the £85 million estate, including nearly 200 cottages and farmhouses, even though he had three older sisters. Raine never returned to the house and within days, her possessions were removed. Charles was now well established as the lord of the manor.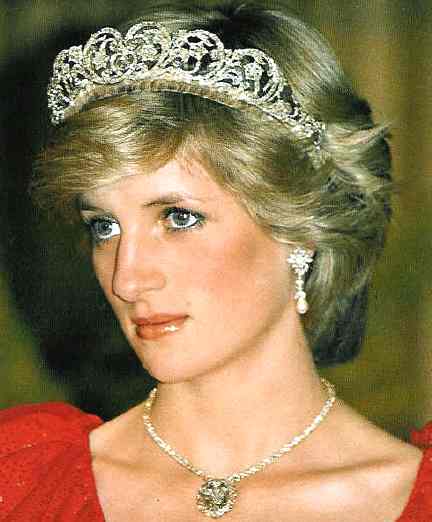 Princess Diana wearing diamond tiara
PUBLIC DUTIES
During her marriage, the Princess was president or patron of over 100 charities. The Princess did much to publicise work on behalf of homeless and also disabled people, children and people with HIV/Aids.
In December 1993, the Princess announced that she would be reducing the extent of her public life in order to combine 'a meaningful public role with a more private life'.
After her separation from The Prince of Wales, the Princess continued to appear with the Royal Family on major national occasions, such as the commemorations of the 50th anniversary of VE (Victory in Europe) and VJ (Victory over Japan) Days in 1995.
Following her divorce, the Princess resigned most of her charity and other patronages, and relinquished all her Service appointments with military units. The Princess remained as patron of Centrepoint (homeless charity), English National Ballet, Leprosy Mission and National Aids Trust, and as President of the Hospital for Sick Children, Great Ormond Street and of the Royal Marsden Hospital.
In June 1997, the Princess attended receptions in London and New York as previews of the sale of a number of dresses and suits worn by her on official engagements, with the proceeds going to charity.
The Princess spent her 36th and last birthday on 1 July 1997 attending the Tate Gallery's 100th anniversary celebrations. Her last official engagement in Britain was on 21 July, when she visited Northwick Park Hospital, London (children's accident and emergency unit).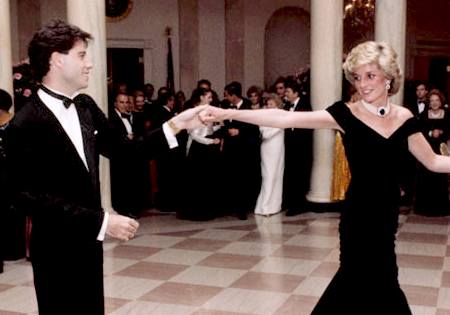 Diana, Princess of Wales dancing with John Travolta
at a White House dinner on 9 November 1985
TROUBLED MARRIAGE
In 1989, after a brief romance, Charles married Victoria Lockwood, an international fashion model and Tatler Girl of the Year. Within six months the marriage was in trouble. Ironically for a man who came to despise the media, the cause was Charles's affair with a journalist called Sally-Ann Lasson. She had known Spencer before his marriage and thought he would leave Victoria for her. When he didn't, Lasson told her story to the press.
The repentant earl patched up his marriage and over the next five years he and Victoria had four children – three daughters and finally, in 1994, a son-and-heir, Louis.
FAMILY RIFT
At around the same time, his sister Diana's marriage was over in all but name. Diana had always been close to her brother but they fell out after she asked him if she could use a cottage at Althorp. The house she wanted was just inside the estate walls. Concerned over security, Charles turned her down, causing a rift with his sister that resulted in them not speaking to each other for six months.
Spencer's own marriage was also in trouble. Victoria was ill from an eating disorder and when she entered a clinic her problems became front-page news. Charles wanted to escape the British media and in 1996 he moved his family to Cape Town, South Africa. He bought an £800,000 house on a private estate while Victoria and the children moved to a bungalow nearby. Charles soon became involved with another woman, Chantal Collopy, a married socialite with two children, but their relationship was short-lived.
Then came Diana's death and that speech (written in just an hour and a half) from the pulpit of Westminster Abbey. In a sideswipe at the assembled royal family, Charles proclaimed that Diana's blood family would continue to do all they could to steer the two young princes, William and Harry, in the way she had planned. Later that day, he ensured his sister was buried as a Spencer, not a Windsor: according to Diana's former butler Paul Burrell, the earl removed the royal standard from her coffin and draped it with his own family's flag.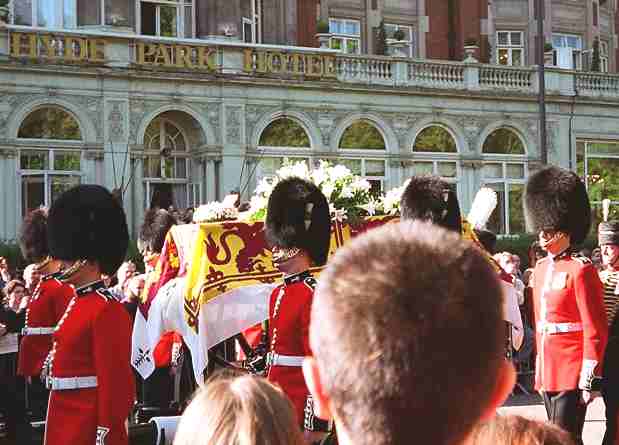 Diana's coffin borne through the streets of London
MEDIA ATTENTION
In the eyes of many, he was the hero of the day. Soon, though, Fleet Street was pursuing him again, this time en masse to Cape Town for his divorce case. His wife had a powerful ally in her fight for a fair settlement – Chantal Collopy, her husband's former mistress. Charles agreed to give Victoria £1.8 million shortly before the two women were due to give evidence.
A somewhat bruised Charles Spencer returned to live at Althorp, Diana's resting place. He borrowed £3 million to convert a stable block into a permanent museum to his sister. All profits were to go to charity and within five years, £800,000 was raised for the Diana Memorial Fund.
Charles's sister Sarah was a trustee of the fund. Paul Burrell was the fund-raising manager, but he found himself out of a job, reportedly because the Spencers didn't want him.

Burrell's revenge came four years later, in 2002 at the Old Bailey, when he was cleared of stealing hundreds of Diana's possessions. The trial turned out to be almost as much of an ordeal for the Spencer family as the Burrells. The court heard how Diana had fallen out with her brother; also, how Diana wasn't on speaking terms with her mother Frances when the princess died.
Two decades on from the celebrated marriage of a Spencer into the House of Windsor, what had seemed at first to be an illustrious new chapter in the history of one of England's great families ended in bitterness and recrimination.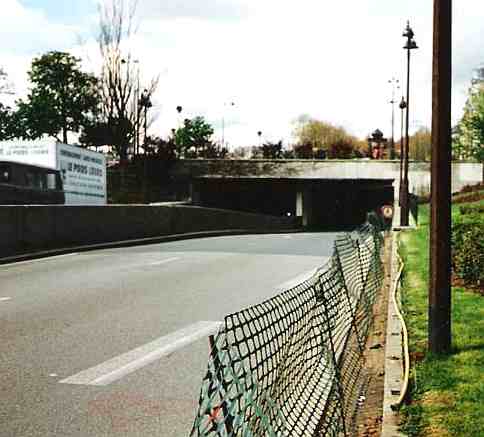 The Pont de l'Alma tunnel, where Princess Diana was fatally injured
TRAGEDY
Diana, Princess of Wales died on Sunday, 31 August 1997 following a car crash in Paris.
There was widespread public mourning at the death of this popular figure, culminating with her funeral at Westminster Abbey on Saturday, 6 September 1997.

The tragic death of Diana, Princess of Wales occurred on Sunday, 31 August 1997 following a car accident in Paris, France. The vehicle in which the Princess was travelling was involved in a high-speed accident in the Place de l'Alma underpass in central Paris shortly before midnight on Saturday, 30 August. The Princess was taken to the La Pitie Salpetriere Hospital, where she underwent two hours of emergency surgery before being declared dead at 0300 BST. The Princess's companion, Mr Dodi Fayed, and the driver of the vehicle died in the accident, whilst a bodyguard was seriously injured.
The Princess's body was subsequently repatriated to the United Kingdom in the evening of Sunday, 31 August by a BAe 146 aircraft of the Royal Squadron. The Prince of Wales and the Princess's elder sisters, Lady Sarah McCorquodale and Lady Jane Fellowes, accompanied the Princess's coffin on its return journey. Upon arrival at RAF Northolt, the coffin, draped with a Royal Standard, was removed from the aircraft and transferred to a waiting hearse by a bearer party from The Queen's Colour Squadron of the RAF. The Prime Minister was among those in the reception party.
From RAF Northolt the coffin was taken to a private mortuary in London, so that the necessary legal formalities could be completed. Shortly after midnight, it was moved to the Chapel Royal in St James's Palace, where it lay privately until the funeral on Saturday, 6 September, in Westminster Abbey. The Princess's family and friends visited the Chapel to pay their respects.
Following the funeral service, the coffin then was taken by road to the family estate at Althorp for a private interment. The Princess was buried in sanctified ground on an island in the centre of an ornamental lake.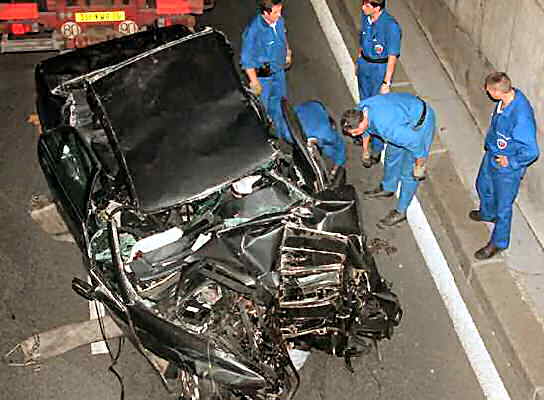 The car crash tragedy
When Princess Diana died tragically on August 31, 1997 she left behind a 21.5 million pound (approximately $35 million) fortune, most of which was bequeathed to her sons, Prince William and Prince Harry. The inheritance will be held in trust for the two princes until they reach the age of 30. In her will made public on March 2, 1998, Diana also left 50,000 pounds to her former butler, Paul Burrell, and set aside personal momenta for her 17 godchildren.
The Will of Diana, Princess of Wales
LINKS and REFERENCE
"1995: 'Divorce': Queen to Charles and Diana". BBC. December 20.

As a titled royal, Diana held no surname, but, when one was used, it was Mountbatten-Windsor

Nevin, Charles. "Haunted by the image of fame". 1 September 1997. The Guardian. Accessed 11 May 2007.

Robinson, Eugene. "From Sheltered Life to Palace Life, of Her Own", Washington Post, September 1, 1997.

The suggestion that Charles authorised his story of the split to be communicated is disputed by his friends, who claim that he told his friends not to speak, a prohibition some of them breached under anonymity.

Although some continued to style Diana HRH even after she had lost the style following her divorce.

When Diana divorced the Prince of Wales in 1996 she did not lose her title, Princess of Wales, she merely lose the prefix HRH thus assuming the title Diana, Princess of Wales.

"In the matter of the Inquest into the death of Diana, Princess of Wales, 8 January 2007, per Butler-Sloss at para 34

"1997: Princess Diana sparks landmines row". BBC. January 15.

Reiss, Charles. "MPs to pass Diana mines Bill", London Evening Standard/This is London, 1998-07-10.

Landmines pose gravest risk for children. UNICEF (2004-12-02).

Timeline: How Diana died. BBC News.

Princess Diana Killed In Tragic Accident. EmergencyNet News (August 31, 1997).

"BBC ON THIS DAY", BBC News, September 6, 1997.

Lal, Rashmee Roshan. "Diana's ghost finally laid to rest", The Times of India, 2006-12-09.

"Diana Returns Home". 1997. BBC. Accessed May 11, 2007.

"Althorp Park, Home of Princess Diana." Britain Express. Accessed May 11, 2007.

The style "Princess Diana", though often used by the public and the media during her lifetime, was always incorrect. With rare exceptions (such as Princess Alice, Duchess of Gloucester) only women born to the title (such as Princess Anne) may use it before their given names. After her divorce in 1996, Diana was officially styled Diana, Princess of Wales, having lost the prefix HRH

Lord Stevens' Operation Paget Report Into The Death of Diana, Princess of Wales - published 14 December 2006

H.M. Coroner of Surrey: The Official Inquest Into The Deaths of Diana, Princess of Wales & Dodi Al Fayed
The Flame of Liberty sits above the entrance to the Paris tunnel in which Diana was fatally injured. The public fly-posted the base with commemorative material for several years.
Concert for Diana
Critics