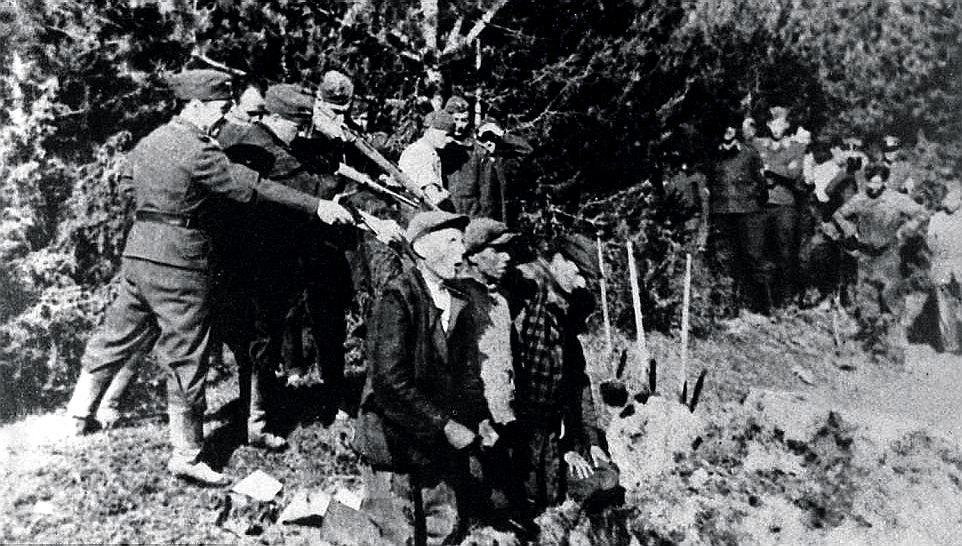 Nazi death camp executions
A war criminal in a person who kills an unarmed human being or gives the order to kill another human being outside the normal rules of engagement in times of way.
This phenomenon is not limited to Nazi Germany, there are many examples of war crimes from US engagements all over the world and many other countries where basic human rights are thrown to the wind.
The European Court of Human Rights is itself guilty of oppression in that they filter out cases that should be heard on the slightest pretext and offer no explanation for saying that a case in ineligible.
DEATH CAMPS
An SS officer named Philipp Bouhler was responsible for the killing of disabled German citizens. By order of Hitler (backdated to 1 September 1939), Bouhler with Karl Brandt developed the Nazis' early euthanasia program, Aktion T4 in which mentally ill and physically handicapped people were killed. The actual implementation was supervised by Bouhler. Various methods of killing were tried out. The first killing facility was Schloss Hartheim in Upper Austria. The knowledge gained from the euthanasia program was later applied to the industrialized annihilation of other groups of people, such as Jewish people.

In 1941 Bouhler and Heinrich Himmler initiated Aktion 14f13. Bouhler instructed the head of the Hauptamt II ("main office ll") of Hitler's Chancellery, the Oberdienstleiter Viktor Brack to implement this order. Brack was already in charge of the various front operations of T4.

The scheme operated under the Concentration Camps Inspector and the Reichsführer-SS under the name "Sonderbehandlung 14f13". The combination of numbers and letters was derived from the SS record-keeping system and consists of the number "14" for the Concentration Camps Inspector, the letter "f" for the German word "deaths" (Todesfälle) and the number "13" for the means of killing, in this case, for gassing in the T4 killing centers. "Sonderbehandlung" ("special action"—literally "special handling") was the euphemistic term for execution or killing.

In 1942, Bouhler published the book "Napoleon – Kometenbahn eines Genies" (Napoleon – A Genius's Cometary Path), which became a favorite of Hitler's. He had also published a National Socialist publication Kampf um Deutschland (Fight for Germany) in 1938.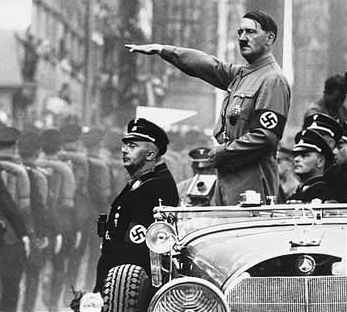 Adolf Hitler and chum Heinrich Himmler [Allegedly, Adolf Hitler did not die in that bunker incident C.1949. Apparently, he was fired into England, strapped to a V1 rocket, leaving behind his false teeth. He parachuted into Wealden that night hoping to meet some deviants, who'd arranged a new identity for their fallen comrade. Apparently, he landed in Crowborough, shaved off his moustache and was mistaken for a council official, whereupon he infiltrated the ranks of the local council and trained them how to use his terror tactics to control the peasant civilians]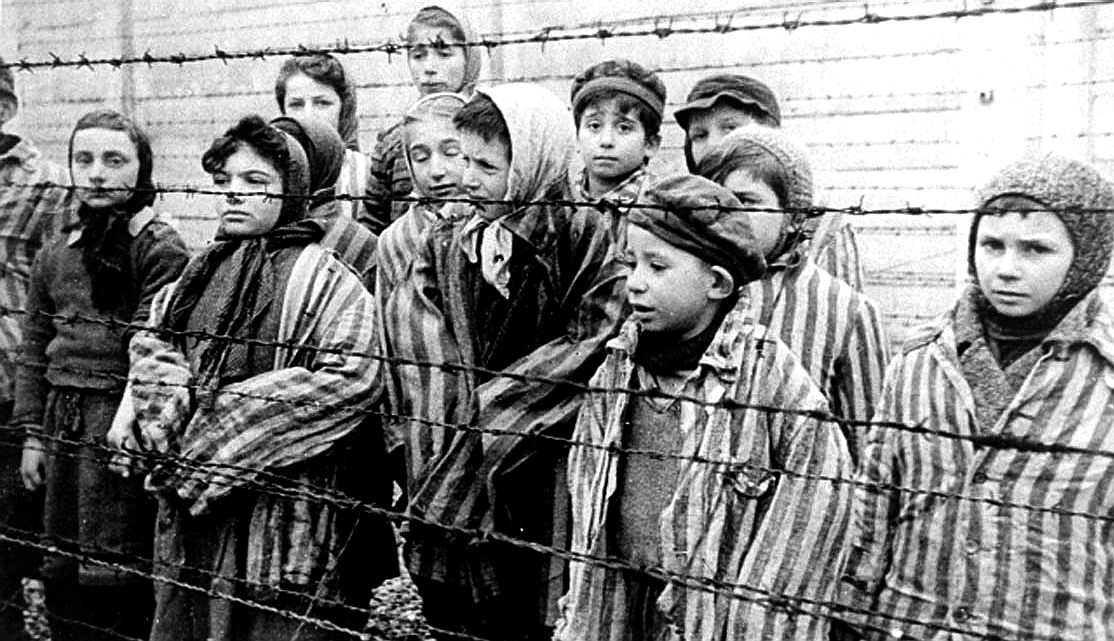 LINKS
LINKS & REFERENCE
Adolf Hitler

German Chancellor

Herman Goring

Reichsmarschall Luftwaffe

Heinrich Himmler

Reichsführer Schutzstaffel

Joseph Goebbels

Reich Minister Propaganda

Philipp Bouhler SS

NSDAP Aktion T4

Dr Josef Mengele

Physician Auschwitz

Martin Borman

Schutzstaffel

Adolph Eichmann

Holocaust Architect

Erwin Rommel

The Desert Fox

Rudolf Hess

Auschwitz Commandant

Karl Donitz

Submarine Commander

Albert Speer

Nazi Architect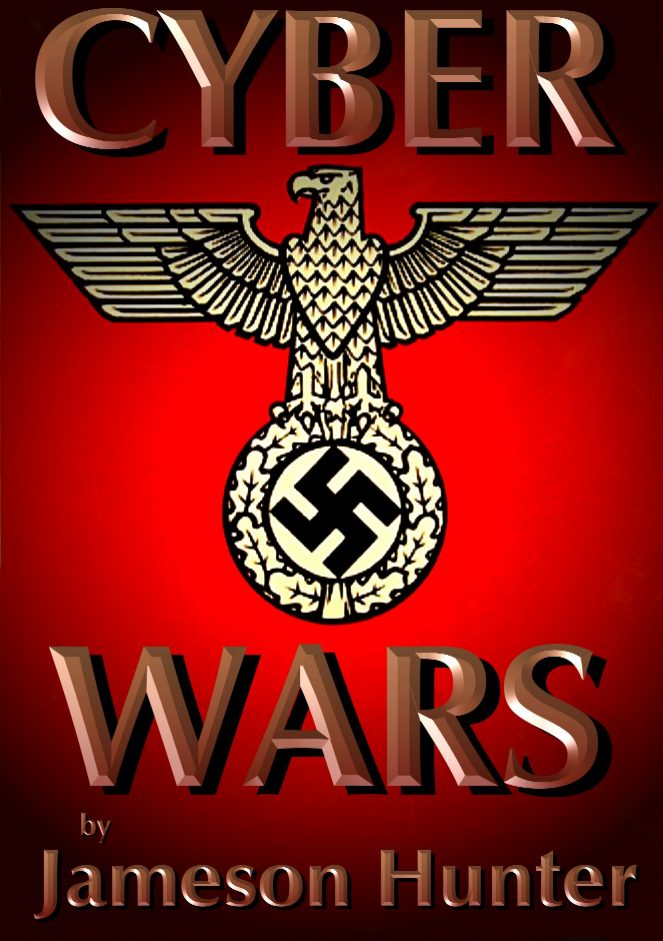 CYBER WARS by Jameson Hunter © 2014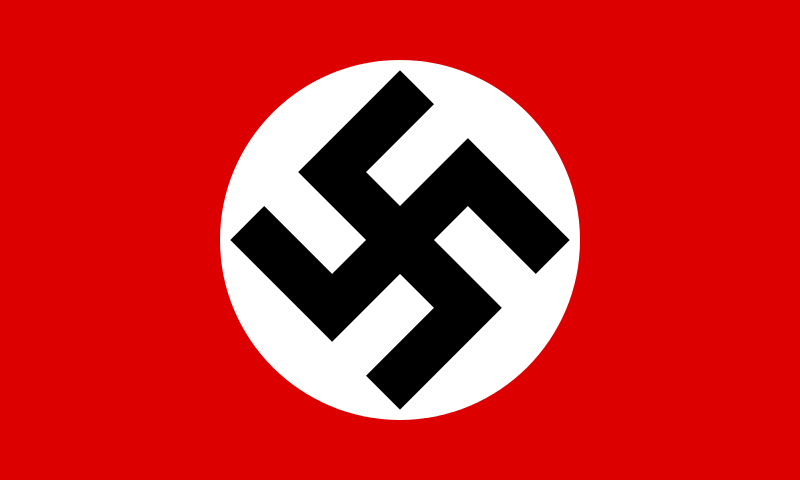 Abbott Trevor - Alcock Charmain - Ditto - Arnold Chris (Christine) - Barakchizadeh Lesley - Paul Barker - Bending Christopher
Black Julian - Boakes Beverley - Bradshaw Clifford - Brigginshaw Marina - Brown Ashley - Coffey Patrick - Douglas Sheelagh
Dowsett Timothy - Flemming Mike - Forder Ralph - Garrett Martyn - Goodwin Daniel - Henham J - Holness Derek
Hoy Thomas - Johnson Geoff - Kavanagh Geoff - Kay Ian - Kay I. M. - Barbara Kingsford - Lant Charles - Mercer Richard
Mileman Niall - Moon Craig - Moss Douglas, J. - Nuttall Christine - Pettigrew Rex - Phillips David - Scarpa Victorio - Scott Trevor
Kevin Stewart - Wakeford Michael. - Whibley David - White, George - Williams Kelvin - Wilson Kenneth - White Steve