The Greenheart Project concept is to design and build a unique solar and wind powered sailing ship. The vessel is to be completely independent of fossil fuels. She will sail continuously around the world visiting both developed and developing countries on a multiple mission of Aid, Promotion, Trade and Education. To that end she shares similar objectives to Solar Navigator.
Home Mission Project Description Fair Trade Promotion News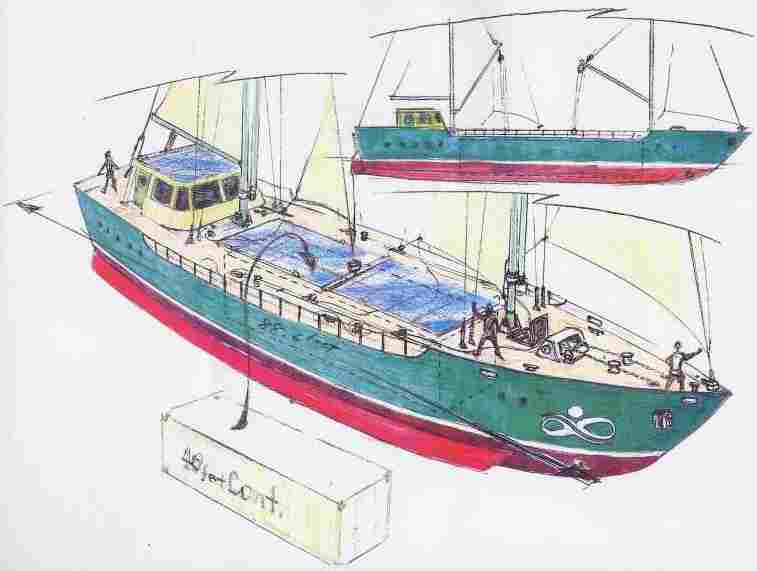 The Greenheart team are hoping to create a clean, cooperative and sustainable enterprise based on their sailing vessel. They are supporting the environmental, social, and the economic viability of our world by adhering to the principles of fairness and accountability in trade, respect and stewardship for the environment, and a charitable, global disposition.
By operating a solar-power assisted sailing trading ship around a global route with complementary loads of development aid and fair trade goods, their aim is to function as a self-funding charitable merchantman. Both the ship and her crew are dedicated to promoting, the practice of environmental protection, fair & equitable trade relations, and the responsible use of renewable resources. Please use the links above to visit the Greenheart Project website.
CONTACTS:
Pat Utley Director patutley@greenheartproject.org
Nozomi Takano Secretariat ntakano@greenheartproject.org
Keiichiro Izawa Fair Trade kizawa@greenheartproject.org
Jeremy Marnham Europe globalismus@greenheartproject.org
Jonah Leff Development jonahleff@greenheartproject.org
Bill Hofmann Webmaster bhofmann@greenheartproject.org
mailto:info@greenheartproject.org
FAIR TRADE ORGANIZATIONS:
---
MARINE INSURANCE: SAIL, POWER, TRAWLERS, LINER, YACHTS, RIBs, TENDERS, TANKERS, CARGO, CONTAINERS