oi06 | Oceanology Today | Spill International | Downloads | Travel Accommodation
The World's Largest Marine Science & Ocean Technology Meeting
If you plan to attend just one event in 2006, then make it to the world's largest maritime technology event
Anticipation is building as the start date for the world's greatest marine science and ocean technology event approaches. More than 7,000 ocean specialists from a variety of disciplines and industries will converge on London's Excel Centre in Docklands to see the latest technologies displayed by 500+ exhibiting companies from around the world. These will include professionals and key-buyers from the worlds of marine science, oil & gas and naval defence.
The FREE of charge exhibition, conference and associated meetings programme serve a vital role in showcasing the cutting-edge technologies and advancing the sciences related to our future global ocean planet.
In addition to the exhibition, that has grown considerably since leaving Brighton in 2000, the event is also eagerly awaited by conference delegates looking forward to the industry's leading ocean science and technology conference, this year chaired by industry heavy-weight, Dr Richard Spinrad, Assistant Administrator at NOAA Research.
The conference theme, 'Ocean Technology in Service to Society' will cover a range of international science, research and commercial issues. The no-fee policy at Oi06 enables visitors to attend sessions from disciplines other than their own, enhancing the cross-fertilisation of ideas between a various specialist disciplines.
PARTICIPATING SHIPS
Oi06 are delighted to accommodate vessels and craft at ExCeL to complement the exhibition and conference. The dockside, which is located immediately outside the exhibition Hall, was very well visited at Oi04 when 17 vessels were berthed alongside. We are keen to encourage more research and survey vessels, as well as oil spill control boats with their equipment, to join us at the 2006 event.
YANTLET is a 14m catamaran of GRP construction, propelled by two water-jet units. She will be used for regular product demonstrations on the water during OI, as RESONs principle demo vessel. YANTLET has been in the Excel dock many times before, but this is the first year RESON will use her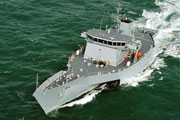 Gardline's RV TRITON is a multi-role survey vessel working predominately in the North Sea. The vessel has recently undertaken hydrographic programmes for the Maritime and Coastguard Agency (MCA) as well as geophysical work for the oil and gas industry. Exhibiting the RV TRITON at Oi06 will provide clients, existing and new, the opportunity to familiarise themselves with the full scope of Gardline's activities.
See the full conference programme below.
Oi06 also has a number of exciting exhibitions, conferences and meetings running alongside the main exhibition and conference, including the Interspill 2006 conference, the Spill 06 exhibition, (both focussing on oil spill response technology) GIS, the coastal and marine mapping conference that sold out at Oi04, and IIDC, a conference focussing on inland and inshore diving developments. A number of these meetings are free of charge to attend. Please click on the link below for further information:
www.oi06.com/conference/meetings.aspx
To obtain your entrance badge in advance of the event, please click on the link below:
Contact details:

Oi06
Spearhead Exhibitions Ltd
Oriel House, 26 The Quadrant, Richmond, Surrey, TW9 1DL, UK

T: +44 (0)20 8439 8892, F: +44 (0)20 8439 8897, E: enquiries@Oi06.com
---
LINKS:
Spill International 06 Exhibition & the Interspill 2006 Conference
Spill International 06 and the prestigious Interspill 2006 Conference will take place alongside Oi06, the world's largest marine science and ocean technology exhibition & conference at London ExCeL, 21-23 March 2006. A single - free - admission badge will admit entry to the state-of-the-art exhibition hall that will house these events side by side - more than 650 companies occupying 8000m2 nett of exhibits.
---
CONFERENCE PROGRAMME
'Technology in Service to Society'

Tuesday 21st March



Plenary Session
Session Chair: Dr Richard Spinrad, Assistant Administrator of NOAA for Research, USA
945
Opening remarks, Dr Richard Spinrad, Assistant Administrator of NOAA for Research, USA
950
Title & Speaker - TBC
1015
Title & Speaker - TBC
1040
Break

Natural Hazards
Sub-Session: Tsunami
Session Chair: Nick Langhorne, US/UK Collaboration, US Office of Naval Research, UK
1130
Keynote: 'Title TBC', Patricio Bernal, Assistant Director-General of UNESCO, Executive Secretary IOC, Intergovernmental Oceanographic Commission, France
1155
The Fugro OCEANOR Seawatch System is also Featuring Tsunami Detection', Svein Erik Aasen, Senior Development Engineer, Fugro OCEANOR, Norway
1220
Deep Sea monitoring systems improving the reliability of tsunami early warnings', Eng. Daniele Calore, Project Manager, Envirtech SpA & Giuseppe D'Anna – Istituto Nazionale di Geofisica e Vulcanologia (INGV), Italy.
1245
Lunch

Ocean Resource Management
Session Chairs: Christopher Shaw, Engineering Manager Metocean, Shell Int'l E&P BV, Netherlands & Ralph Rayner, Chairman, Ocean Numerics, UK, Ian Gallett, Executive Secretary, Society for Underwater Technology, UK
1415
Keynote: 'Oceans of opportunity – Science and technology delivering to industry and community', Craig Roy, CSIRO, Australia
1440
Title TBC', Dr Lloyd Huff, Research Professor, Center for Coastal and Ocean Mapping, USA
1505
Observations and Simulations of a Kelvin Wave in the Northern Andaman Sea in Early 1998', Dr Patrick Hyder, Oceanographer, National Centre for Ocean Forecasting, UK
1530
Title TBC', Dr Ralph Rayner, Chairman, Ocean Numerics, UK
1555
Break
1645
Moored Buoy Network for Surveillance, Alert, Control and Marine Observation in the Canaries: Red ACOMAR Canarias, Carlos Barrera, Researcher, Instituto Canario de Ciencias Marinas, Spain
1710
Waveroller', Ilkka Homanen, CEO, AW-Energy Oy, Finland
1735
Geological storage of CO2 – what does this mean for the marine environment?', Dr Julia West, British Geological Survey, UK
1800
Remotely Operated Archaeological Excavation of a Shipwreck Site in Deep Water', Dr Fredrik Soreide, Principal Investigator, Norwegian University of Science and Technology, Norway

End of Day 1

Wednesday 22nd March



Ocean Resource Management - Parallel Session
Sub-Session: Marine Mammals
Session Chairs: Christopher Shaw, Engineering Manager Metocean, Shell Int'l E&P BV, Netherlands & Ralph Rayner, Chairman, Ocean Numerics, UK, Ian Gallett, Executive Secretary, Society for Underwater Technology, UK
930
Keynote:'Acoustic Impacts on Marine Mammals - How Bad Are They?', Edward Harland, Principal Scientist, QinetiQ, UK
955
Environmental impact assessments for the UK Royal Navy', Ian Thomas, BAE Systems, UK
1020
Underwater Sound and Marine Mammals: New Tools for Understanding and Action', Robert C. Gisiner, Office of Naval Research, USA
1045
Hazards to Marine Mammals - What to do About Noise?', Roland Rogers, QinetiQ, UK
1110
Break
1200
North Sea Tides From Altimeter Measurements', Dr Charles J. Calkoen, Senior Remote Sensing Specialist, ARGOSS, Netherlands
1225
A Global Quality-Controlled Spectral Wave Database', Cees F. de Valk, Project Manager, ARGOSS, Netherlands
1250
Title TBC', Charina Lyn Amedo, Research Associate, Marine Science Institute, Philippines
1315
Lunch

Ocean Resource Management - Parallel Session (cont)
Session Chairs: Christopher Shaw, Engineering Manager Metocean, Shell Int'l E&P BV, Netherlands & Ralph Rayner, Chairman, Ocean Numerics, UK, Ian Gallett, Executive Secretary, Society for Underwater Technology, UK
1430
Phased Implementation of the Coastal Module of the U.S. Integrated Ocean Observing System', Dr Thomas Malone, Director, Ocean.US Office, USA
1455
'Integrated Ocean Management and Canada's Oceans Action Plan' Geoff Lewis, Senior Sector Officer, Industry Canada, Canada
1520
Title TBC', Capt. Craig McLean, Executive Officer, NOAA, National Ocean Service, USA
1545
Importance of sediments for the water quality of the Baltic Sea Dr Anders Tengberg, Associate Professor, Goteborg University, Sweden





Natural Hazards - Parallel Session
Session Chair:
930
Keynote: 'Hurricanes - Uncertainties in Design Parameters', Dr Mark Calverley, Divisional Director, Fugro GEOS, UK
955
Developing Online Metocean Training and Raising Metocean Awareness amongst Engineering Users', Dr Chris Graham, Metocean Engineer, Shell International E&P BV, UK
1020
The Use of uUHR AUV, Stacor and CPT Data in Risk Assessments in the Shallow Sediments of the West Nile Delta', Stephen Thomas, Principal Geologist, Fugro, UK
1045
Break
1130
The Concept of a Marine Free-Fall CPT Systems Revisited', Prof. Dr. Achim Kopf, Researcher, RCOM, University Bremen, Germany
1155
The Dynamics of Submarine Debris-Flows: Physical Modelling, Prediction, and Hazard Mitigation', Dr Scott Munachen, Director, Geohazard Research Centre, UK
1220
Coastal Zone Mapping: The Post-Hurricane View', Edward Saade, President, Fugro Pelagos, Inc., USA
1245
Coastal Hazard Monitoring and Forecasting in China', Prof. Jihui Yan, National Marine Environment Forecasting Center, China
1310
Lunch

Positioning & Navigation - Parallel Session
Session Chairs: Dr Steven Ramberg, Director, NATO Undersea Research Center, Italy & Dr Martin Sayer, Director, Scottish Association for Marine Science, UK
1430
Innovative Acoustic Wideband Technology to Improve Deepwater Positioning Tasks', Nick Smedley, Business Manager - Navigation & Positioning, Sonardyne International, UK
1455
Application of Aided Inertial Navigation to Deepwater Offshore Field Development', Jan Erik Faustadmo, VP Underwater Navigation, Kongsberg Maritime, Norway
1520
'Solving the Positioning of a Synthetic Aperture Sonar Using an Inertial Navigation Solution' Mr Fabien Napolitano, iXSea, France
1545
Break
1630
Assessing harbourmud rheology in-situ, recent developments and measurement strategy, Willem Fontein, Operations Manager, Stema Survey Services BV, Netherlands
1655
GPS for Tidal Measurements - Results and Future Developments', Dr Kees de Jong, Geodesist, Fugro Intersite BV; Marco Kwanten, Netherlands Hydrographic Service; Luc Thijssen, Data Surveys; Dirk Voesenek, WUR, Netherlands
1720
Estimation of the Sea State Bias Effect on the Altimetric Measurements Using a Parametric Model', Ali Rami, National Centre of Space Techniques, Algeria

End of Day 2

Thursday 23rd March



Security & Safety
Session Chairs: John Wickenden, Technical Director, QinetiQ, UK & Carl Tiltman, Team Leader, Underwater Platform Systems, Dstl, UK
930
Keynote: 'Underwater Resurvey, Automatic Object Relocation and Data Fusion', Dr Richard Brothers, Team Leader, QinetiQ, UK
955
Real-Time 3D Sonar - Leading Edge Underwater Imaging Technology for Port & Harbour Security', Paul Baxter, Commercial Manager, CodaOctopus, UK
1020
Image-Based Underwater Port Security System', John Thomas, Director Sales & Marketing, Triton Imaging, Inc., USA
1045
3D Visualization, Mosaic and User Experience Techniques for Rapid Survey Assessment Maurice Doucet, CTO, Triton Imaging Inc., USA & 'Volumetric Visualisation for Advanced Sensor Systems',
1110
Break
1200
Advanced Submarine Pipeline and Cable Tracking via Electromagnetic Methods', Dr Simon Jordan, Chief Engineer, TSS (International) Ltd, UK
1225
The Advantages of Single Crystal Material for Underwater Imaging Systems', Michelle Parker, Research Student, Microscale Sensors, University of Paisley, UK
1250
Guided Surface Vehicles as a Mobile Inspection Platforms', Dr Eric Steimle, Research Professor, University of South Florida - St Petersburg, USA
1315
Lunch
1430
Title TBC', Ehsan Sadigh Rad, Student, IAU, Science & Research Campus, Iran
1455
Rapid Environmental Assessment of Littorals from Aircraft', Dr John Dugan, Arete Fellow, Arete Associates, USA
1520
Rea Survey Challenges in Using Airborne Hydrographic Lidar in the Gulf of Morbihan in France', David Millar, VP - Coastal Mapping & LIDAR Services, Fugro Pelagos, Inc., USA
1545
Title TBC', Jeremy White, Team Leader, Triton Imaging Inc., USA
1610
Closing Remarks - Conference End
---