BUSH REJECTS ACTION ON CLIMATE CHANGE - Jul 4 2005
Edinburgh/London - President Bush's pledge to put US interests ahead of significant action to tackle climate change has been greeted with anger by Friends of the Earth International. The environmental campaign group is urging the remaining G8 leaders to isolate the US administration at the G8 talks this week.
Speaking in a TV interview tonight, President Bush is reported to have accepted that climate change is "a significant long-term issue we've got to deal with" and is man-made "to a certain extent". But he will refuse to support any moves for binding cuts in greenhouse gases. "If this looks like Kyoto, the answer is no. [Kyoto] would have destroyed our economy."
Friends of the Earth International vice chair, Tony Juniper, said "The Bush Administration's policies on climate change are shortsighted, negligent and immoral. The President says that he won't agree to pollution reduction targets because he wants to protect the American economy, but his actions will lead to economic damages of immense scale, including in the USA. The Bush agenda is clearly driven by vested interests, including companies which see America's addiction to oil as their license to print money".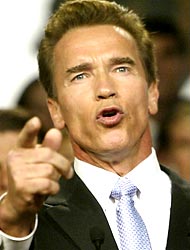 Arnie - 9mm finger
"The other G8 leaders must now isolate President Bush and find common cause with those countries who do see the need for urgent action, including China and India. One day the USA will come on board, in the meantime those countries who see the threat must forge ahead."
Bush's refusal to act flies in the face of action already being taken in the United States. Many Republican senators now accept the reality of human-induced global warming, while several states have decided to cut emissions, and more than 150 city mayors have adopted Kyoto-style emissions reduction targets. The Governor of California, Arnold Schwarzenegger yesterday was quoted calling "Governments everywhere" to tackle carbon emissions.
Contact details:
Friends of the Earth
26-28 Underwood St.
LONDON N1 7JQ

Tel: 020 7490 1555
Fax: 020 7490 0881
Email: info@foe.co.uk
Website: www.foe.co.uk
FRIENDS of the EARTH ARCHIVE PRESS RELEASES:
2005 | 2004 | 2003 | 2002 | 2001 | 2000 | 1999 | 1998 | 1997 | 1996 | 1995 | 1994
---
Media briefing on the G8 summit
Animated guide -Find out how the greenhouse effect works
"The Climate Mash" is hilarious, but the effects of global warming aren't funny.
Global warming puts our health, our economy and our environment at risk. It's time to demand that major polluters like ExxonMobil and others stop resisting solutions that could make a real difference.
Your voice is needed to overcome the polluters who are trying to bury clean energy solutions. NOW is the time to tell your elected representatives in Washington that you want their commitment to solving global warming.

More Climate Mash Stuff!
For The News Media
For the Fans
Credits
"Climate Mash" performed by Bobby "Boris" Pickett

Music and backup vocals by Andrea Perry

Bush voice by Austin comic Kerry Awn

Flash animation by Horseback Salad

Lyrics and script written by Peter Altman

"Monster Mash" song:

"Monster Mash"
Words and Music by Bobby Pickett and Leonard Capizzi
Copyright © 1973 Dimensional Music Publishing LLC. d/b/a Acoustic Music (BMI)/
Gary S. Paxton Publications, Inc. (BMI) / Capizzi Music Co. (BMI)
Worldwide rights for Acoustic Music and Gary S. Paxton Publications, Inc.
administered by Cherry River Music Co. (BMI)
All Rights Reserved - Used By Kind Permission
---
Climate change is a global challenge and requires a global solution. Greenhouse gas emissions have the same impact on the atmosphere whether they originate in Washington, London or Beijing. Consequently, action by one country to reduce emissions will do little to slow global warming unless other countries act as well. Ultimately, an effective strategy will require commitments and action by all the major emitting countries.
The international response to climate change was launched in 1992, at the Earth Summit in Rio de Janeiro, with the signing of the United Nations Framework Convention on Climate Change (UNFCCC). The Convention established a long-term objective of stabilizing greenhouse gas concentrations in the atmosphere "at a level that would prevent dangerous anthropogenic interference with the climate system". It also set a voluntary goal of reducing emissions from developed countries to 1990 levels by 2000 - a goal that most countries did not meet.
Recognizing that stronger action was needed, countries negotiated the 1997 Kyoto Protocol, which sets binding targets to reduce emissions 5.2 percent below 1990 levels by 2012. The Protocol entered into force on February 16, 2005, which made the Protocol's emissions targets binding legal commitments for those industrialized countries that ratified it (the United States and Australia have not ratified it). In addition, the market-based mechanisms established under the Protocol, including international emissions trading and the Clean Development Mechanism, became fully operational with the Protocol's entry into force.
Attention now is turning to strengthening the international framework for the years following the Kyoto Protocol's initial commitment period (2008 - 2012). The overriding challenge is to forge an agreement that includes all major emitting countries - both developed and developing - and begins signficant long-term reductions in global emissions. In 2003, the Pew Center engaged more than 100 experts, policymakers, and stakeholders from nearly three dozen countries to address this issue. This initiative continues with the Climate Dialogue at Pocantico, a series of off-line discussions among 25 senior policymakers and stakeholders from 15 countries exploring options for next steps in the international climate effort. The final report of the Pocantico dialogue was released on November 15, 2005.
---

CONTACTS:
UK Environment Agency
Phone: (011)00-44-1709-389-201

Greater London Authority
Phone: (011)020-7983-4000
FOR MORE INFORMATION:

International Policy
What's Being Done
International Reports
Workshops & Conferences
Climate Dialogue at Pocantico
---
MORE LOCAL AGENDA 21 UK PARLIAMENT A-Z HOUSE OF LORDS A-Z UK COUNCIL'S AGENDA 21